Okay, DIY branch antlers are nothing new. I'm not reinventing the wheel or anything. But I came across Luke Bartels' antlers (in Rue Magazine–from four years ago) and fell in love! After searching around online for a tutorial, nothing was close enough to the image I had in my head. I especially loved the leather detail he uses and was set on recreating it.
Of course, I made some modifications. The shield shape of the originals was a little too traditional for me, and I opted not to stain the wood to keep more of a Scandinavian feel. But I'm absolutely in love with the end result…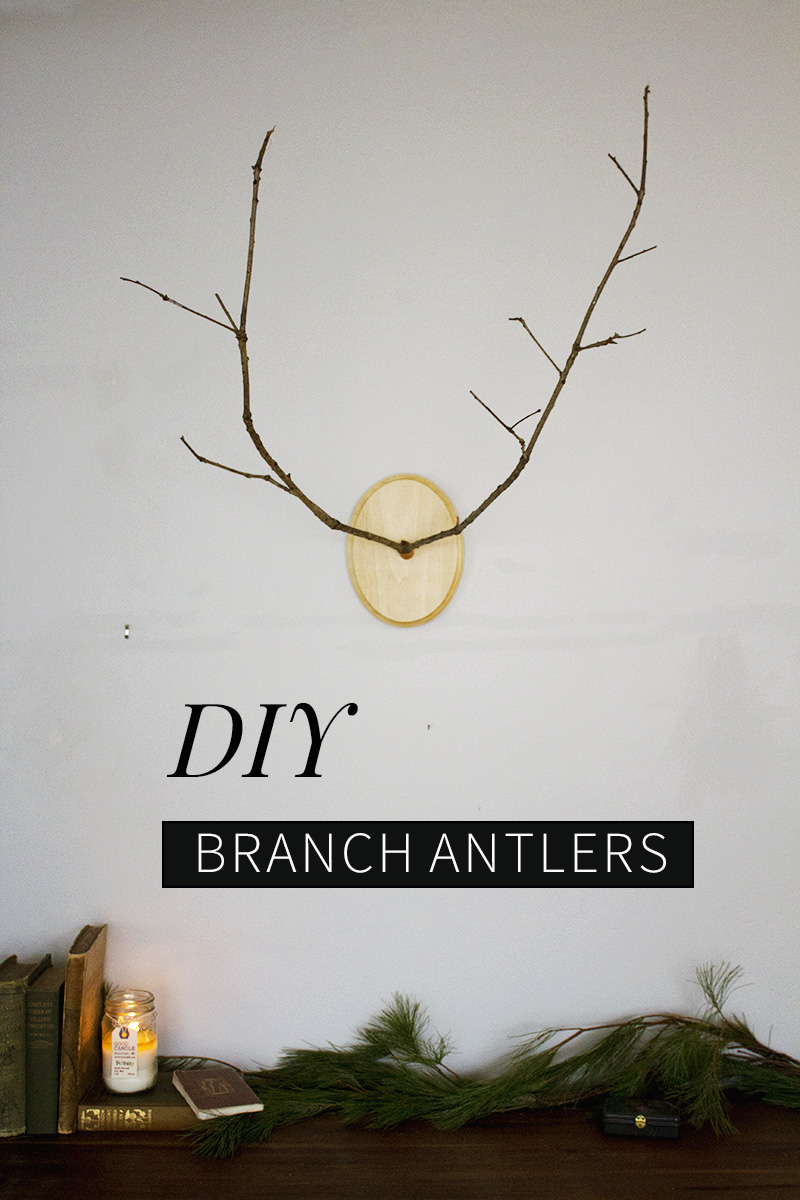 Branchlers! Branchlers for all!
I made these in one morning, as it is a quick and easy project.
---
How to DIY Branch Antlers:
Supplies:
1 Y-shaped branch.  I found mine at a local park, on the ground.
Rag
Leather strip (Mine is from Joann, but you can find this in the jewelry section of your local craft store)
Gorilla Glue, or an equivalent clear glue
Picture hanger and nails
1 7″ x 9″ oval wood plaque, $2.99
Optional:
Equipment:
Scissors
Hammer
Drill and bits
Hand saw
1. Using the saw, cut the end of the branch at an angle, approximately 1″ from the base of the "V".  Make sure your branchlers will slope upwards.
2. Find the center of the wood plaque and mark with a pencil.  Drill a hole through the plaque at a downward angle, beginning with a small bit and increasing the size until the hole is wide enough for your branch to fit snugly.  If you reach your largest bit and the hole is still too small, you can widen it by drilling in a circular motion (much like how you set up a beach umbrella in the sand).
3. Attach the picture hanger to the back of the plaque with a hammer.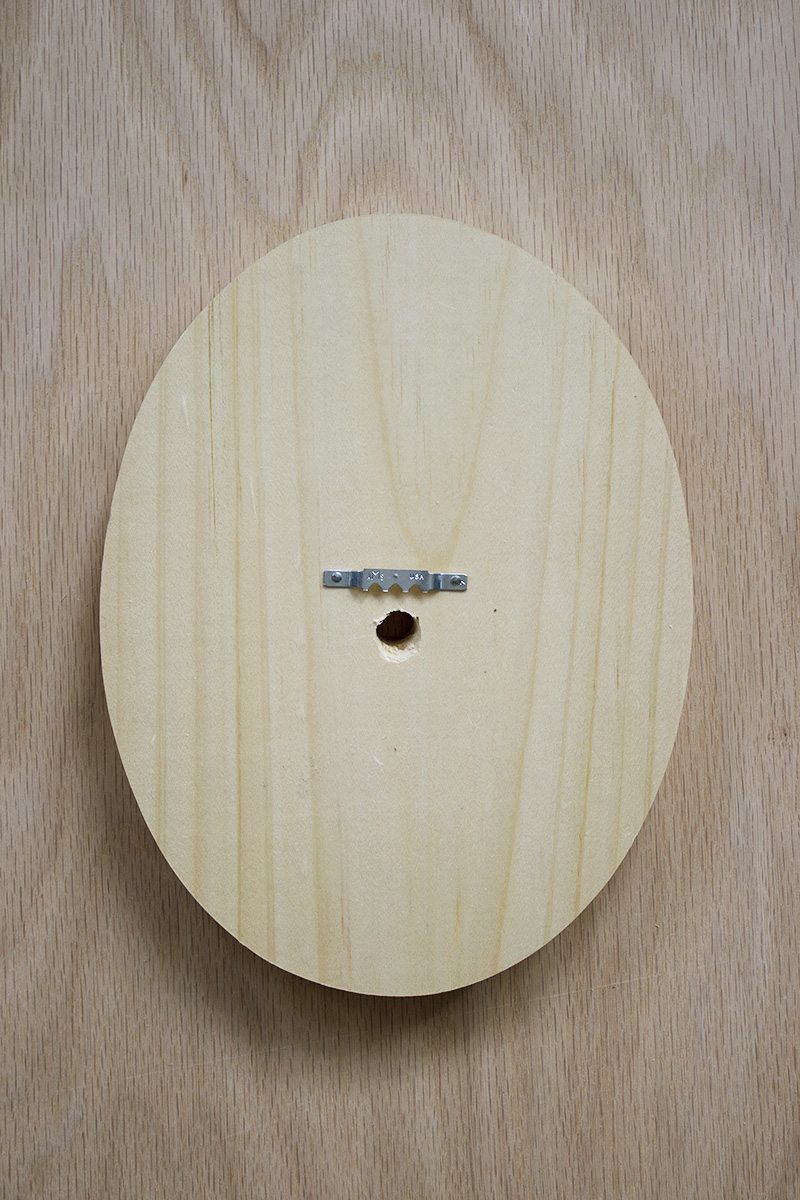 4. Apply glue to the end of the branch and insert it into the hole.  Wipe away any excess.  Then, use the rag to apply the wood conditioner.  Set a timer for 30 minutes and walk away.
5. Wipe away any excess oil with the rag.  Then, measure and cut a piece of leather approximately 1″ x 3″–the size will vary depending on your branch.
6. Dab glue on the top of the branch base and attach one end of the leather strip.  Wrap the strip around the base and secure at the top again with more glue.  You may need to press the leather down with your fingers for a minute or two, to ensure it sticks.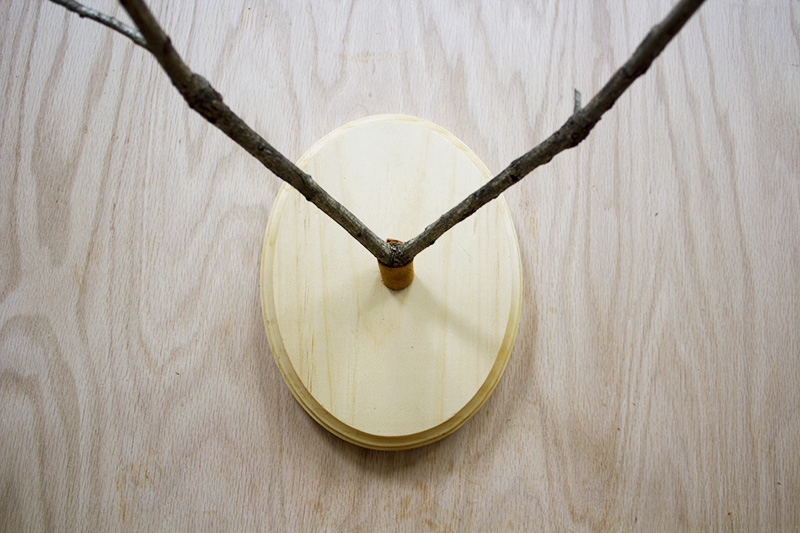 After that, you can hang it on your wall and enjoy the branchler-iness of it all.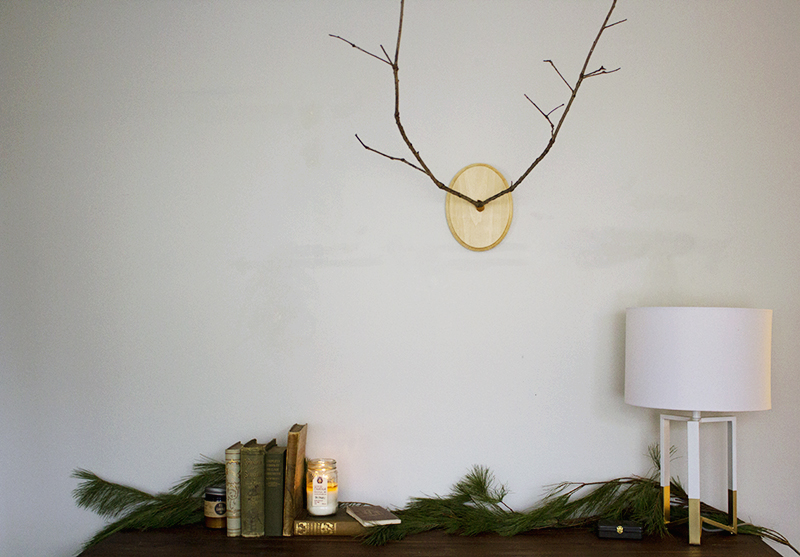 Thank you to the lovely ladies of the Think & Make Thursday Link Party for featuring this post!
What do you think of this project?  I'd love to hear your thoughts!  Leave a comment below, and don't forget to share/pin!