The Most Eco-Friendly & Sustainable Tile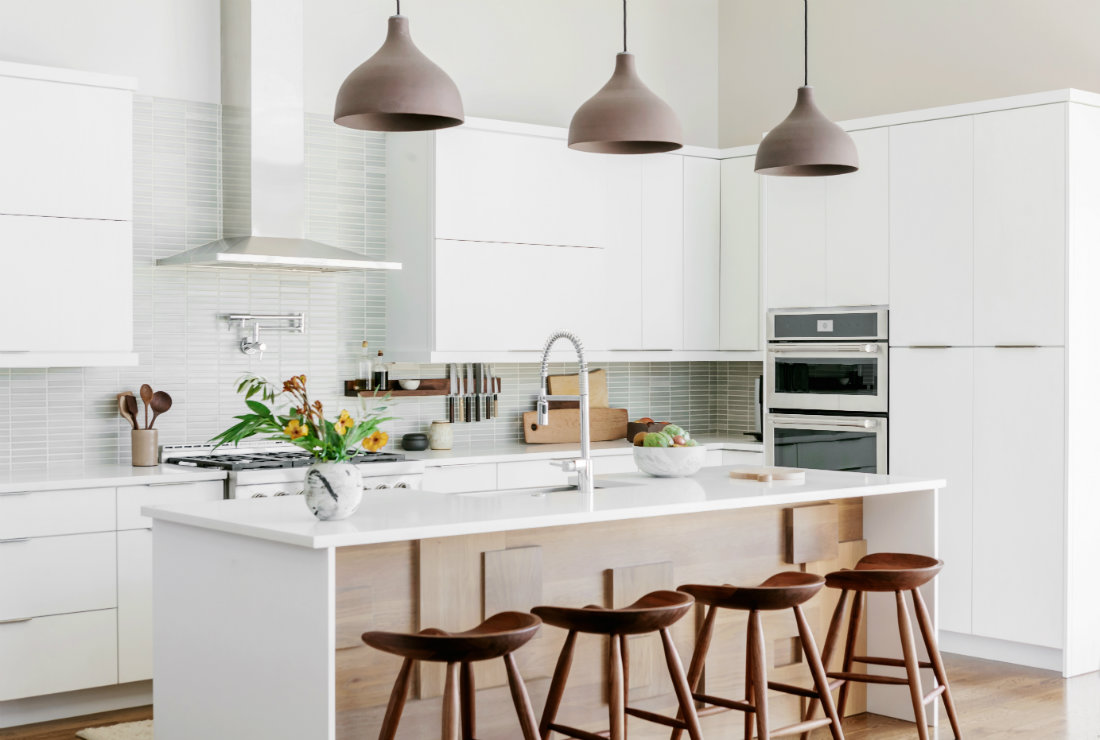 We are often asked questions like, "Are ceramic tiles sustainable?" and our answer is, it depends. This is because there are a variety of factors at play when examining the impact a certain tile has on the world, and therefore its sustainability (what it's made of, where and how it's made, how long it will last, etc.)
Tile is one of our favorite materials to source. We love the dimension, texture, and visual interest it adds to a space. Functional and versatile, it can be used in a variety of rooms throughout the home – kitchens, bathrooms, laundry rooms, and basements, to name a few.
When looking for sustainable tile, ask yourself these questions:
Material – what is the tile made of?
Manufacturing – how is the tile made?
Lifecycle – what happens when you're done with it?
Distance – where is the tile made?
Responsibility – who made the tile, and under what conditions?
Sustainability and tile don't often come up in conversation together.
The term "sustainability" is frequently used in green-washing and can be difficult to define when it comes to materials in your home, especially tile.
What makes a product "sustainable," "green", eco-friendly" etc. over another? Is it the material? How it was made? Is it that it was certified by a third-party and given a label, or that it was made in the USA?
Instead of labeling certain products as green, we'd like to explain the good and the bad, explore a little of that gray area we just talked about, and examine the types of questions you should ask yourself when sourcing tile for your home.
The good news is that there are many types of tile made from natural materials; in most cases, tile will not off gas VOCs or other chemicals. And because it's very durable, it rarely needs to be replaced.
For these reasons and more, we love incorporating tile into the spaces we design.
How to Find Sustainable Tile
While you may choose tile based on its application or style, it's equally as important to choose an option that's good for the environment and for your health.
With that said, below are the main points to consider when sourcing a tile for your home.
Sustainable Tile Materials
The first question to ask is: what is the tile made of? The materials of products inside your home are incredibly important. Not only do they affect your health, they also affect the health of those who make it, as well as those who install it.
Potentially Sustainable Types of Tile
Ceramic: Technically stoneware, ceramic tile is made of clay and fired in a kiln, making its production energy-intensive. Ceramic tile is often sealed with a glass-like glaze composed of silica, alumina, and flux.
Waterproof and zero maintenance, it's a popular choice overall. If you're in the market for sustainable ceramic tile, we recommend Fireclay and Heath.
Porcelain: Made in a similar manner as ceramic tile, but using different materials (kaolin) and fired at much higher temperatures (read = more energy is needed).
Porcelain tile is dense, durable, and a great option for high traffic areas. Consider Crossville, our top choice for porcelain tile.
Terracotta: Composed of a mixture of red and brown clay and fired at very low temperatures, its name means, "baked earth." Terracotta tile is made using minimal energy, often from renewable resources like olive pits.
When left unglazed, it develops a unique, lived-in look and has been used all over the world for centuries.
Stone: Classic and long-lasting, it can sometimes be reused or repurposed. Because of its thermal qualities, stone tile can actually help to cut back on the energy needed to heat a home.
However, most stone tile is sealed on-site with hazardous chemicals. If you're looking for stone tile, consider forgoing the sealants.
Metal: Sometimes made of recycled aluminum, copper, or bronze, metal tile is both durable and environmentally friendly – though as a tile it's not a material widely used in interior design…yet!
Check out Sun Valley Bronze for some of our favorite metal tile designs.
Not-so-Sustainable Tile
Cement: An excellent insulator and made of resources that are readily abundant.
However, due to how heavy it is and the machinery work that goes into its production, cement has a carbon footprint that is one of the highest of all building materials.
Laminate: An inexpensive alternative to hardwood, laminate tile is durable and easy to install. Its drawback lies in the adhesives used in the bonding of its layers. These consist toxic chemicals including formaldehyde.
Furthermore, because laminate tile is made of plastics and other synthetics, so that it will inevitably end up in the landfill when the next homeowner replaces it.
Toxic Tile
LVT or Vinyl Tile: Though inexpensive, the production of LVT releases dioxins (some of the most harmful groups of chemicals in existence and the main contributors to climate change) into the atmosphere.
Additionally, most vinyl tile contains phthalates, plasticizers used to refine or soften the plastic, which are carcinogens. Other health effects include respiratory problems and neurological issues.
How Tile is Manufactured
The second point to consider when sourcing sustainable tile is how it's made; it's important that you understand who and what are affected by its production.
Below are the questions to ask when evaluating the integrity of a tile's manufacturing process.
What are the raw materials used to make the tile? How were they obtained?
TIP: Look for stone tile that was quarried rather than mined. While both practices are harmful to environment, quarrying ultimately results in less waste.
Energy – How much was used? What kind?
TIP: Select a tile fired at a low temperature, like terracotta, and from a renewable resource. Higher firing temperatures lead to higher carbon emissions which contribute to climate change.
Human Health – Was anyone harmed or negatively affected?
TIP: Source an American-made tile. Labor laws in developing countries are much less strict than they are here in the United States, and as a result, workers are often exposed to toxic chemicals that are harmful to their health.
Waste – What happens to it during manufacturing?
TIP: Look for a manufacturer that repurposes its waste. Fireclay is a great example, recycling 5000 gallons of water and re-using 7000 pounds of recycled materials every day.
Lifecycle of Tile
The next factor to should consider is a tile's lifecycle. For this, we start by looking at the style. It's important that to choose an option that's appropriate for the architecture and time period of your home.
The tile you select must also appeal to people of varying tastes. With that said, avoid tiles with bright colors or trendy patterns as they will most likely be replaced 10 years after being installed.
TIP: A shape, size, and color that is appropriate to your home's architectural style and its time period is always your best choice.
What happens to tile when you're done with it?
Another point to consider when sourcing tile is its end-of-life. Assuming you've chosen a tile you'll be happy with as long as you're in the home, what will happen to that super sustainable tile once a new homeowner eventually decides to replace it?
Although almost all types of tile (cement, laminate, LVT, and even most natural varieties) will eventually end up in the landfill, some types (like ceramic , porcelain, and stone) can be used again if demo'd properly.
TIP: Seek out a company with a tile recycling program. With its Tile Take-Back Program, Crossville collects and recycles millions of pounds of post-consumer porcelain each year. In fact, they are the first ever net consumer of tile waste, meaning they recycle more than they produce!
Where Tile is Made
Since tiles made overseas have a greater distance to travel, shipping them leads to higher carbon emissions that do damage to the atmosphere.
For these reasons, you should source tile that's American made when possible. Sometimes even the most sustainable tile doesn't look so green once it has to be shipped from overseas.
TIP: Look for tile made in your state to reduce carbon emissions and support local businesses.
Responsible Tile Companies
Make an effort to source tile from companies that obtain their resources responsibly and provide their employees with fair and safe working conditions.
Below is a list of manufacturers that not only meet our standards for sustainability but also go above and beyond to do good in the world.
Heath (handmade ceramic tile): Based in California, employee owned, and with an aim to produce zero waste, they honor honesty, humanity, and diversity.
Best for: Luxury projects featuring midcentury design; Dimensional tile; Interesting (think: speckled) glazes
Fireclay (handmade ceramic tile): California-based and B-Corp certified, they are committed to recycling their own industrial waste back into their products and sustainable manufacturing practices, all while taking excellent care of their employees.
Best for: Custom projects with some "splurge" in the budget
Sun Valley Bronze (metal tile): Family owned and operated in Idaho, with a focus on quality and community, they are dedicated to conducting a business with integrity.
Best for: High-end projects in need of unique texture or patina
Crossville (porcelain tile): Family owned and operated in Tennessee, their culture is based on one simple business ethic: "Do the right thing."
Best for: Mid-range projects featuring unique patterns or designs
We'd love to know… what other questions do you have about what makes tile sustainable? Schedule a call with us today.
Unless otherwise noted, photography from KonMari.com.