Tips for Finding the Perfect Modern Dinnerware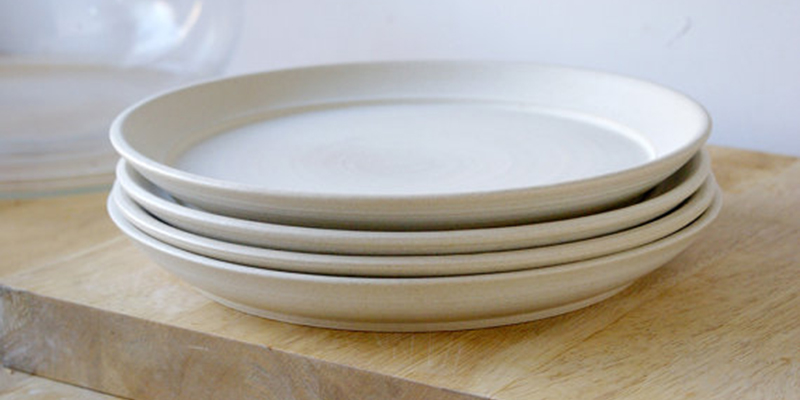 A year from now I will be boogying down the aisle, with all the hair-pulling of the wedding planning finally behind me (at least, I hope!).  So far, the important things have fallen perfectly into place.  The most stressful part so far? Creating our registry!
Up until now, most of the items for our home have been in the realm of Ikea purchases–affordable, good enough for now, and not built to last.  Thanks to the wonder of Craigslist, they also cycle through our home relatively quickly.  Now that the wedding planning is in gear, I feel completely overwhelmed at the prospect of deciding on THE style of flatware I'm going to use for the next 20 years, not to mention the towels, glasses, and especially the dinnerware.
Deciding on an every-day dinnerware pattern can be a challenge.  Unusual colors and textures can look dated over time, and may not adapt as easily to changes in your linens or any updates you make in your dining room.  Simple, restaurant-style white sets are a safe and classic choice, but just aren't very exciting.
So, here are my tips for finding the perfect modern dinnerware–whether you're creating your wedding registry or are ready to retire an old set!
1. Choose a neutral, whether it be white, black, grey, cream, oatmeal, etc.  Bold colors and patterns can be fun, but you may not love it a few years down the road (it's much easier to mix in less expensive, colorful linens than to purchase new dishes!).  If you must have color somewhere, you can mix in inexpensive salad plates later on.
*Available in the US at
Menu Design Shop
.
2. Make sure the pattern has one or two subtle, interesting elements you really enjoy–whether it be a geometric shape, a translucent glaze, or a beautiful, pale color like the New Norm dinnerware above.
3. Before deciding on a pattern, make sure you handle it first! Ceramic is such a tactile medium, you want to be absolutely positive you like the texture, glaze, and even weight before you register for an entire set.  Dishes that are too heavy can be awkward to handle, while too-light dishes can appear to be low-quality or fragile.
4. If possible, buy a plate/and or bowl to bring home and "test".  How does it look in your space? Does it get too hot in the microwave?  Is the style congruent with your bakeware and cookware? (If you're really daring, you could even test how fragile it is!)
After some serious searching, I found that there really are some beautiful choices for dinnerware that are both modern and organic, textured and minimalist. I'm going to try to narrow them down, but I wish I could have them all!
Which one is your favorite?  Do you have any tips or advice on choosing a dinnerware pattern?