How to Please a Picky Eater? The Answer May Surprise You…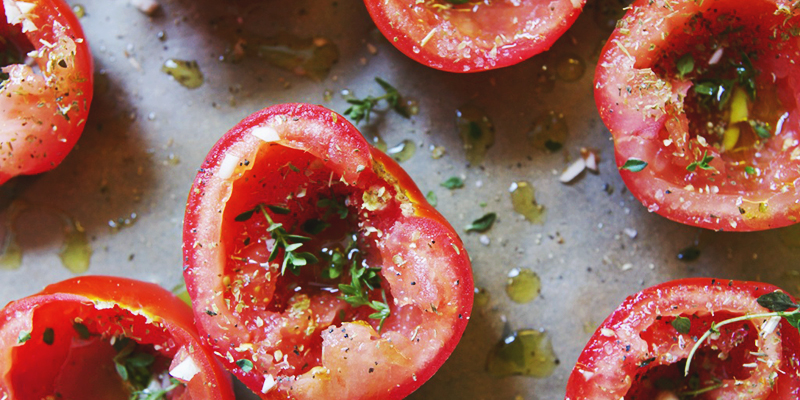 My three-year-old, Clinton, has always been a very picky eater.  He wouldn't touch meat until he was 2 1/2, and up until recently refused all so-called kid "staples" like pizza, pasta, and hot dogs (though I'm not complaining–refusing unhealthy food is fine by me.  He still won't touch macaroni and cheese, but he ate three bowls of fresh spinach and dressing the other day.  Go figure).  Like many kids his age, Clinton does NOT like to try new foods, is very wary of strange textures, and recently started requesting each type of food to be on a separate plate and to each have its own utensil (request denied, buddy!).
He is also at the stage where he constantly wants to "help," and as a result has become very interested in cooking.  Each evening we have prepared dinner together: he measures, stirs, and sprinkles, and he is always mightily proud of his work.  So proud, in fact, that he has eaten everything we have made together!  Including these to-die-for roasted tomatoes (recipe below).  I made some of them into a sauce, and for the first time he ate pasta that wasn't shaped like spaghetti.  And then you guys, he ate them plain.
I repeat, he chowed down into tomato halves.  Six of them.
Trumpets are literally sounding in my ears as I say those words.  He's also enjoyed pecan, potato, spinach, and caramelized leek gratin and a few other similarly surprising dishes.  And so while this likely will not work with every young lad or lady, if you have tried everything and your son or daughter still won't eat, let him or her in the kitchen with you.  Try letting them go through your cookbooks and actually pick the recipe, and what's even more fun–let them come up with their own name for the dish.  Clinton dubbed the baked penne I made with this sauce "Bucket Beau Bug-Eating Beau Noodles," after his grandparent's dog.
Of course, these roasted tomato halves are a beautiful side dish to any grown-up meal, too!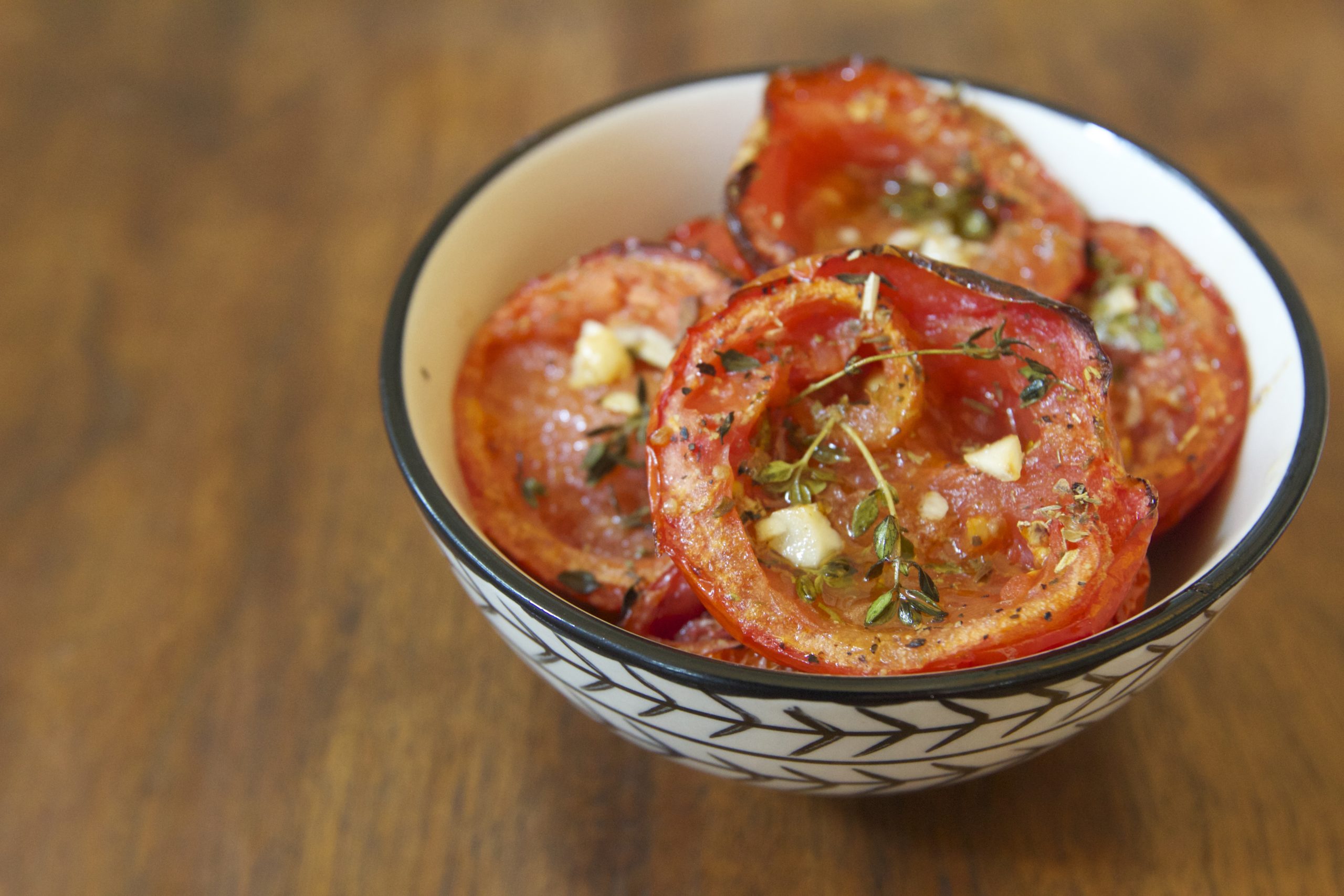 This recipe has been adapted from Susie Middleton's The Fresh & Green Table ($17.93 on Amazon).  This is one of my favorite cookbooks, which I purchased last year when I was trying to come up with creative and sneaky ways to get vegetables into my son.  Her recipe is for roasted tomato pizza sauce, but I prefer to eat these right out of the oven.  Also, her recipe calls for sugar and balsamic vinegar, both of which contain fructose.  I recently cut fructose out of my diet, and these tomatoes are incredible and delicious without it.  If you want to learn about the adverse health effects of fructose, read Eve Schaub's A Year of No Sugar ($9.48 on Amazon).
Ingredients
1 tbsp + 1/4 c. organic EVOO
9 organic tomatoes
salt and pepper
3 tsp fresh organic thyme
1 tbsp dried organic oregano
6 organic garlic cloves
Preheat the oven to 425 degrees.  Line a rimmed baking sheet with parchment paper, and brush with the 1tbsp EVOO.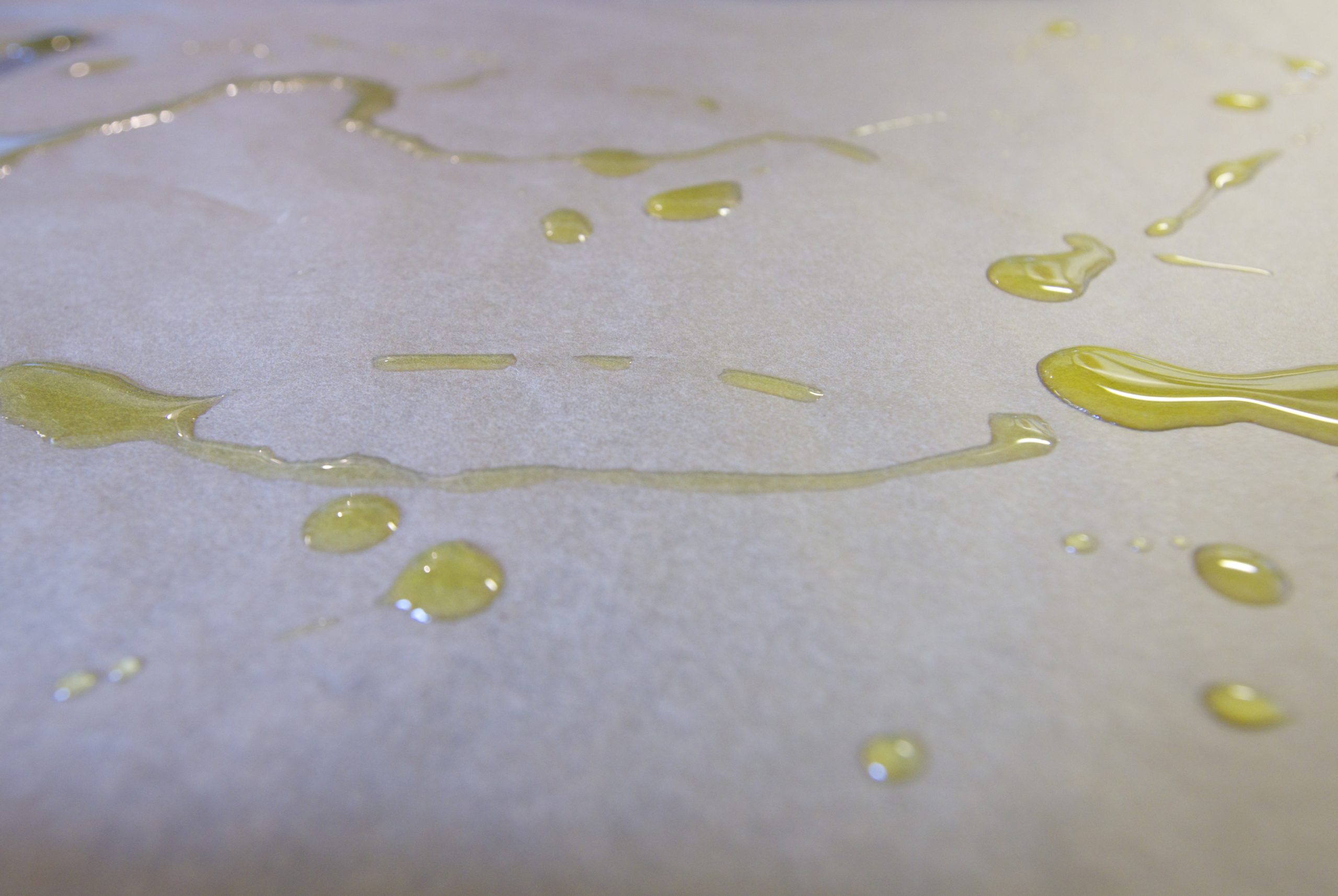 Now wash your tomatoes REALLY well.  Even organic tomatoes use pesticides!  Also, put on an apron. I like this one from West Elm because it leaves no room for any possible stains on my clothing.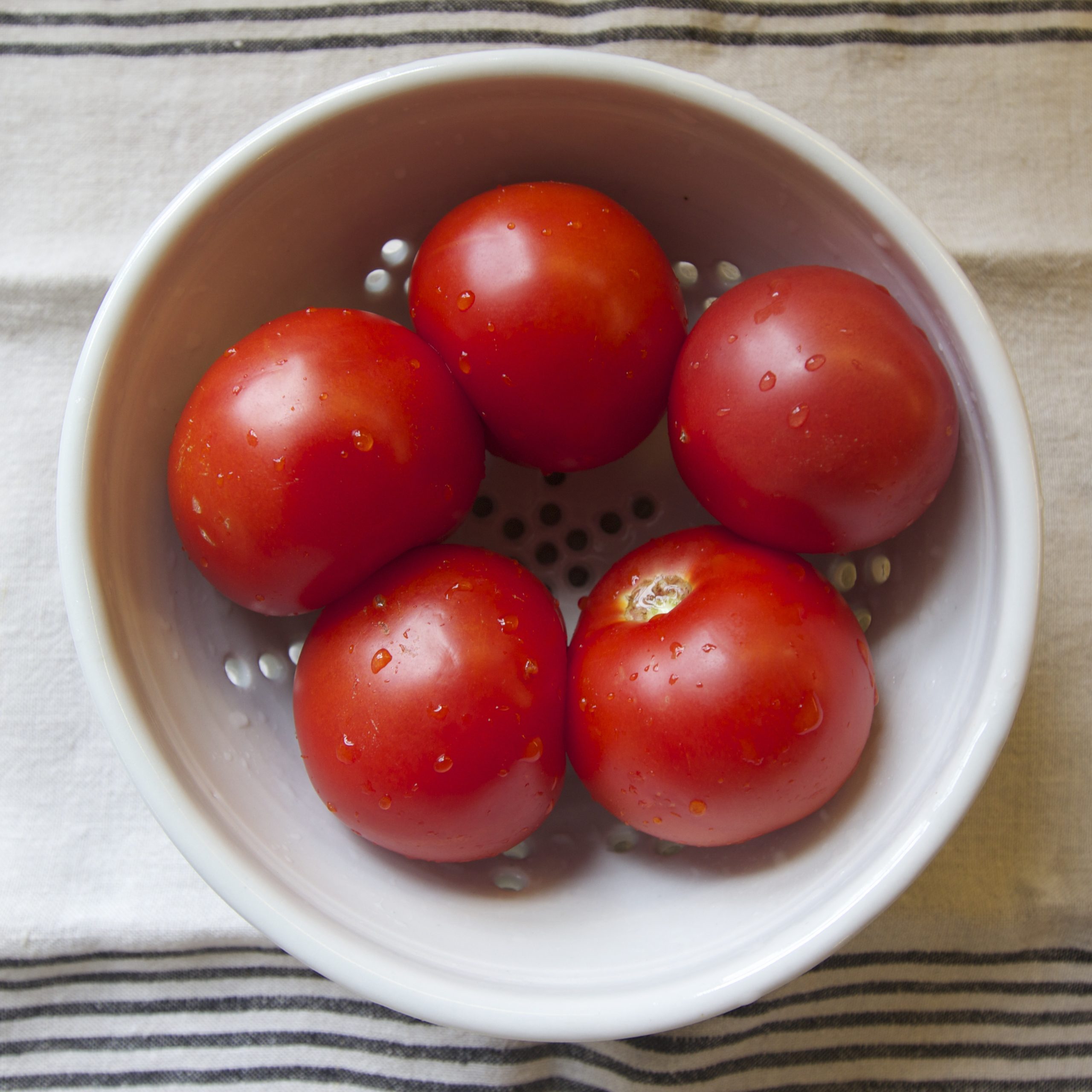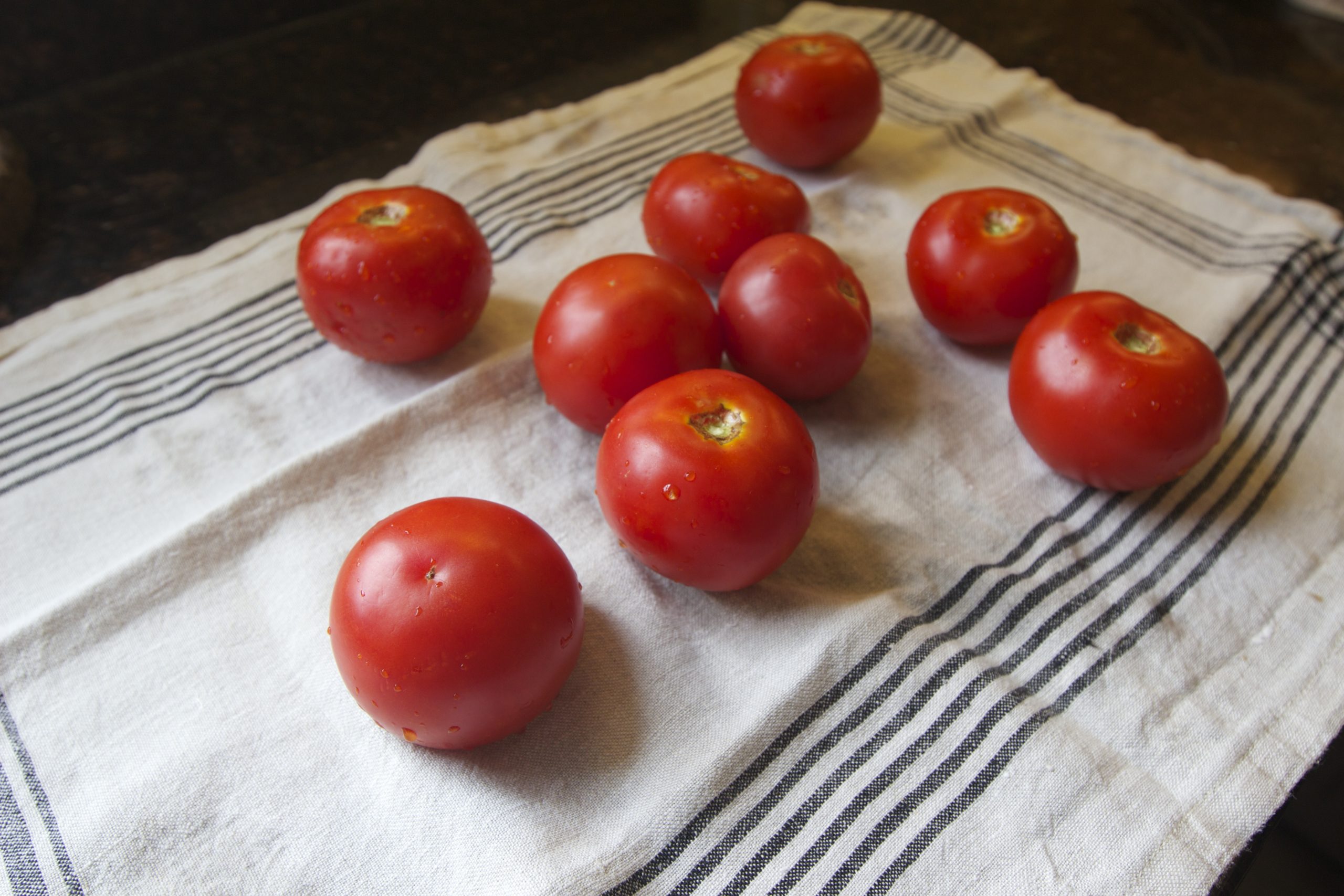 Cut each tomato in half.  With a spoon, scoop out the insides.  Place on the baking sheet.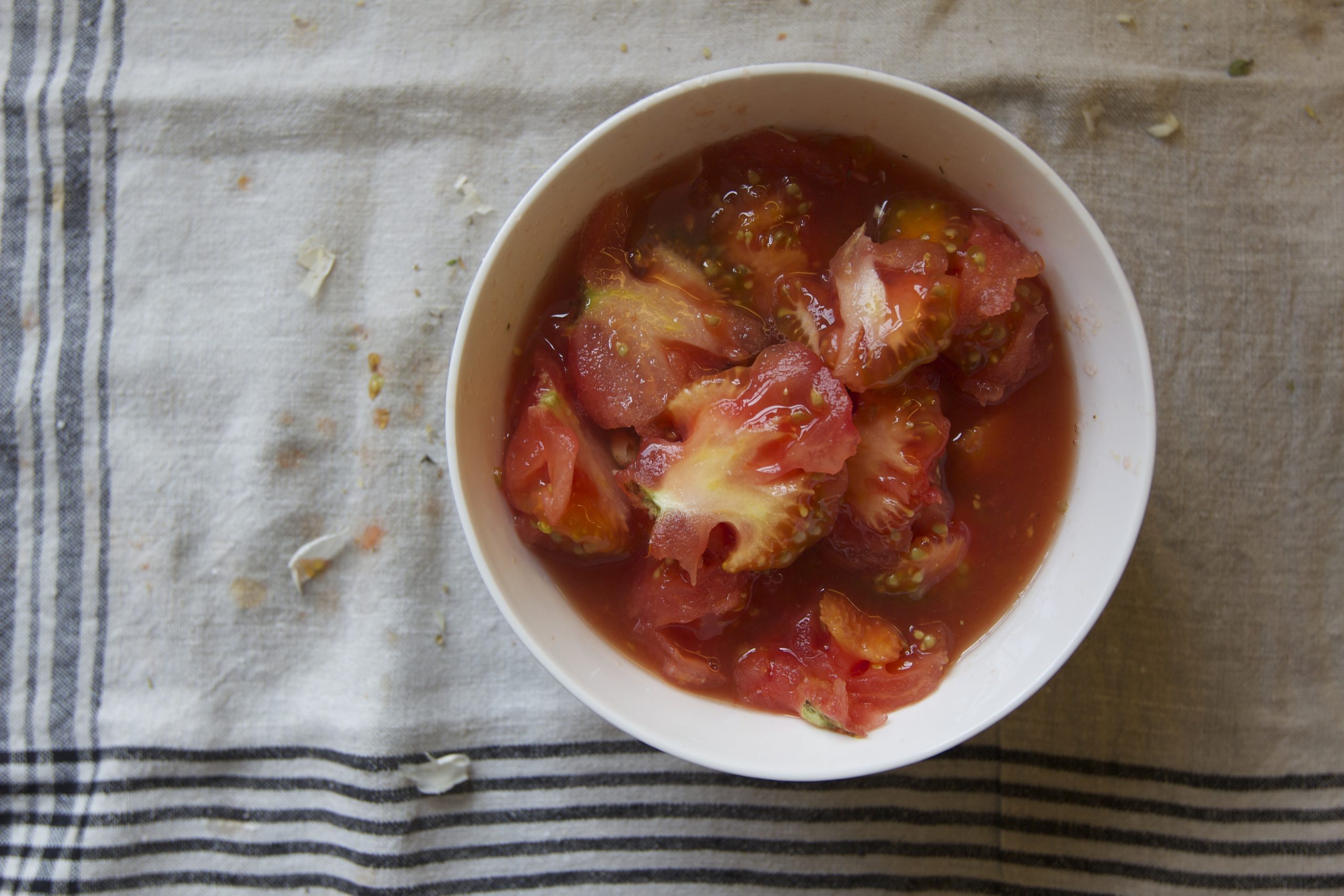 Peel and mince your garlic and rinse the thyme (pat dry).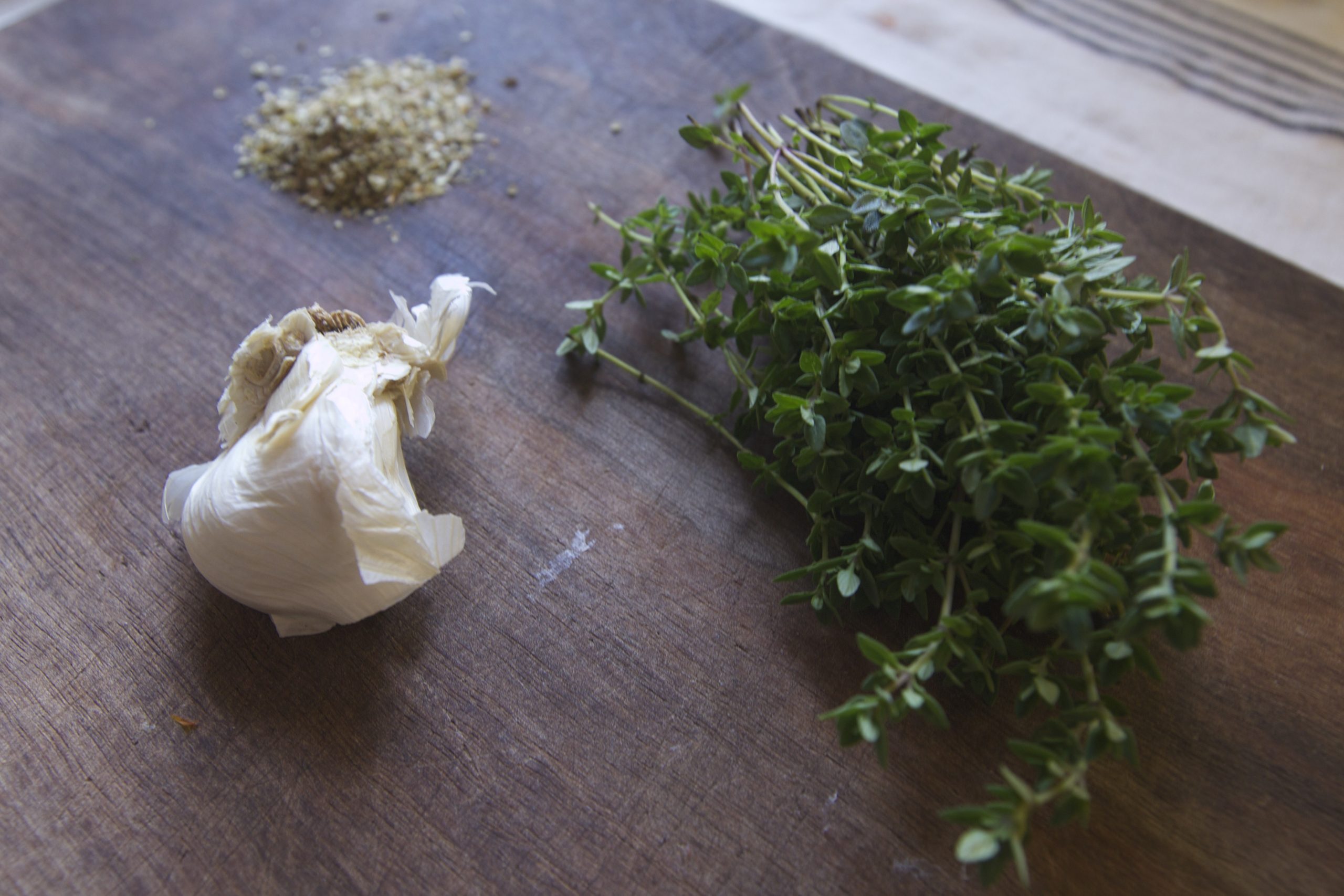 Sprinkle the tomatoes with salt, pepper, thyme, oregano, garlic, and the remaining olive oil.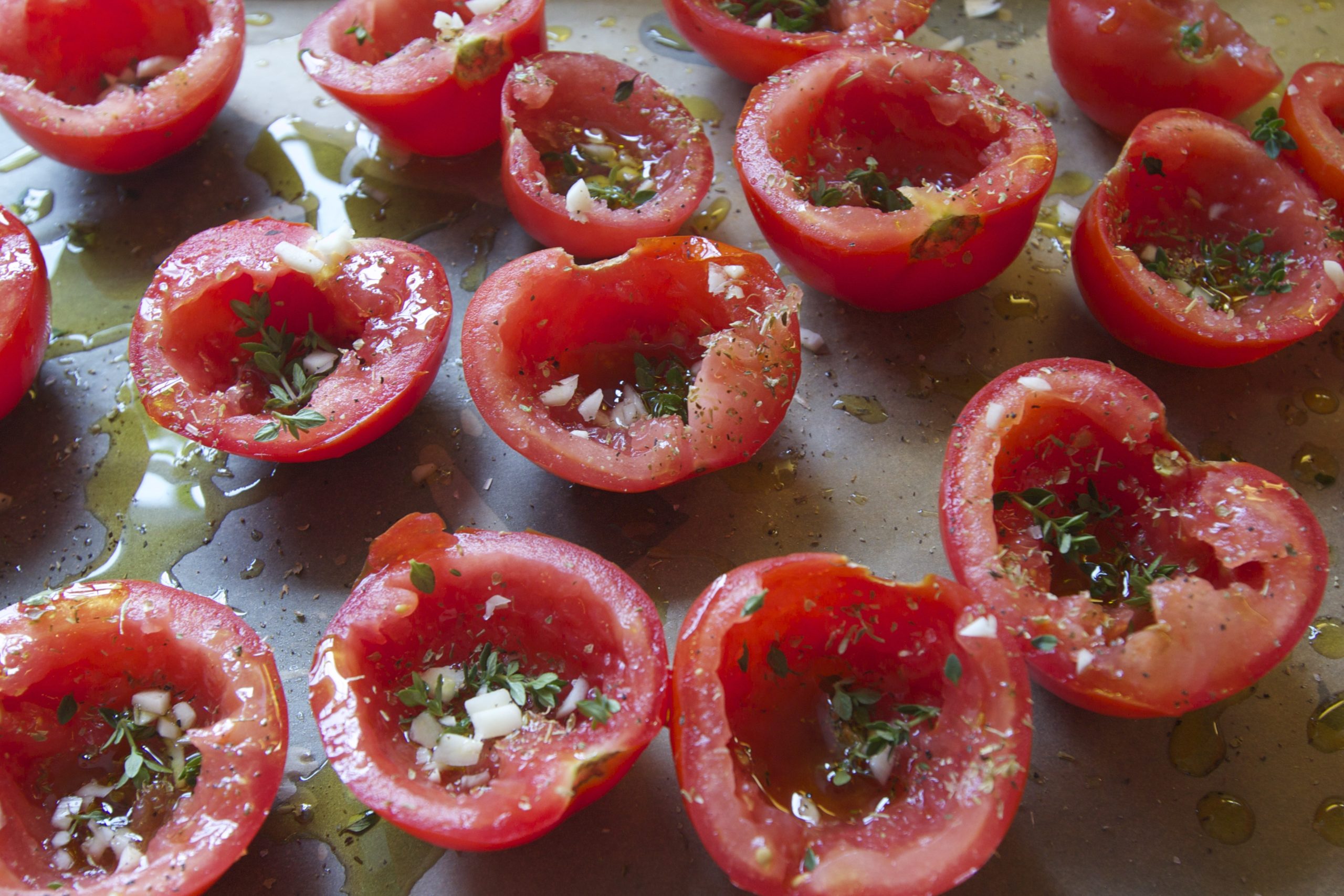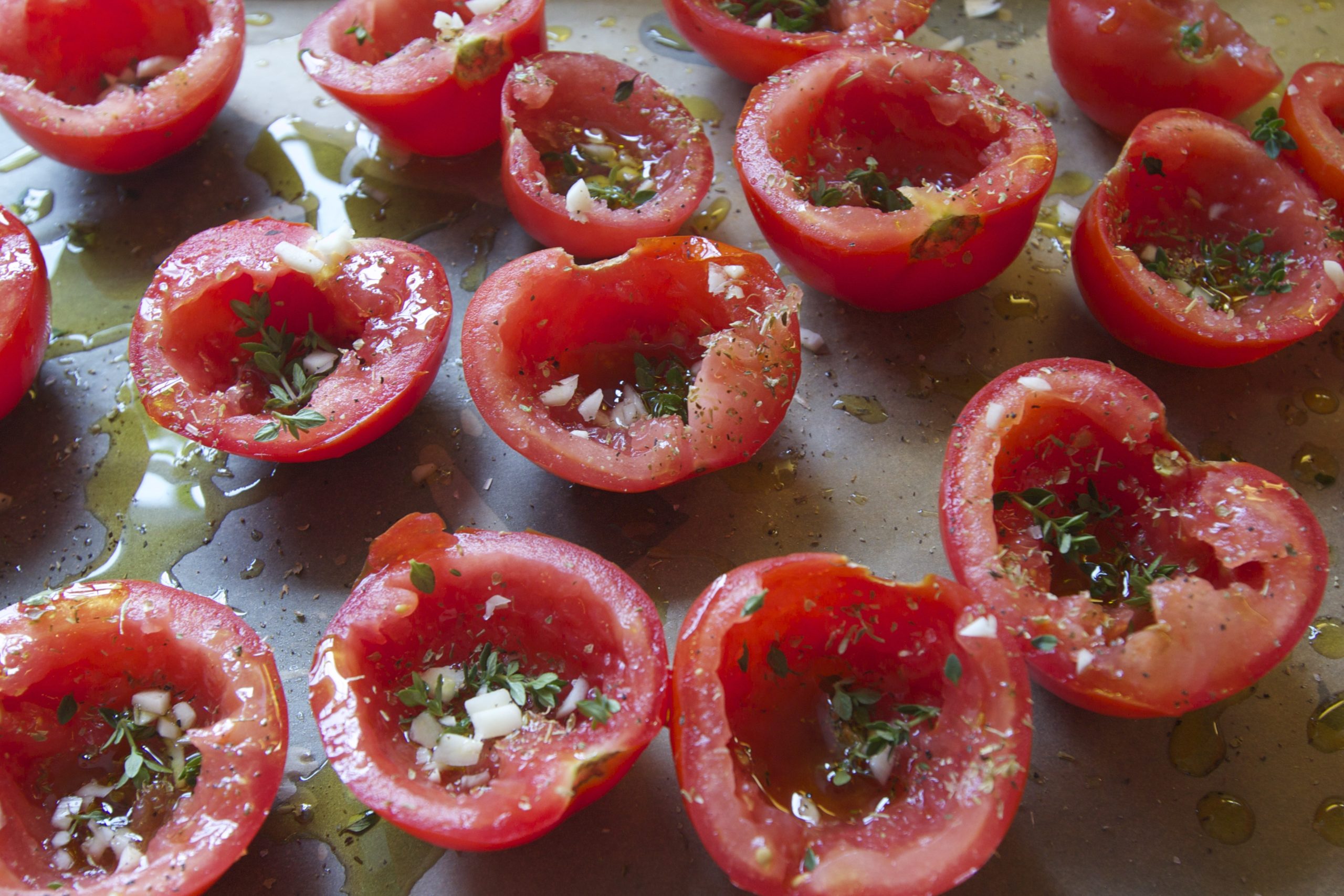 Roast the tomatoes for 40-45 minutes.  Pretty soon you'll hear their delicious sizzling and smell the delectable scent of roasted garlic….Mmmm.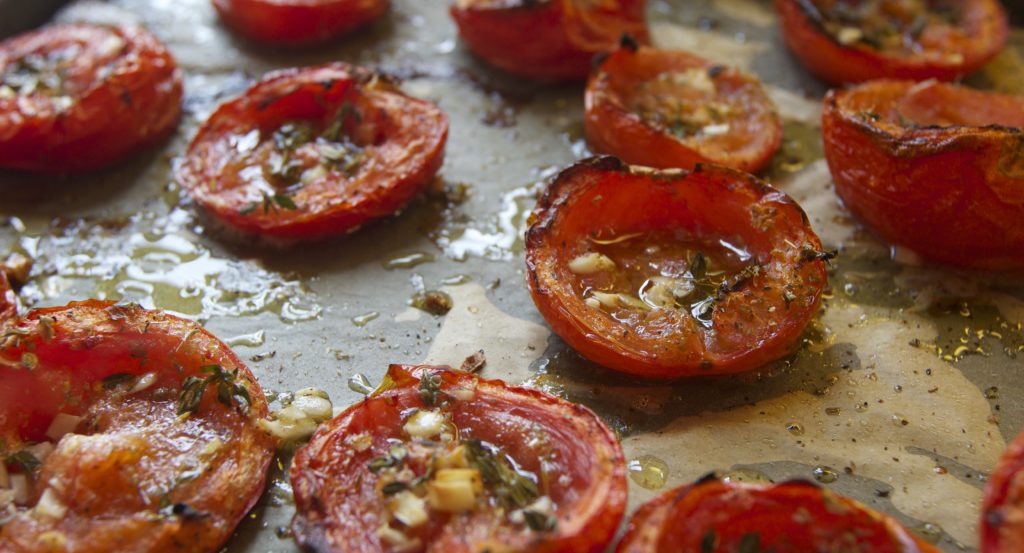 Use a spatula to transfer to a dish, and enjoy!
(If you like, you can puree the tomatoes in a blender to create a pasta sauce.  Also delicious!)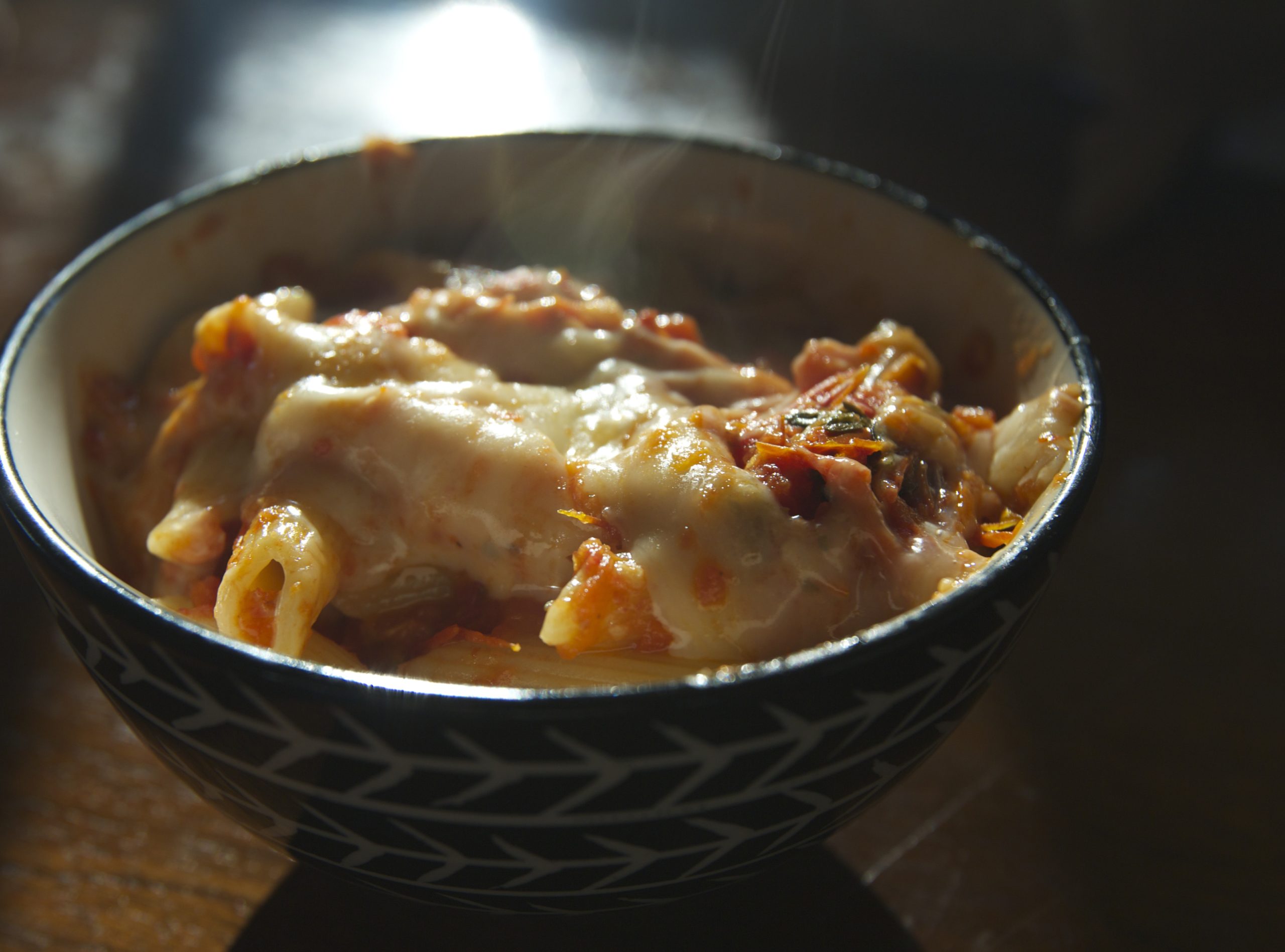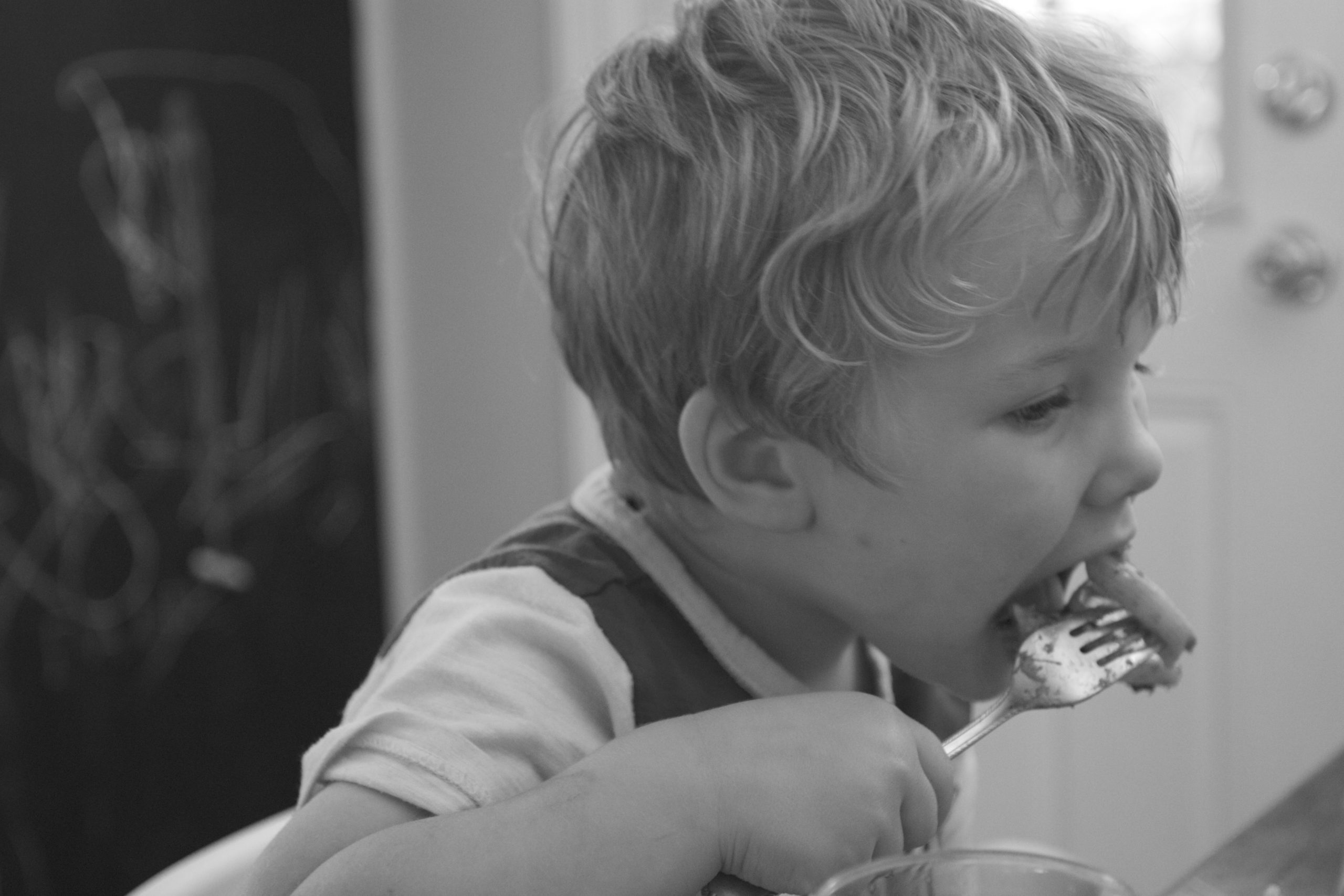 Here Clinton enjoys his baked penne with roasted tomato sauce, after an appetizer of–you guessed it–roasted tomatoes!
Do you have any tricks for getting your kids to eat healthy food?