A Modern Outdoor Makeover on a Budget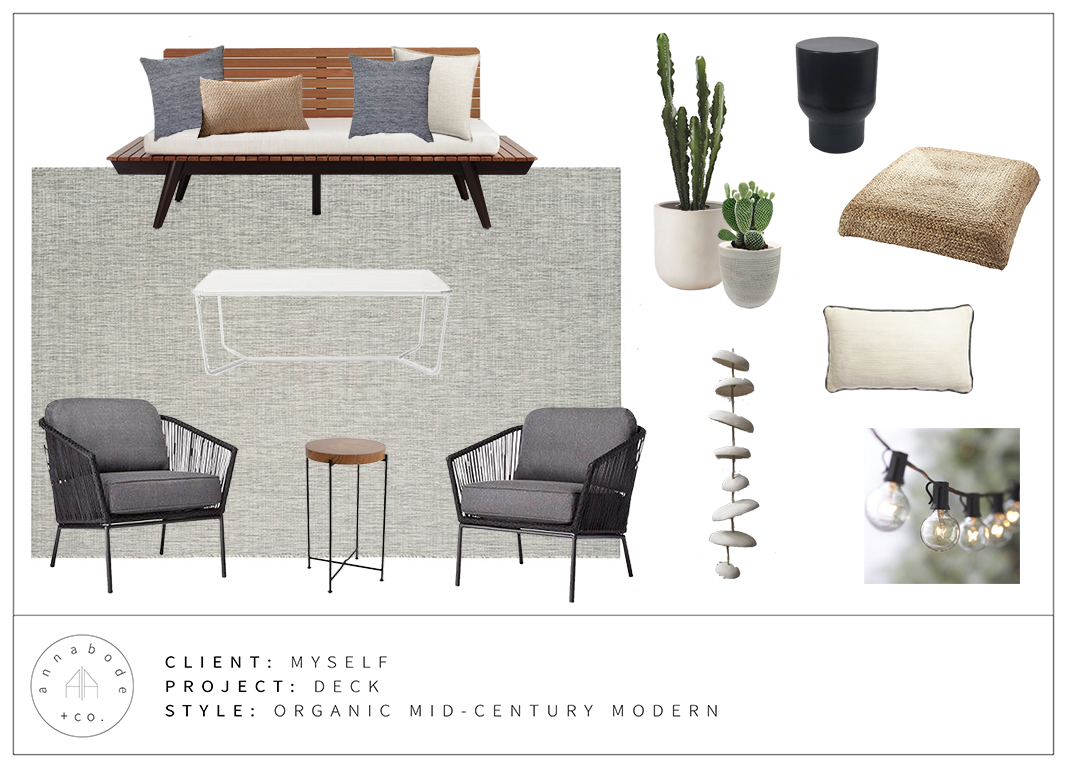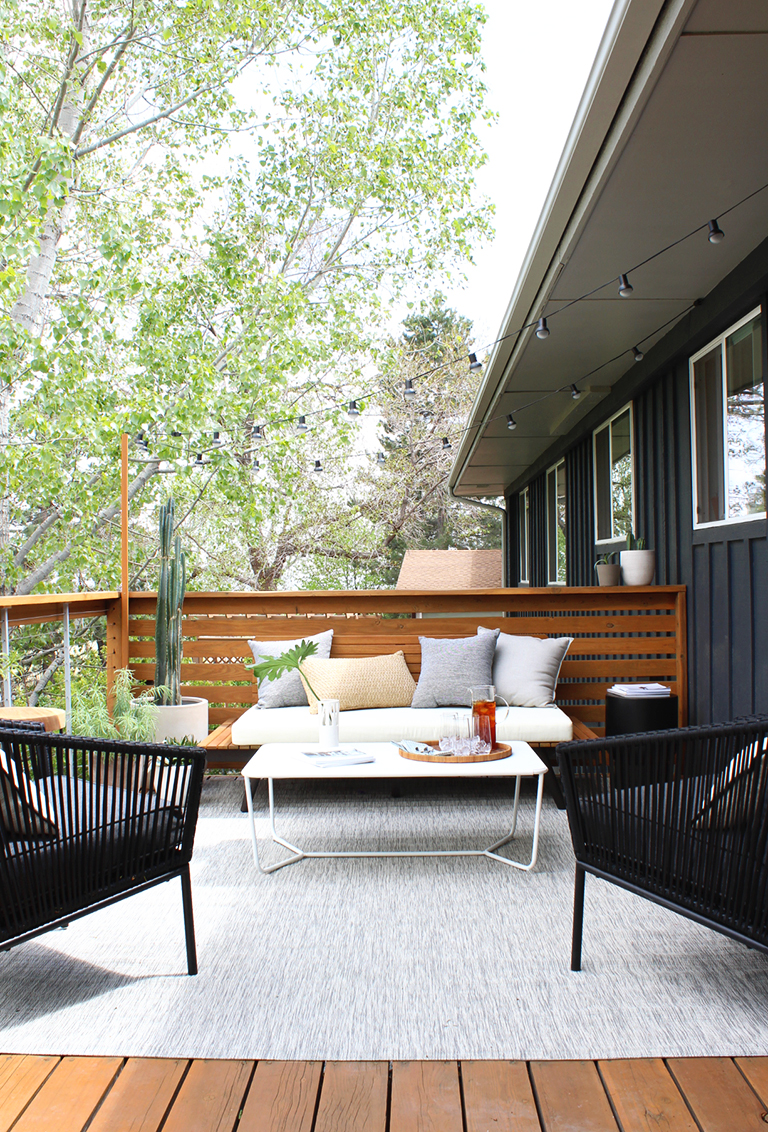 Hey folks! In case you missed it, yesterday we revealed our DIY deck makeover using Feeney cable rail and today I'm sharing all the details on our modern outdoor decor you've been asking about! I wanted something that was low-maintenance and relatively neutral, while keeping to a very small budget (outdoor furniture can get price-y!). The exterior of our house is leaning a little more "west coast modern" than my own personal style, so my aim was to blend the two looks together with some natural elements and mid-century inspired pieces.
This post is sponsored by Rugs Direct and contains affiliate links. As always, all opinions and design are 100% our own. Thank you for supporting the brands that allow us to bring you inspiring content!
Just a refresher, this is what our deck looked like before: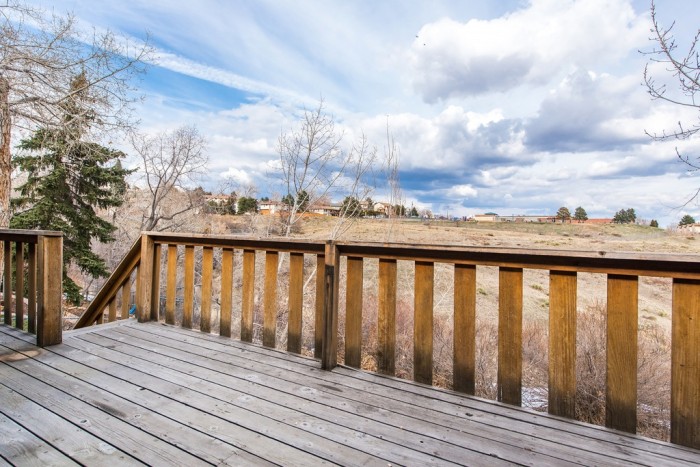 We sanded all the old wood, stained it with Behr's Cedar Naturaltone Semi-transparent stain, added horizontal slats to the ends for privacy, and installed the cable rail to open up our view. That alone was a huge improvement! But of course we had zero furniture and a huge deck to fill, and not a lot of money left to work with. Challenge accepted ;).
Just like with my design clients, I always start with a mood board so I can visualize the space better. This was the first iteration: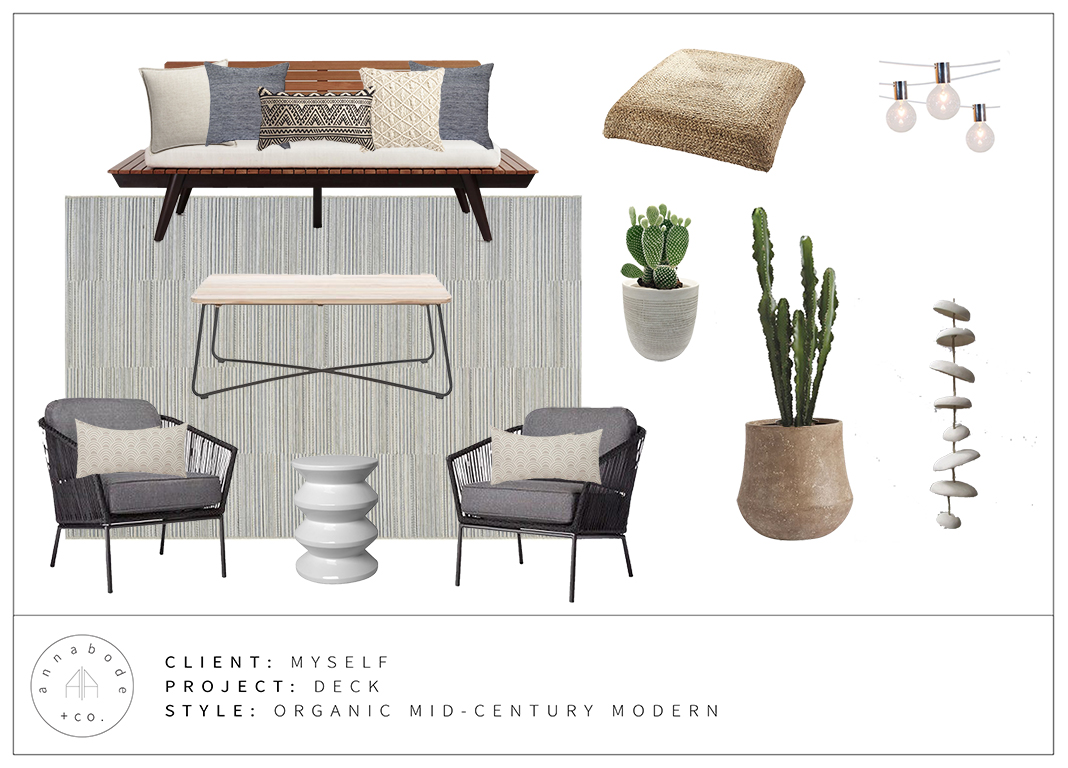 Bench // white pillow // blue pillows // lumbar pillow // macrame pillow // rug // coffee table // chairs // lumbar pillows // side table // floor cushion // lights // small planter // large planter // wind chimes
I had been searching for a while for a sectional outdoor sofa but kept coming up empty. Even though I'm a designer who looks at home decor every day, I can still experience definite sticker shock! I didn't love the options at IKEA or what I was seeing on Craigslist, so when I found this bench I was blown away at the price and it was an absolute no-brainer. (Right now it's on super sale at only $315 and what's more, World Market is having a 15% off sale through 5/29. If you've been eyeing it…seriously, grab it now!)d
I had also spotted these Target chairs in Emily Henderson's deck makeover and knew I had to have them; I liked how they echoed the black of the bench and they looked super comfy (verdict: they totally are). Overall I was pretty satisfied with the design — there was lots of texture with the jute floor pillow, bisque wind chimes, glossy side table, etc. but some of the pillows weren't jiving with me and a few of the items I thought I could source for less.
I was also having trouble deciding on a rug (thanks to everyone who chimed in on my Insta story!) as there were a few at Rugs Direct that were all so similar and looked so pretty in a blue-gray tone. In the end, I decided there was too much pattern for my taste so I set out to simplify everything a bit. Here is what I came up with: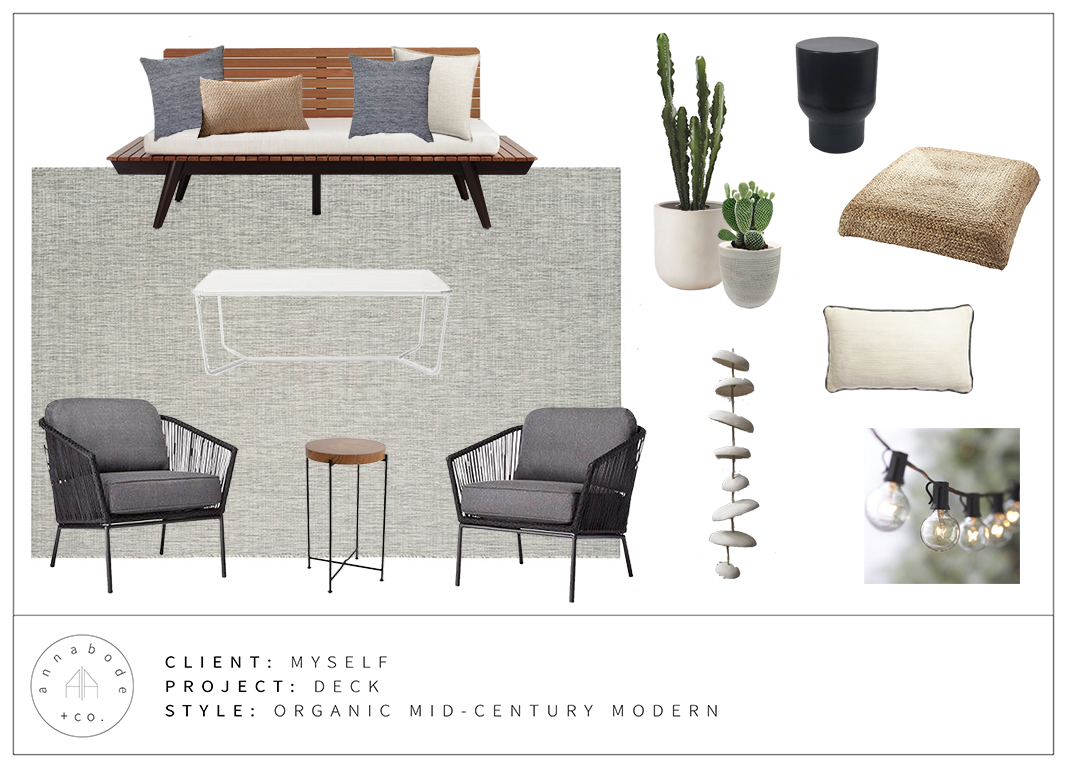 Bench // blue pillows // lumbar pillow // white pillow // rug // coffee table // chairs // side table // large planter // small planter // side table (black) // floor cushion // lights // // wind chimes // string lights
I settled on this Safavieh Courtyard rug from Rugs Direct in gray/turquoise, which was more of a solid color but still had some movement (necessary when you need to hide some dirt). It's always a risk buying rugs online and I was worried that the rug would be more turquoise than I wanted, but I found the photos on the site were very accurate (it does look different in the photos below, but that's mostly lighting.)
I was also really impressed with the quality; sometimes outdoor rugs can be too plastic-y but this one is soft and lovely…so much so that it could easily be used indoors! Definitely a good option for under a dining table or in a playroom. I wanted all the furniture to sit on the rug so we went for an 8'x11′, which is only $311 (and as a special thank you for reading our little ol' blog, you can click here to get 15% off your order)!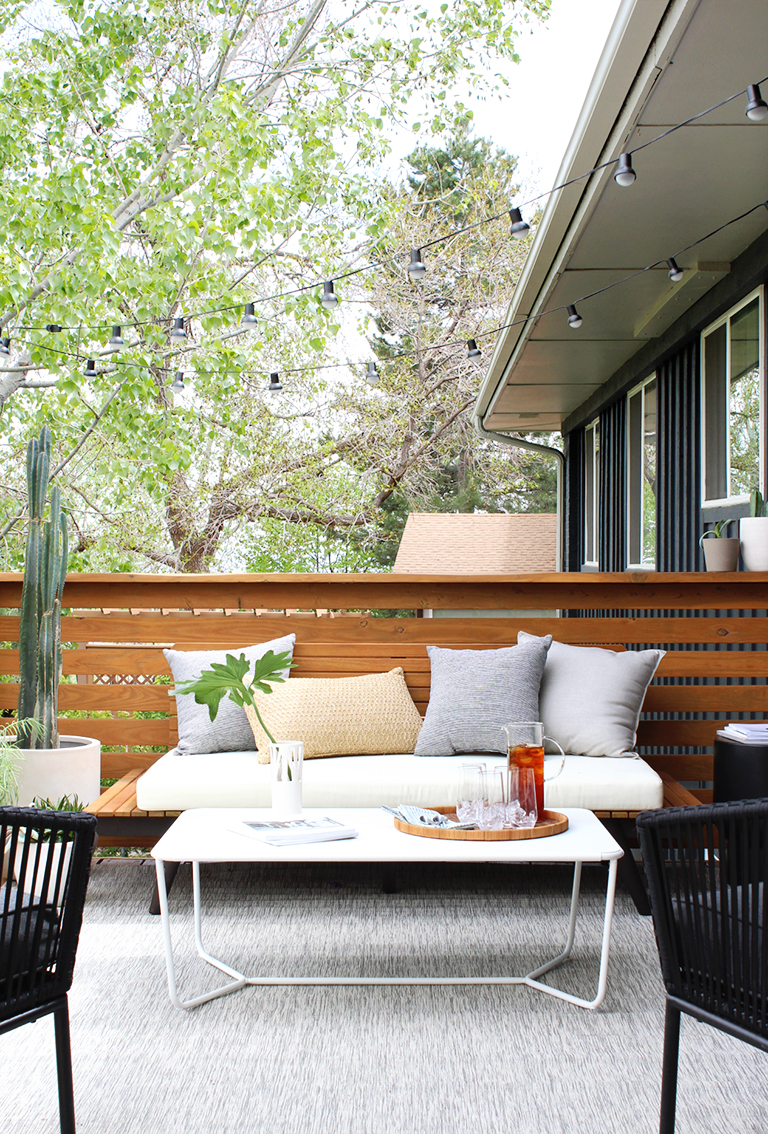 Although I loved the Article coffee table, this one from Target is less than half the price and I liked how it brought out the white of the bench cushion. I warmed up the space a bit with this end table which although it isn't an outdoor table per se, but the top is made of teak which is naturally rot-resistant and so far it's held up beautifully through the rain, snow, and hail storms (!!!) that we've had so far this month in Colorado.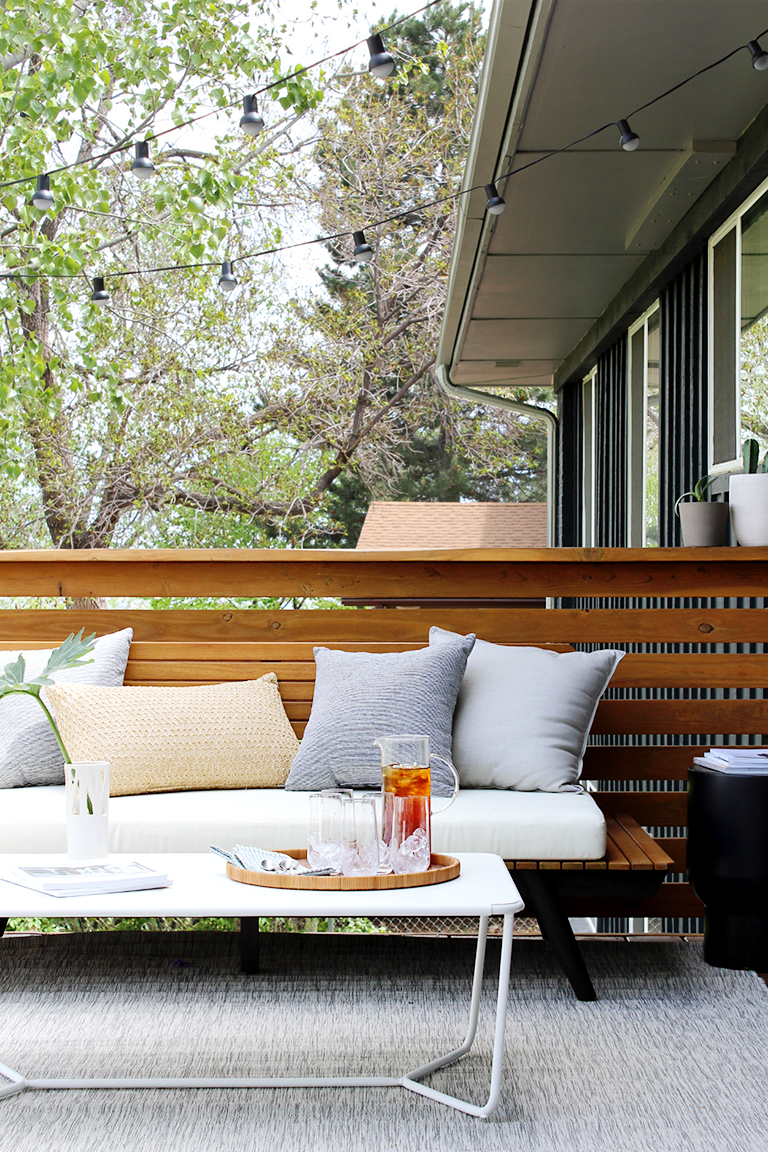 In the end I didn't end up using the floor pillow due to lack of space, but brought in a $1 rattan tray from the thrift store instead. The wind chimes I haven't hung yet but they are so beautiful in person and locally made. I did swap out the lumbar pillows for the chairs to sprinkle a little more white around the space and tie everything together (those chairs are dark, and so is our house). And I grabbed that black end table on a whim at Target ($49!!!). Finally, we hung some string lights by nailing a stained 2×2 to one of the deck posts – the ones in the photos are actually from Target but I can't find them online (boo).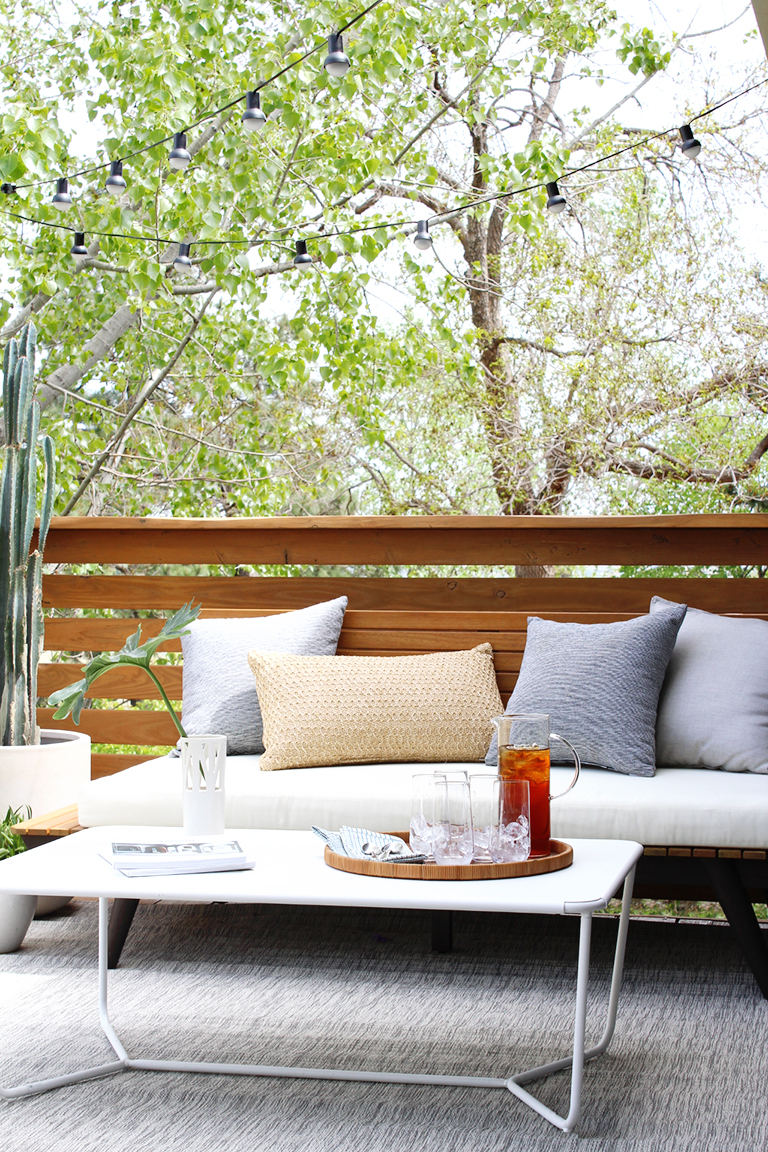 Altogether this space cost us about $1600. I'm sure I could have done it for less but I wanted higher-quality outdoor pillows that I knew would last a while…and I couldn't pass up those wind chimes!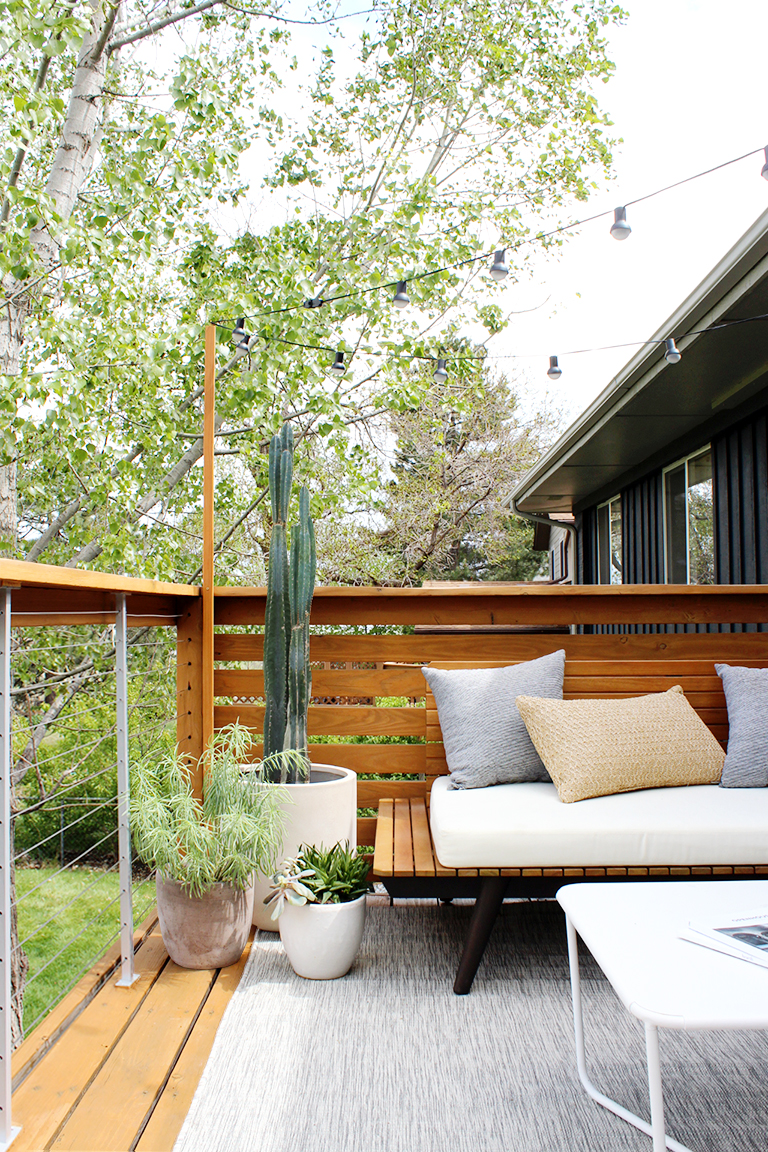 What do you think of our deck makeover? Would you have done anything differently? Also am I crazy for having so much white in an outdoor space?
In case you're interested, here's how you can GET THE LOOK: