A Night In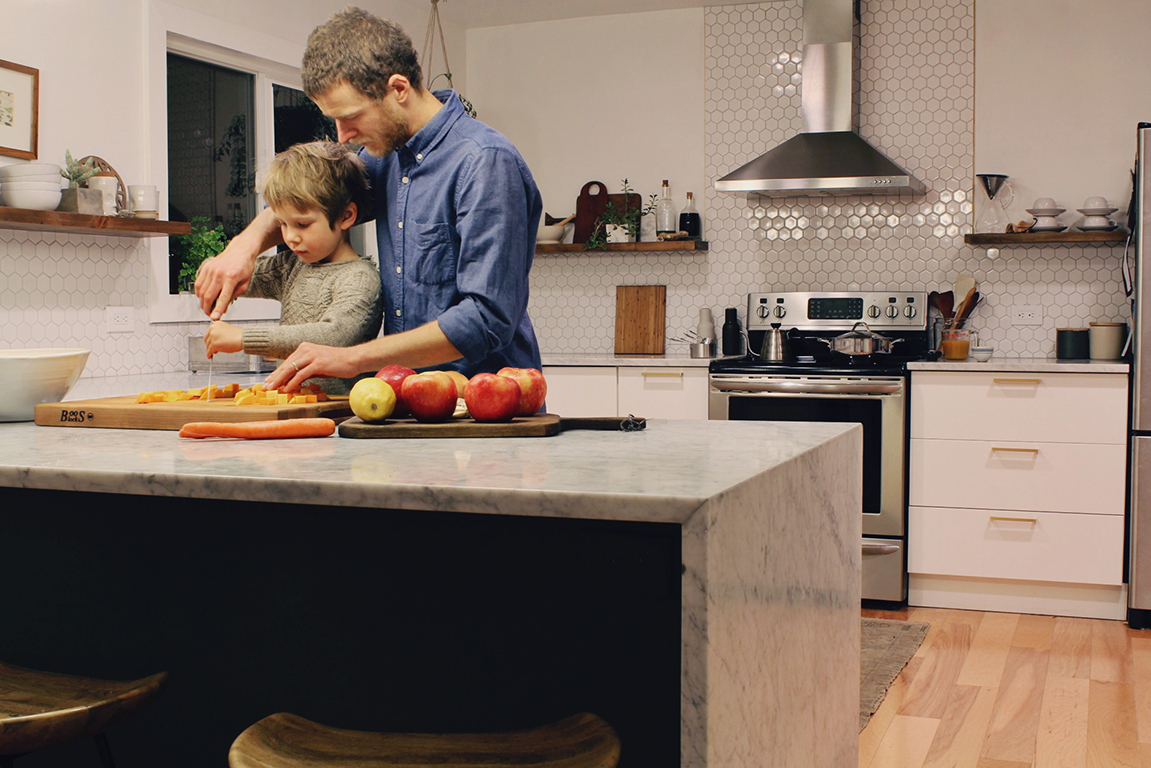 The 'A Night In' series is sponsored by the great folks at Anolon. All opinions are, as always, 100% own. This post contains affiliate links.
Tonight eight bloggers and I are shaking things up in the blogosphere, by taking some time to show you what our homes are like after dark.  That's right — no light-filled, airy spaces, but what our homes and lives really look like after the sun goes down (which unfortunately is super early nowadays).  After all, we do a lot of our living at night and it's pretty much never shared in the interior design world.  Time to get real (blurry photos and all)! This fabulous series is hosted by Julia and Chris of Chris Loves Julia and Kim and Scott of Yellow Brick Home – but don't forget to check out the other blogger's homes at the end of this post!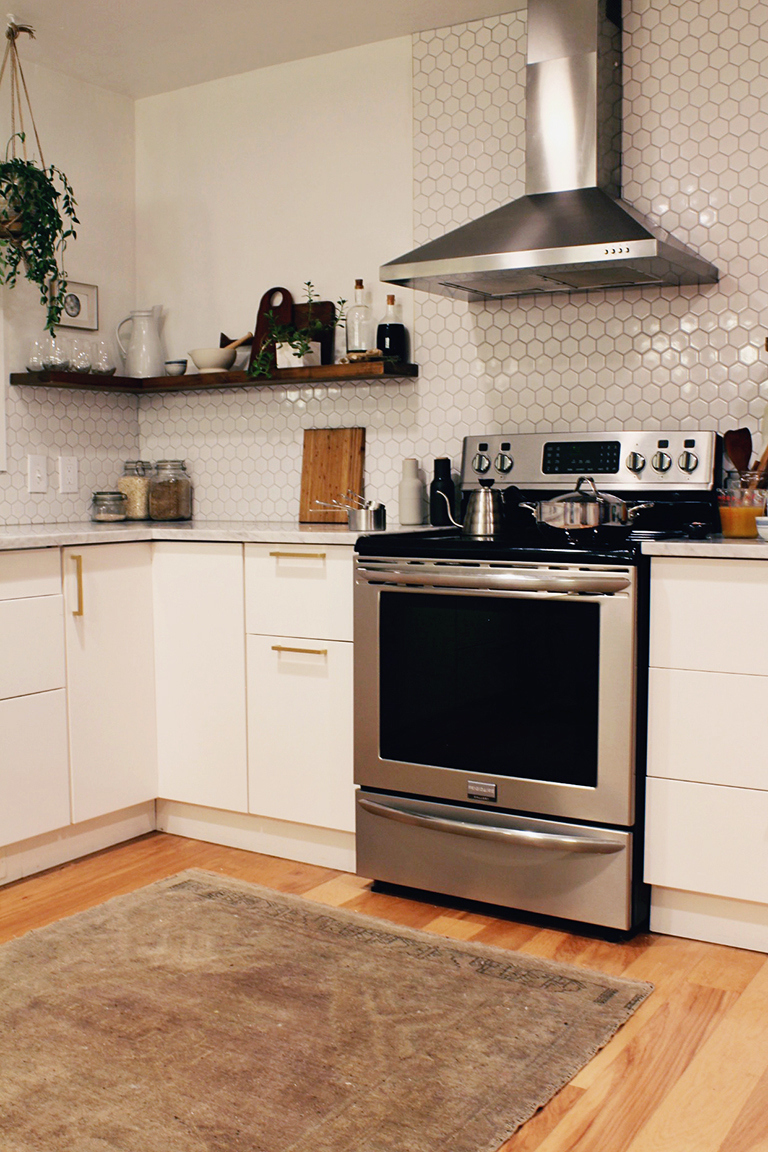 Now I love our kitchen precisely because it is so light, bright, and airy during the day.  And we spent a lot of man-hours getting it to feel that way.  Most of the time it looks like this (though maybe not as clean):
But at night it transforms into the glowing center of our house — literally.  It's by far the brightest room in the evenings, what with our recessed lighting and those Schoolhouse Electric pendants over the bar.  Which is great for doing homework and cooking!
And because we removed the wall that used to be between those two windows, it now looks into both the living room and dining room and is open to the hallway that leads to the bedrooms.  So no matter where Clinton is, I can generally keep an eye (or an ear) on him from the kitchen.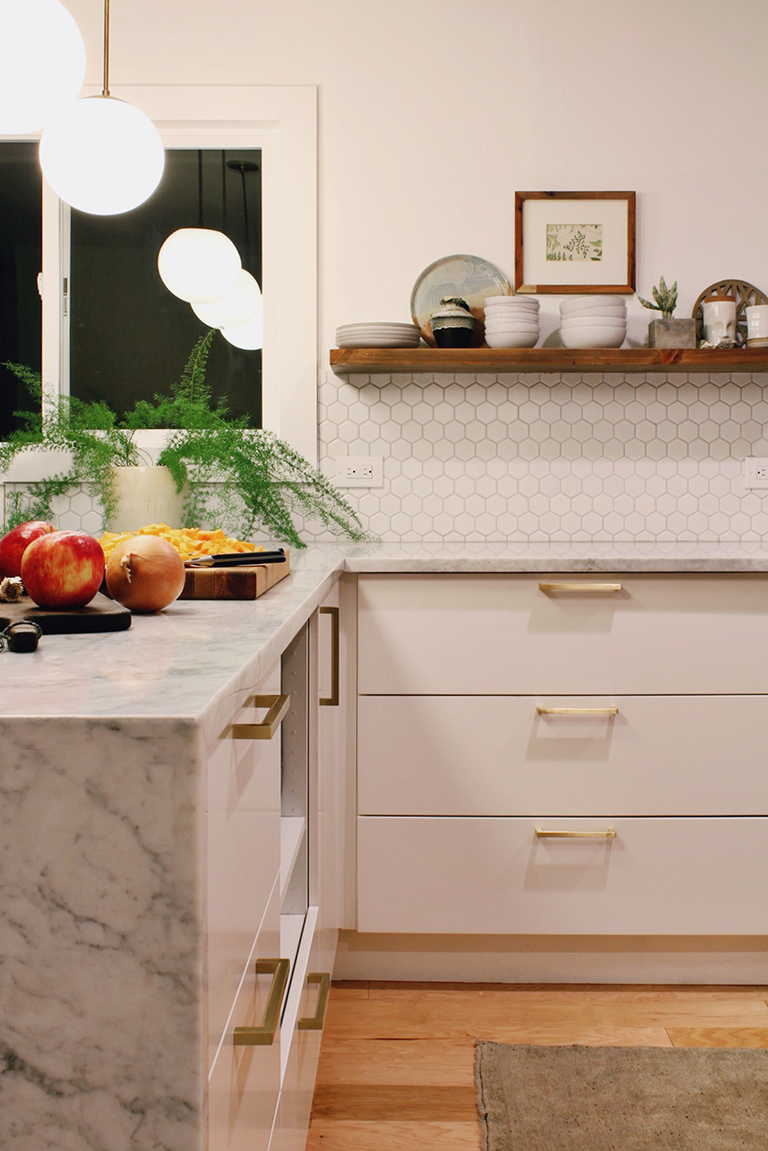 Though during the week I'm usually the cook, on Sunday evenings we like to have a group of friends over and Austin, Clinton, and I will make a big meal.  After the, uh…mental turmoil of last week's politics, we decided a night in to ourselves would be on the menu instead.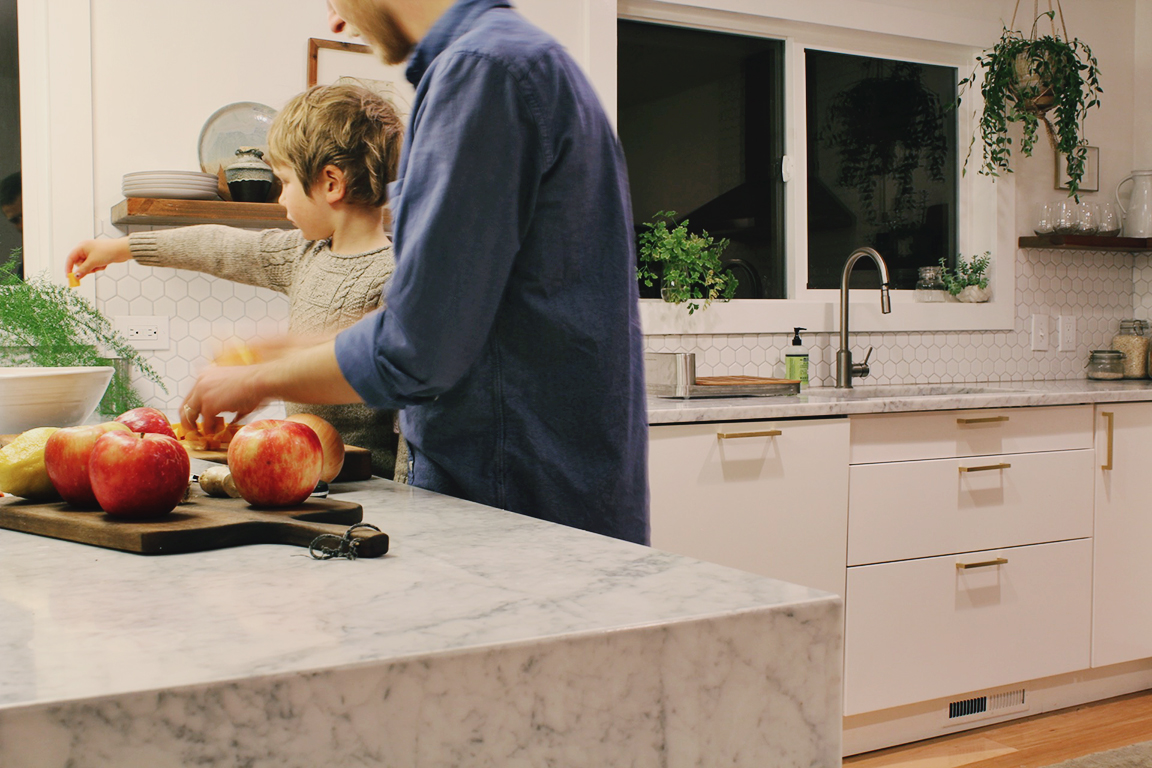 Clinton has always loved helping in the kitchen, and I've found that his palate has grown much more adventurous since I started involving him in the process.  We were making apple squash soup here, but I've gotten him to eat all sorts of crazy things simply because he cooked them himself.  Though I will say Austin has started letting him 'chop' vegetables and it gives this mama a mini heart attack each time!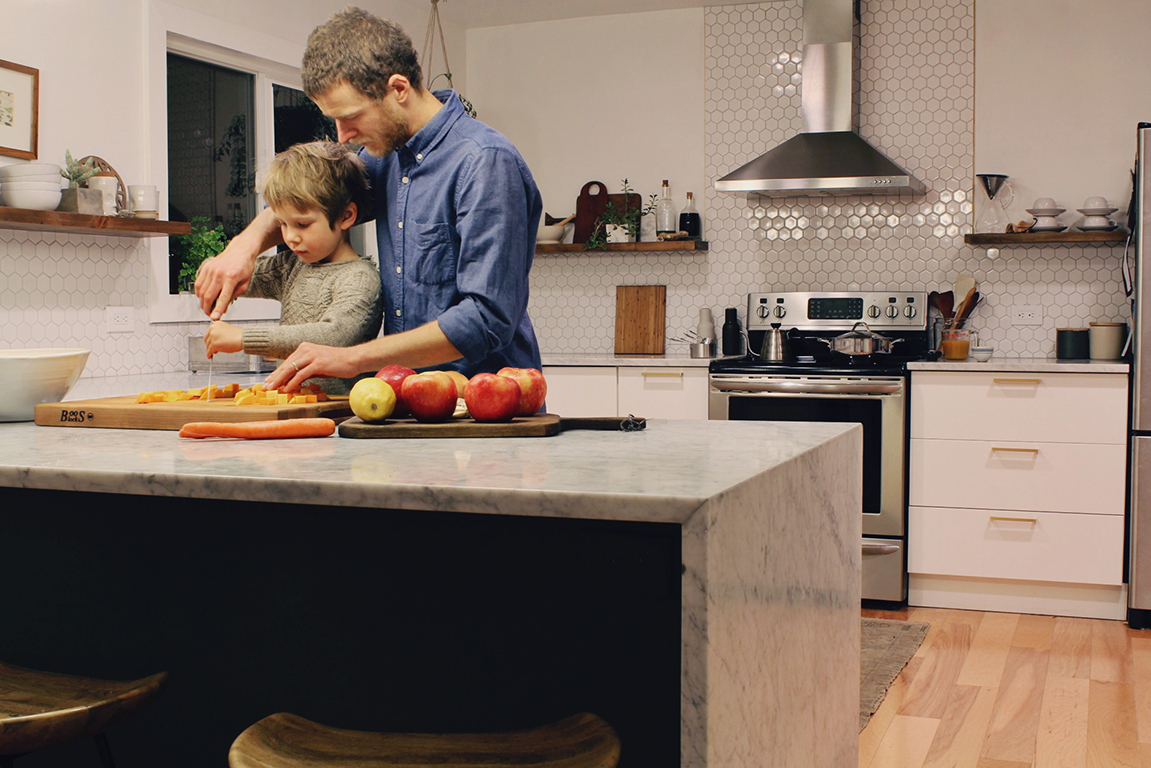 I'm a big fan of one-pot meals, and Austin is too — he likes to joke that after I cook it looks like a hurricane blew through our kitchen.  I was in the mood for something autumnal, especially since Denver seems to be revolting against the end of summer right now (it's currently 77 and sunny).  Squash soup sounded perfect this weekend and I was excited to try out our new Anolon pot.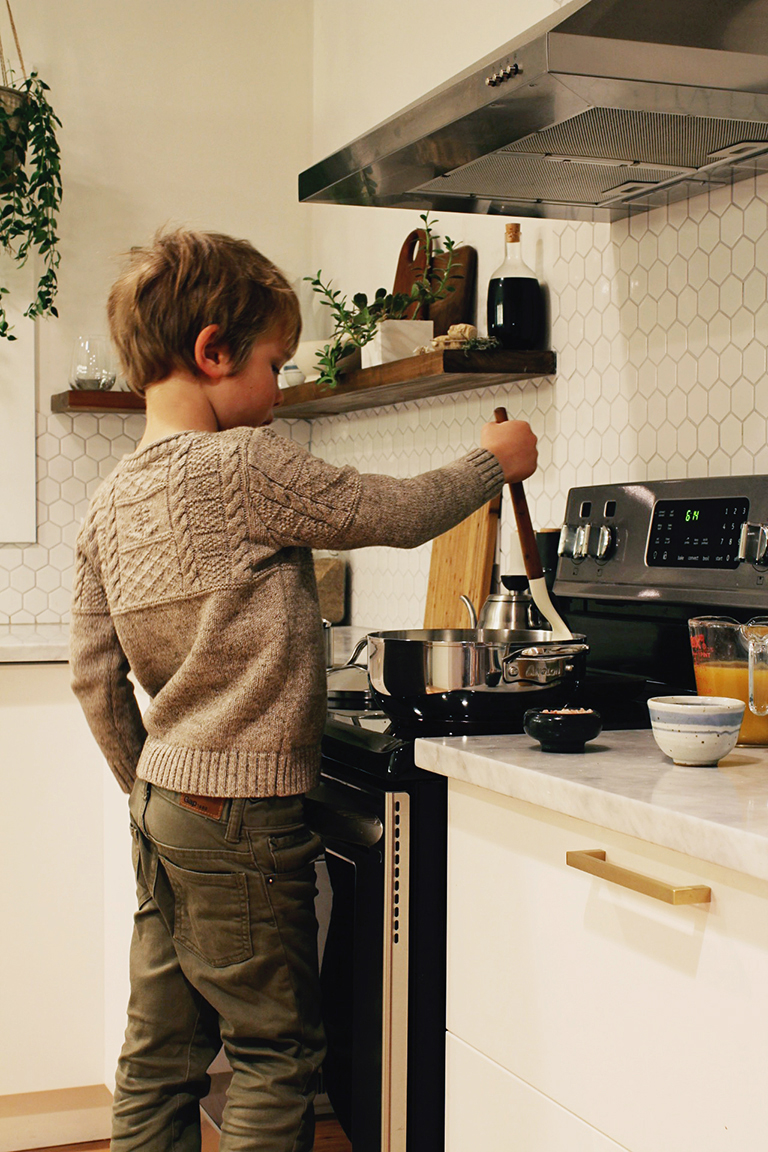 We have an induction stove which is a-mazing, it heats up so quickly and is incredibly easy to clean.  This pot works great on it and the designer in me loves the ring of copper around the bottom — which I know is there for functional purposes, but still.  It's pretty.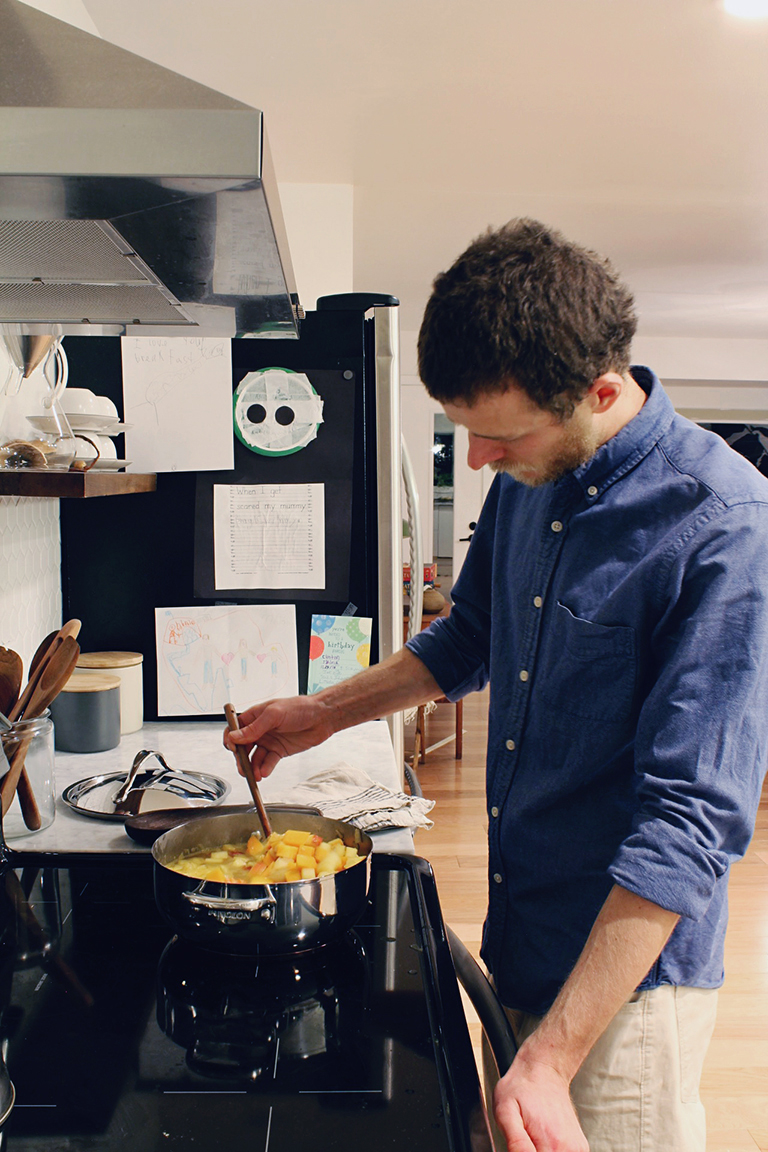 I'd actually really recommend this guy (not the one on the right, he's taken) — it was surprisingly non-stick for being stainless steel.  We recently got rid of an All Clad pot because the non-non-stickness (is that a word?) of it was driving me crazy, but when I was caramelizing the onions in this one (before the broth went in) it was perfect.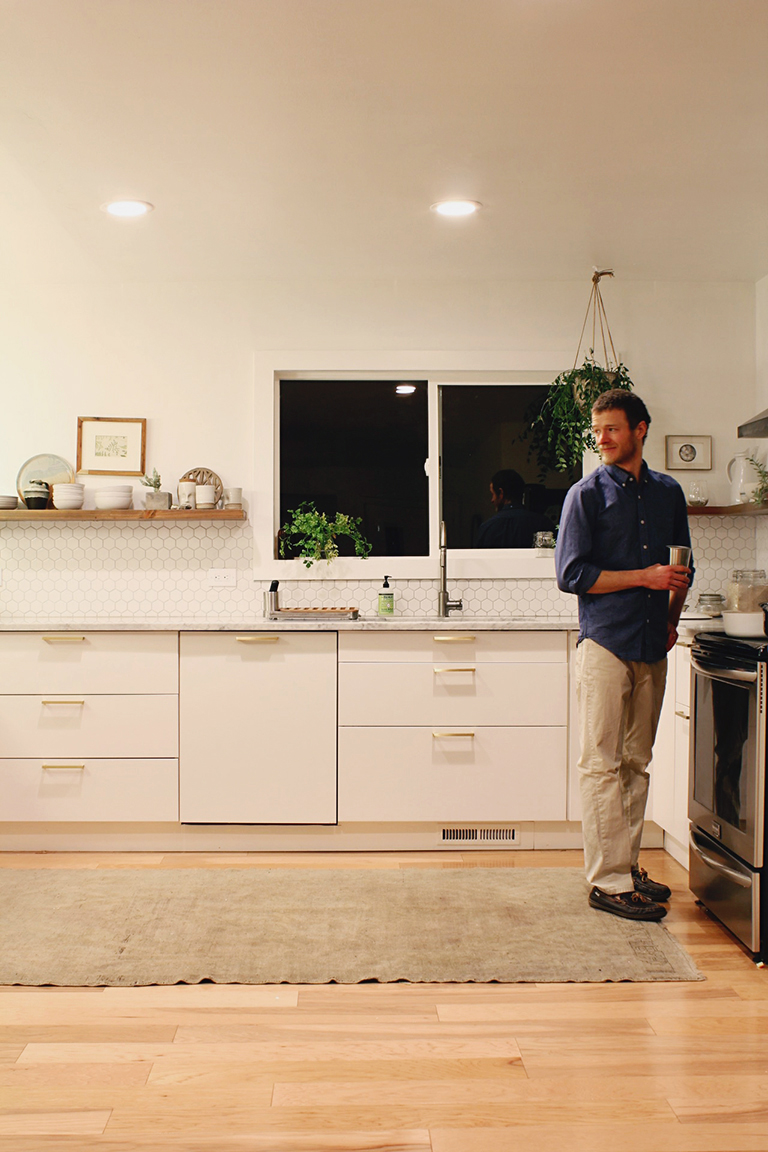 Trying to distract a hungry five-year-old while dinner is cooking can be a challenge sometimes.  We encourage him to play Legos, color, or do his homework, but most of the time he just asks every two minutes if it's ready and insists on tasting it even more frequently.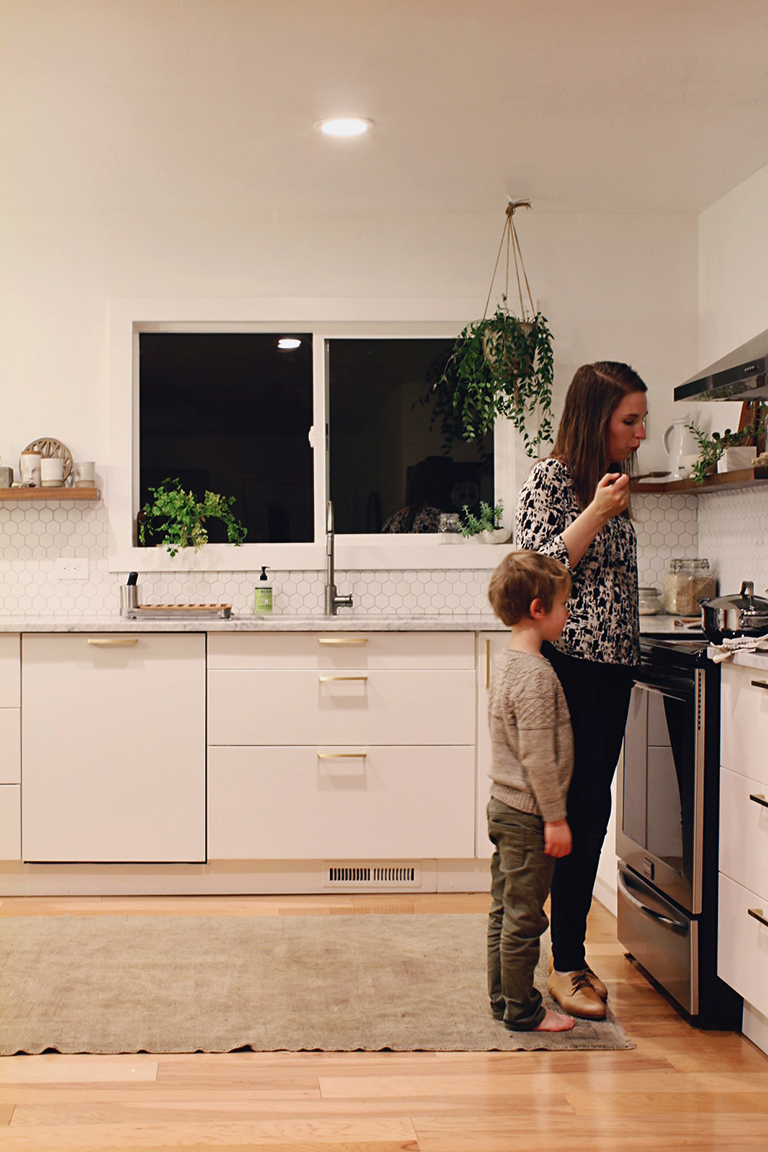 Sometimes he turns into a little food monster.  But that belly is grumbling!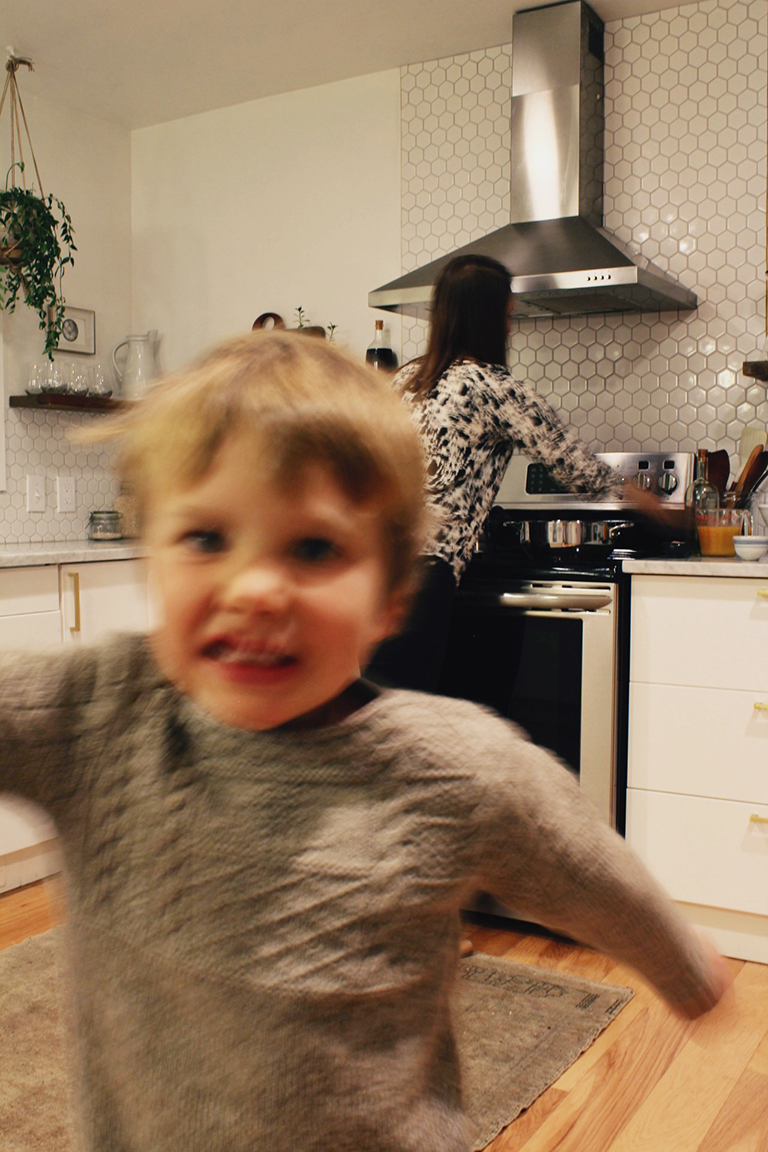 I had big dreams in this house of family dinners in our dining room, but it only happens 20% of the time.  Most nights it's just easier to sit at the bar together.  We do try very hard every evening to share what we're grateful for about that day.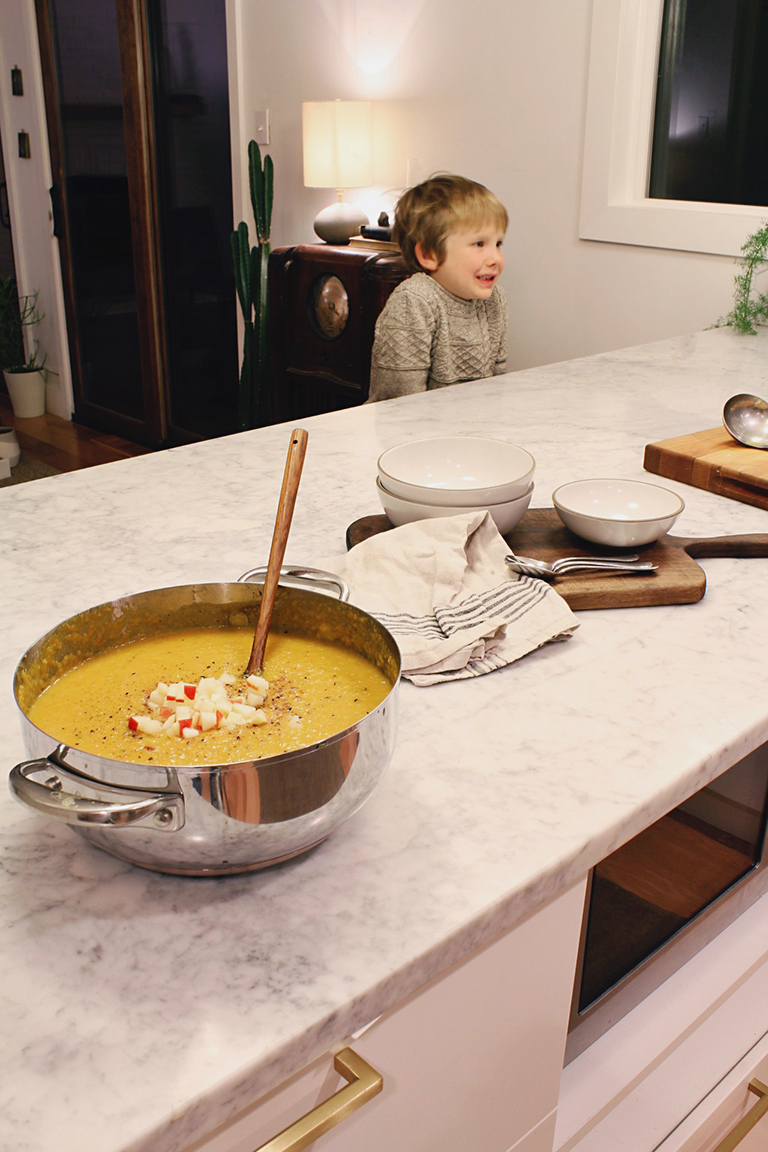 Sometimes it's the time we spent with someone, or the playing that Clinton got to do, or the hike we went on, or the meal we're eating.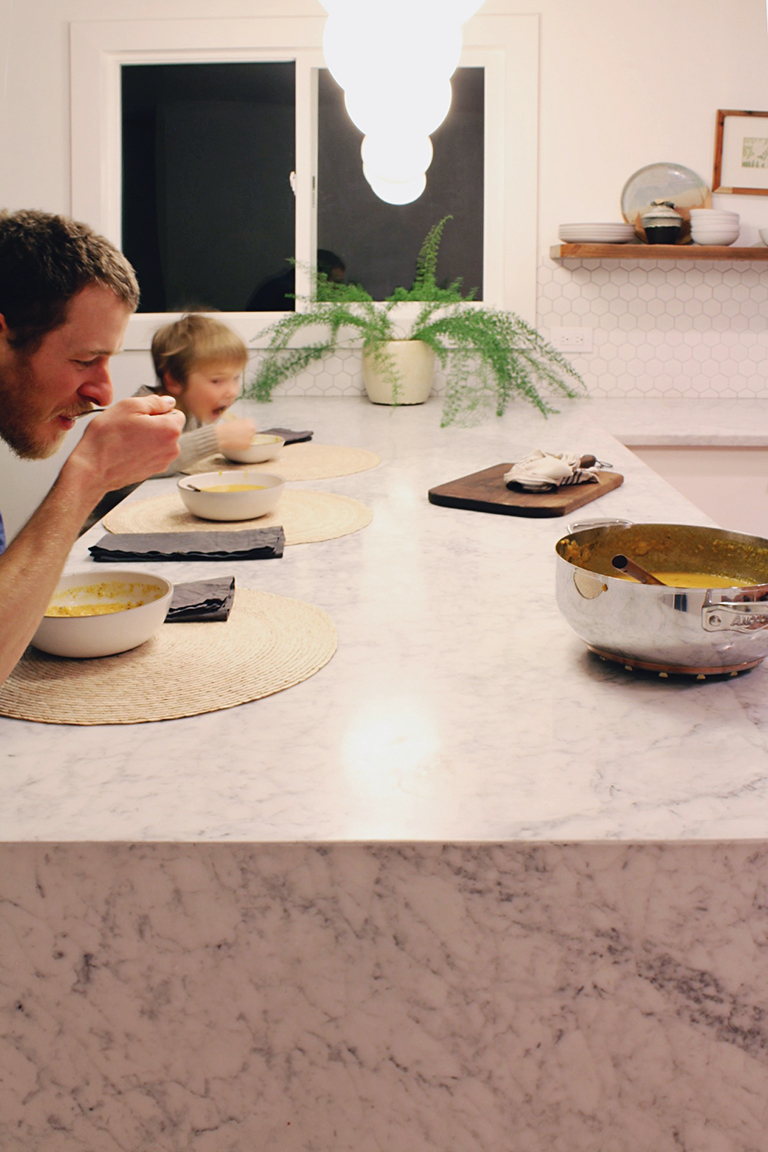 But personally I'm always grateful for that time together at the end of the day…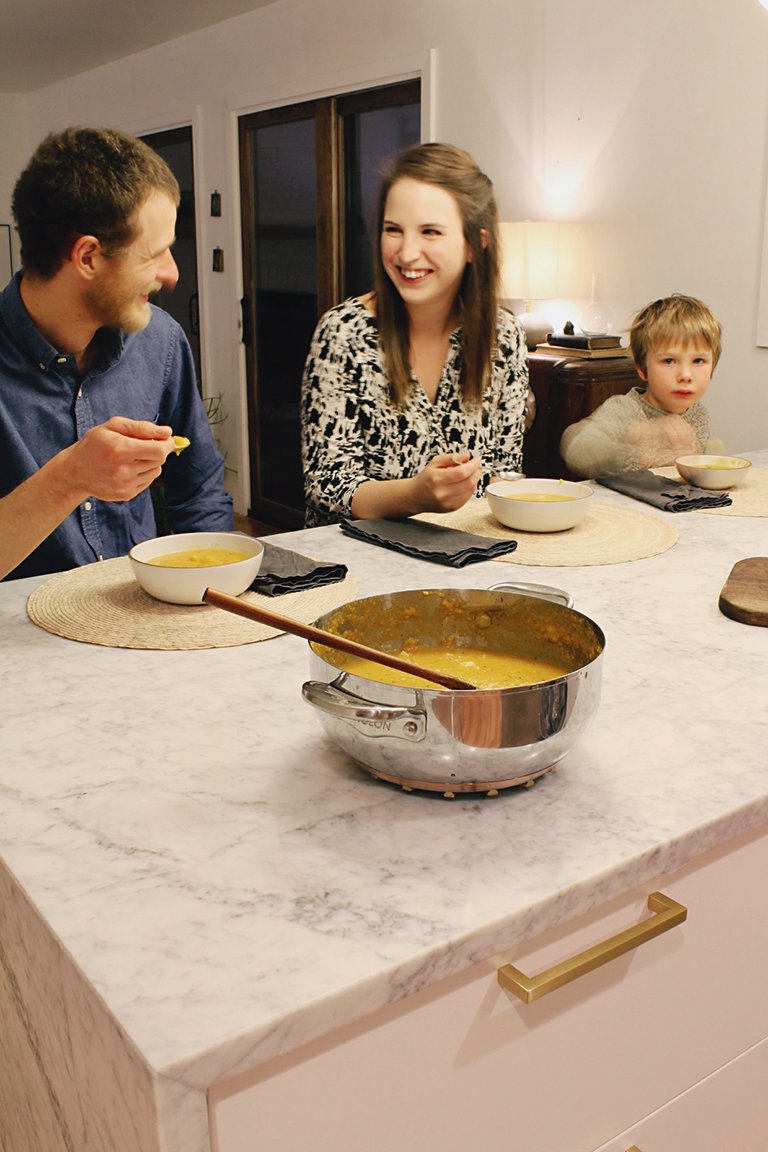 Want more behind-the-scenes of some of my favorite bloggers in their kitchens? Be sure to check out Chris Loves Julia, Yellow Brick Home, Hunted Interior, Deuce Cities Henhouse, The Makerista, House Updated, Lay Baby Lay, and Grey Loves Grey for a peek at their nights in!
And a big thank you to Anolon for sponsoring this series!