Kitchen Reno: Part III (Asbestos Abatement)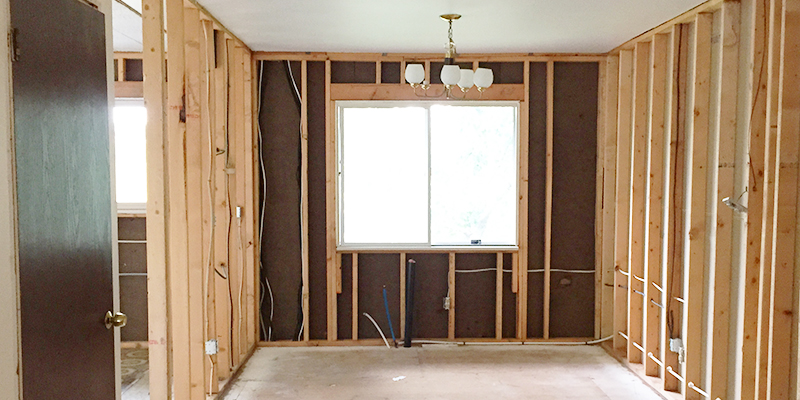 Ugh.
That pretty much sums up how I feel about asbestos.  It's a seriously scary thing finding it in your home if you're doing renovations (asbestos is not a health risk unless its fibers are disturbed, a.k.a made airborne).  It's incredibly expensive to remove and it'll definitely keep you up at night.  Basically, it's the worst.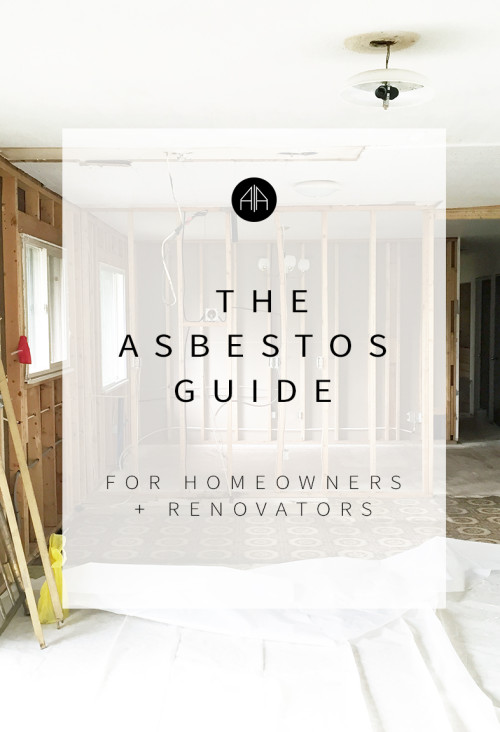 (Don't know what asbestos is? This article will tell you.)
But unfortunately it's in a lot of older homes and in a lot  of different places: insulation, flooring, adhesives, drywall texture, ceiling tiles, roofing, siding…the list goes on. Here's what happens when you're exposed to asbestos. (Didn't I say it was the worst? The WORST.)
As I mentioned in my last post, after we demoed our kitchen we found out we have asbestos in our drywall texture. Literally every inch of our walls and ceilings in our entire house, including the garage and basement, has asbestos in it.  Any time we disturb the wall surface — when we screw something into it, or rip anything out — we will be disturbing it.
This became a major problem for us as we were planning on removing the wall between the kitchen and dining room and needed to open up two walls for the new kitchen wiring.  But first, how did we find out we had it?
If you live in an older home (ours was built in 1972) and you're planning on doing any kind of renovations, I can't stress how important it is to test suspect materials for asbestos.  It's expensive, but worth it if you could be saving your life (or the lives of your family!).
In the state of Colorado it's legal to self-test but there's an important caveat: if you do find asbestos and have it removed by an abatement company, you can't do so until  a professional testing company has confirmed the results.  That can make it extra expensive so it's important to use your judgement.
We decided to self-test our home first in case the results came back negative, so we wouldn't have to spend the $300 or so on the professional testing. (Self-testing was $40 for the first sample, and $20 for each additional one. We used this company in Denver).
We were originally planning on testing our ceiling tiles, vinyl flooring, and popcorn ceiling but after speaking with another testing company it was recommended we test the drywall as well.
So we did, and of course it was the only thing that came back positive.  Double ugh.
This meant we needed to spend that extra money and have another company come and confirm our results.  We used BuildSafe Environmental — Marty, the owner, came and did the testing himself and was super helpful in explaining what he was doing, how it worked, and what our next steps were.  I highly recommend him!
After we confirmed what we already knew — 3% chrysotile in the drywall texture, and nowhere else — we had several abatement companies come and give us quotes.
When looking for abatement companies, ask your testing company who they recommend. Testing companies are also responsible for post-abatement air quality testing and they know which companies always pass and which don't.
I consulted with BuildSafe at that point, and we ended up going with Colorado Hazardous Environmental.  Again they were just wonderful — very helpful and professional and thorough.  And they passed the air quality test with flying colors!
---
What is asbestos abatement?
Abatement is the removal and disposal of asbestos-containing material in a way that is both safe for you, the workers removing it, and the environment.  There are a lot of laws regulating this for obvious reasons and I think there are different methods depending on the material, but for drywall it's wet removal.
The area to be abated is entirely sectioned off with heavy-duty plastic sheeting and every opening is sealed off as well — windows, vents, drains, etc.  Negative air machines are used so that no contaminated air can escape while the abatement company is working, and the drywall is wetted thoroughly so that the asbestos fibers cannot become airborne.
Once sufficiently wetted it is removed and disposed of according to state and federal laws, and then the entire area is cleaned so that they can be sure no asbestos remains in the air.
How much does it cost?
Abatement companies typically charge by the square foot — in this case square footage includes the walls and ceilings.  Obviously cost varies with the size of the project.
We had our abatement company remove all the drywall in the dining room and kitchen and remove all the trim on the top floor of our house, which was a total of $3,877.17 for 1,370 square feet (now I'm talking just the floor there), or about $2.83/sq ft. Granted, they weren't removing drywall in most of that square footage, just the trim.  I expect the real cost is more like $30/sq ft because when they gave us a quote for our two bathrooms (which we're doing later, and they're about 100 sq. ft) they said it'd be $3-4k.
Hopefully that gives you some idea of the cost — basically, it's not cheap.
How long does it take?
Again, this varies with the size of the project.  Ours took 4 days from start to finish (including air testing).
---
I hope that helps some of you who are going through this too.  Good luck and as always, be safe! Don't handle asbestos yourself — leave it to the professionals.
xoxo
Anna
Have you dealt with asbestos in your home? I'd love to hear your story!