10 Years of Anna's Living Room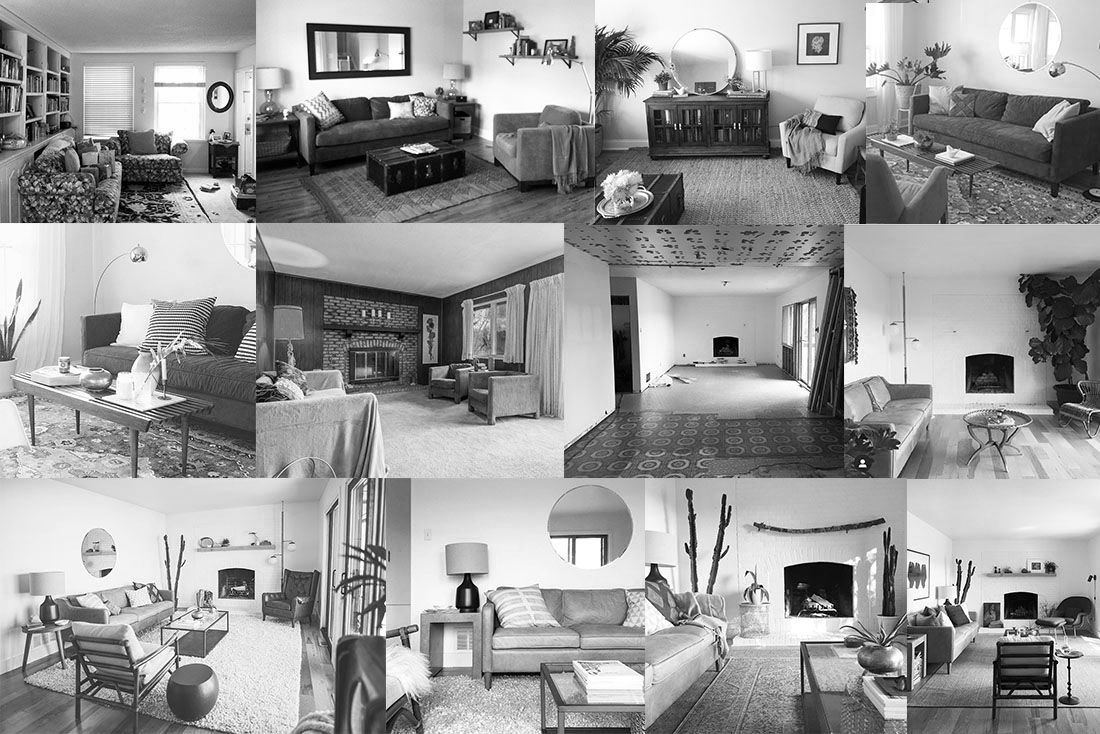 In combing through our blog archives, I recently came across an old post in which I proudly revealed a living room makeover that made me pause.  It was my husband Austin's and my first home, back when we lived in Washington, DC and long before I became an interior designer and founded Annabode.
Seeing the old photos again and reading what I had written was humbling to say the least.  But it was also invigorating, and I thought – what could one find by looking back at all the iterations of our living rooms from the past ten years, even further back, from our first apartment to our current house in Denver?
So here it goes.  Excuse me while I blush.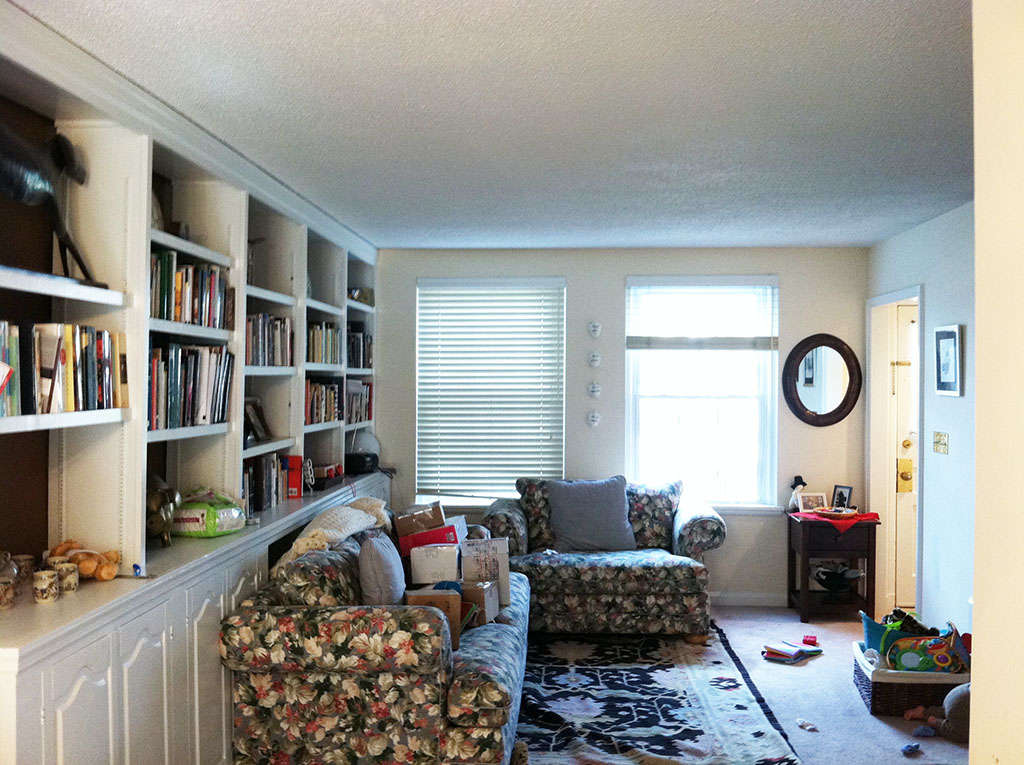 This was our very first apartment and first time living together. We had no furniture or decor save what our parents had given us from their own homes – hence the large floral sofa and chair, nightstand-turned-side table, and mismatched everything. I'm amazed we even took a photo of this, and somehow saved it all these years.
As you can tell, the sofa was so large that we had tried to make it work by pushing it back against the built-ins, rendering most of them useless. The room was quite narrow, and that was apparently the only way we had thought it would fit. Why didn't we put it under the window, and move the chair-and-a-half opposite? Who knows.
Clearly, design was not uppermost in our minds. Every day was a struggle for us – we were in a new city, had just had our first kid (see those diapers?), Austin was starting a new job, and I was in grad school. For that year or so, life was chaotic and messy and unpredictable – and our apartment reflected that.
Flash forward a year (or two), when we purchased our first house in Alexandria. This was the first time I had ever had a space to live in that I was allowed to alter to suite my own tastes (Austin had owned an apartment in Boston during college, and had renovated it – so he was ahead of me in that regard).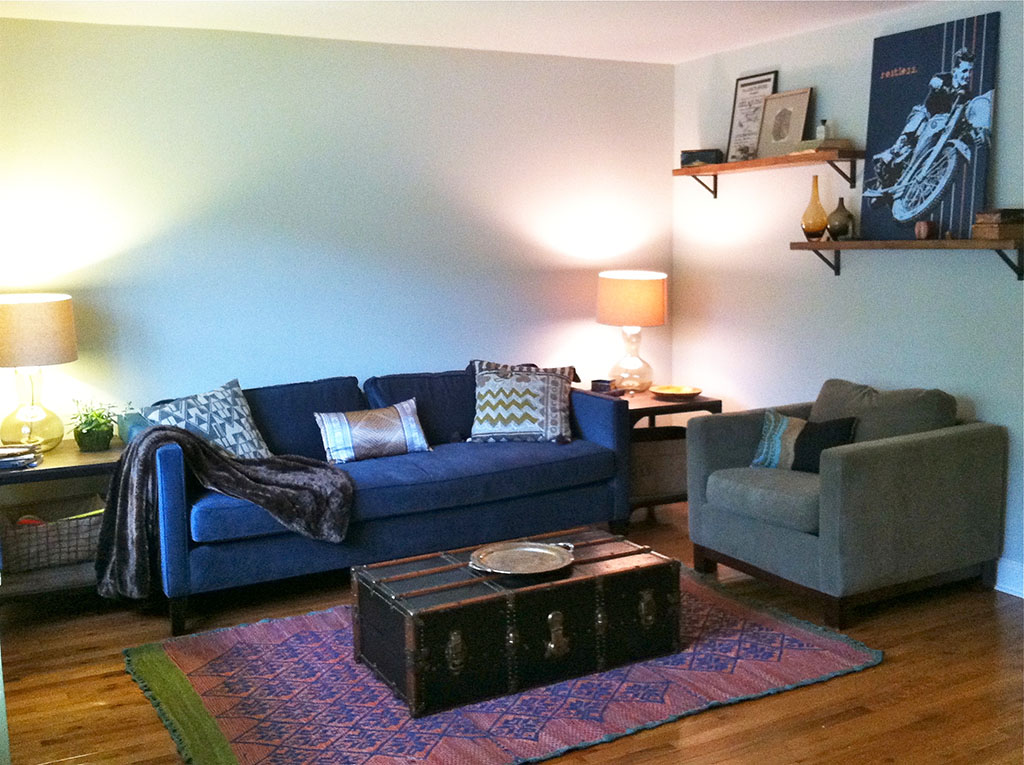 Oh sad, sad living room. So dark, so dreary…so mismatched it's painful. Why must you have a big furry blanket on a velvet sofa? Why the too-tall shelves with giant artwork? And tiny rug?
At least here, you can see I was trying. This was a big improvement over the first space – and we had added some pieces to make it ours. Some new (the sofa, lamps, and rug), some secondhand (the chair and end tables), and still some inherited (that furry blanket, the coffee table).
To be clear, this is not about doing things "wrong" vs. "right". If any of these spaces had felt beautiful to me at the time, I wouldn't be so critical about them now. But they never did feel right, and I didn't yet have the tools and understanding to change that.
Nor had I spent the time (or, let's be honest, the money) to discover what I genuinely loved and was drawn to. And yes, looking at them now makes me cringe.
Instead, I was beginning to experiment.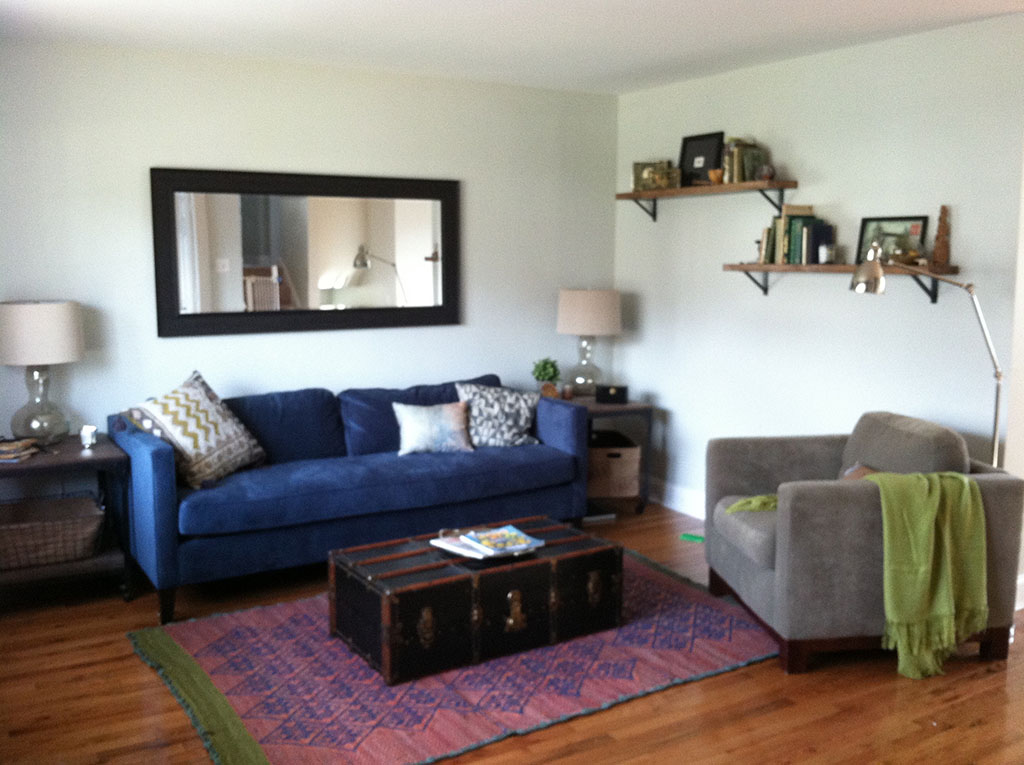 I confess I nearly drove Austin mad with how much time I spent over the next several years rearranging, purchasing, and selling our furniture. We were over the baby years – our son was officially a toddler – and as we settled into being new parents, and continued to mature (we were still very newly into our twenties) our life did become less chaotic.
Looking back at these images now, I can see that change reflected in our living spaces.
Notice how I rearranged the seating, took away the too-tall art, and hung something above the sofa? The wheels were turning.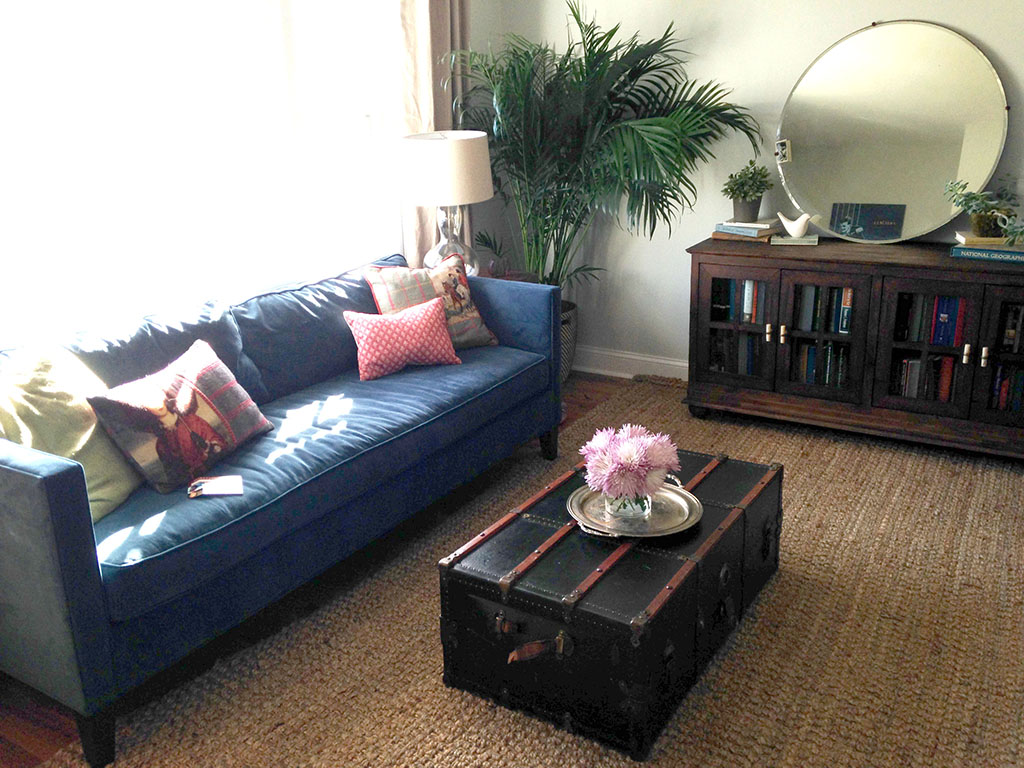 Here I tried a new layout, and was trying to make the style more cohesive – though this was still in my "Anthropologie" phase.
With the sofa along the back wall, it had felt too open to the front entry – hence the sofa along the windows. If I lived in this home again, I'd put the sofa exactly where it is here, but with two chairs opposite. You can see however, the train table won out in favor of another chair.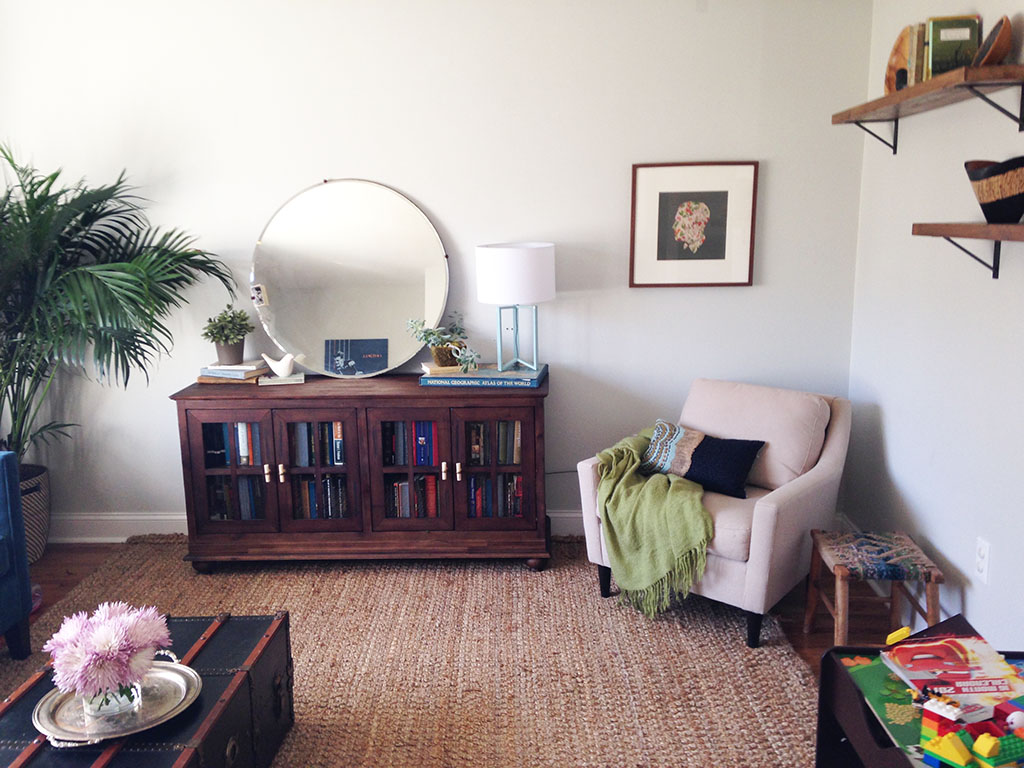 (That chair and rug! Both still beautiful to me now.)
After a few years of living in DC, I was almost finished grad school and had, on a whim one day, started my original blog – Annabode.
As you can see, I was learning how to create balance in a three-dimensional space. How to repeat color (if not pattern, yet), and how to judge scale. Was it better than previous versions? Yes. This does feel slightly more pulled together. But more importantly, you can tell I was just beginning to understand style.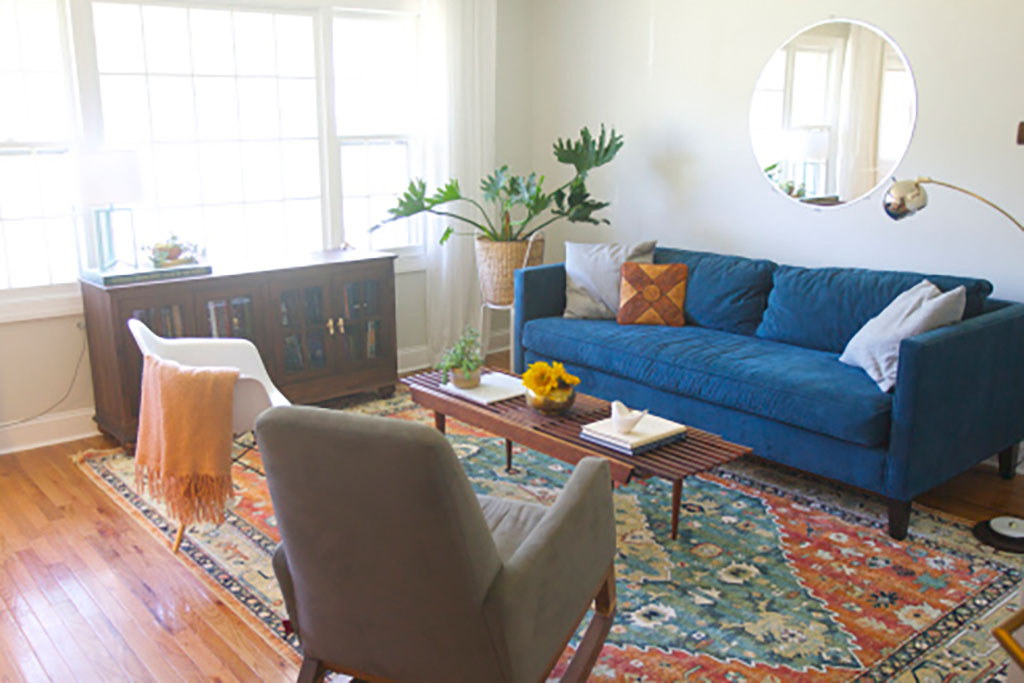 The drapery is lighter here, and I had added a larger rug and more seating. The coffee table finally had the legs it needed and things were hung on the wall at a more appropriate height. Between the last two photos, the heavy bookshelf also left and some new pillows came in in a further attempt at cohesiveness.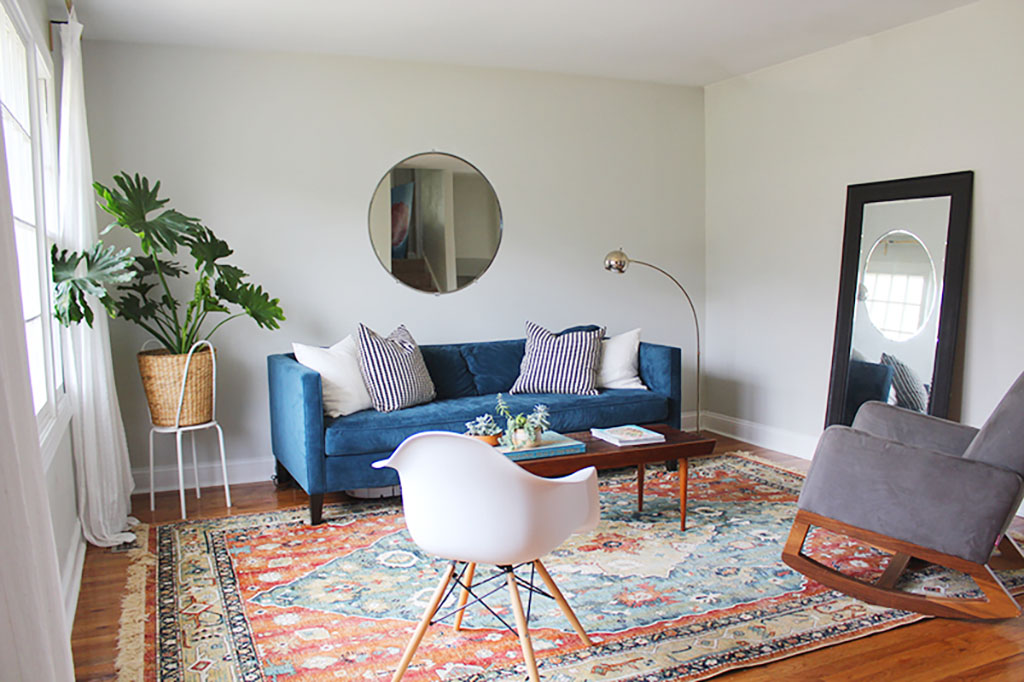 I look at these photos now and see the beginnings of my creative journey. That vintage floor lamp, coffee table, and round mirror are still a win in my book today. (The rest? Eh.)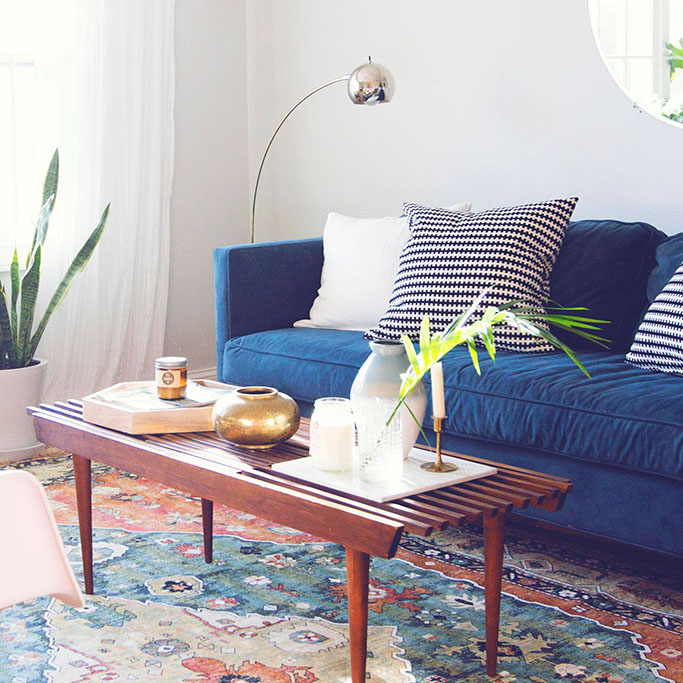 This moment here, when I began photographing my home and posting it online, was when I fell in love with photography, thrifting, and styling.
And then we moved!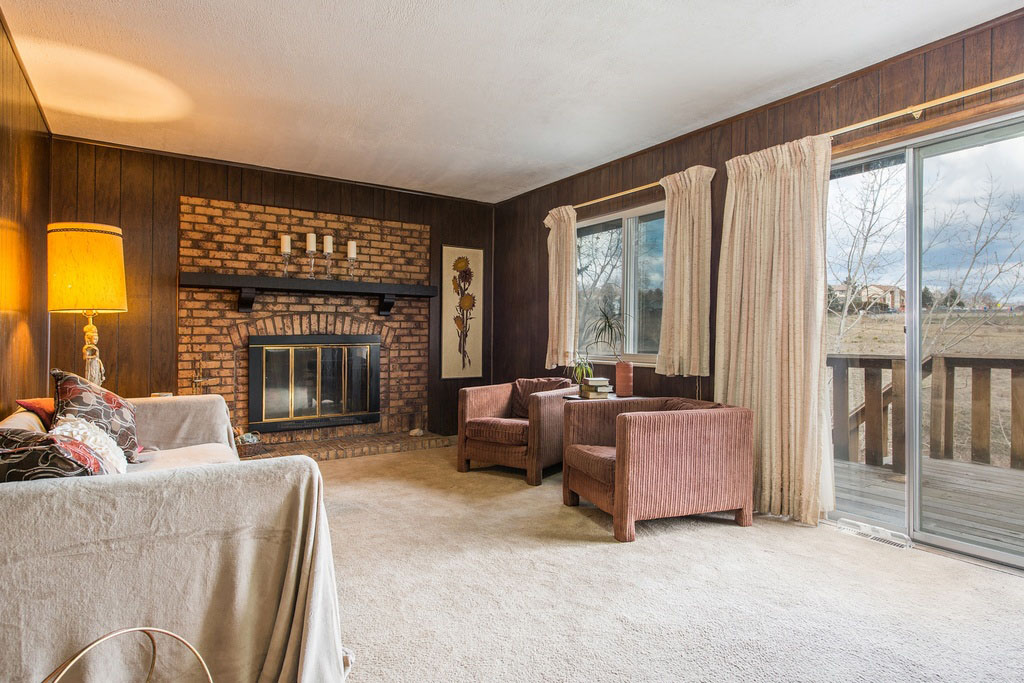 In 2015 we relocated to Denver, and immediately demo'd our fixer upper. When we arrived our new living room looked like the above. Pretty soon after it looked like this: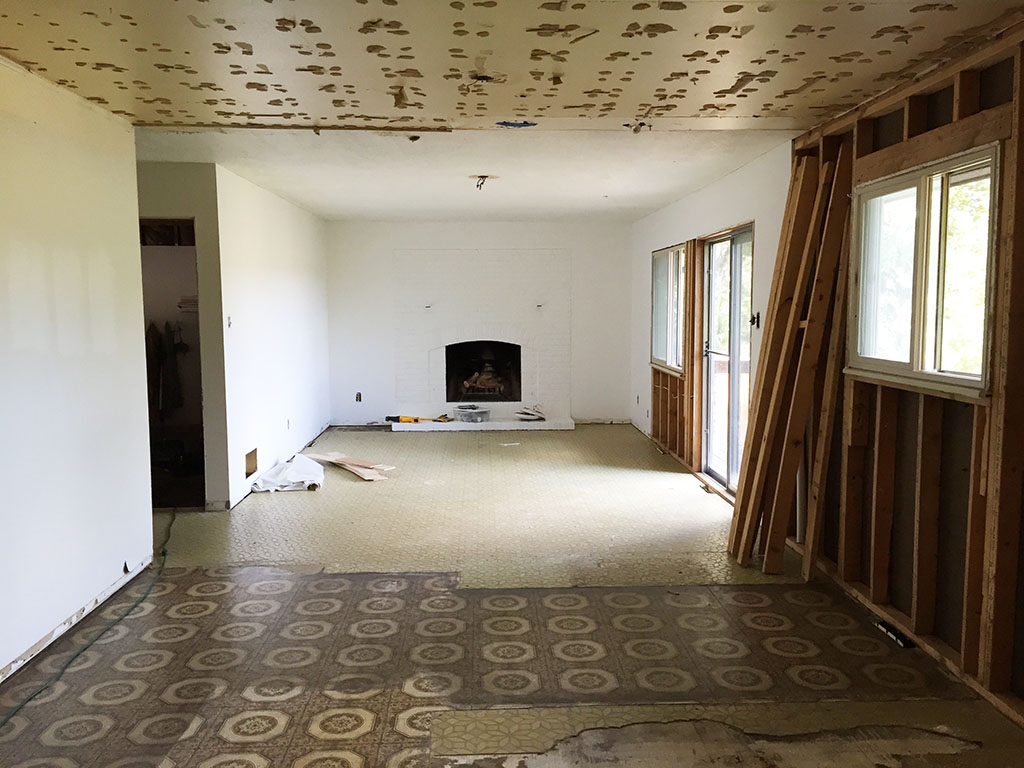 We purchased the house from the original owner, and it was pretty much as it had been built in 1972. If there had been any beautiful original features we would have saved them, but this was a home in a suburban development, where there are only 3 floor plans and one if them is a mirror image of the other. So other than reducing waste, I had no qualms about removing the dated finishes.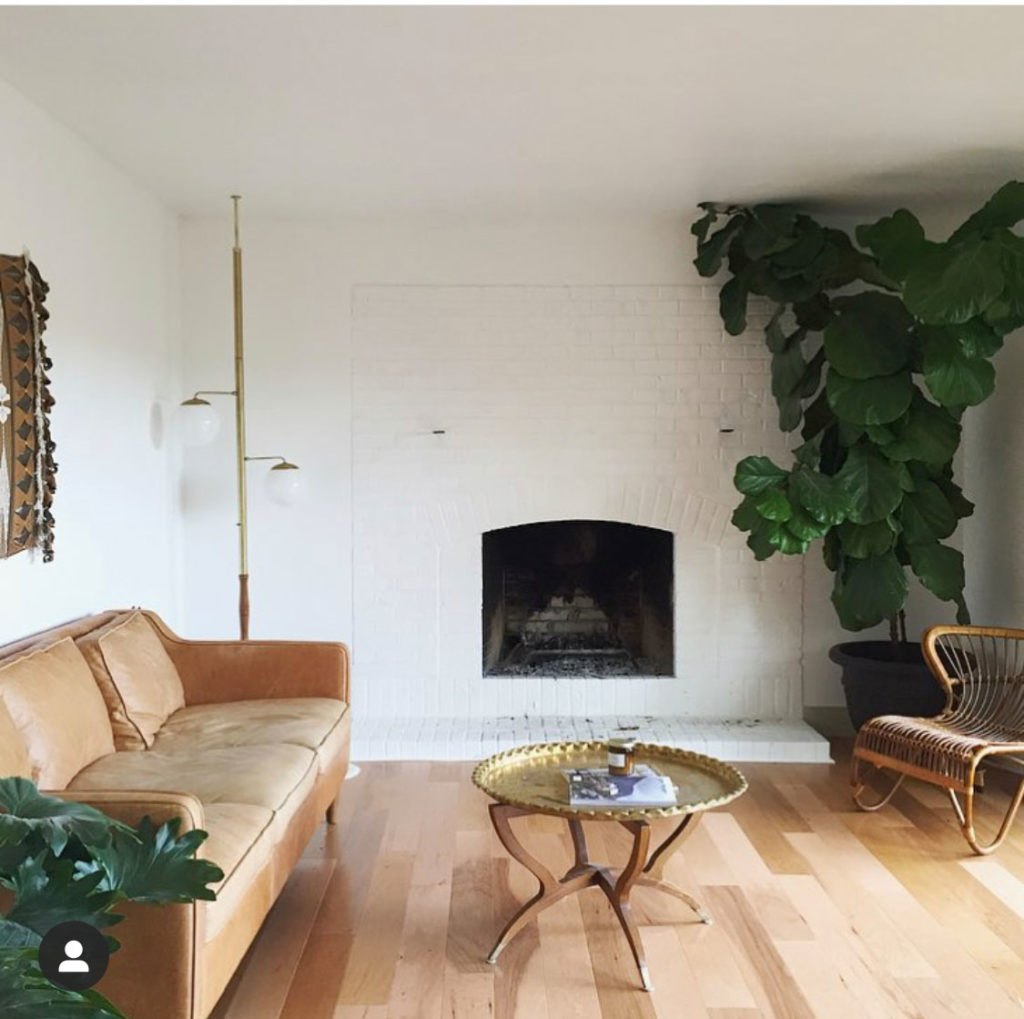 We laid new wood flooring, opened up walls, made one window into a door, replaced all the other windows, doors, and hardware, removed the mantel and fireplace doors, and finally painted everything. We did that ourselves – no trades, no GC, just a lot of You Tube videos.
When we had left DC, we had gone through everything we owned and only taken what we genuinely needed or loved. This was before Marie Kondo came to the US, and before we had ever heard the phrase "spark joy". Obviously we had loved nothing from our previous living room, but I also did not want to buy anything that I didn't absolutely love.
And so for a good while, we lived in house mostly devoid of furniture.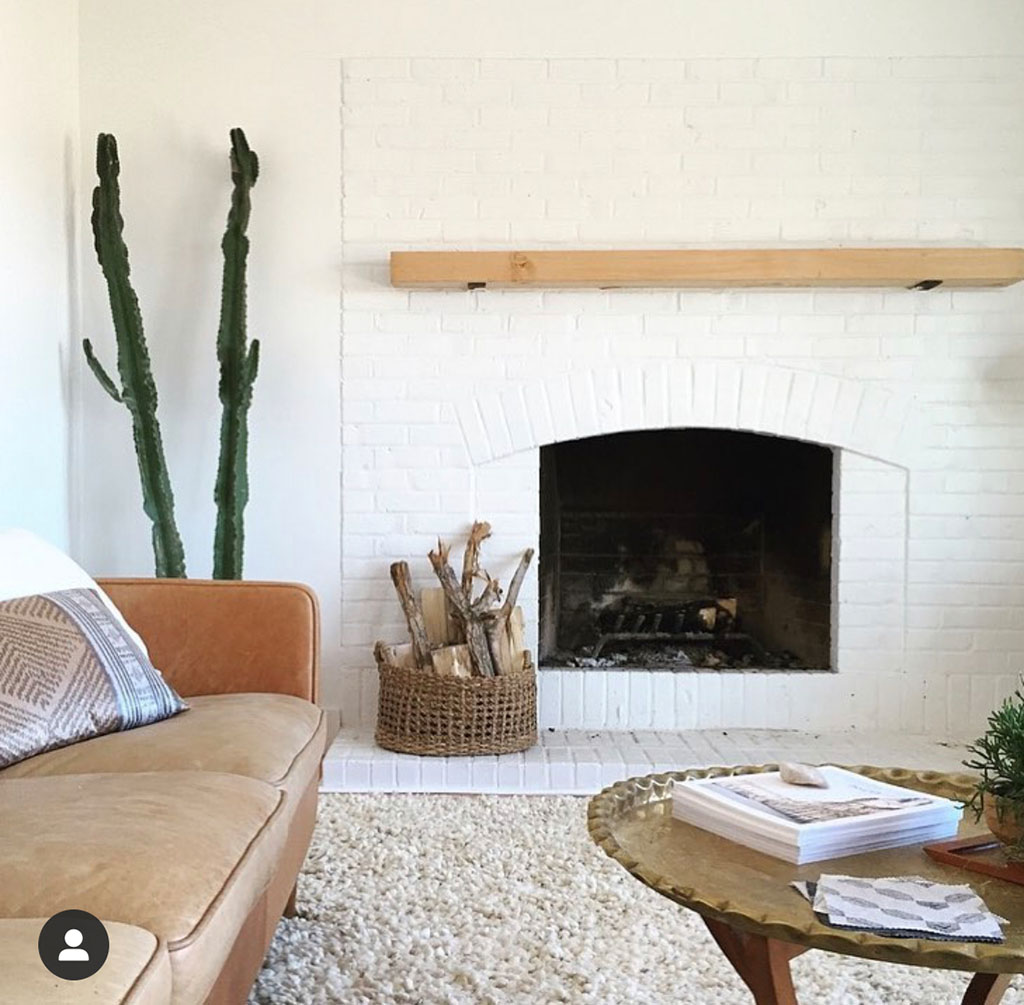 Our budget was still tight, but I was getting better at thrifting, using Craigslist, and finding vintage pieces that had more character. I had come a long way in terms of creating a palette, and incorporating the right textures.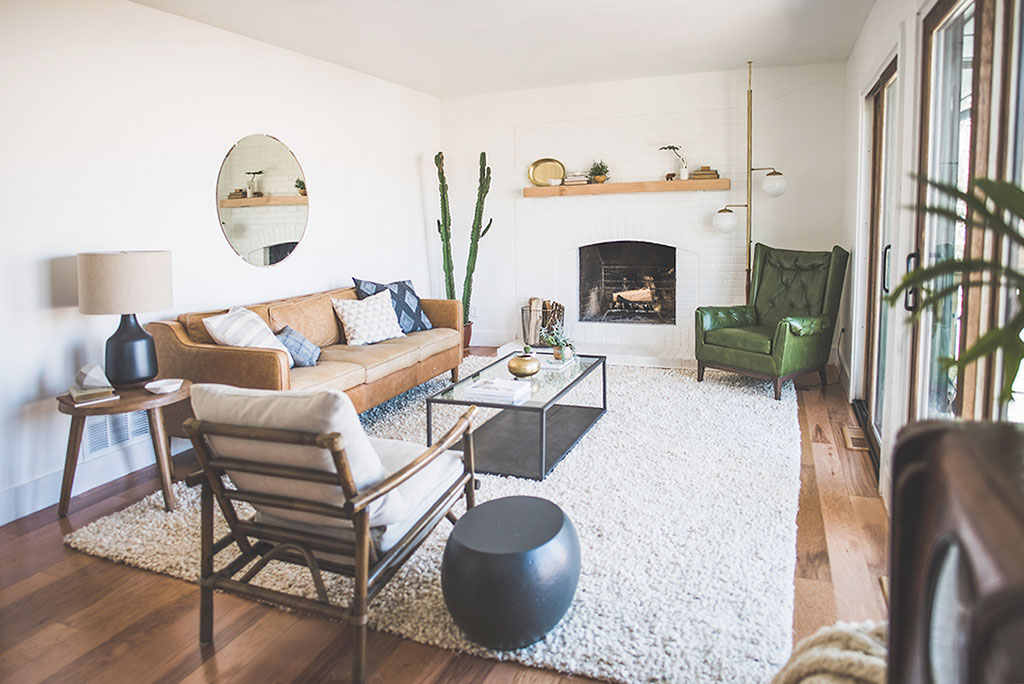 This photo I did not take, but is the only pulled-back shot I can find of our living room just about the time when I founded Annabode as an interior design business rather than a blog. (Know that my clients most certainly had more beautiful spaces than this one – time was beginning to be a big limitation.)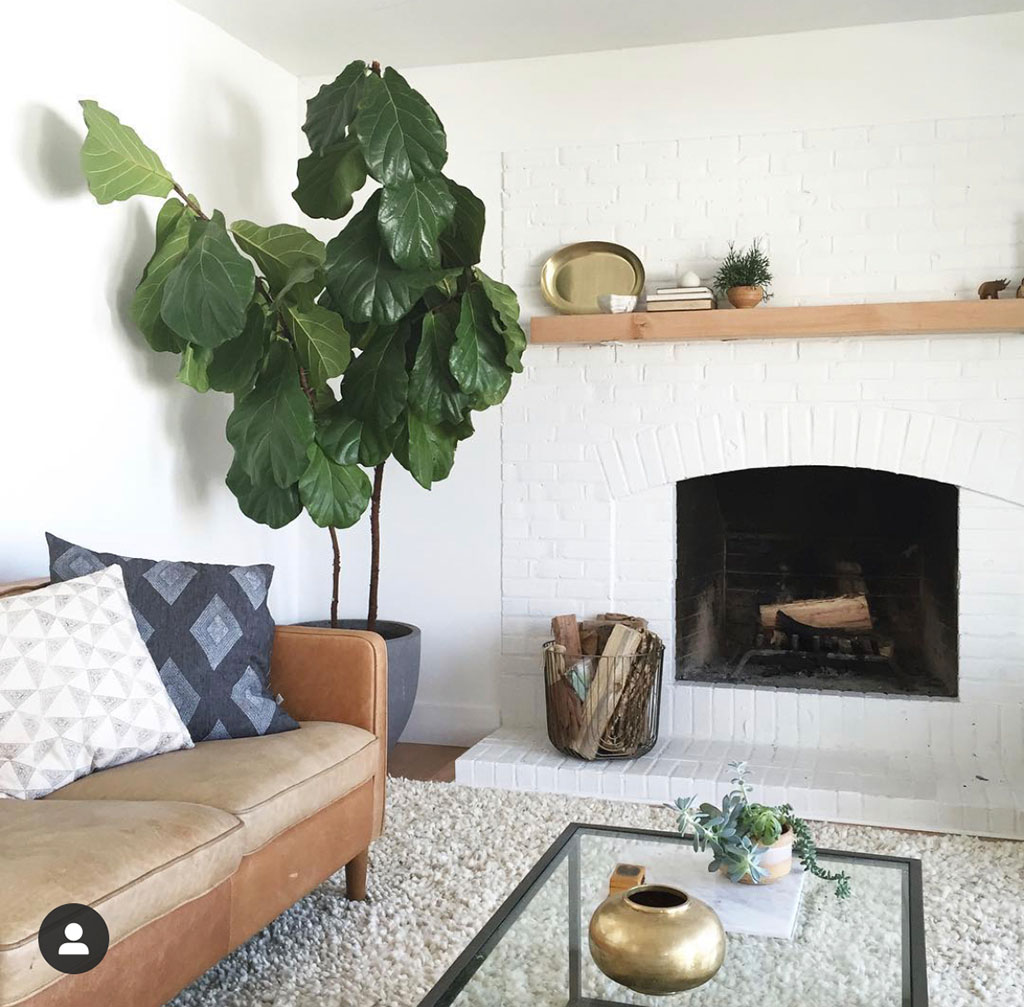 This rug is gorgeous but felt too light with the white walls, so I eventually moved it downstairs to our basement where it still is today. I was also experimenting with large plants – both that fiddle leaf and cactus are still alive and doing well. But as you can see, still empty-feeling.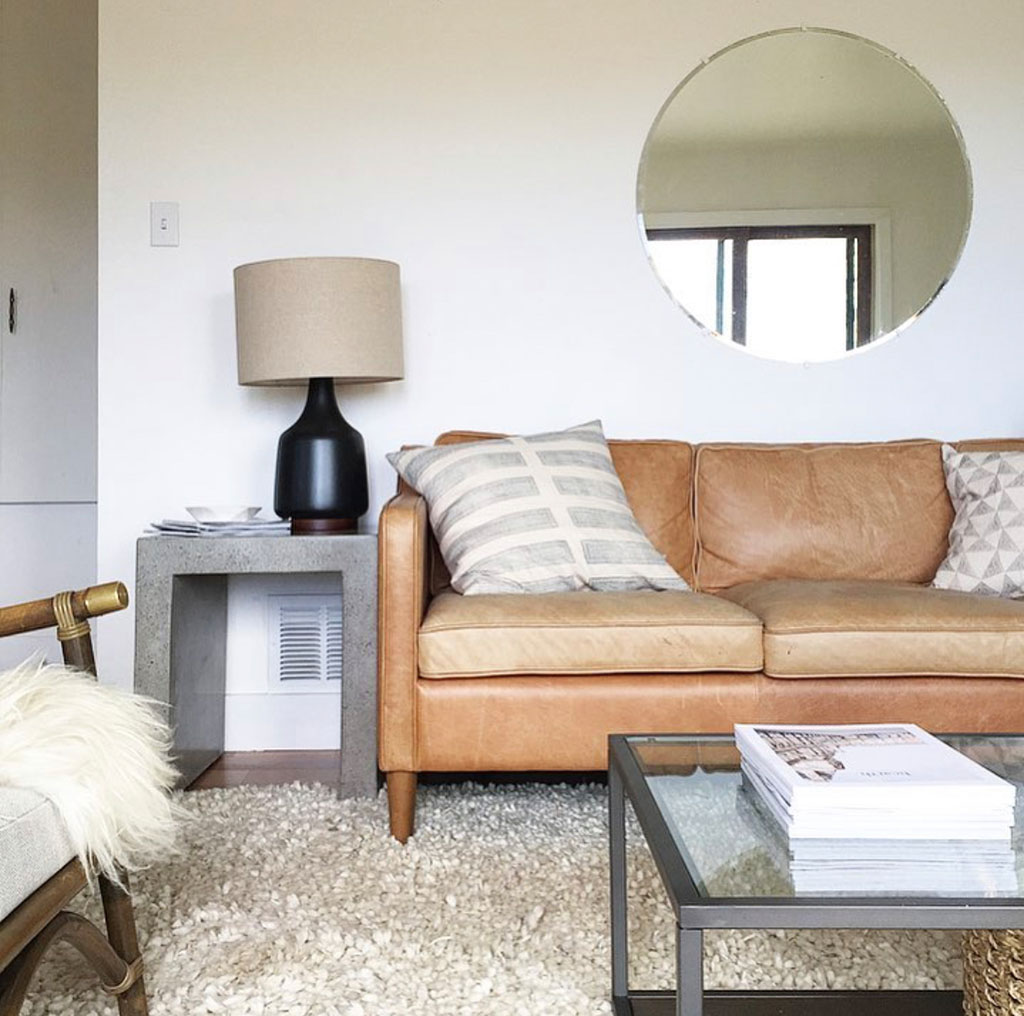 Slowly I found pieces I cherished. These side tables? They are incredible. Not only do I still love the shape, but the exposed aggregate is the most beautiful detail that you see up close. This leather sofa – though nothing special – is my affordable attempt at a Borge Mogensen version (someday!).
And I guess I lied – looks like we brought that $10 mirror with us from DC! But it left soon after.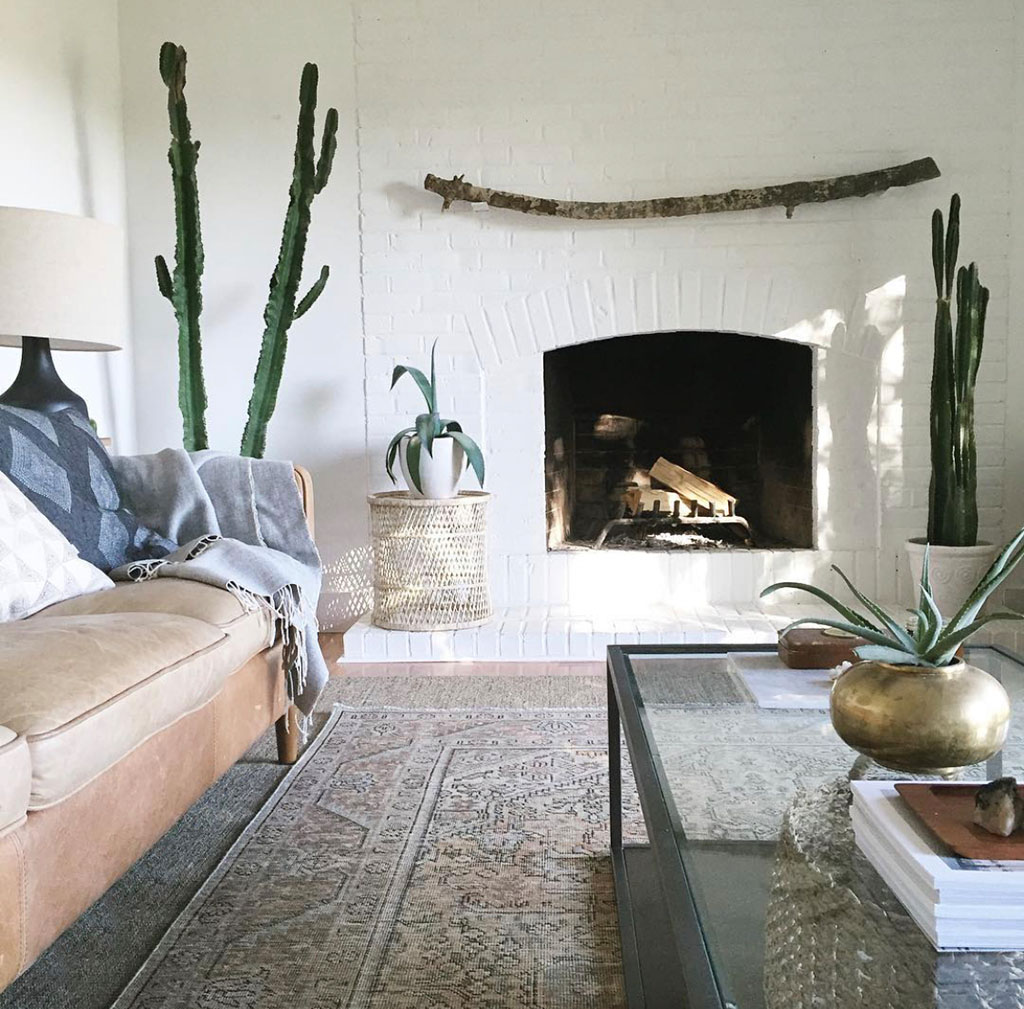 For a while I experimented with things that felt more bohemian. I love plants, texture, and natural fibers – so it's no surprise I went there. But things felt cluttered and too funky. I also tried layering rugs – which plenty of designers still do – but which is, after trying it, decidedly not for me.
And then, as I began taking on more projects and being exposed to products and designers I had never encountered before, something clicked. After years of playing around with what I owned, trying new things, failing miserably and starting from scratch many times, I could now identify what was off in a room within moments.
Scale, balance, cohesiveness, texture – these were skills I had conquered and became tools in my proverbial belt. But most importantly, I had finally discovered my style. What I was drawn to – unique pieces with a history behind them, natural fibers and textures, earthy colors, handmade textiles, minimal lighting and styling – became second-nature to identify.
This was still several years ago. What does our living room look like today?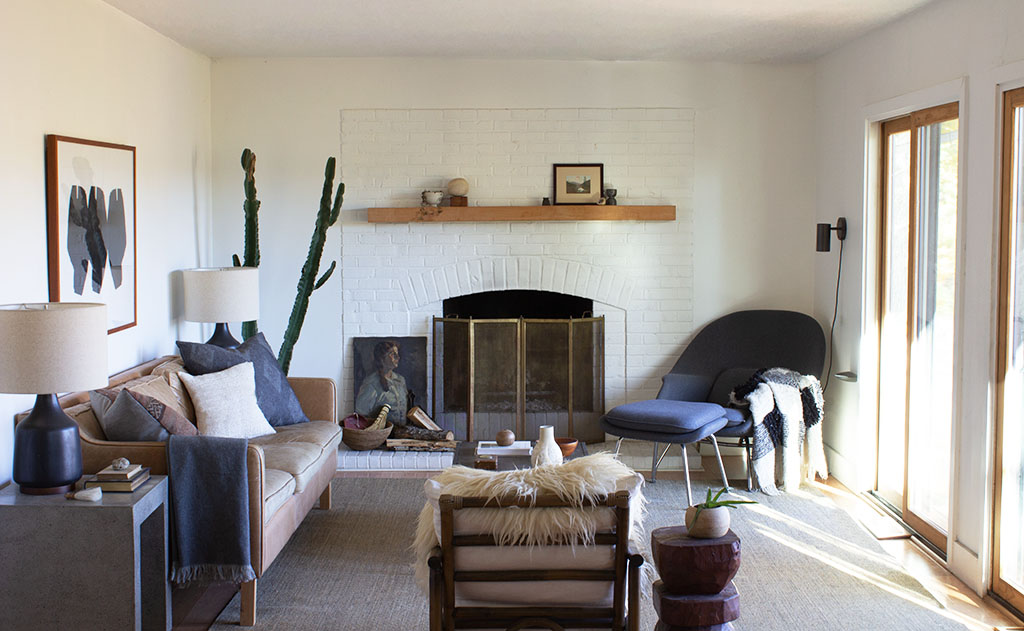 Is it perfect? No. Is it comfortable, functional, and welcoming? Yes. Do I feel happy just looking at it? Every day.
One might ask – why share these images again now? Why reveal something embarrassing about myself on the internet, which might question our professionalism?
So that you can see that with any profession there is a learning curve, and that nobody suddenly pops out a design star (although with social media, it can certainly seem like that's the case.) Look at any incredible designer today compared to when they started, and it won't look the same.
The decisions we make now, and the spaces we create, are bred from years of experimenting in our own homes and learning on-the-job.
Humbling? Yes. But it's that humility that drives me to be better, to do better, and to make the next project even more amazing than the last one.
Curious what we're creating now? Discover our portfolio.