Before & After: Our Living Room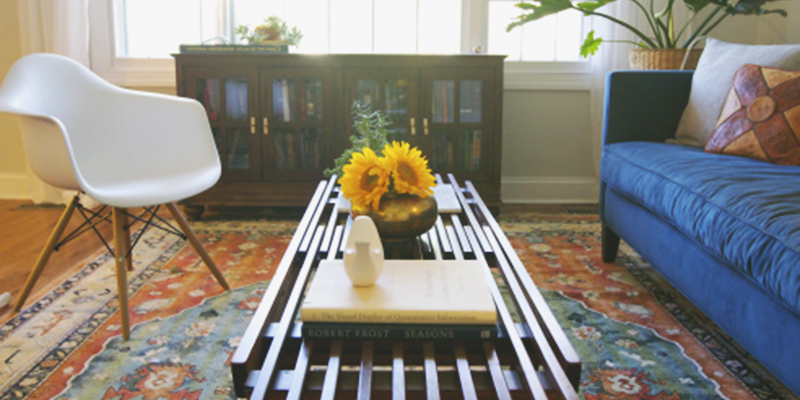 We recently updated our living room–to see the most recent version, click here.
Oh sad, sad living room!  So dark, so dreary…so mismatched it's painful.  Why must you have a big furry blanket?  Why?!
There are so many things wrong with this picture, it's embarrassing to post.  There have been many reincarnations of our living room, but this was the first, two years ago.  And I'm sharing it with you so that you can see that there is definitely a learning curve and that everyone makes mistakes.
Big mistakes.  Like enormous, box-like club chair mistakes.
Despite the large front window, this room gets very little natural light and has no overhead fixture.  Also, it's quite small.  Therefore, my goal for this room was to make it lighter and brighter (just like our kitchen!), and seem bigger.  Here's the end result:
Big difference, right?
The room isn't perfect by any means.  That bookshelf was an impulse purchase that I've regretted ever since, but I'm waiting until we move to replace it with something lighter and more modern.
Eventually I'd like to get a fiddle leaf fig and move the philodendron to my son's room, but our puppy has a distressing habit of eating and digging up any soil she can get her paws on.  So for now, I need a plant that can be raised up off the ground.
And I'm not in love with our son's rocking chair in this room, but it will stay there for now.  And the shelves on the opposite wall are hung way too high.  And…and…you get the idea!
How I transformed this room from dungeon of doom into happy, sunny, loveliness:
Decorating in dark colors was a very bad idea to begin with.  I was stuck with the couch (which, by the way, I still love), but I needed to brighten up the rest of the room.
So, I spray-painted my Ikea curtain rod gold and hung some lovely, sheer white curtains that cost me only $7 each.  Win.
I added a mirror to reflect what little light there was–$10 on Craigslist.  It came from an antique, Art Deco vanity and still had its original Bakelite clips (which unfortunately I had to remove before hanging it on the wall).  I like the slightly tarnished look behind the glass, and the nicely beveled edge.
The pillows I replaced with ones I already had that were solid and light grey, so as not to distract from the carpet.  Then I added a white Eames chair from eBay and some white accessories to bring the color palette up a few notches.
To make the room appear bigger, I got rid of the end tables and table lamps.  I'm a big believer in eliminating excess furniture! Unless your living room is huge and it feels empty without those extra tables, I'm all for replacing them with a single floor lamp.
This lamp I found on eBay and is an original vintage piece (still works!).  I wanted something with a modern silhouette and a graceful arch.
Next I found this fabulous rug!  I've seen living rooms where people make small rugs work, but generally having at least the front legs of your furniture pieces on the rug should be the guiding principle.  This actually makes the room appear larger, and in an open-plan house like ours it created some physical separation from the dining area.
Let's take another look at the original room (cringe):
That trunk belonged to my fiancé's grandfather and is over a hundred years old.  It's beautiful, but it was not helping create a light and airy feel.
So, back to Craigslist to find an original mid century slat bench.  My inspiration came from Smitten Studio's to-die-for living room:
Photo source: smittenstudioonline.com
I found an expanding slat bench for $250 on Craigslist (perfect for my extra long couch), but was at a loss as to how I could replicate the look of her marble slab on the cheap.
And then it hit me.  Marble tile from Home Depot! And it was only $4.
Here are a few more views:
Product guide: Abacasa Sonoma Jewels Rug from Wayfair // Dunham Sofa from West Elm // Joya Rocker from Monte // Tripod Table Lamp from Target // Solid Silk Pillow from West Elm // Artwork from Louise van Terheijden Art Studio and Blue Palette // Marius Stool and Planter from Ikea // Reclaimed Wood Shelves from West Elm // Greyson Sideboard from World Market // Coffee Table from Craigslist // Other planters, vases, etc. from Goodwill.
To see the rest of our home, visit the Before & Afters page.