Choosing the Best Rug for Your Space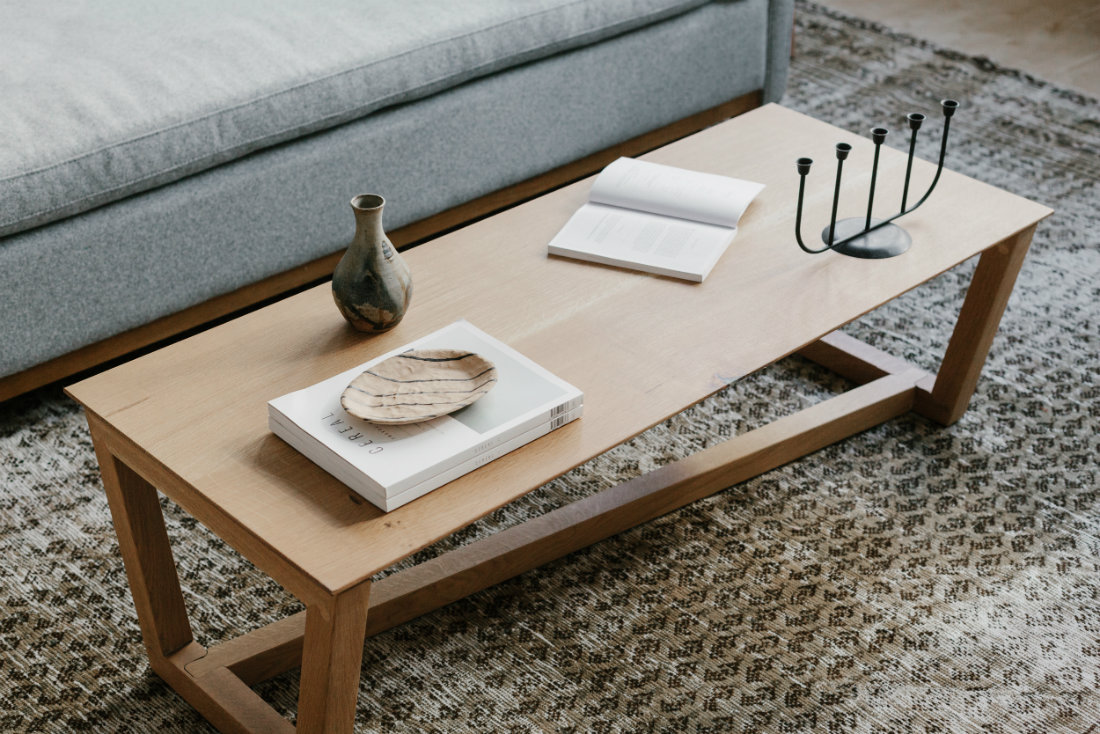 Have you ever walked into a room and thought something felt off, but couldn't put your finger on it? Often times, it's the rug (or lack thereof). Without a rug to ground it, furniture can feel disconnected, like it's floating in space.
Consider these 5 factors when choosing the best rug for your space:
Rug location
Size of the room
Your price point
Your lifestyle
Rug material and texture
A quality rug is like a great pair of jeans: invest the money upfront, and not only will you notice that it looks and feels better than anything you've purchased before, but it will last longer, too.
A rug is something that gets used, walked on, played on, snuggled on….every day. Trust us when we say you need a good one.
---
1. Rug Placement: What to Consider
The first question to ask is, "Where will this rug be placed?" This is where a rug's pile (the soft surface that rises from the backing) comes into play.
Pile height ranges from less than ¼" (low) to ¾" (high). A higher pile height corresponds with a softer, more plush feel.
When choosing a rug for your living room, comfort should be a top priority.
Especially if you have young children – in which case there will be a lot of activity taking place on the floor. Therefore, look for a rug with a higher pile height and a cushioned rug pad and not, for instance, a flat-woven rug – which you can typically feel the floor through.
With higher-pile rugs, you also need to be careful about furniture placement – if not all the legs of a chair or sofa will be on the rug, this will cause the piece to tip every time you sit on it.
When choosing a rug for your dining room, look for something flat-woven, so crumbs won't get stuck in the rug. If that's not an option, a low-pile rug can sometimes be used as well.
2. How to Size a Rug Correctly
One of the most common mistakes people make when purchasing a rug is choosing a rug that's off scale for the space. Selecting the right size area rug will help you tie your space together and intuitively make things "click."
If you're in the market for a rug, ask yourself these three questions, and you'll get it right the first time around:
Does the rug impede a walkway? (In other words, is it in the way)? If so, select a smaller size or go custom. A rug should never interfere with the flow of traffic in a space, and can quickly become a tripping hazard.
Are there at least 10-12" between the rug and the closest walls? Use your measuring tape. If not, the rug is too large.
Is the rug positioned so that at least the front legs of your furniture are sitting on top of it? If not, it's too small and you need to size up.  In the dining room, the rug should be large enough that all chair legs rest on the rug when slightly pulled away from the table. In bedrooms, it's fine if nightstands are off the rug as long most of the bed is on it.
The size of a room often determines the type of rug you need. For instance, it may be difficult to find a vintage rug that's perfect for a non-standard sized room; in which case a custom rug may make more sense.
Additionally, great rooms or rooms requiring rugs larger than 9×12 can make using a vintage rug impractical (due to both expense and availability). On the other hand, standard rug sizes (6×9, 8×10, 9×12) have shorter lead times and are typically less expensive than custom rugs woven to size.
3. Choose Your Price Point
Next, consider the rug's price point.
If you are ready to make a substantial investment, look for a custom, handwoven rug made of wool. If you are not quite there yet, choose something vintage, retail, or in a ready-made size.
Not sure where to find a vintage rug at an affordable price? Check out Etsy, Ebay, and 1stDibs. Be prepared to do some digging though – and know that buying rugs online vs. rugs that you can sample is high-risk.
4. Rugs, Kids, and Pets: How to Match Your Rug to Your Lifestyle
Considering your day-to-day life and how you live in your home is essential when choosing the right rug (and perhaps more importantly, avoiding the wrong one).
If you have young children at home or a pet who has frequent accidents, a rug with a larger, distracting pattern will camouflage stains better than a solid or a tight pattern.
Or, go darker – especially for high-traffic areas such as hallways and entryways.
5. How to Choose the Right Material for Your Rug
Material is an important factor when choosing a rug, and some options are healthier than others.
Looking for a sustainable rug you can feel good about putting in your home? You'll want to avoid certain fibers altogether.
Synthetic Rugs
Petroleum-based synthetics (such as polyester, olefin, nylon, acetate, and acrylic) contain toxic compounds that are extremely harmful to the environment and our health.
Chemical dyes and treatments, such as stain repellants and antimicrobials, are equally as concerning and should be avoided as well.
Synthetic fibers are microplastics which shed into our air and home just as natural fibers do. These tiny plastics get into our lungs, food, and water and linger in our bodies, releasing chemicals that are detrimental to our health.
More specifically, microplastics have been linked to a weakened immune system, problems with the nervous system, reproductive issues, and various types of cancer.
If you're ever unsure, just consider what the end-of-life scenario is for the rug you're considering.
If when the rug is no longer in usable condition the only option is landfill (as in, it can't be safely composted) – then consider the alternative options below.
Natural Fiber Rugs
To ensure you're choosing a rug that's good for your health, the health of your family, and the earth, focus on rugs made of a natural (plant or animal) fiber with safe dyes that will biodegrade easily, such as:
Wool
Pros: Soft, luxurious, long lasting, and naturally stain-resistant.
Cons: Often an investment, unless you go vintage.
Cotton
Pros: Versatile and affordable.
Cons: Stains easily. Best for low-traffic areas like bedrooms.
Sisal and Jute
Pros: Casual, warm, and organic feeling. Perfect for sunrooms and laundry rooms.
Cons: Jute fibers will shed, while sisal can be scratchy.
Silk
Pros: Soft and opulent.
Cons: Expensive, stains easily, and made using animal cruelty (we never source silk).
When sourcing a rug, choose options made of fibers that are grown organically or farmed according to sustainable methods.
Seek out manufacturers with strict standards for eco-friendly production practices and waste management.
To cut back on wasted energy, choose a locally sourced option whenever possible.
---
Socially Responsible Rugs
When choosing a rug, remember that ethics are just as important as aesthetics.
Strive to support companies dedicated to social responsibility. Look for companies that embrace Fair Trade practices, meaning they provide their artisans with fair wages and safe working conditions.
Do your best to purchase a rug from a company that is certified by Goodweave, an organization dedicated to ending child labor and forced labor in the global supply chain.
In need of suggestions? Try Armadillo and Co. or Jaipur Living. Both companies have established foundations in hopes of bettering the lives of their artisans and building a brighter future for their children.
A rug is an investment. Choose a high-quality option the first time around and you'll be happy with it forever.
Quality rugs can be cut down and re-sized as well, so no need to worry if you plan to move in a few years. Plus, like a great pair of jeans, a quality wool rug will age beautifully – often looking better than ever twenty years from now.
We'd love to know… Do you own a rug that has stood the test of time? Schedule a call with us today.
Unless otherwise noted, photography from KonMari.com.