DIY Marbled Jewelry Box – Using A Cigar Box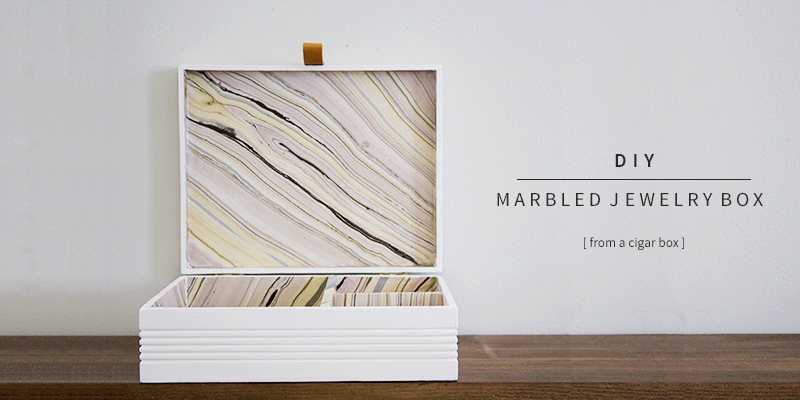 I have always been a very messy person, and my jewelry situation is no exception.  Typically it's scattered across the top of our dresser and on my nightstand, not to mention the bathroom, my car, in the crevices of my purse….etc.  As I was staring at the jungle of our dresser the other day, I decided I needed to check my egregious clutter habit and tame my jewelry once and for all!
As it so happened, an old cigar box my dad gave me was conveniently positioned amongst the various odds and ends.  Problem + solution all in the space of five minutes!
And so, I give you: the DIY jewelry box — from a cigar box!  I'm really loving the marbled paper, leather, and brass details.  You can make this in an afternoon and use any kind of smallish wooden box you have kickin' around.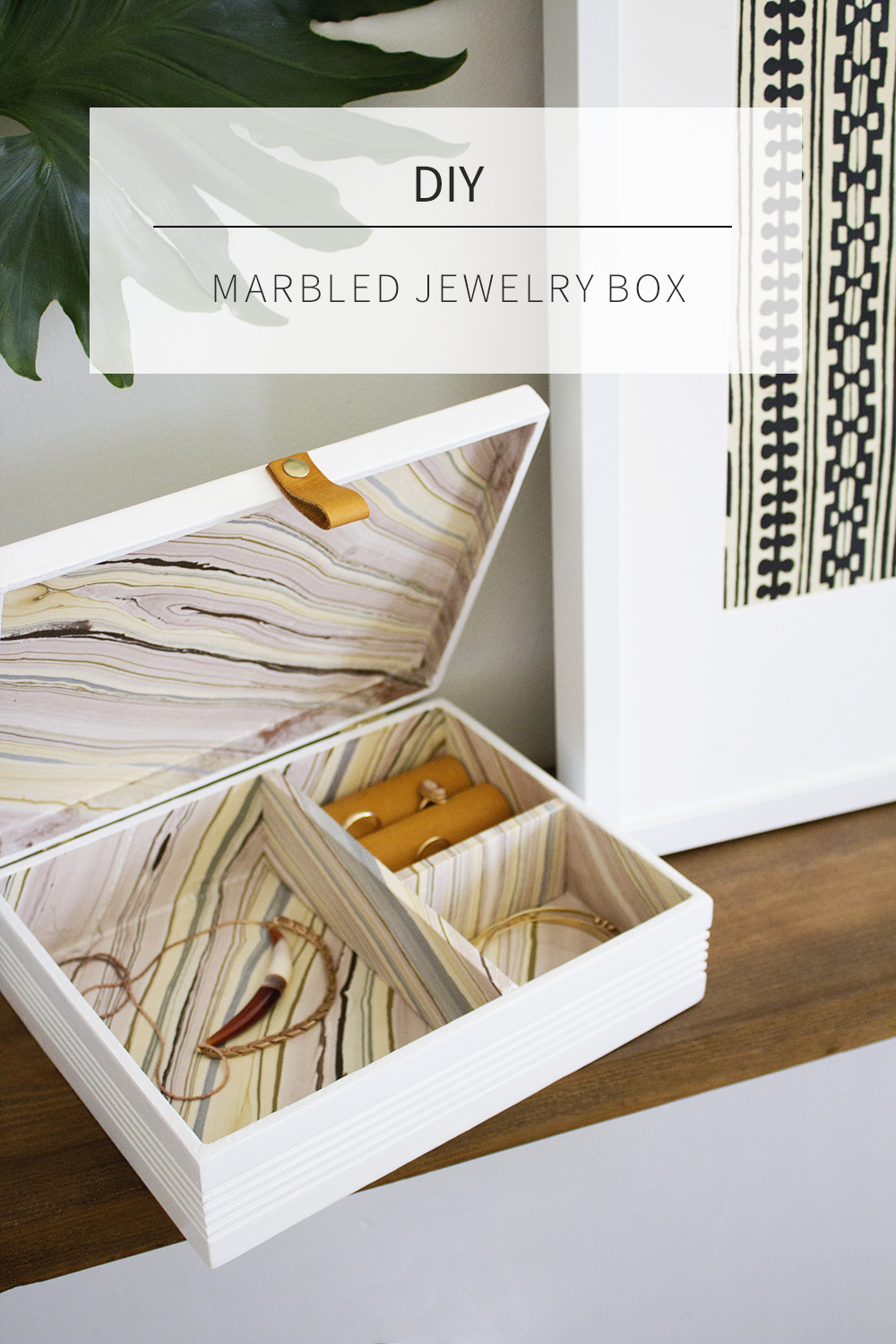 Now this is one of those instances where you must do as I say, not as I do.  The worst part beauty of creating a DIY project is that it's really just about experimentation.  I try it one way, and it doesn't work. I make a mistake and have to go back.  Sometimes I get fed up and toss everything in the trash.
Luckily this time I took some cues from my three-year-old (hands on your tummy and deep breaths, mommy) and managed to MacGyver my way to the finish line. So…some of the following photos won't be accurate depictions of what your project will look like.  But never fear! Just read the directions and you'll be fine, I swearrrr.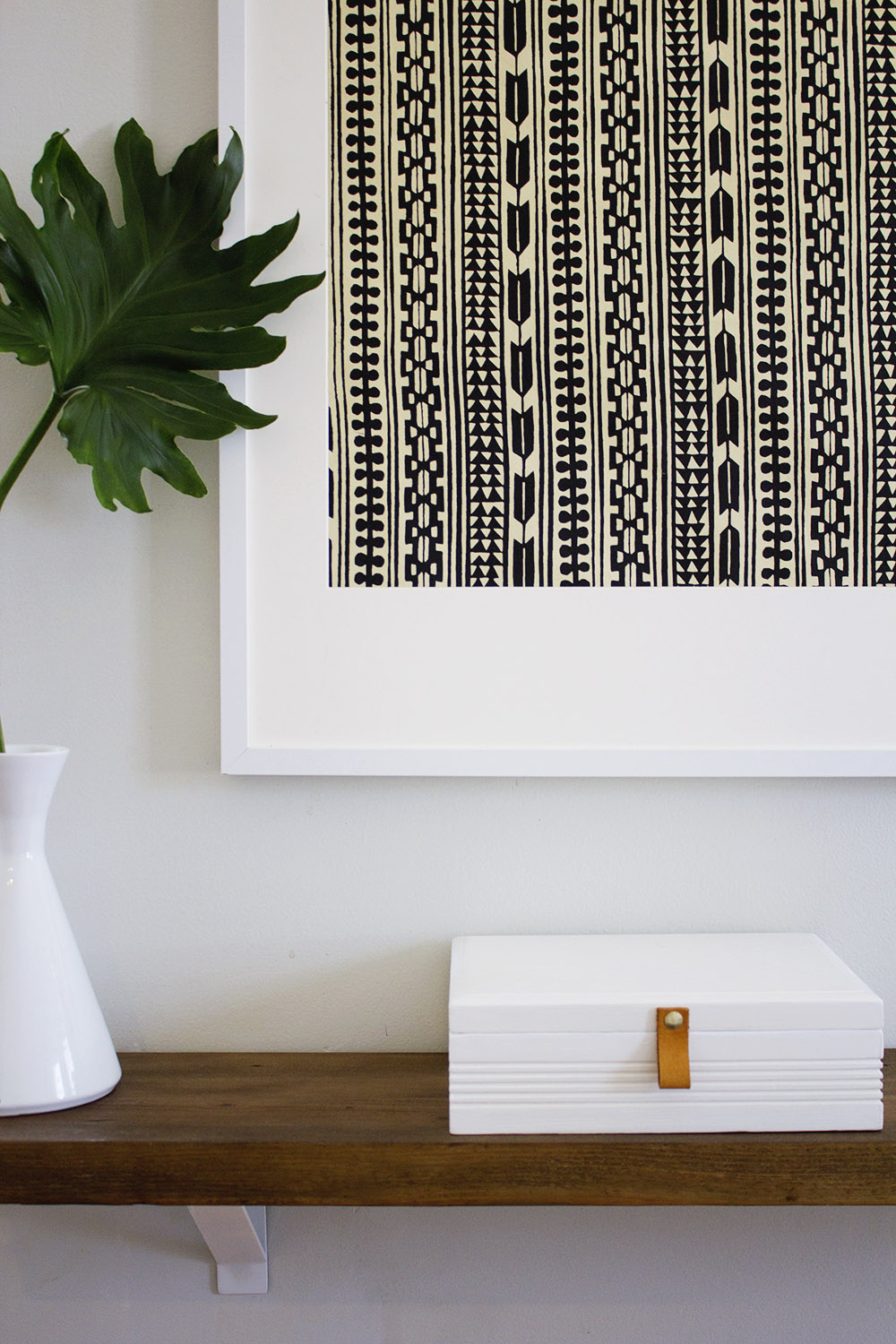 ---
SUPPLIES:
Cigar box
Spackle or wood putty
Fine sandpaper (say…220 grit)
2 paint brushes, one medium & one small
White high-gloss paint (any kind)
9 foam cylinders – I found mine at Michaels
Hot glue gun
9 x 3″ piece of leather
Ruler
X-acto Knife
Mod Podge
Craft wood — I used two pieces, .25 x 9.5 x 3″
Brass thumb tack
---
HOW TO MAKE A DIY JEWELRY BOX FROM A CIGAR BOX:
First, wipe down the cigar box with a damp rag and remove any hardware.  Lightly sand to remove any grime, and wipe again.  Fill any holes with spackle or wood putty and let dry completely.  Then, paint the craft wood as well as the entire box inside and out with the white paint.  If you don't do this, the paper will look dark and icky after you Mod Podge it!  So paint it, and let dry.
Meanwhile, take out the foam cylinders and the hot glue gun.  Glue three end-to-end, and repeat until you have three little marshmallow snowmen.  Try not to sing Frozen songs.  Maybe go give in to your hot chocolate craving.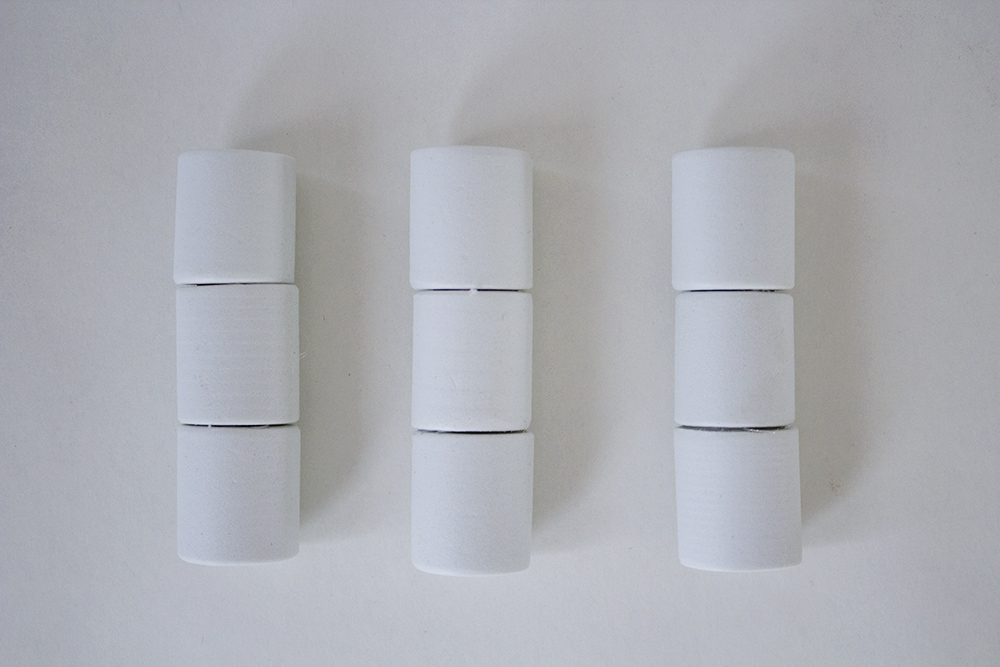 With the ruler and X-acto knife, cut a strip of leather that is about 3/4″ wide and set aside.  Take the remaining leather and cut into three equal strips, then use the hot glue gun to wrap each of the strips around the snowmen.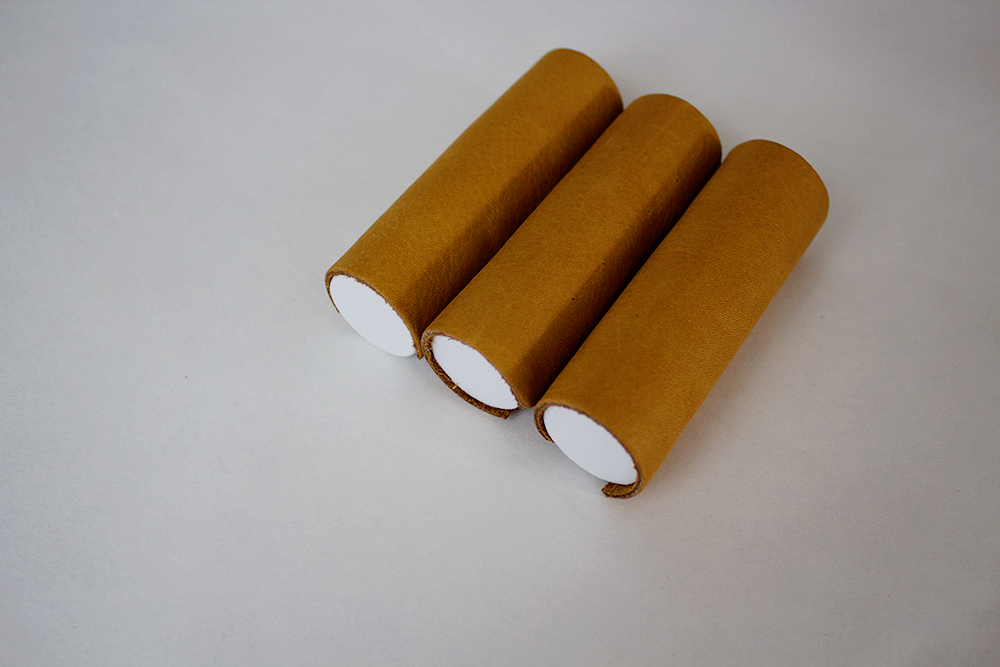 When the cigar box is dry, take the interior measurements with your ruler.  On the reverse of the marbled paper, create two corresponding rectangles–one for the lid, one for the base–according to the measurements of the bottom of each plus the sides.  This will ensure that the pattern continues onto the sides of the box.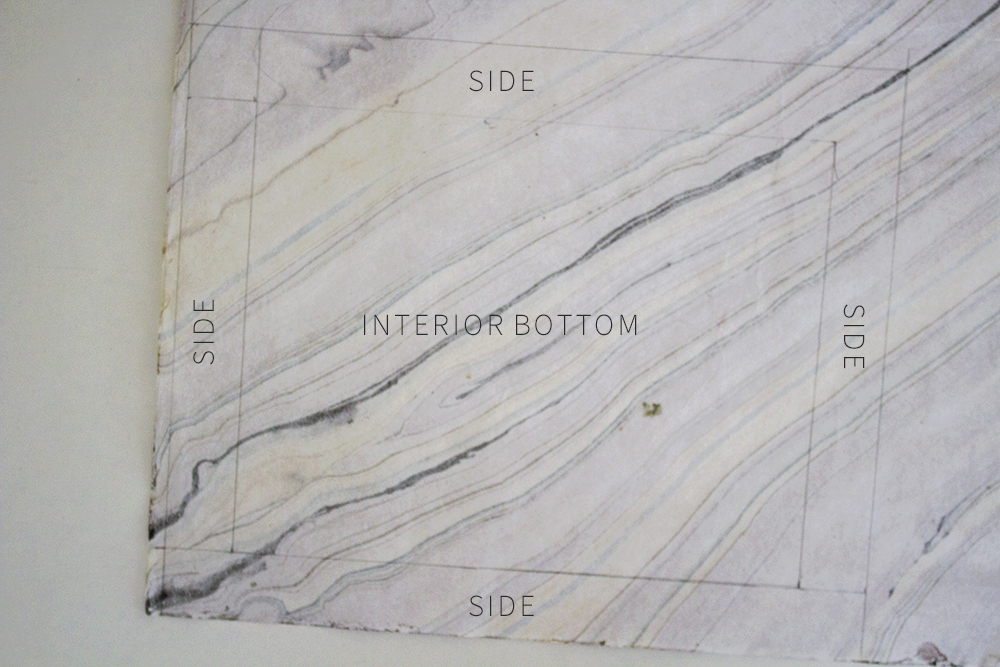 Cut out each of the pieces (you should have 10 in all).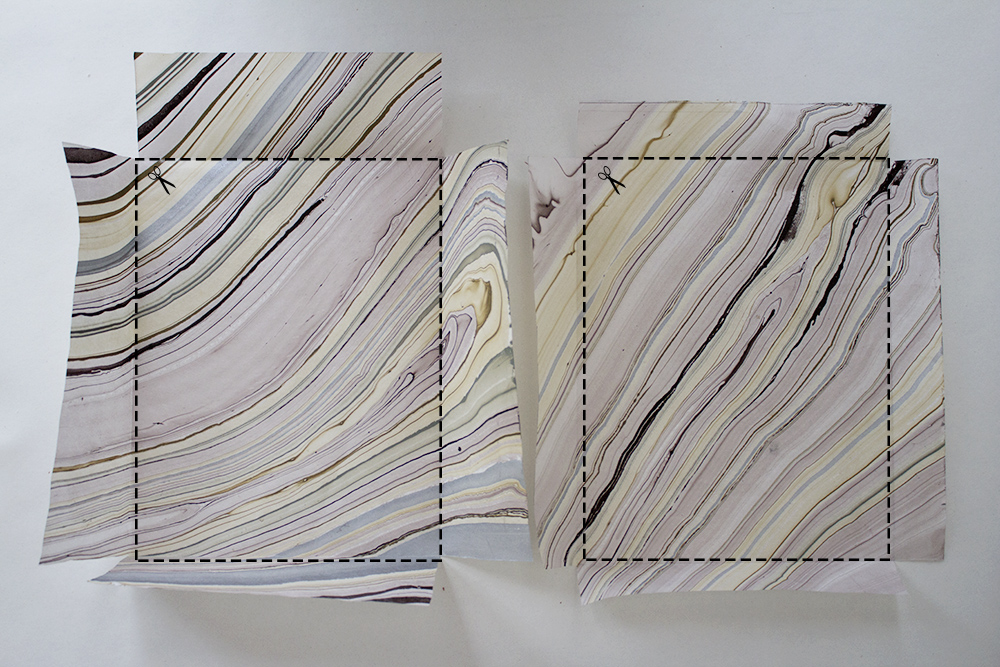 Then, follow the directions on the Mod Podge bottle and découpage each piece of paper to its corresponding surface.  Let dry completely.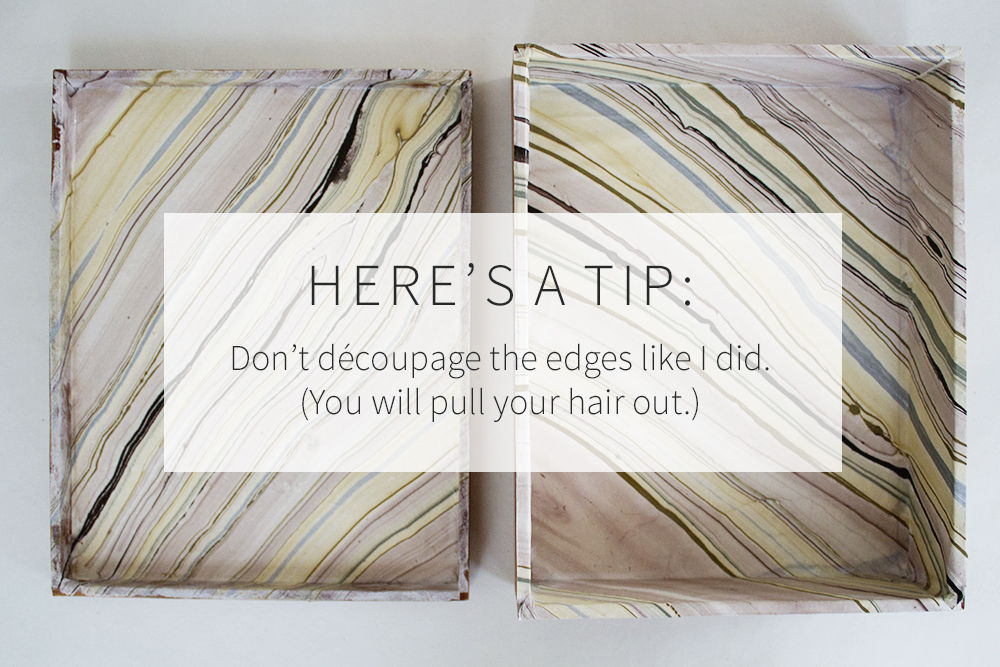 Hot glue the leather pieces into one corner of the box.  Measure and cut one piece of painted craft wood to create a divider.  Mod Podge some marbled paper onto that piece, and hot glue it into place like so: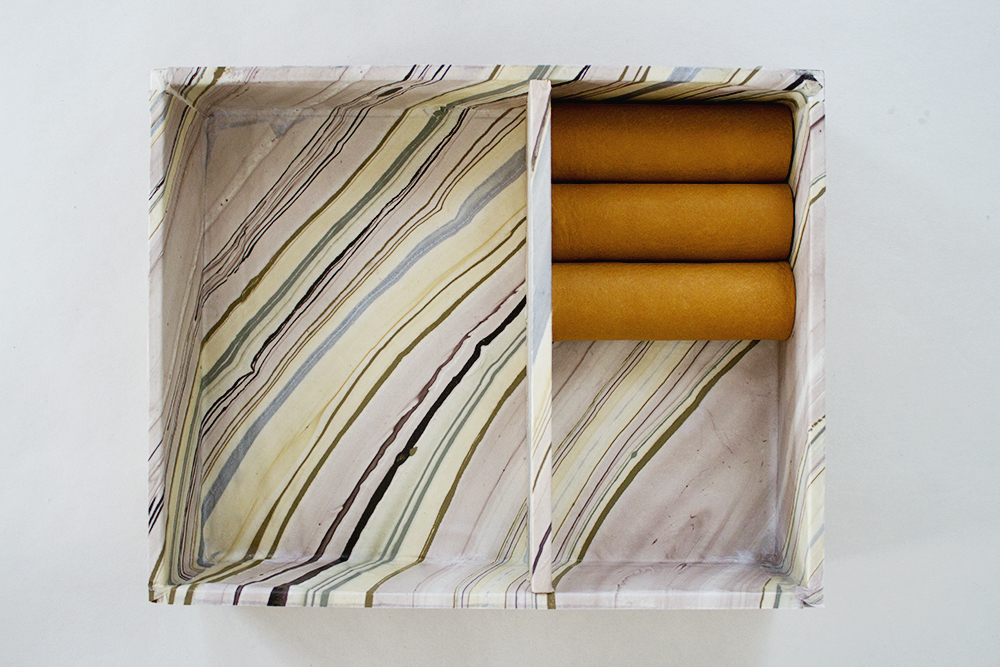 Repeat to create a second, smaller divider like this: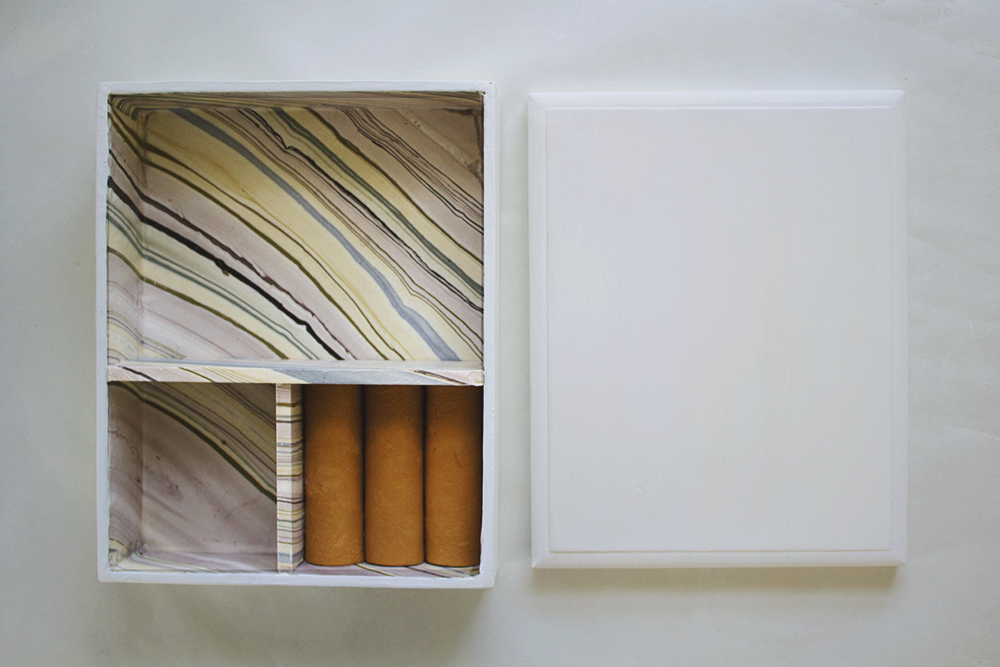 Now mark the top of the box lid in the center where your handle will go, and take out the extra strip of leather and thumb tack.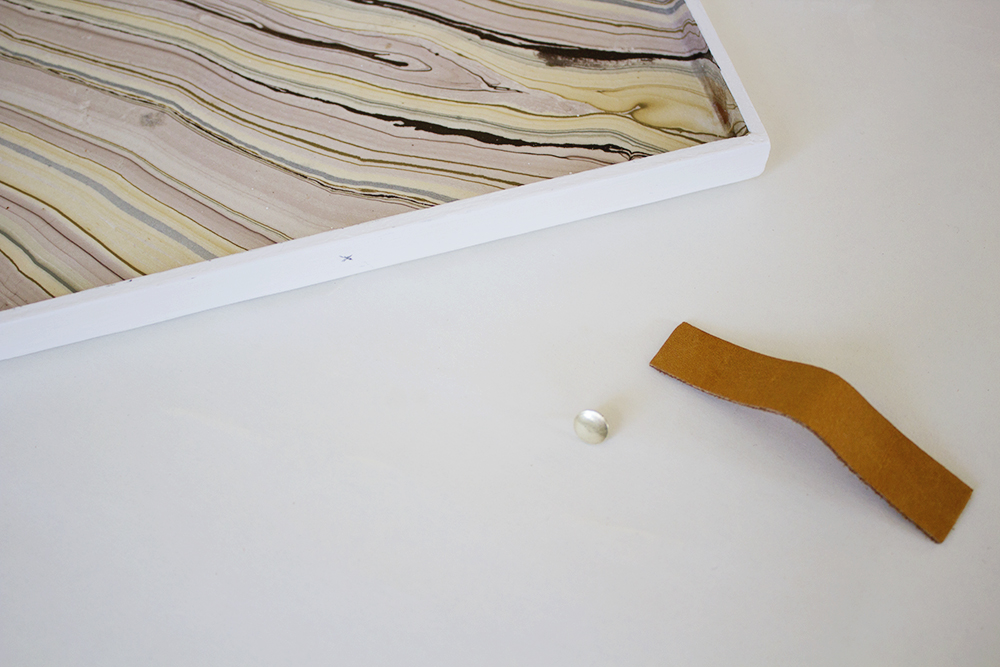 Fold the leather in half to create a handle, securing the two ends with hot glue.  Then, take the thumb tack and push it through the center at the top.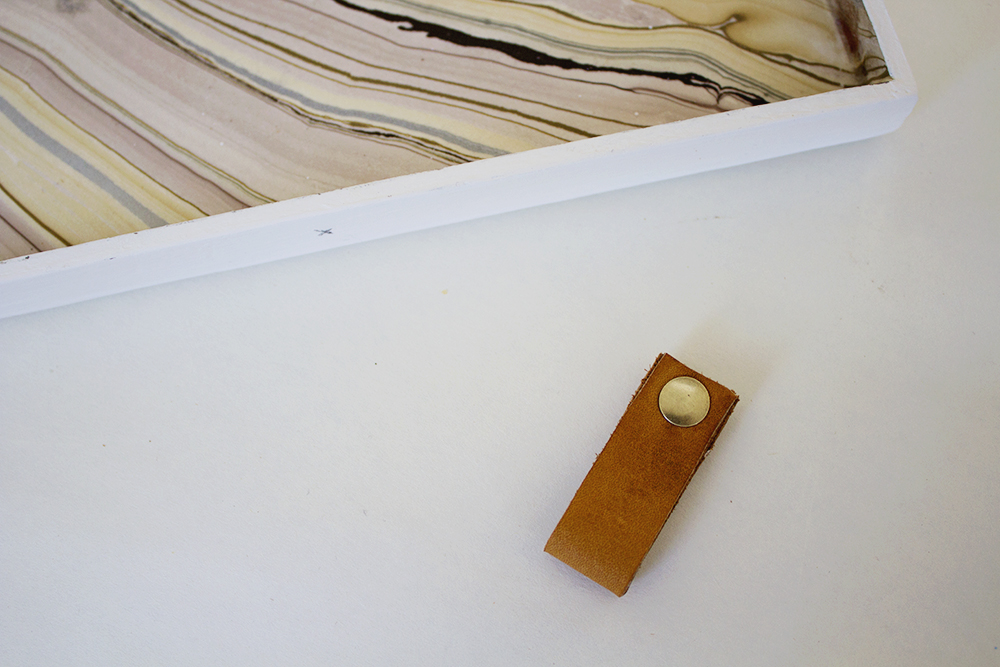 Add a tiny amount of hot glue to the spoke and back of the leather, and push the entire thing into the box top.  The final result should look like this: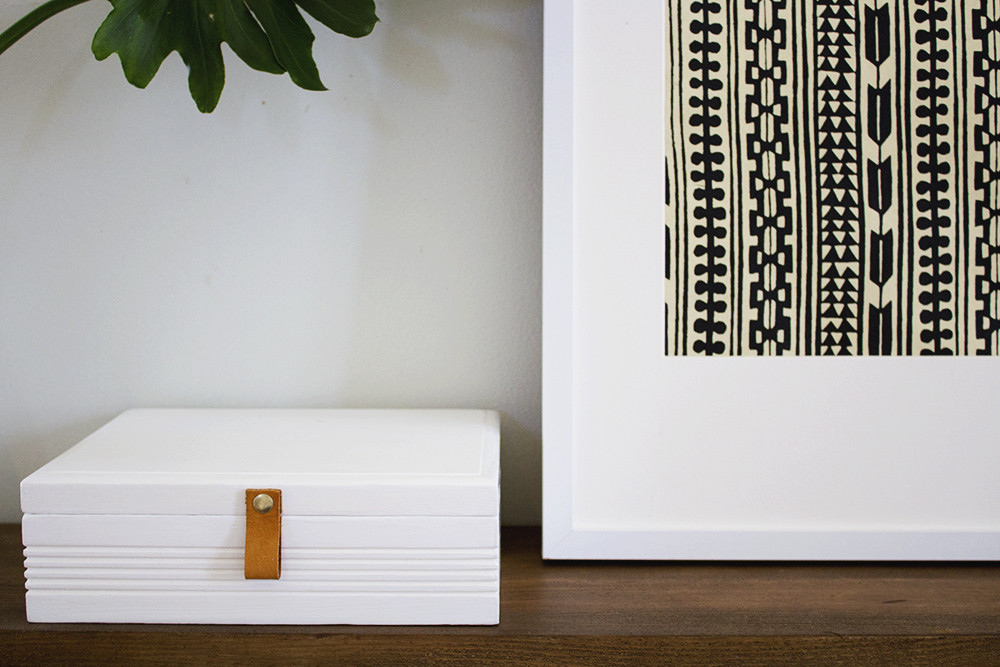 Now reattach any hinges and fill that baby with some pretty jewelry!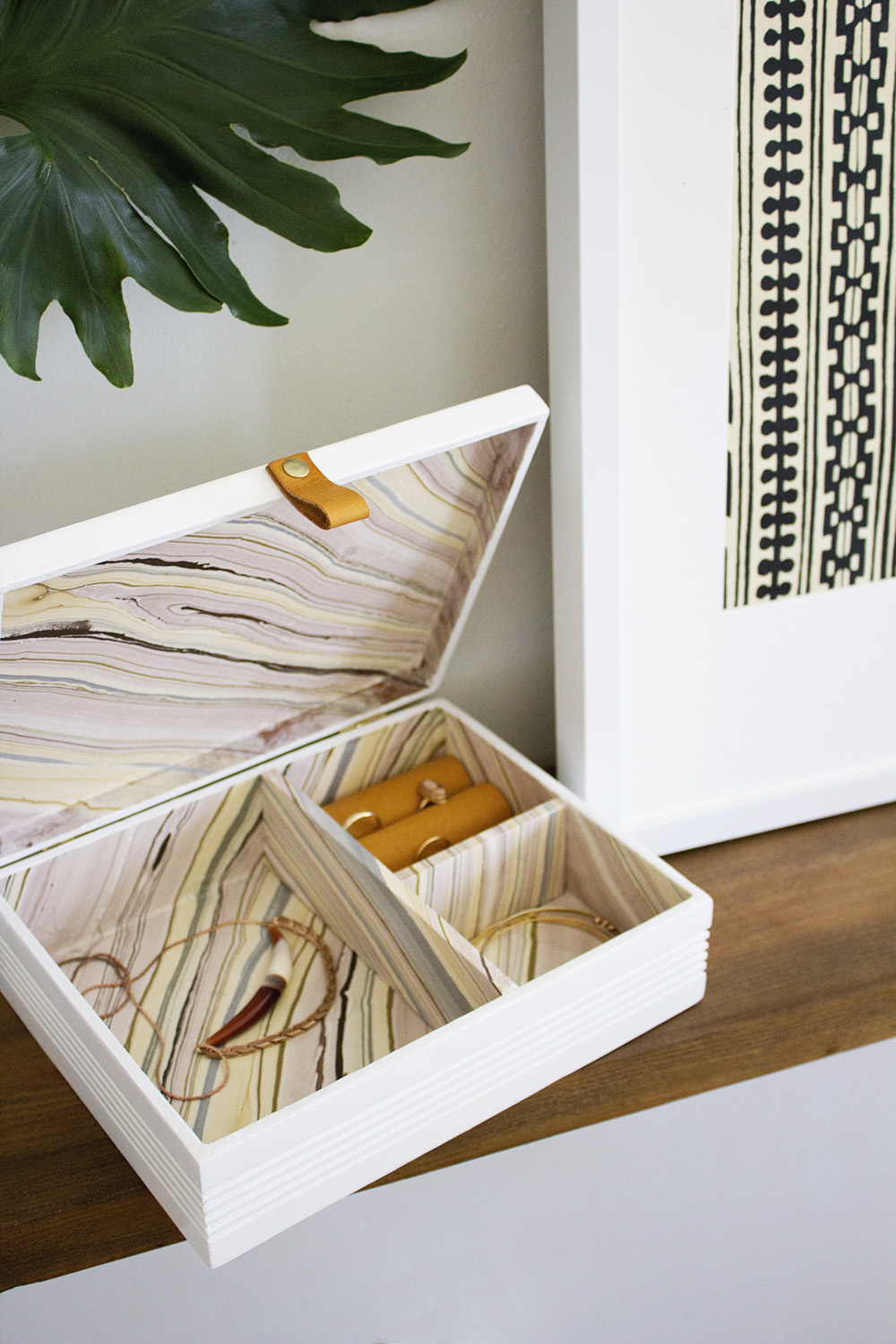 Did you like this project?
I'd love to hear your thoughts! Leave a comment using the box below and don't forget to check out my other projects.  You can also follow me on Instagram, Facebook, and Pinterest for more fun DIYs!