Autumn Brights, Sweets + Spice : How to Set A Modern Thanksgiving Table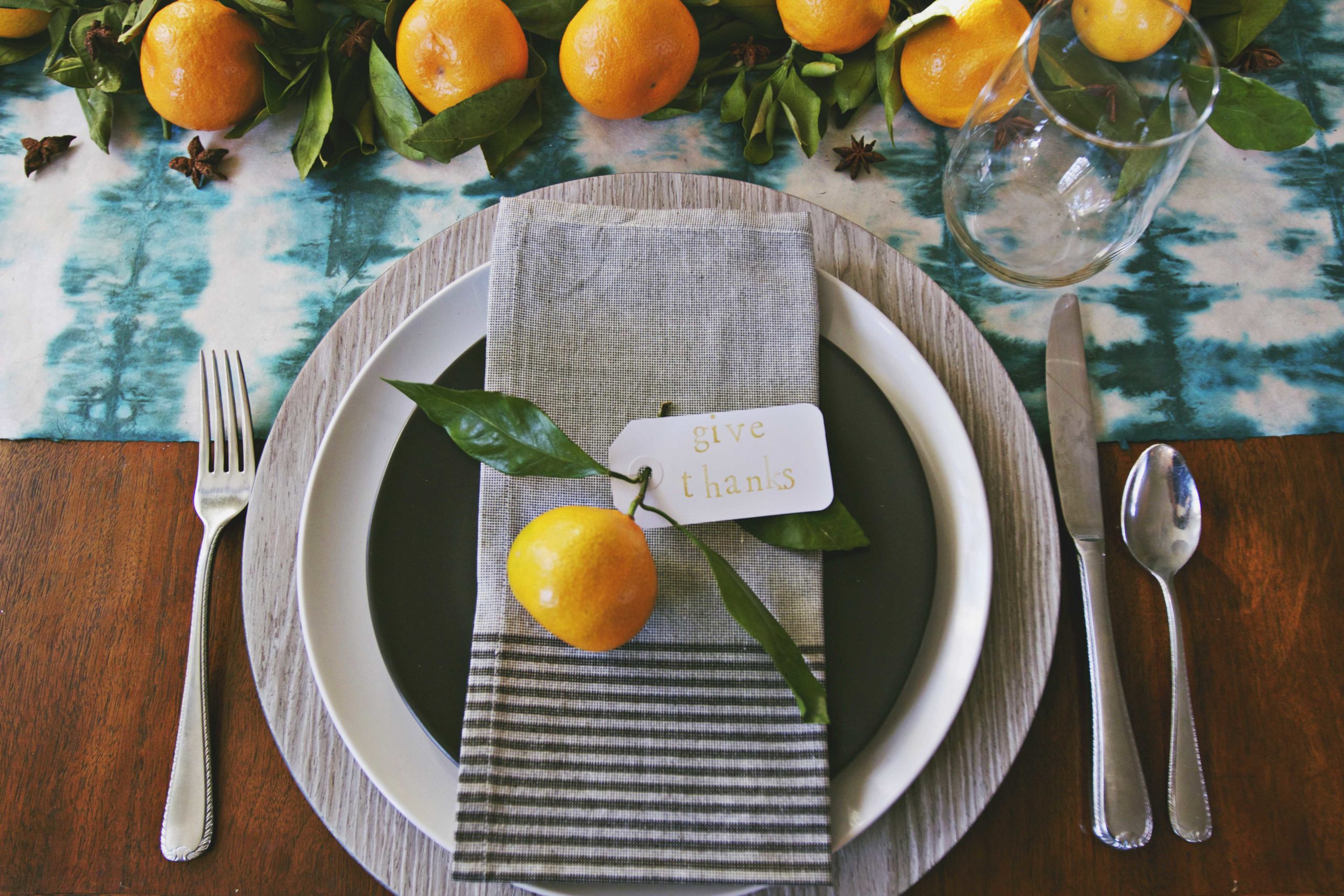 The holiday season is upon us, and Thanksgiving is quickly closing in! Do you know how you're decorating your table for the big event? So many beautiful tablescapes have popped up on the blogosphere this week, showcasing rustic accents to glamorous touches and everything in between. Many of them are beyond the reach of the average mama, unless you have a hipster florist on speed dial. But I'm here to tell you that there's GOOD NEWS!
Wait for it…
You can make a gorgeous, modern Thanksgiving table setting with just three simple, albeit surprising, elements.
The first?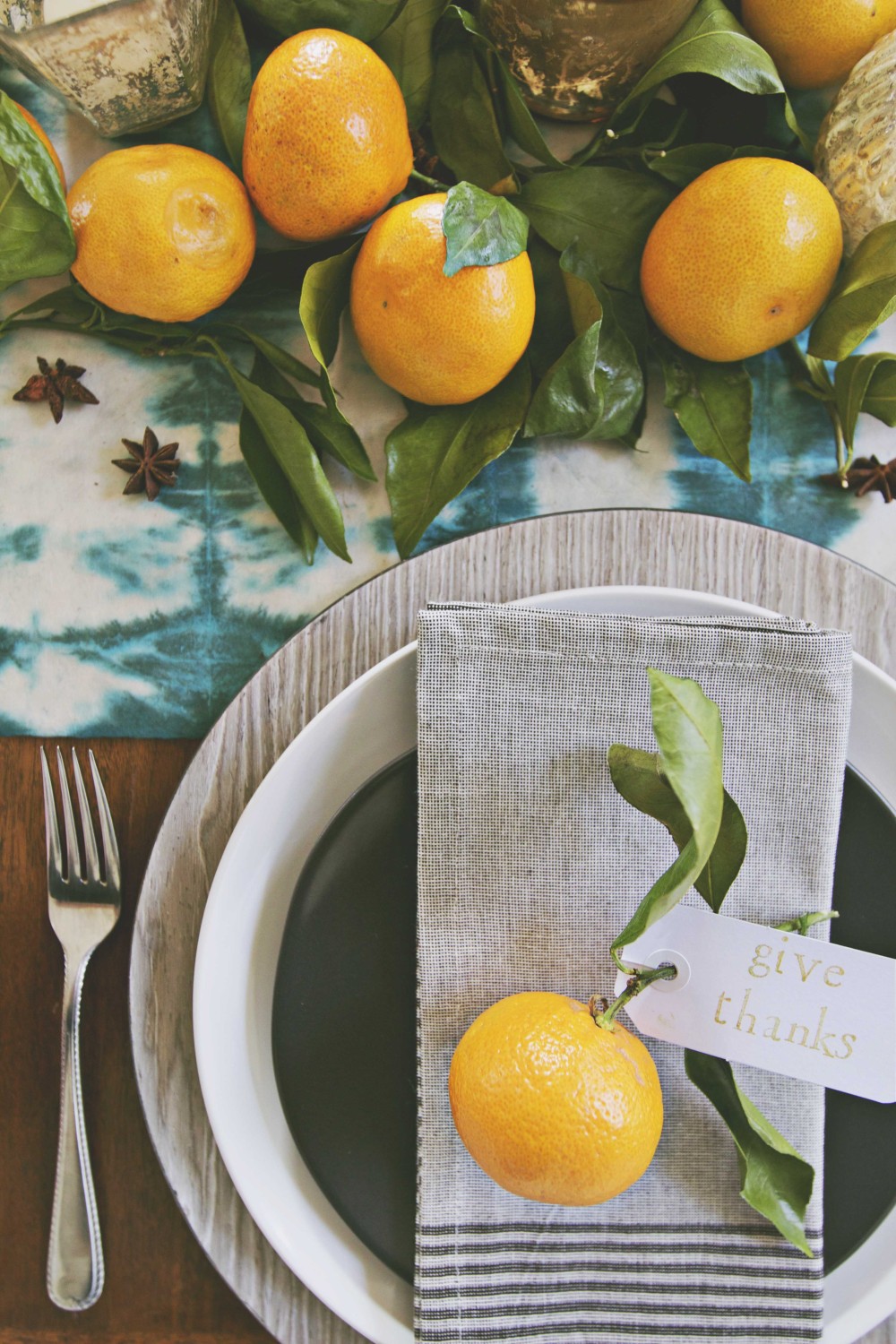 Satsumas! And what's more, you can find them on your next trip to the grocery store (mine are from Whole Foods, but look anywhere that sells quality produce). Make sure you buy them on the vine, as the leaves are just as important as the fruit.
And why should you decorate with satsumas, rather than something more traditional (leaves, pumpkins, turkeys)…? Because it's unexpected, modern, easy, and beautiful. I love the effect of the bright orange against the wood of my dining table. Plus, you can eat them all afterwards. Bonus!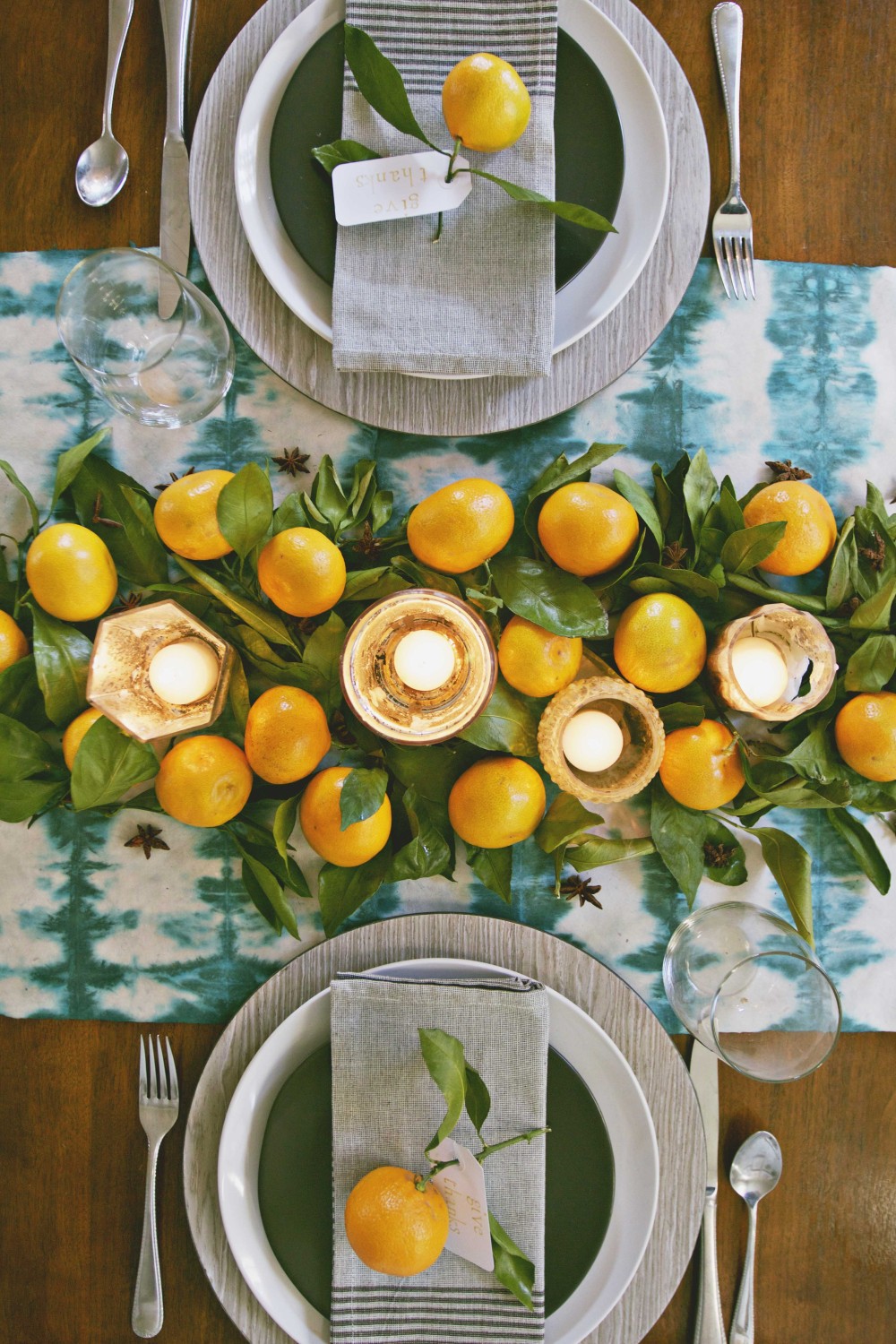 The second simple element is star anise. Not only is it delicately beautiful, it smells amazing and reminds you of all the delicious spiced food we enjoy in the fall. Pick this up while you're getting those satsumas (about a handful will do).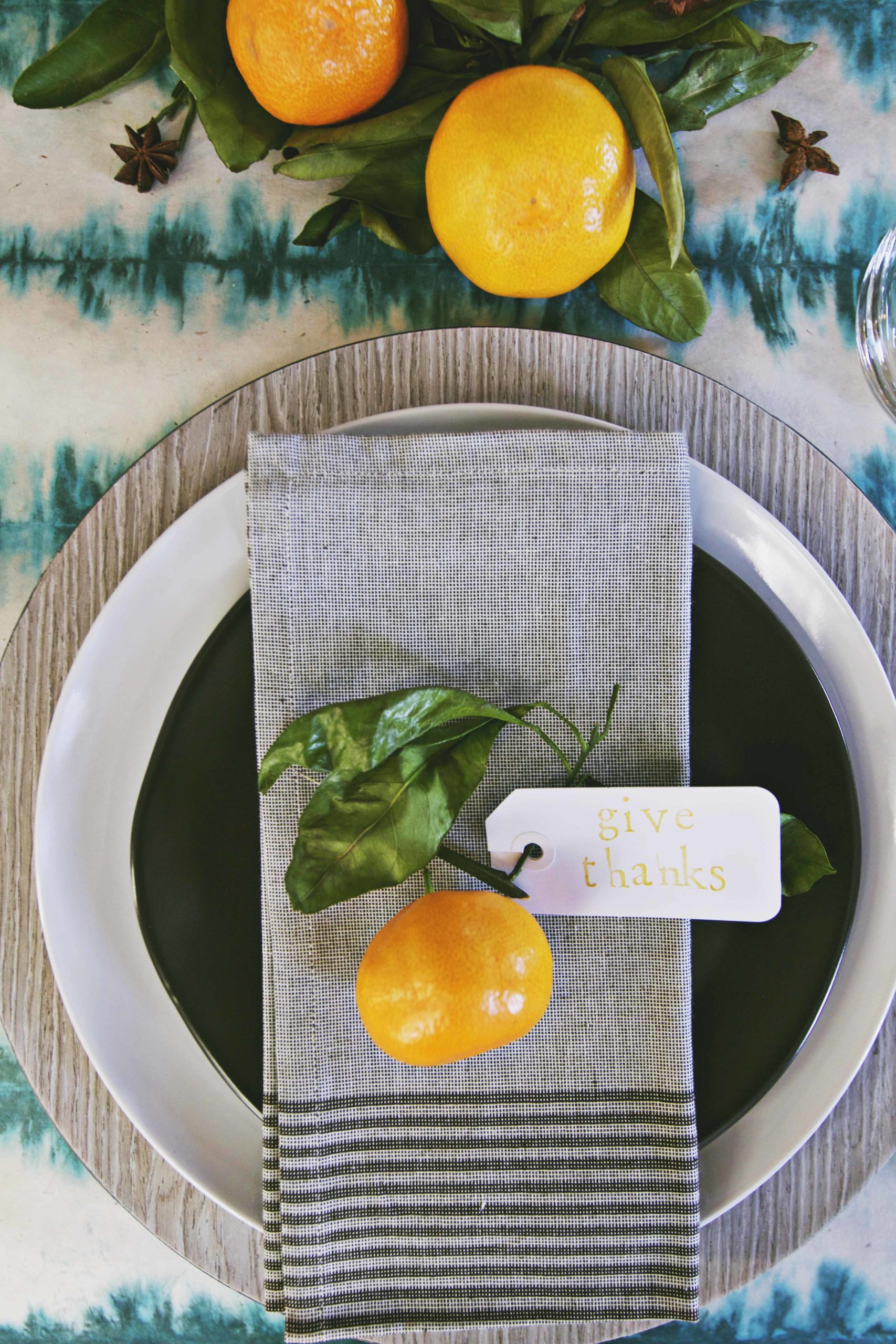 The third element to this table setting is my DIY 30-Second Shibori Table Runner. I'm going to reveal how I created this tomorrow, so for now I'll leave you in suspense, and instead tell you how to make the satsuma arrangement and place settings.
---
DIY Thanksgiving Table Setting
Supplies
DIY 30-Second Shibori Table Runner (check back tomorrow for the instructions)
3+ cartons of satsumas
A handful of star anise
4+ votives (I used mercury glass, in various sizes)
White gift tags
Small alphabet stamps and ink
Scissors
First, lay down the table runner. Stagger the votives down the center of the table. Then, fill in the spaces between and around the votives with the satsumas. Holes can be filled with any extra leaves. Be sure to leave enough satsumas (with leaves attached) to use at the individual place settings.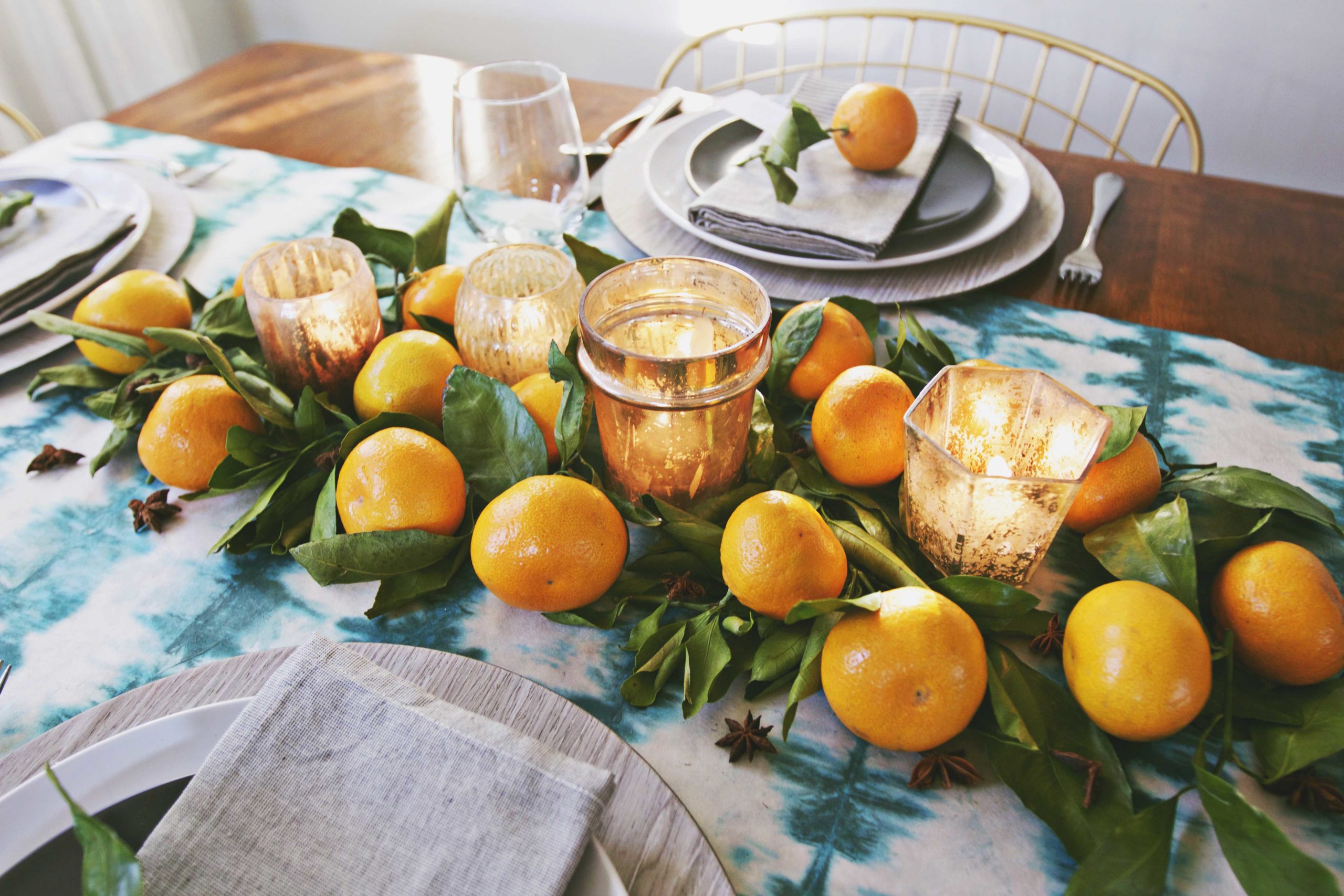 Place your chargers, plates, cutlery, and glassware on the table accordingly. Fold your napkins and place them on top of the salad plate. Then, plop a satsuma down on each one.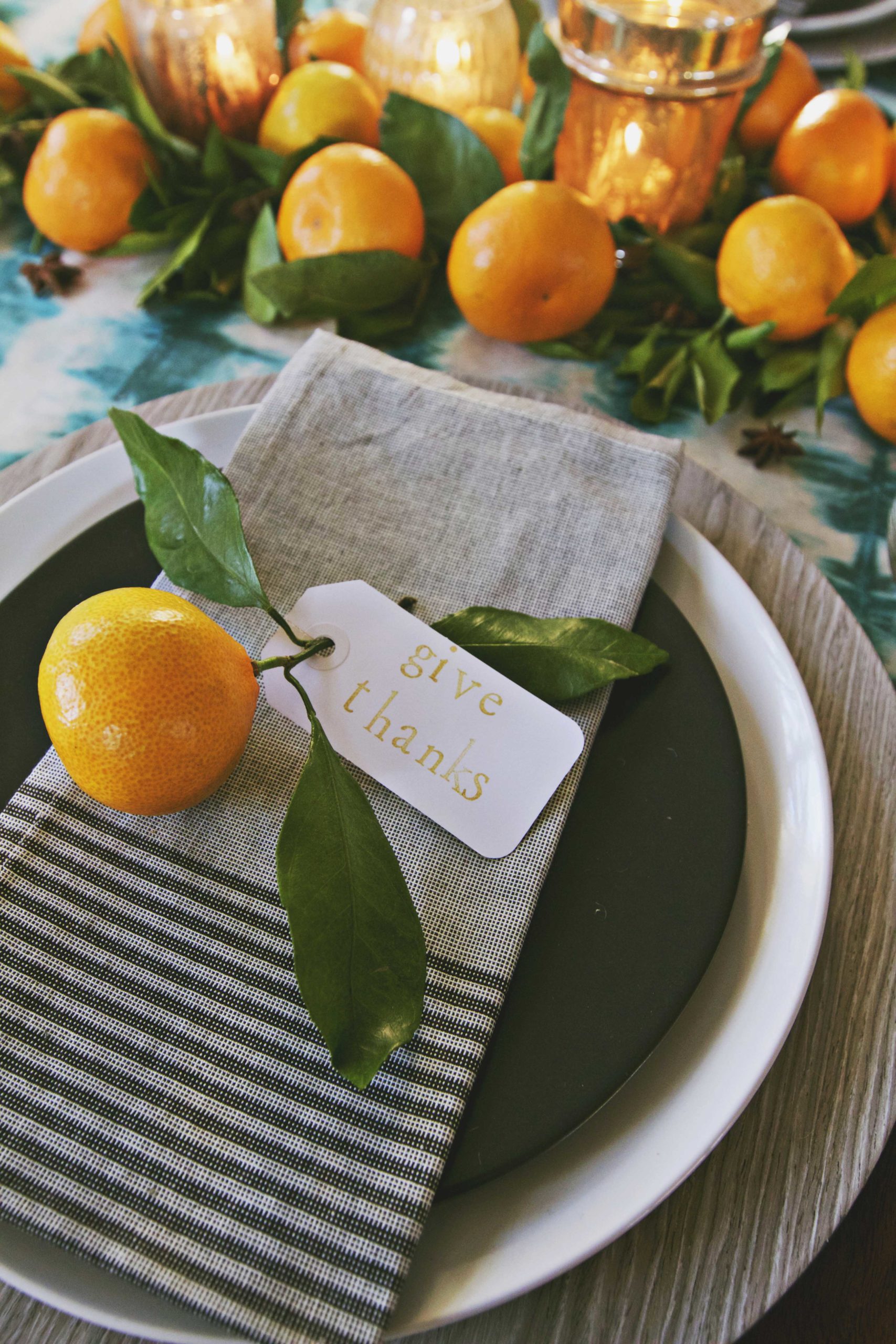 Use your alphabet stamps to stamp "Give Thanks" on each label. Then cut the outer edge through to the hole, and attach to the stems of the fruit.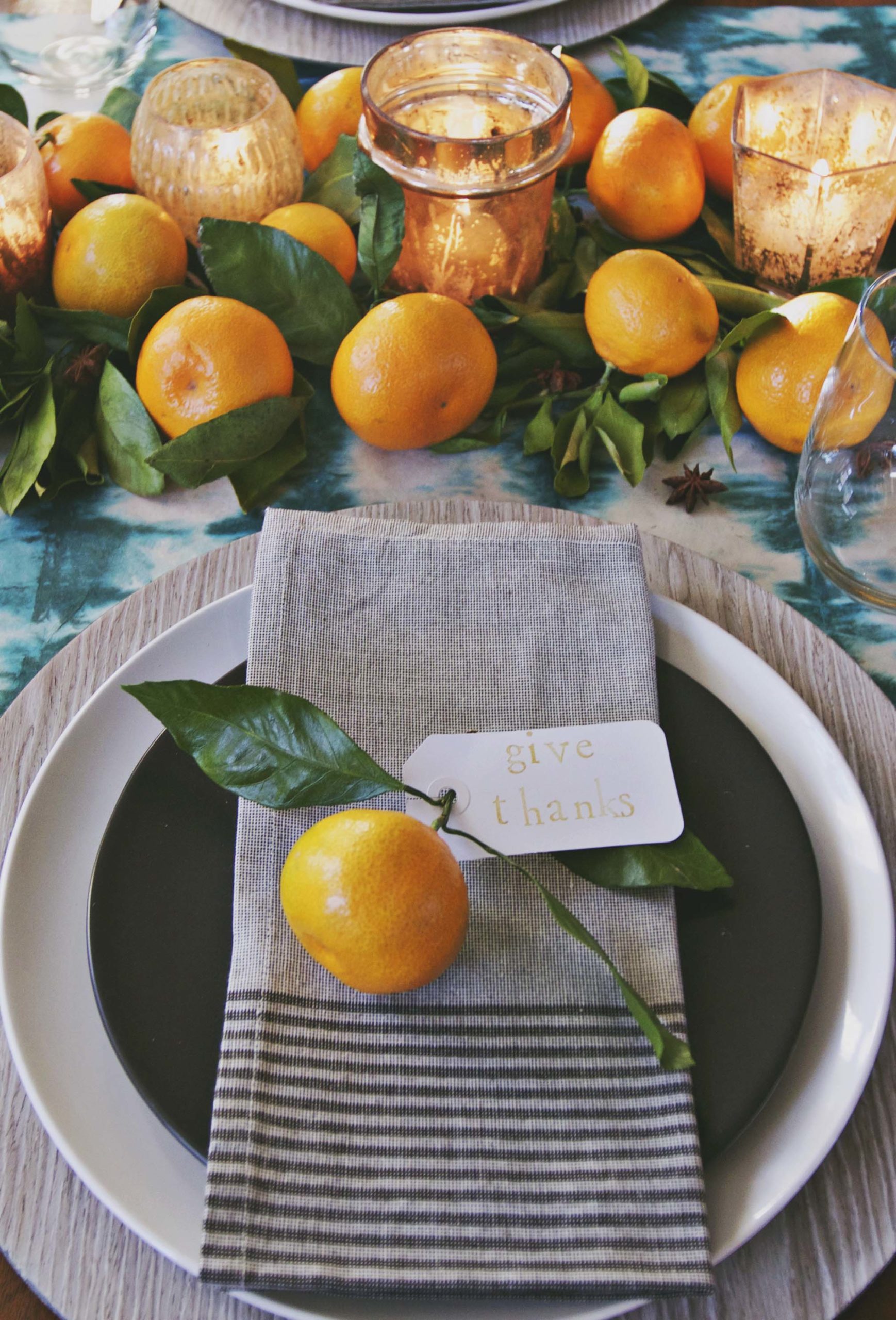 Finally, sprinkle the star anise around the centerpiece and near the place settings.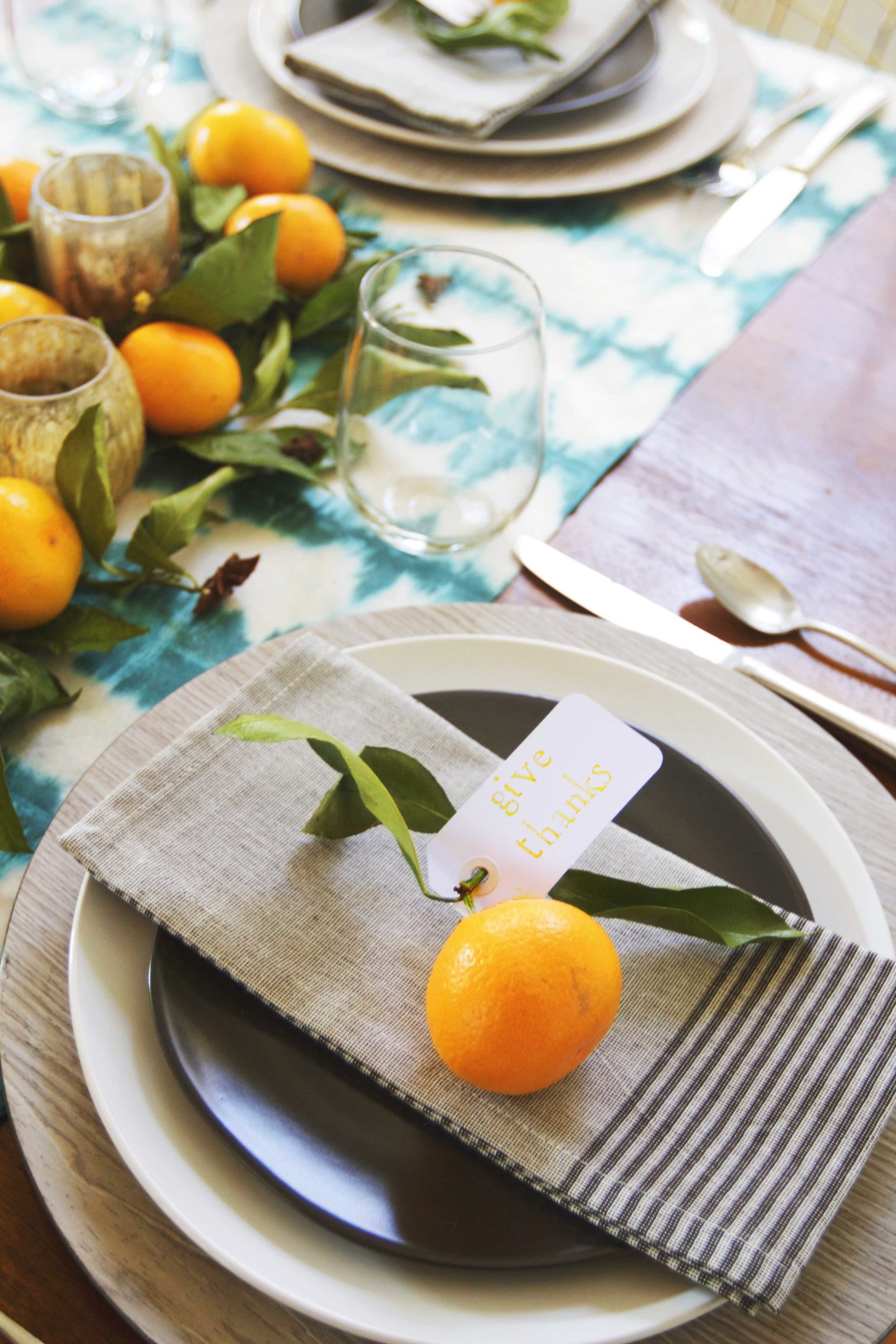 That's it! Very easy to put together, and the effect is so lovely.  Bring on the turkey!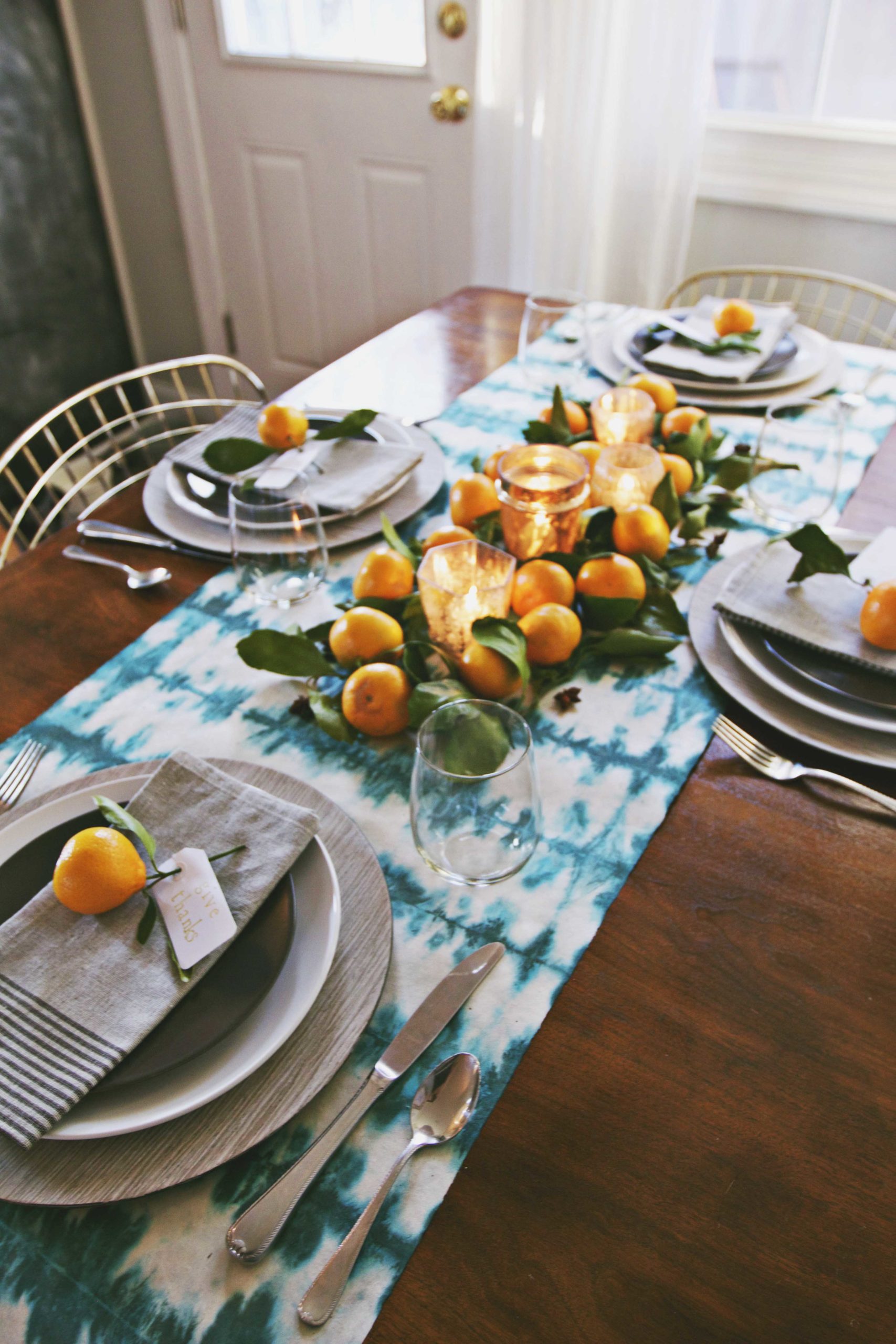 Product Guide: Stemless Wine Glasses, Crate & Barrel // Border Stripe Yarn Dye Napkins in Espresso, West Elm // Scape Salad Plates, West Elm // 365+ Plates, Ikea // Wood Grain Chargers, Sur La Table // Mercury Tealight Holders, West Elm // Bertoia Style Chairs, Amazon //