Eco-Friendly, Affordable Rug Pads with Rug Pad Corner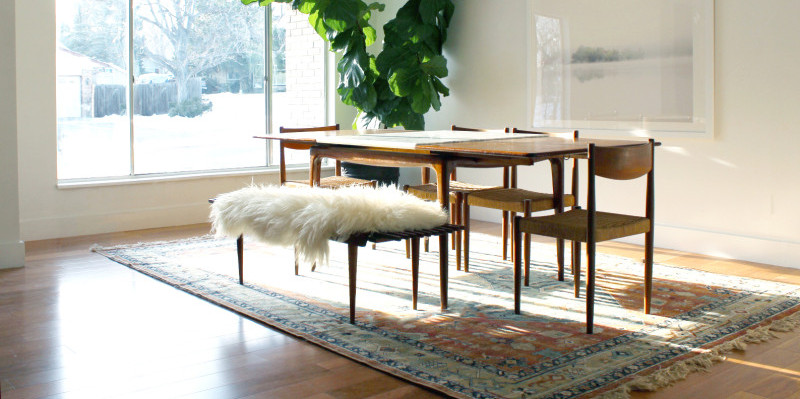 I've had so many questions about our crazy cheap living room rug, such as how comfortable it is to stand on, does it move without a rug pad, how thick is the pile, etc.  And although I love, love, love it in so many ways, it does have a huge drawback in that it is SUPER thin.  It is definitely not comfortable to stand on for long periods of time, let alone sit on, which I found out soon after we hard purchased it for our living room back in Virginia:
You really just couldn't sit on it.  It was so uncomfortable playing in the living room with my son, Clinton, and our puppy chose to awkwardly sleep on the carpeted stairs rather than the large, sunny rug because of it.  I knew I needed a rug pad and was relieved that the rug itself had been so inexpensive, that I hoped it wouldn't be too much of an additional cost.
This post contains affiliate links.  Thank you for supporting the brands that make this blog possible!
I spent a long time searching for rug pads that were eco-friendly, because with a two-year-old (at the time) I was mega-concerned with the air quality of our home.  Many rug pads that are found at major retailers actually off-gas harmful VOCs and that's simply not something I wanted to have to worry about!  I had inherited one of those from my mother when we had bought the house, and it just felt kind of icky and sticky.  Plus, it smelled rather chemically.  Have you ever smelled one of those things? They're gross.
That's why I was so happy when I discovered Rug Pad Corner, which has a line of 100% natural organic recycled felt rug pads.  There's absolutely no off-gassing, and they're heat-pressed so that they don't contain any glue or other adhesives.  They're also hypoallergenic and mold/mildew resistant, which is great because our son suffers from pretty severe asthma as well.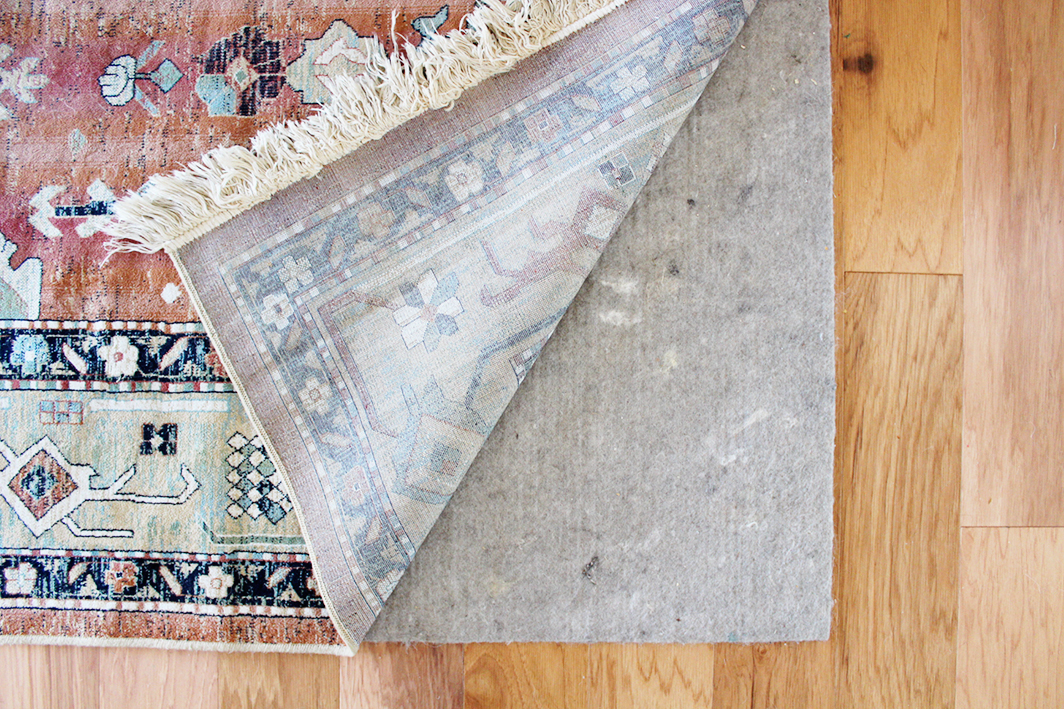 But the absolute BEST part of them is their thickness — they come in two sizes, but I chose the thicker (3/8″) because our rug was so thin to begin with (find it here).
And seriously, it has made all the difference!  Now it's like walking on a big flat pillow, it's so comfortable.  After we placed it under the rug, Clinton and I began to finally play in the living room and our pup migrated back into the room for her naps!
Plus, my word are they affordable for that much felt — an 8 x 10 is only $99 in the 1/4″.  You can have them cut slightly smaller too so they won't be peeking out under the edges, and shipping is free.  We needed a rectangular pad which is usually what I find at major furniture retailers, but I noticed RPC also offers round, oval, square, and runner pads which I'd imagine saves you some money since you're not paying for extra material.
I'm really happy with the difference it's made in the comfort of our rug, and even though we now use it in our dining room it still feels 10x better than before!
As a special thank you for supporting Annabode + Co., please use the coupon code REVIEW15 for 15% off your rug pad purchase from Rug Pad Corner!
I'm always looking for new tips to keep our home healthy.  How do you keep your home air quality safe for your kids? Leave a comment below!
Disclosure: This post was published in partnership with Rug Pad Corner. All thoughts + opinions are, of course, entirely my own. This post contains affiliate links.  Thank you for supporting the businesses that help keep our blog up and running!