Mid-Century Curb Appeal On A Budget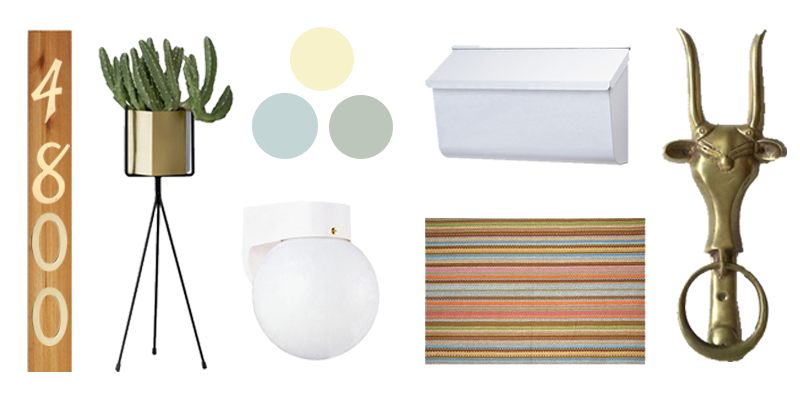 Have you ever started searching the Internet for a door knocker, only to get sucked into a rabbit hole of crazy kitsch door hardware that is both amazing and terrifying?
No?
Let me back up. A reaaaallllly long time ago, back when I very likely had only two readers (and one of them was my mother), I mentioned that our family might be moving in 2015. At that time it was a big 'maybe', and to be honest I wasn't too thrilled about it. Not that I wasn't up for moving, but I did not love the place we were moving to.
(Colorado).
Six months later and not only has it become official, I've also changed my tune! I cannot wait for the new adventure ahead of us. I may have to get used to the landscape, but at least I'll be able to decorate with cacti and serape blankets and not feel like a total noob.
Which leads me to why I was ogling cat door knockers at 1 am on a Wednesday night. We're listing our house next month, and thanks to our serious neglect of the landscaping, the loss of the yard's last tree, and the overall blah-ness of a 1960 split-level, we've decided it's time to increase the curb appeal of our mid-century home.
Here's what it currently looks like, in its very sad state. Don't judge people!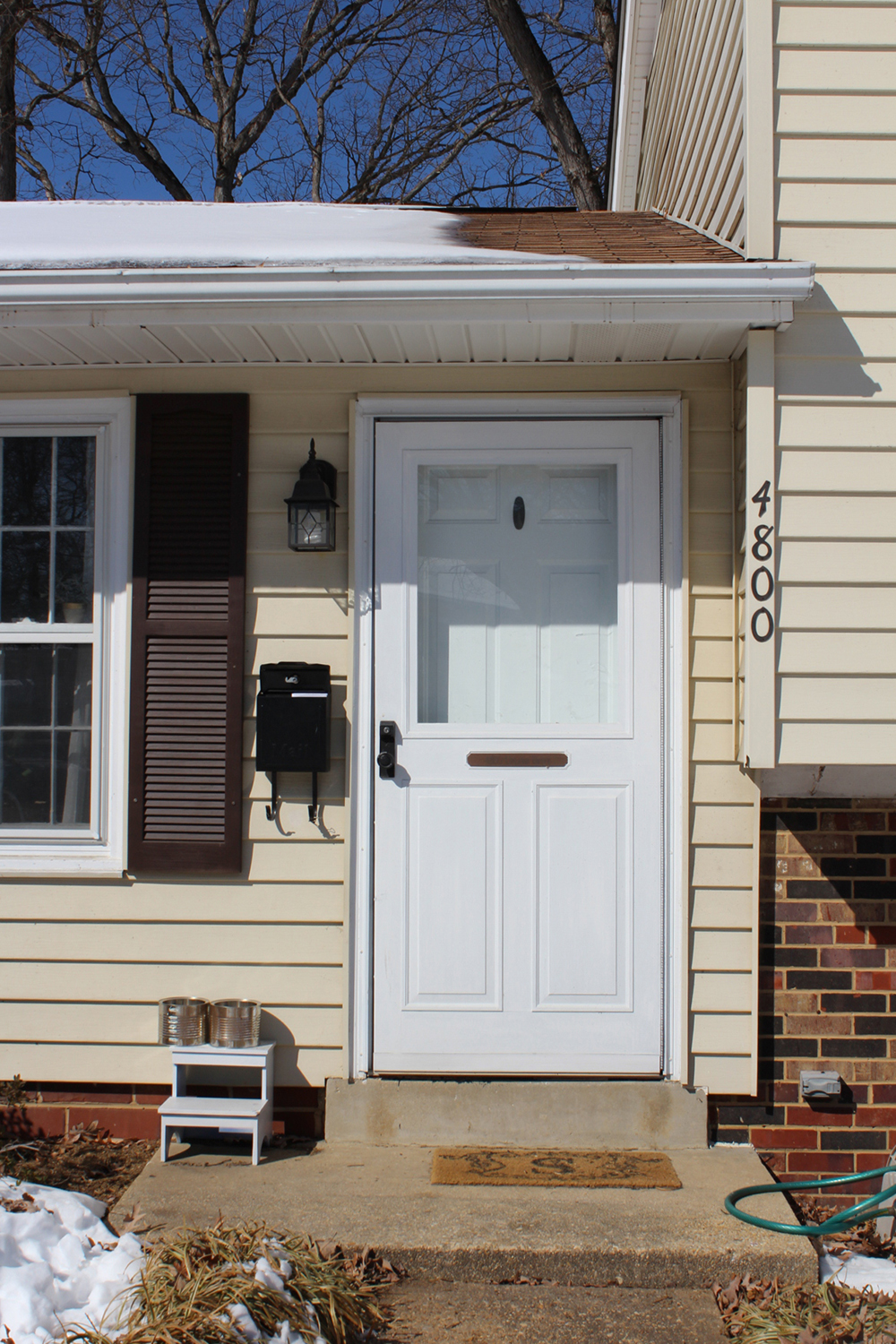 I began by identifying the problem areas, which are numerous.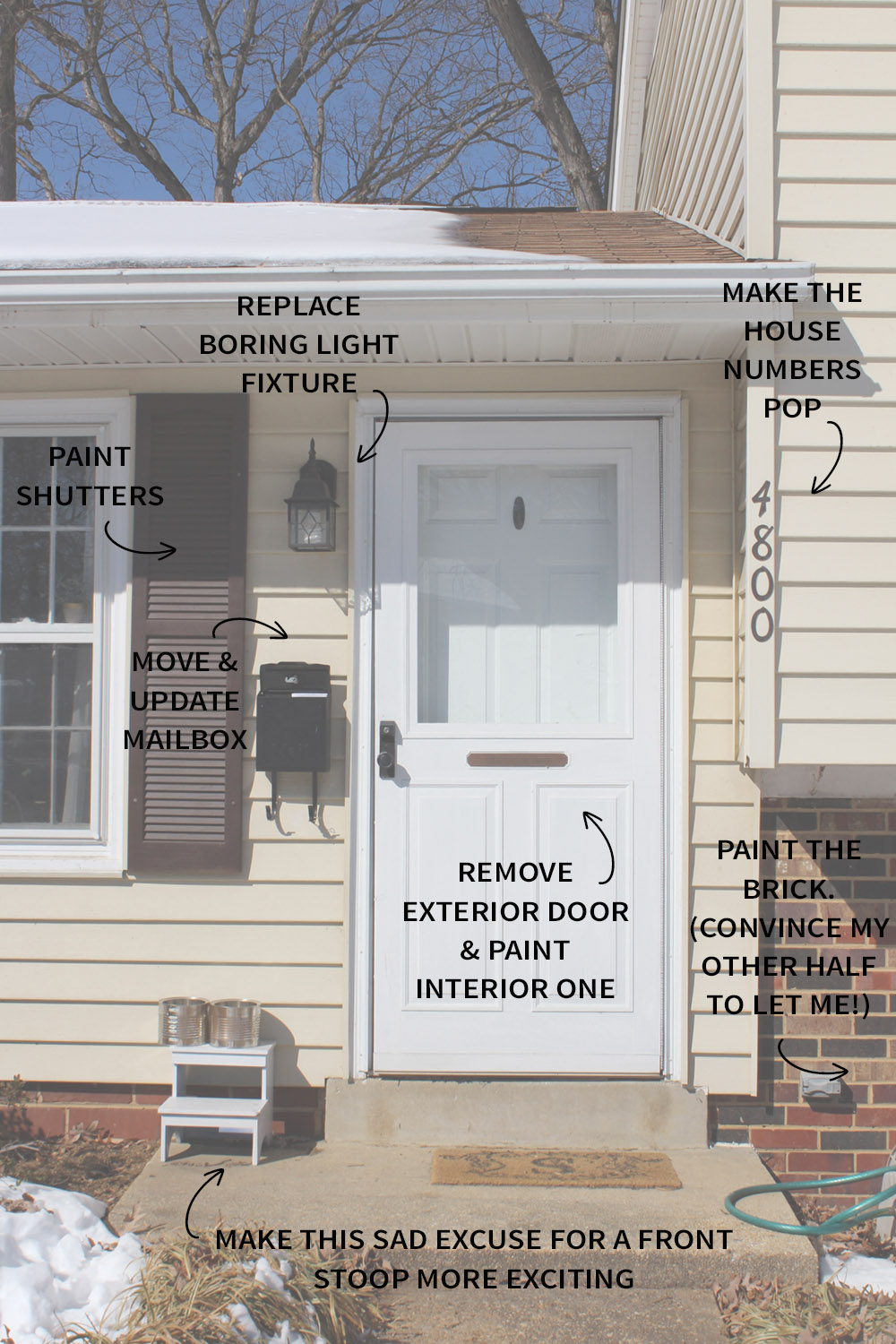 Then the following mood board was born: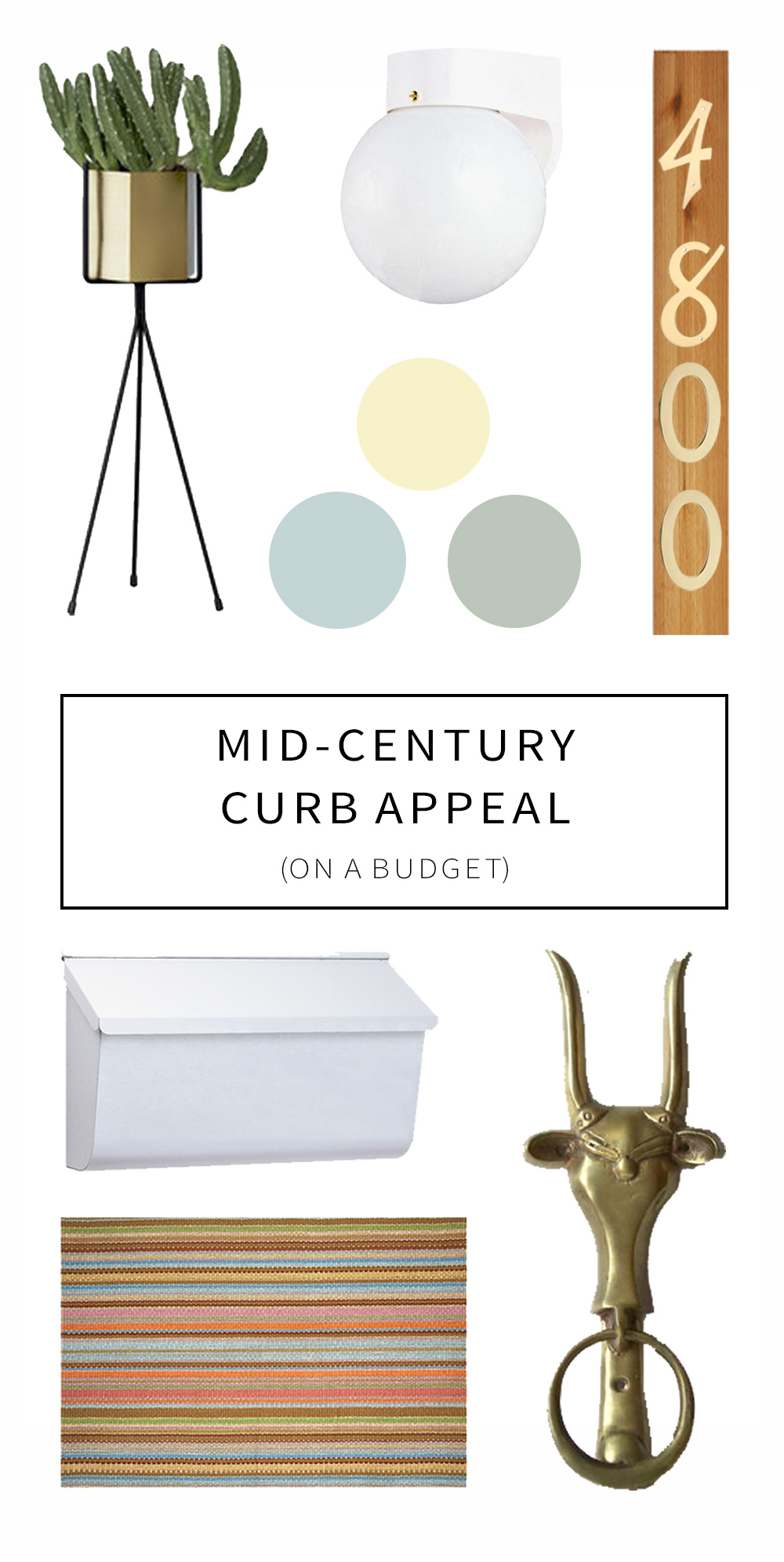 The plan is to:
Convince Austin to let me paint the brick the same pale yellow as the siding. And when I say let me, I mean let me. No hiring that part out, as we're on a budget! In a perfect world I'd hire someone to paint the whole house (that pale yellow color is the WORST) but sadly that idea was immediately vetoed. Sniff.
Remove the exterior glass door. I think this will make a huge difference in and of itself! We really hate how it blocks the actual front door. If it was fully glass it'd stay, but alas it's not.
Paint the front door and add a door knocker. I'm thinking a pale shade of gray-blue, as you can see in the photos above.
Paint the shutters a color that is not dark poop. Because that's what I see when I look at them now. I'd like something a little darker than the front door, and with more green in it.
Update the light fixture. I found this one at Home Depot for only $17!
Move the mailbox and replace it with a smaller white one. Maybe it's because we don't have newspapers delivered, but for some reason it really irks me to look at those two empty hooks every day.
Paint the front stoop a dark gray and add a colorful rug and plant. I already have the plant stand from Ferm Living, and this 2 x 3 outdoor rug from AllModern is super cheap but very pretty.
Spray paint the house numbers gold and mount them on a stained wooden board, to make them pop from the street. I have all the materials for this in the shed, so that at least should be free.
Add more ground cover, which we can take from the backyard.
Here is what I'm hoping it'll look like: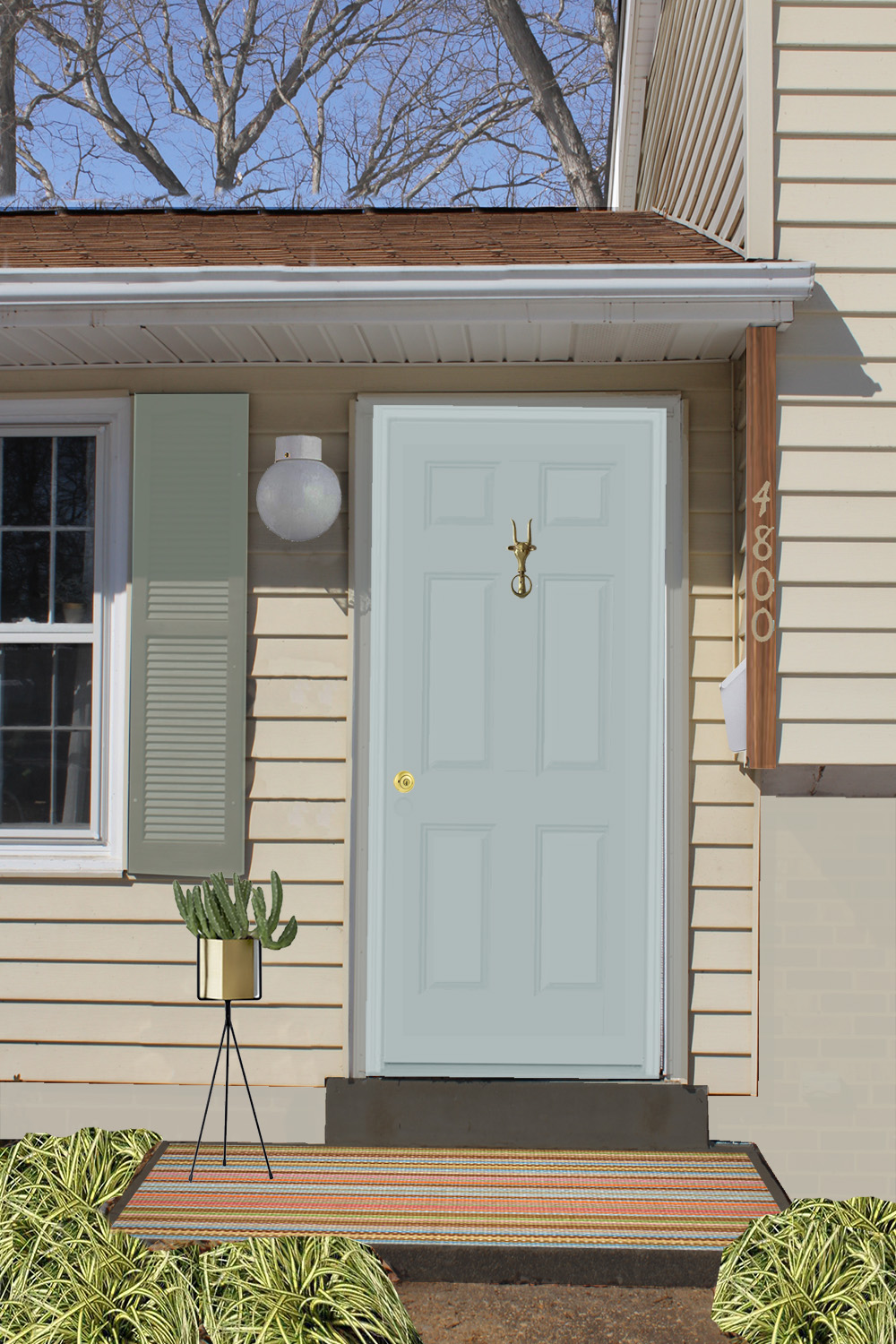 One thing I took away from this project was that not much as changed in the world of door knocker design in the last 100 years. Unless I was willing to shell out some major bucks, my only choices seemed to be your basic shield shape or the same thing but with an eagle. After failing to find anything to inspire at the obvious retailers, I began to search eBay and Etsy.
That's when I discovered the strange things some people want to mark the entrance to their homes, to be the first warning taste of what lies behind their doors. I mean, seriously.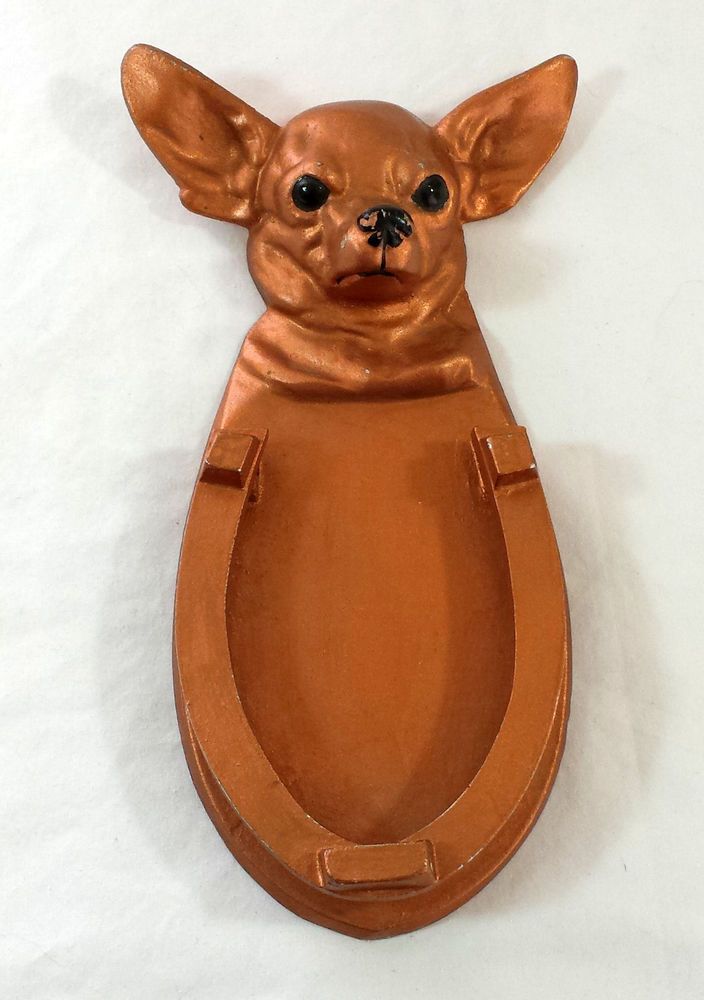 This is both terrifying and awesome. I want it.
It's also how I found this kick-ass gazelle door knocker that might eventually grace our door (I'm still deciding, as it's $38). It may not be everyone's taste, but at least it's interesting!
As the weather gets warmer I'm hoping to start making these changes, and I'll be posting updates as I go along. If you have any tips when it comes to painting brick, painting your front door, or generally increasing your curb appeal, I'd love to hear them!
Does your front entry need sprucing up? Or do you have any plans to do so this year? Share them here!