Kitchen Reno: Part I (The Design)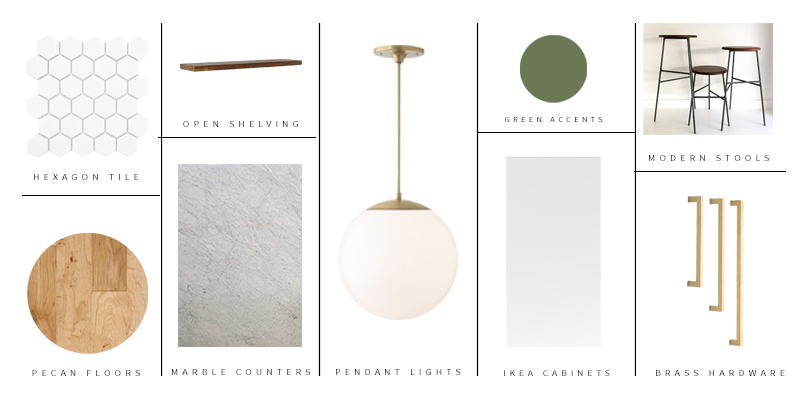 After Austin and I spruced up our kitchen in Virginia, something magical happened. You could say the DIY bug bit us, or we just got addicted to the always-surprising results that came from working with our own hands. Austin is pretty handy but I've had to learn my skills from scratch, and yet we both knew we wanted a fixer-upper when it came time to move to Denver.
We vetoed (okay, I vetoed) countless homes because they were in "too good" of a condition – some partially renovated, others newly built. Austin wanted something cheap, and I wanted something we could make our own. That was especially important when it came to our future kitchen!
If you missed it last week, you can see the full "before" tour of the house we purchased here. To give you a refresher, here was the kitchen we found ourselves with: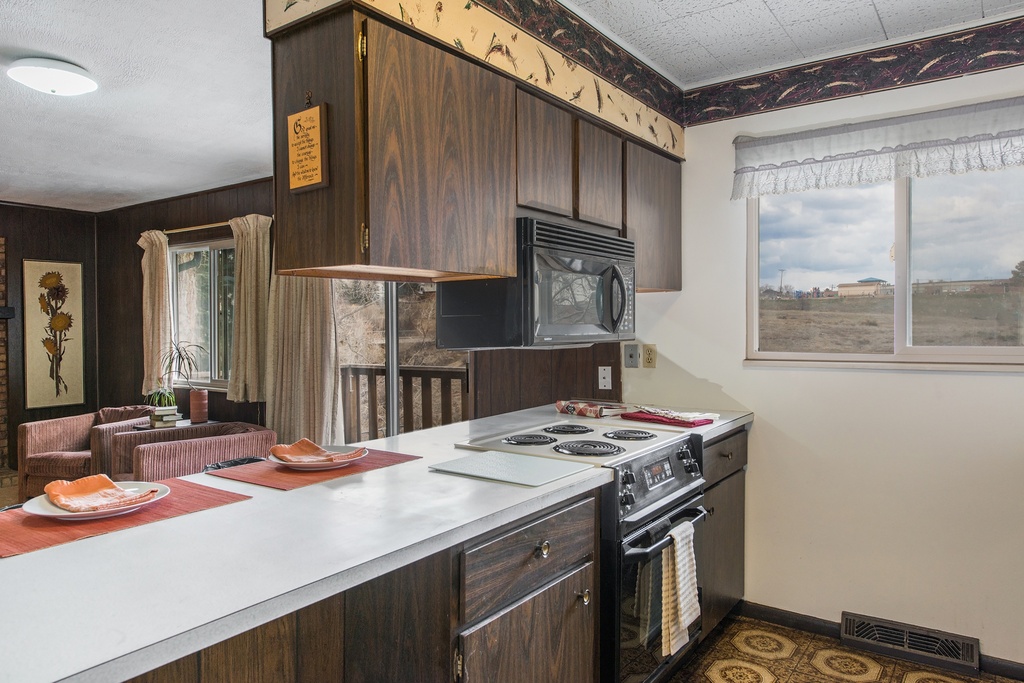 The floor plan was open to the family room, and the wall behind it (on the left, below) separated it from the dining room.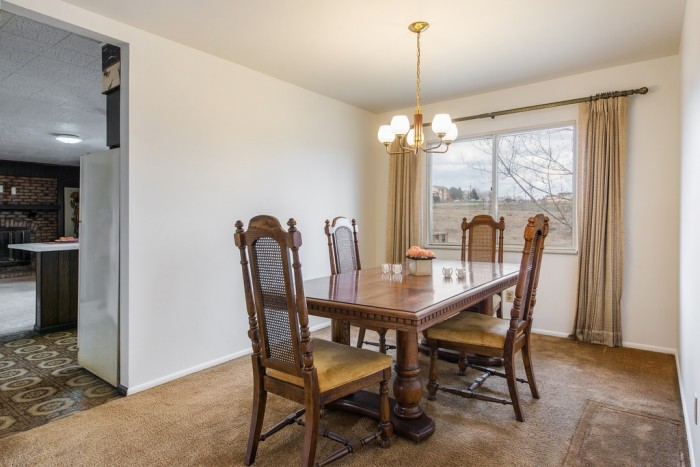 I've already share my feelings on the…erm, decor.  It was certainly usable, and we did use it for the first few weeks. But man, it was ugly. And as soon as the ink was dry – while we still lived in Virginia — I had begun our kitchen renovations plans.
The most important considerations for us were:
Size. Up until now we've lived with teeny tiny kitchens that have driven us bat crazy. This is going to end now.
Openness. We wanted an open floor plan that allowed for entertaining but also kept us in close proximity to our son while we cooked. This desire for openness also meant we would forgo upper cabinets entirely – I really wanted the kitchen to blend seamlessly and naturally with the living space.
Storage. Because #1.
Brightness. This is the general theme for our new home, both because of my personal taste and the fact that the house is unfortunately rather dark. I love white-on-white kitchens and knew right away this was the look we'd go with.
Cost, obviously, as we are on a very tight budget. That being said, there were some splurges we knew we wanted to make in the kitchen because it's literally the epicenter of the house. We managed to pull some major savings with the cabinets, refrigerator, backsplash, and shelves however (which I'll get into later on).
Here are some of the kitchens I drew my inspiration from – Jessica de Ruiter's home is my all-time fave, so obviously her kitchen went in the mix: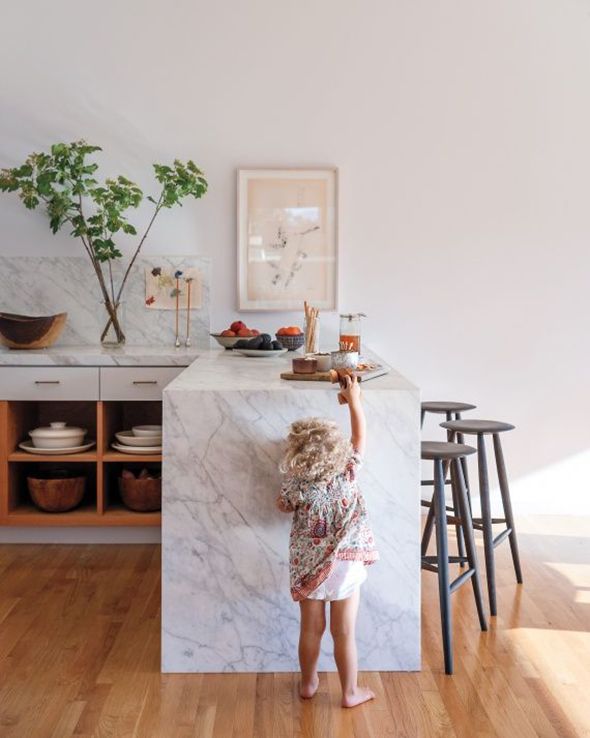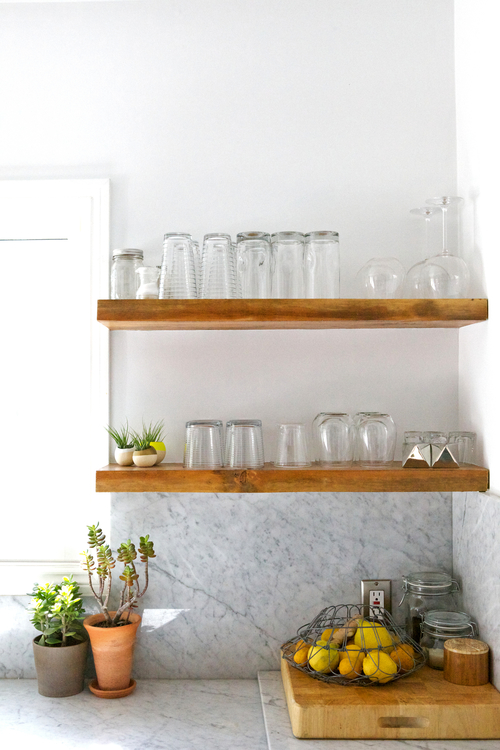 ---
I did some mulling and searching and a whole lot of planning, and here is what I came up with back in the spring: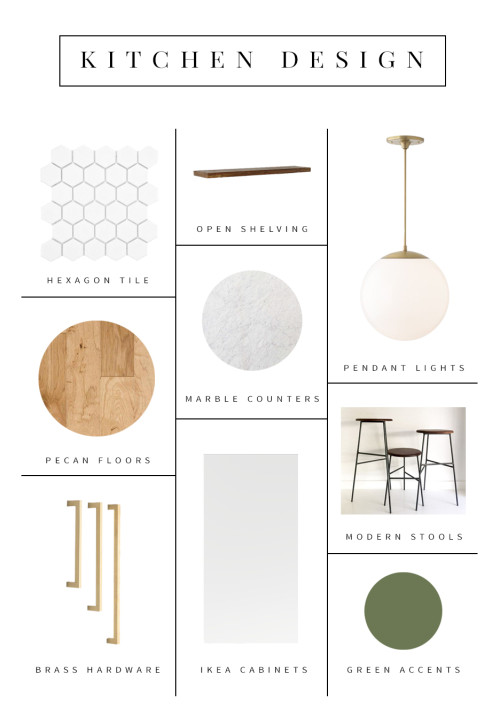 First row: Wayfair*, West Elm, Schoolhouse Electric // Second row: Home Depot*, The Stone Collection, Triple 7 Home // Third row: Schoolhouse Electric, Ikea, Farrow & Ball // *affiliate link
---
Dana Miller has done a great series on Ikea kitchens and there's a wealth of info on the internet about how to design and shop for them, so I'm not going to go into it very much. But we did use the Ikea 3D kitchen planner (a.k.a. the most inept and buggy software I've ever encountered that will make you want to strangle anyone in a blue and yellow striped shirt) to plan out the size and placement of our cabinets. I just tried to pull up our model so I could share it with you and of course…it's not working. Surprise, surprise.
Aways, I modeled it in Sketchup since I like seeing things beforehand so I can be 100% about any design decisions. My plan was to remove the wall separating the existing dining room and kitchen and push back the kitchen into that space. The cabinets are in a U-shaped layout, with a bar and stools on the back of a peninsula. I really like the look of continuous, horizontal shelving so I added that in as well.
SO with the finishes and if everything goes according to plan, it will look like….this!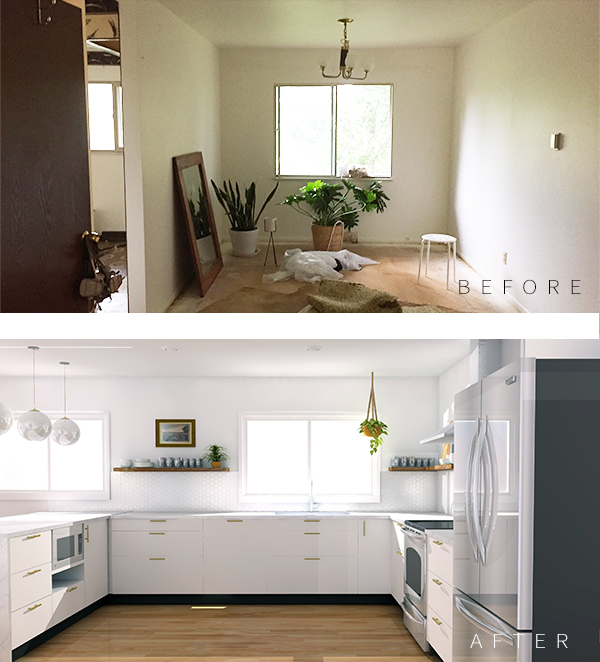 Stay tuned as I'll be sharing our demo experience very soon!
I'd love to hear your thoughts on the design. How do you feel about white-on-white kitchens? Should I have mixed it up with more contrast? And what about mixing brass with stainless steel appliances? Lemme hear it!
And if you want to cheat and see the full progress we made this summer, you can check it out on Instagram. (For more kitchen inspiration, be sure to follow my Pinterest board!)
xoxo
Anna