A Modern Little Boy's Room: ORC Week 2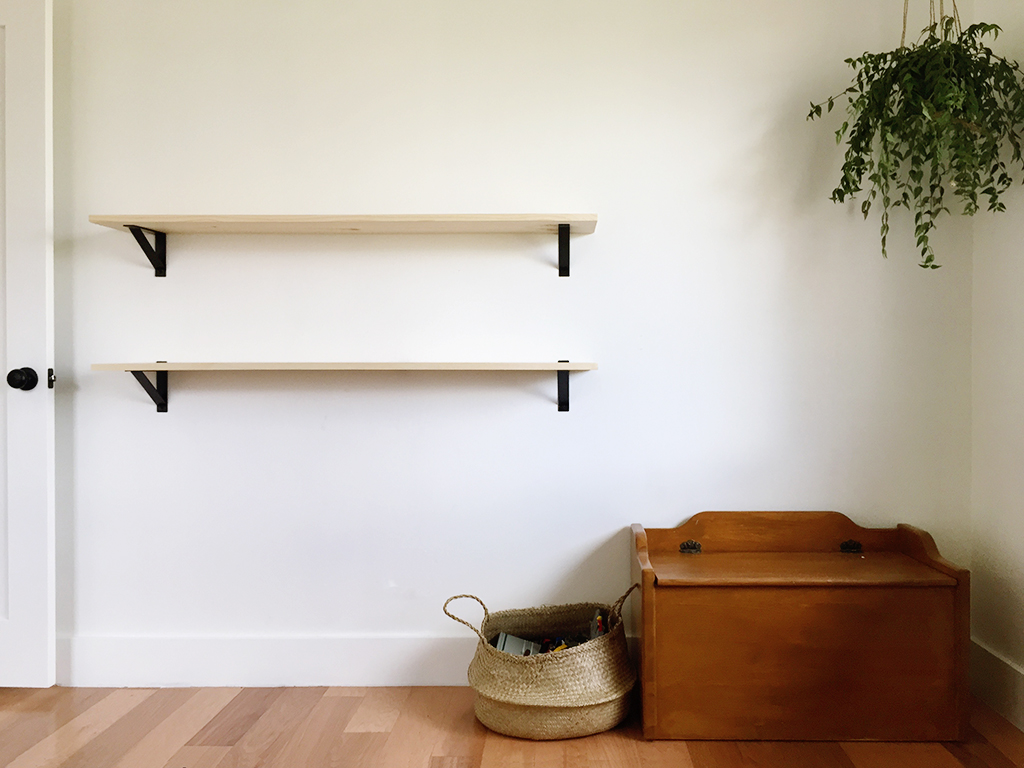 It's week #2 of the One Room Challenge and my "modern little boy's room" is actually starting to take shape! (Read the first post).  If you remember from last week, we had just replaced the windows and the room looked like this: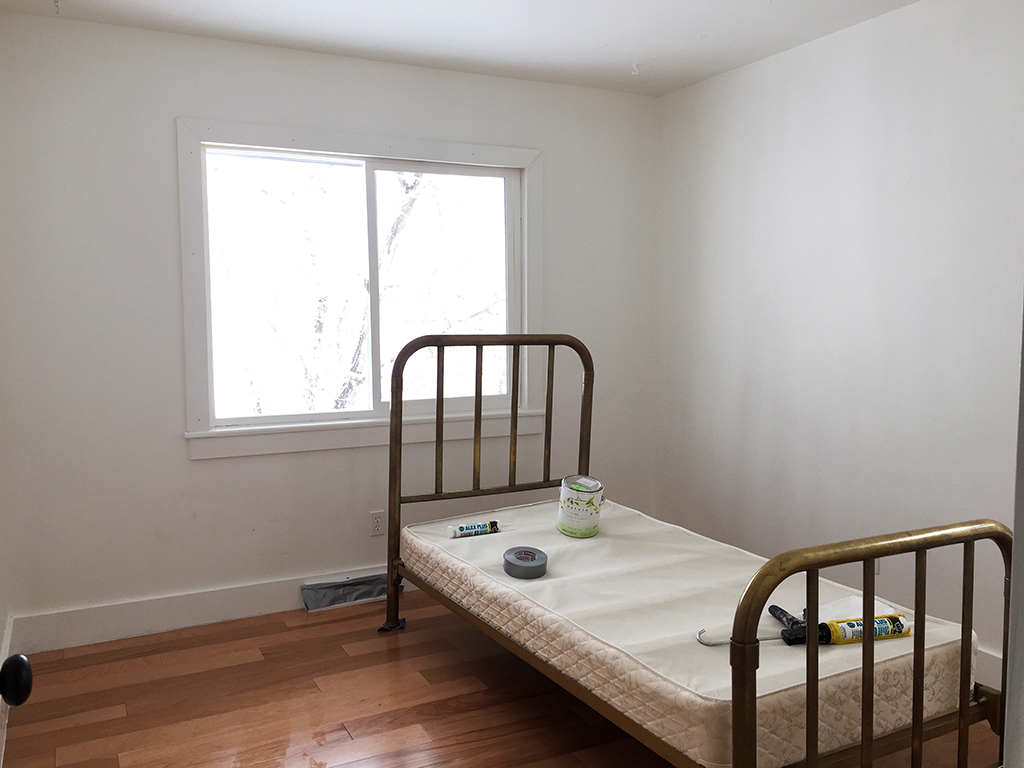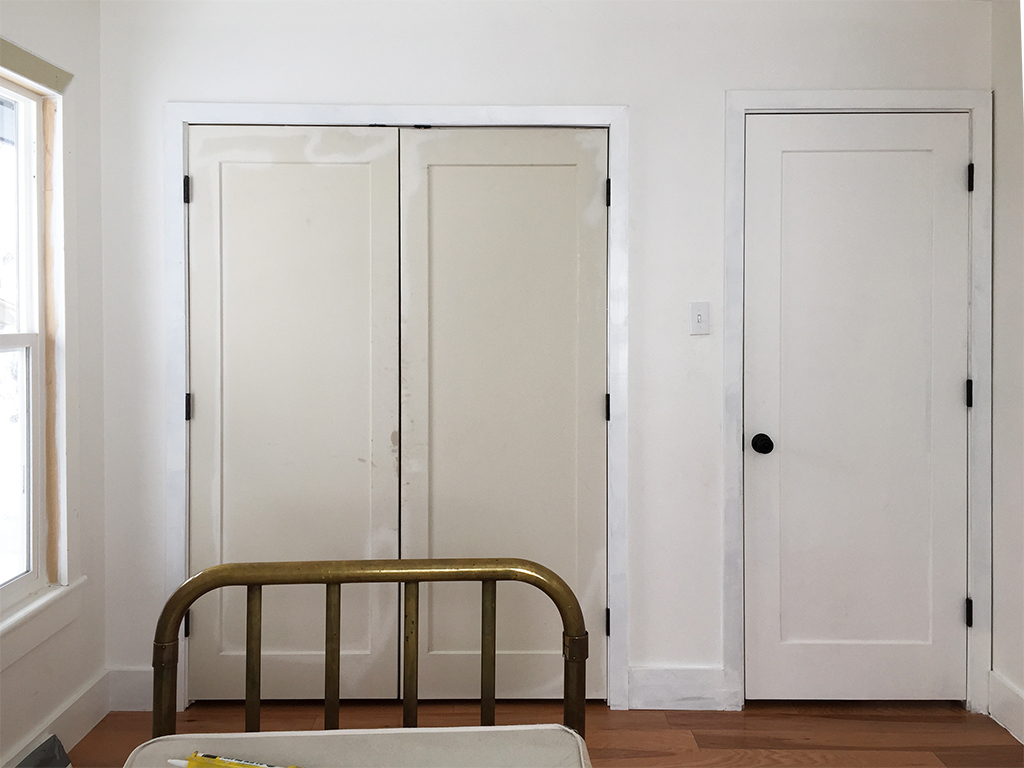 The first thing we did was paint the doors and trim (with Simply White by Benjamin Moore, in semi gloss).  I had made the naiive mistake when we first hung our doors of painting them in eggshell like the walls.  I didn't even stop to think about it, and now we have half a dozen white doors that need repainting because they have one giant brown smudge running the length of them!  What I forgot to consider was that the less sheen a paint has, the more readily dirt and grime show — hence why doors and trim should always be semigloss.
We added these doorknobs
*, which are super affordable and a lovely matte black, and here is what it looks like now: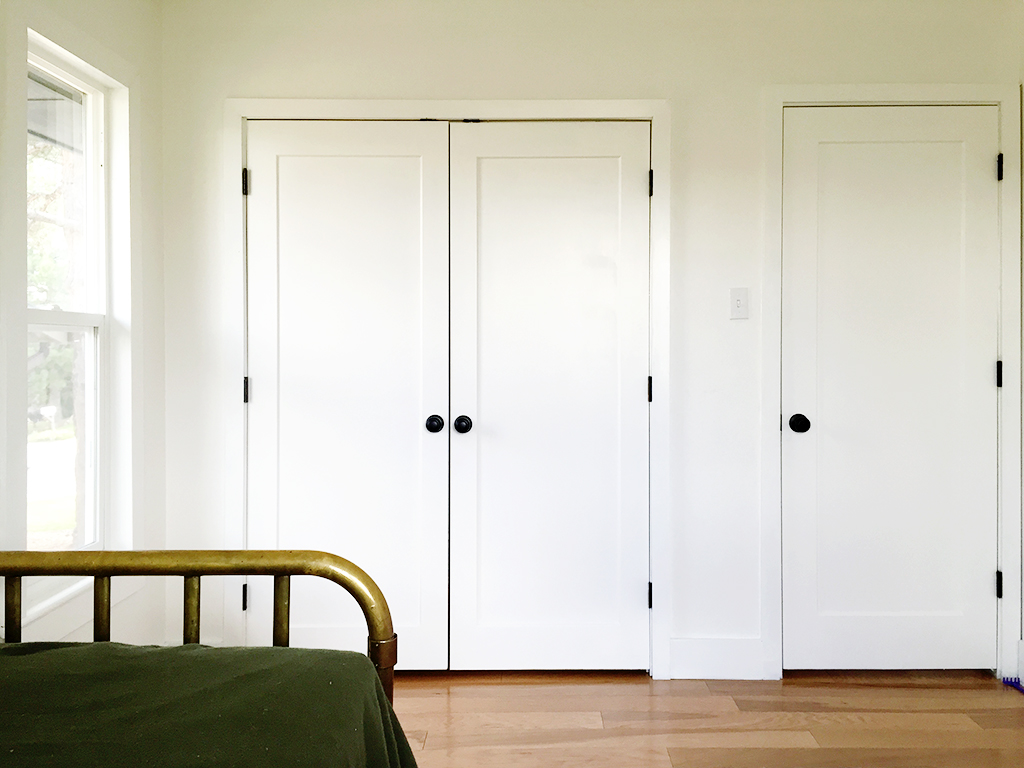 The room is so much brighter with those two doors painted!
Next we moved Clinton's bed back in, along with this blanket and pillow sham I already had from Schoolhouse Electric.  And remember this nightstand from my initial design?  Although I love that whole West Elm collection, there's no way I could justify spending that much just for a kid's nightstand.  Five-year-old boys aren't the best caretakers of furniture (as I'm sure you mamas out there know!).  I got this guy on trusty ol' Craigslist for 100 bucks and although there is water damage on the top, it doesn't bother me at the moment. (Discover all my tips + tricks for using Craigslist to decorate your home).
BUT if anyone has favorite products for filling in wood nicks etc. — I've heard of some pens that do the trick — I'd love to hear about them!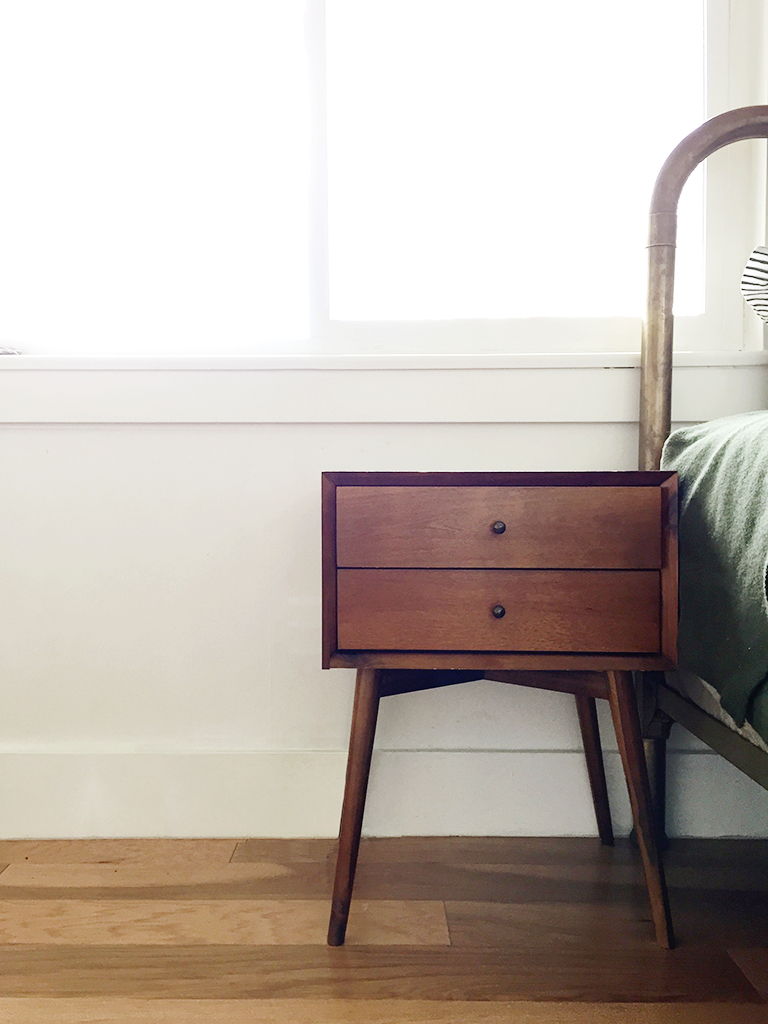 The mud cloth from Objektum came in too, and I love how it adds pattern and energy to that side of the room without being too wild and crazy (which is so not my jam).  It's beautifully worn and although it looks awesome layered over the army blanket, come summer I think it'll be the perfect weight by itself (we happen to have no AC, and Denver is hot!).
I did hit one snag already, however…and that is the rug: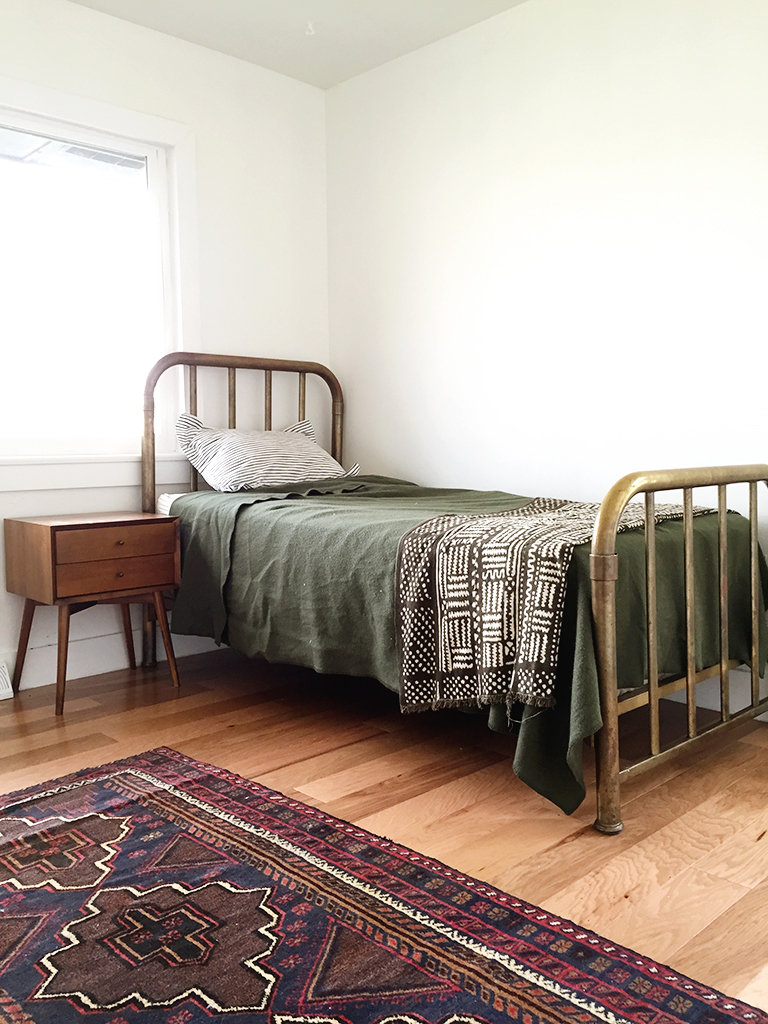 The poorly made bed and iPhone photo aside, I think the bed/nightstand/textile combo is exactly what I envisioned but the rug had too much red in it for me to love it in this space.  It does look almost exactly like it did in the photos (maybe a touch darker in real life) and I did a million mockups in Photoshop beforehand, but sometimes you just have to see rugs in the space to really know.  And although I love Ecarpet Gallery for its selection, excellent photos, and free shipping, you have to pay return shipping and restocking fees so I just sold it on Craigslist and ordered this one instead.  It has a more muted palette with some olive green in it that I'm hoping will vibe better with the bedding. It was more expensive but they were having a 50% off sale that day – win!
I also put up some shelves for toys and books, using leftover brackets from our kitchen shelves and some lumber from Home Depot.  The toy chest, along with the two dressers in the closet, was given to us for free by our neighbors across the way whose kids are teenagers now, and the belly basket is from Tala Home Goods.  I stole the plant from our kitchen and am still on the hunt for a planter — suggestions welcome!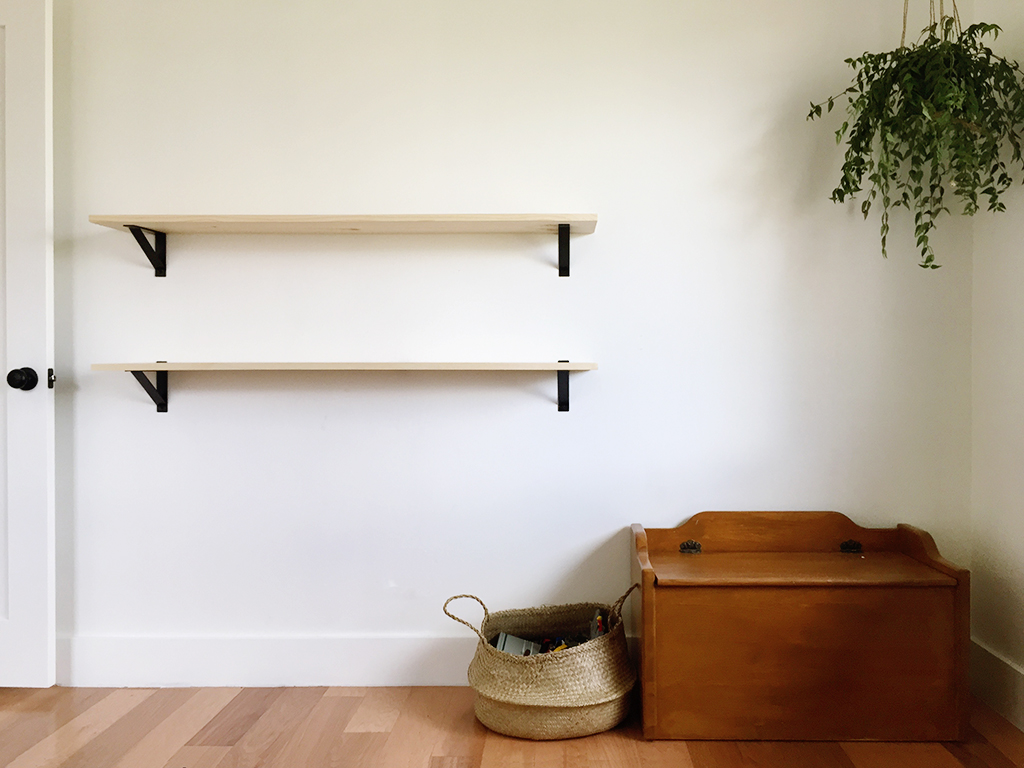 I wanted shelves rather than a bookcase in this room to make it feel as large and as open as possible, and the same goes for the hanging plant.  I mentioned in my Instagram post this morning that getting as much as you can off the floor of a small room will make a huge difference in how open it feels, and it's a good rule to remember not only for bedrooms but for bathrooms and hallways as well!
Like the rug though, no matter how many mockups I did it wasn't until I saw the shelves up that I decided I didn't like the pine.  Although I'm all for mixing wood tones, this room already has two (the pecan floors and the nightstand) and I want it to feel calm and quiet.  So, I'm going to try and find a stain that closely resembles the nightstand's and paint that little toy chest gray or navy.  I do love this view however: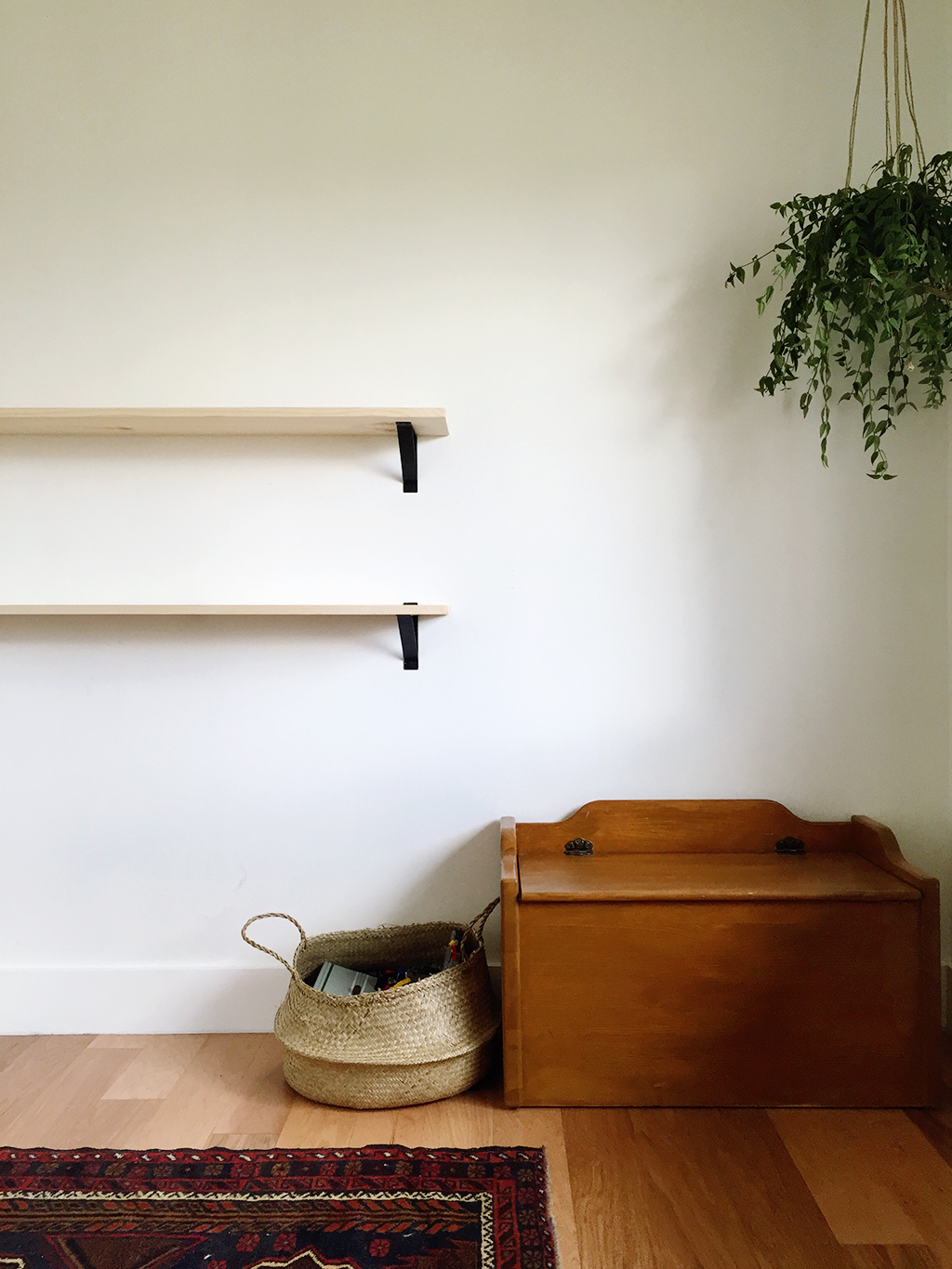 This next week will be spent prepping the closet for paint and reconfiguring the shelves inside it, staining the other shelves, and choosing paint for the little chest.  Check back next Thursday for more progress, and don't forget to visit the other participants' sites for some awesome home and DIY inspiration! Just click the image below: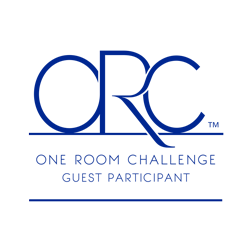 *Denotes an affiliate link.  Thank you for supporting the brands that support Annabode + Co. and allow us to bring you new content and inspiration!