A Modern Little Boy's Room: ORC Week 1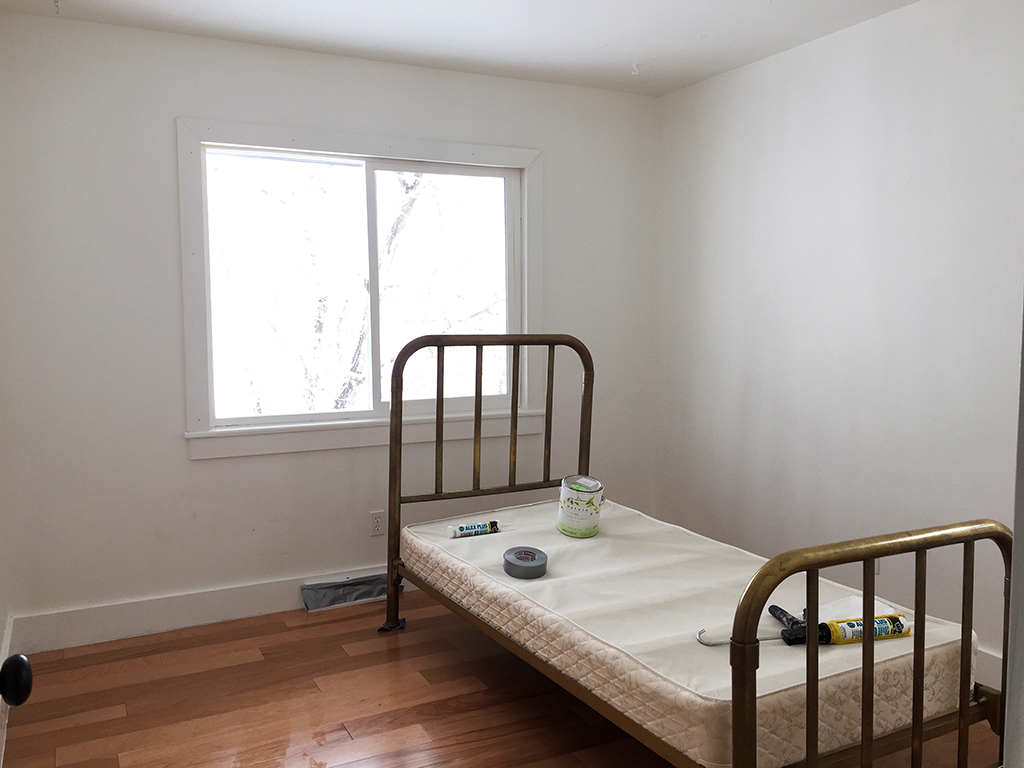 It's been 10 months since we moved out West, and my poor kiddo's room has been sadly neglected for most of that time.  With his (fifth!) birthday around the corner and our time in Denver approaching the one-year mark, I figured it was high time I showed his room a little love!  This post marks the first in a series of six — which you can expect every Thursday until the big reveal on May 12th — as part of the One Room Challenge.
In a nutshell, the One Room Challenge is a blogging event hosted by Linda from Calling it Home — each spring and fall she challenges 20 design bloggers to transform one room in just six weeks, and invites unlimited bloggers to join in.  We'll be documenting our progress each week, so you can see what exactly goes into reimagining a space from start to finish.  (Discover all the other One Room Challenge spaces.)
Now on to "before" shots! When we moved in last summer, Clinton's room looked like this: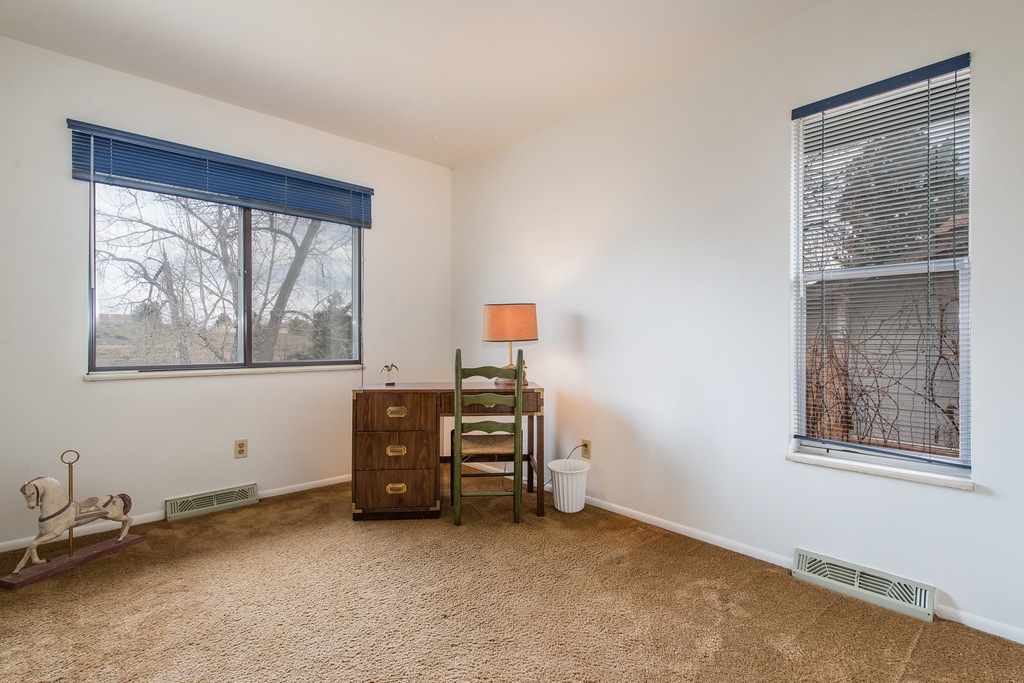 The brown shag carpet and blue (?!) blinds weren't doing anything for us, that's for sure — although I wish the previous owners had left that cute little desk!  Over the first few months we laid hardwood floors, painted, installed overhead lighting, removed the window treatments, and replaced the doors (it was a heck of a lot of work just to get a good neutral base going).  And after seeing how cold Clinton's room was this past winter, we finally upgraded the original aluminum windows and added trim last week.  So here is where we are today: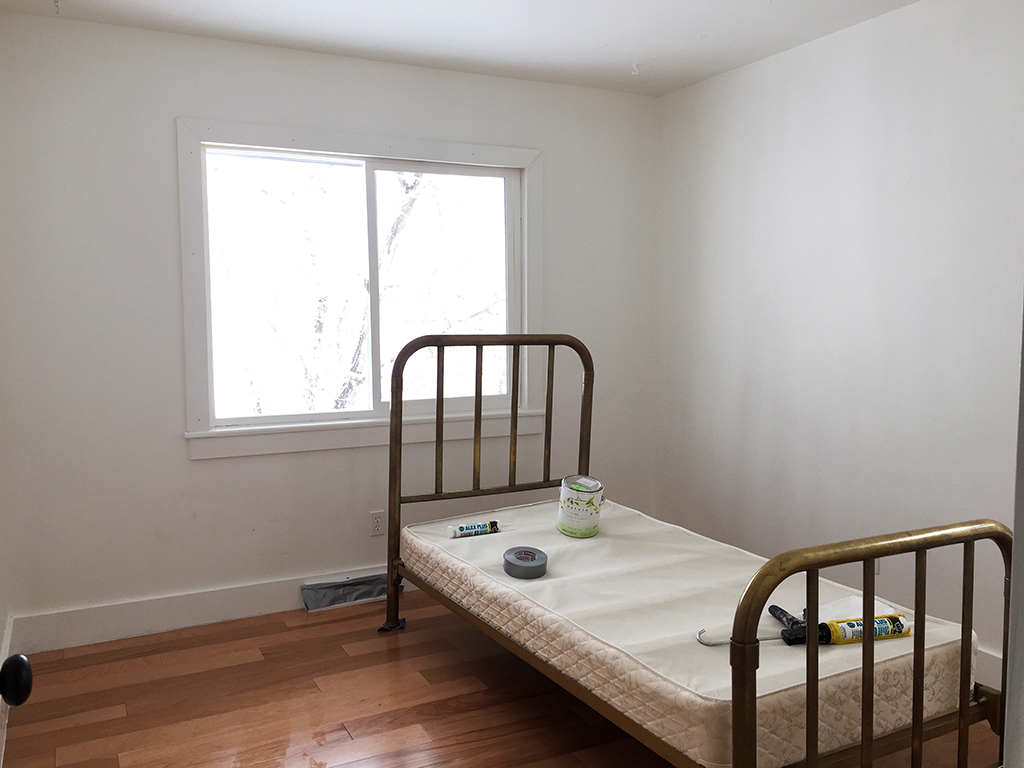 That bed is one of my favorite things in our house.  I found it on Craigslist last fall for $100 but talked the people down to $40 (find out all my tips for using Craigslist to decorate your home)!  I LOVE the lines and the patina of the brass.  Originally I wanted to make the bed low, more like a toddler bed.  I thought I could use just a mattress (no boxspring) and repurpose the footboard as a headboard, but it wasn't possible the way the bed is put together.  So, we got this boxspring for free using NextDoor (and yes, I know that sounds totally gross).  I am 100% against buying things like mattresses and boxsprings off of Craigslist and similar sites, but my husband came home with it one day and I assured me it was fine.  According to him it was only a year old and no, it did not have bed bugs…thank god!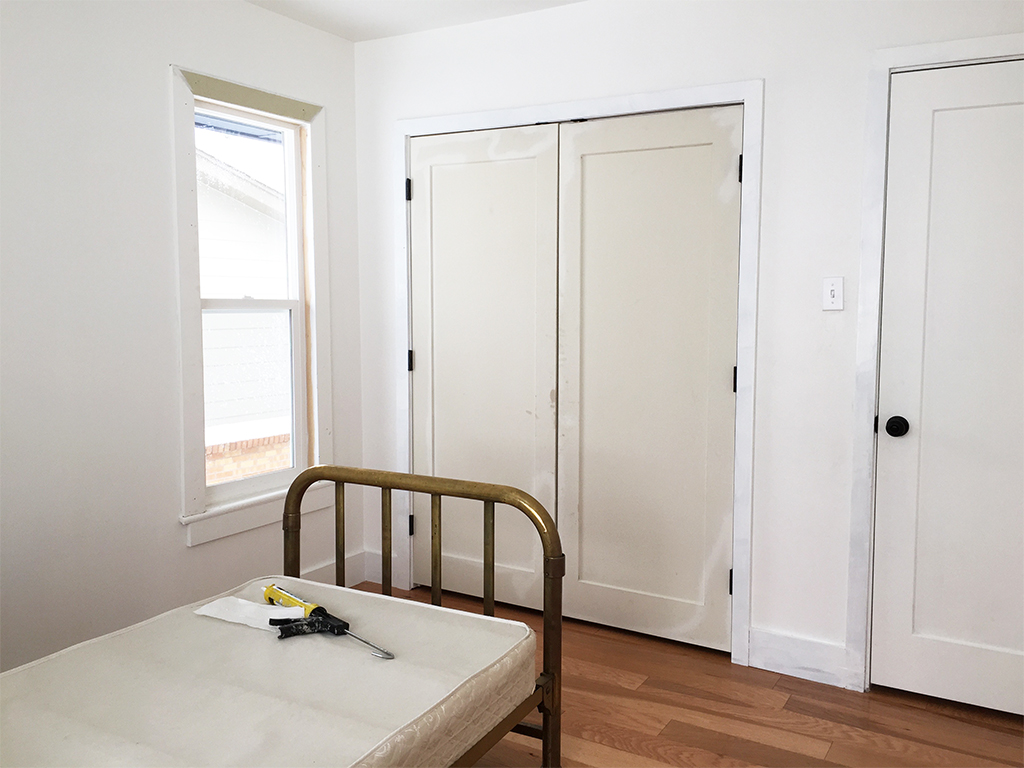 Although we've got all the trim up, there's still some painting to do.  We also need to paint those closet doors and add handles so we can, uh, open them.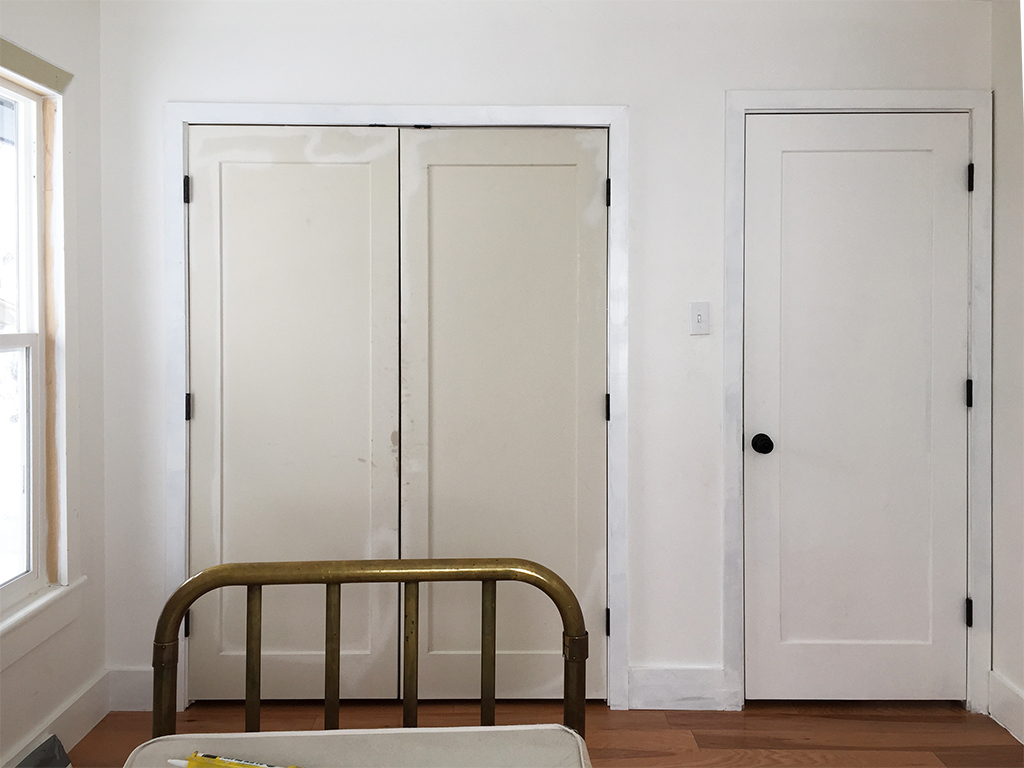 Rest assured my son's bed is not normally devoid of a mattress and stripped down in the center of the room!  Any time we have to mess with the drywall we have to be super careful (read more about how we found asbestos).  So last week when we replaced the windows, we moved Clinton into my soon-to-be office which made for these nice empty photos…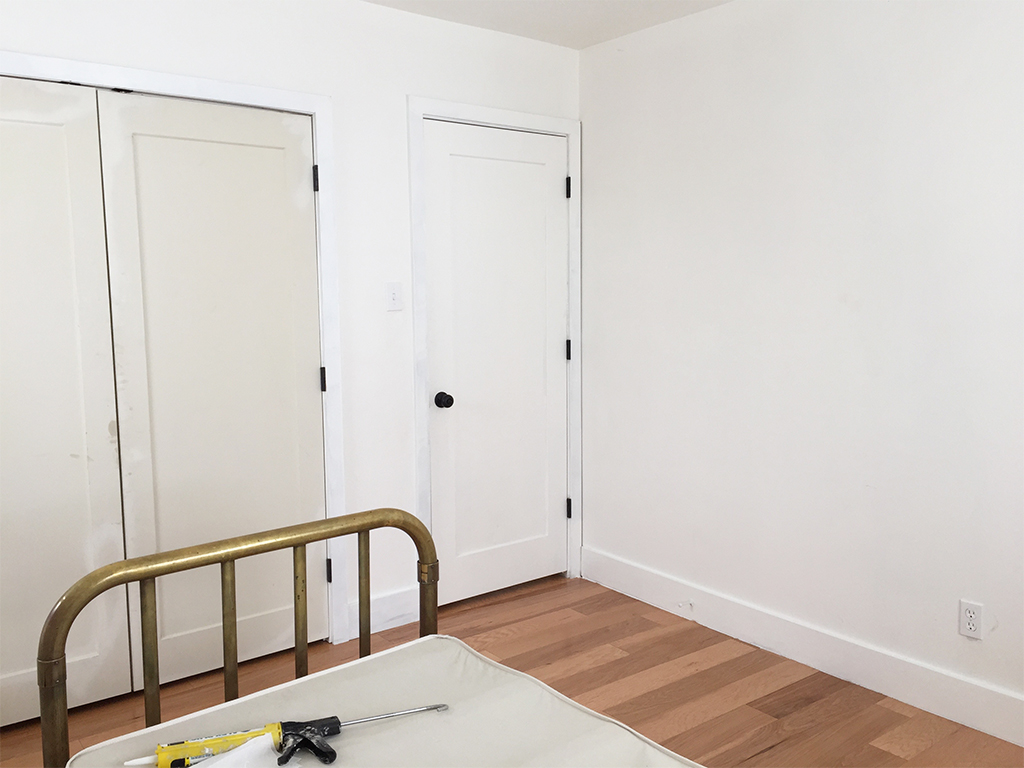 Now, on to the design! I have a pretty clear vision of how I want this room to look and feel, but with a kid's room there are always practical considerations that take precedence, in addition to aesthetic ones.  Mine our:
Easy to keep clean.  Clinton has very bad asthma — I need this space to be easy to dust, vacuum, and mop — so I'm going against my own advice here and doing a small rug instead of an area one.  We actually had an 8×10 in this space for about six months but it collected so much dust that I had to sell it.  I found this vintage one from EcarpetGallery.com and I can't wait for it to arrive!
Easy to keep clean.  Did I mention that already? But really, it's a must.  This room needs hidden storage, stat.  I don't know if it's kids in general or just Clinton but he is a total magpie — I feel like his room just collects and collects and collects.  So a nightstand with drawers was a given, and some kind of storage for toys and books as well.
Cohesive with the rest of our house… which is always a toughie, with a kid's room.  I want it to feel like it's a natural part of the rest of our home, and also something that will grow with him.  He's almost out of the little kid stage and into the big kid — in five years he'll be 10 — so I didn't want to do anything too cutesy.
…But still fit for a kid. I let Clinton pick the "theme" of this space, and he chose Star Wars.  Challenge accepted, buddy.
Comfortable and spacious.  I'm planning on adding some floor pillows to make playing a little easier on our bums, and putting up some shelving rather than a bookcase to help keep this teeny tiny bedroom from feeling crowded.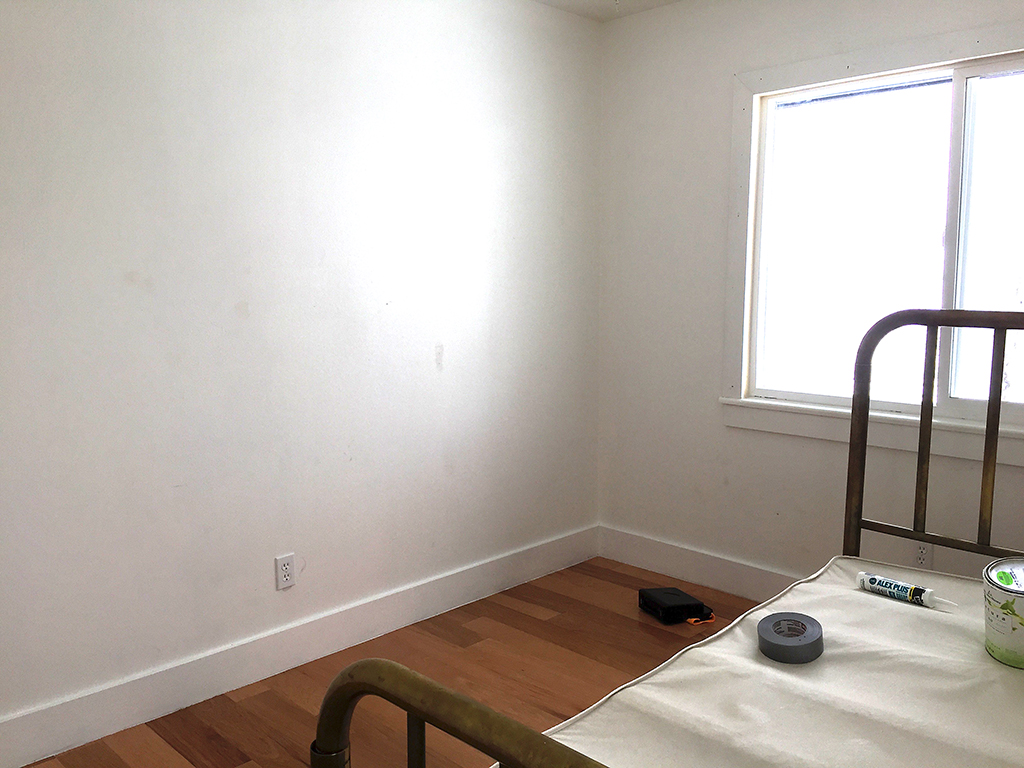 Also we have this disaster of a closet to deal with.  Not sure about what's going to happen here, to be honest.  I'm guessing a  whole lot of paint!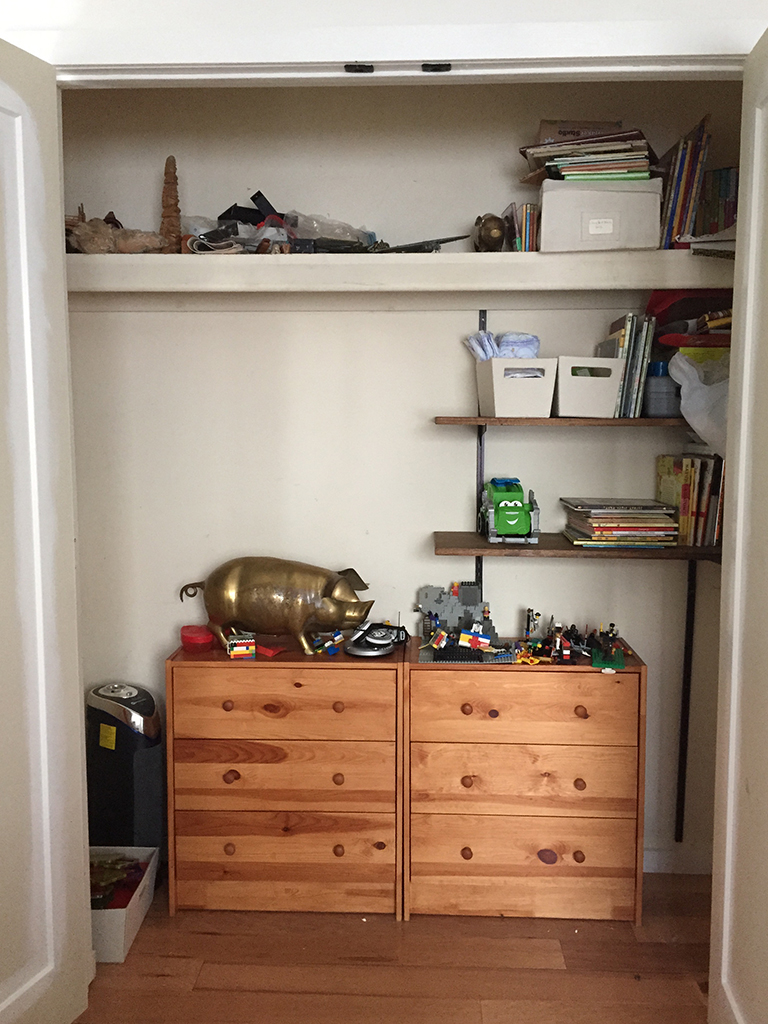 There are a few things we do have to start with — those two dressers came from our neighbors across the street, and we have a little toy chest that I'll be either refinishing our painting.  I did make it as far as buying this sham and blanket last year, and I still love both of them so they'll be kept in the design.  Here is what I'm envisioning for the space: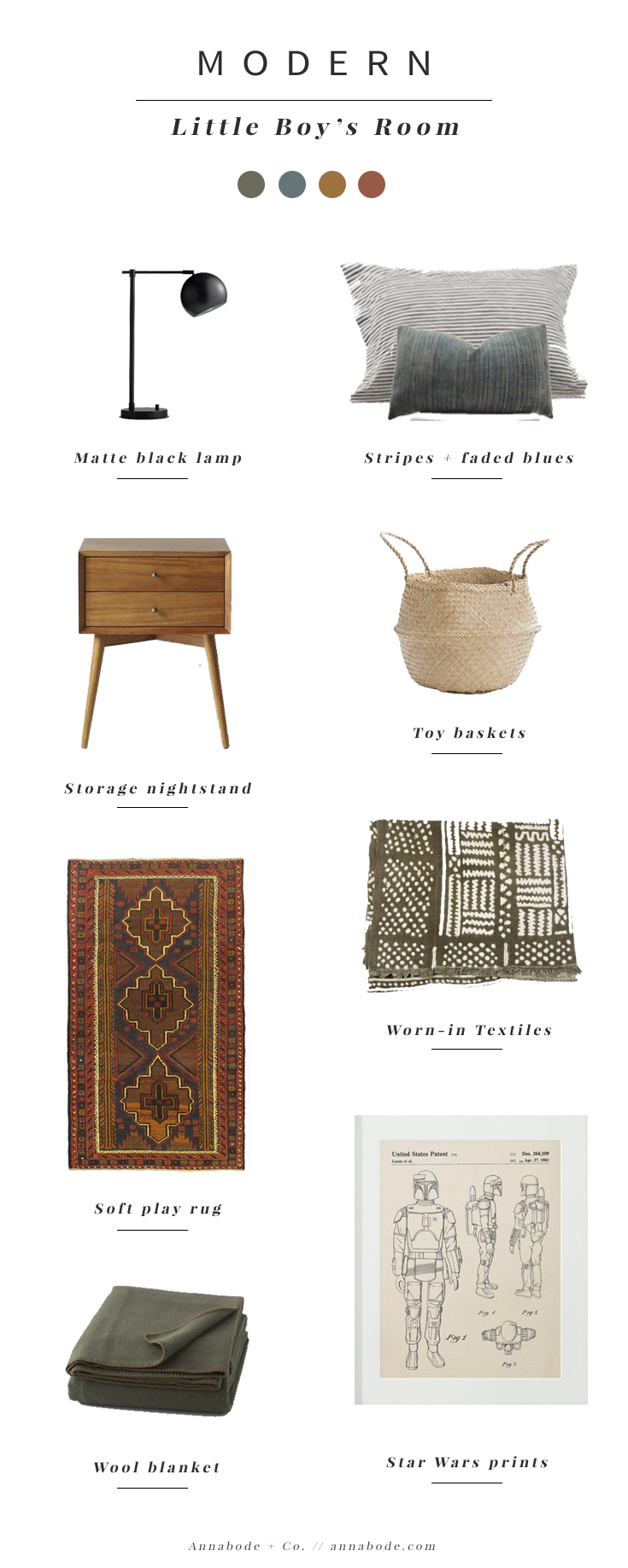 SOURCES: Lamp, Target* // pillow sham, Schoolhouse Electric // throw pillow, Boho Pillow // basket, Tala Home Design // mud cloth, OBJEKTUM // Star Wars print, Michael Ellis Studios // blanket, Schoolhouse Electric // rug, Ecarpet Gallery // nightstand, West Elm
*Denotes an affiliate link.  Thank you for supporting the brands that support Annabode + Co. and allow us to bring you new content and inspiration!
Don't forget to tune in next Thursday for Week 2's post and to see our progress — and be sure to click the image below and browse the other awesome and talented participants' spaces!