A Neutral Dining Room Reveal with Guest House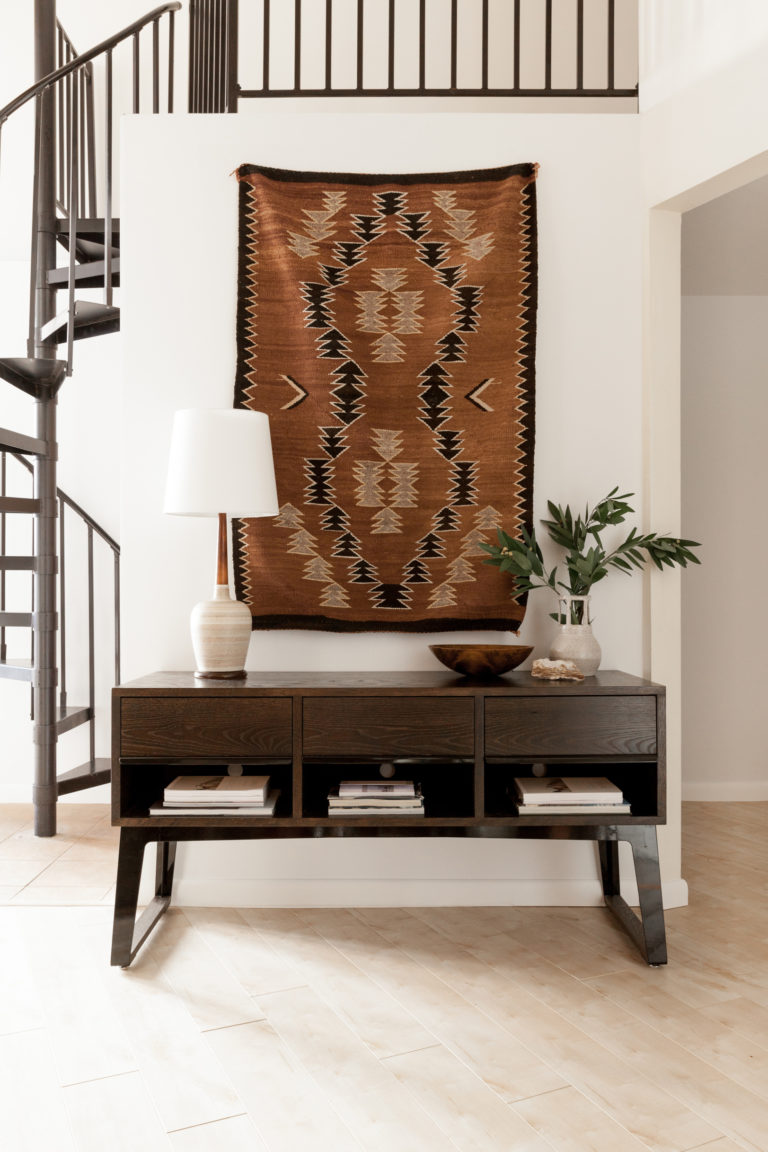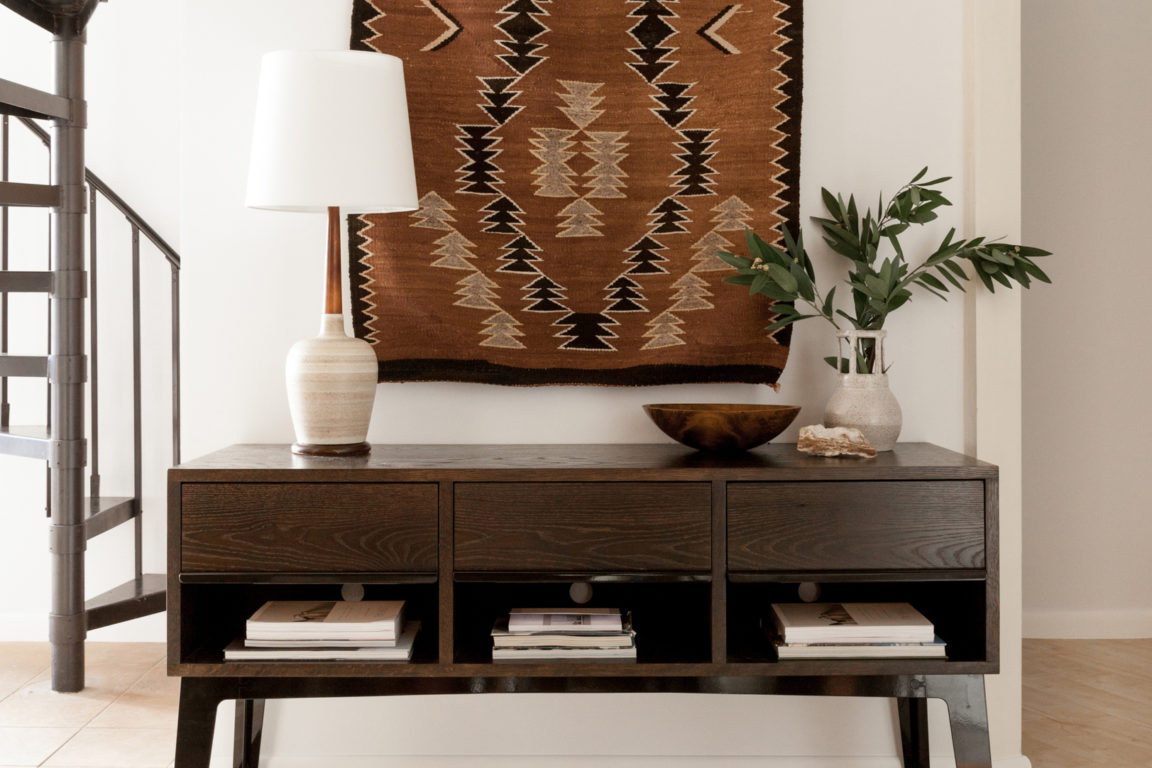 I am SO excited to be bringing you the final reveal of the latest Guest House pop-up home today. I recently partnered with Guest House to make over an empty industrial loft in just two weeks — using only local artists, makers, and small-biz brands. If you've been following the series you'll have seen the living room and bedroom already, but today we're talking all about the dining room!
Guest House is a Denver-based company that creates shoppable spaces which feel like real homes (because they are!). They host lots of open houses and events for each pop-up but you can always shop the spaces via their webshop, which is awesome if you don't happen to live locally. What's more, I'm offering all my readers 10% off your purchase with code ANNABODE.
But now, let's chat about this space: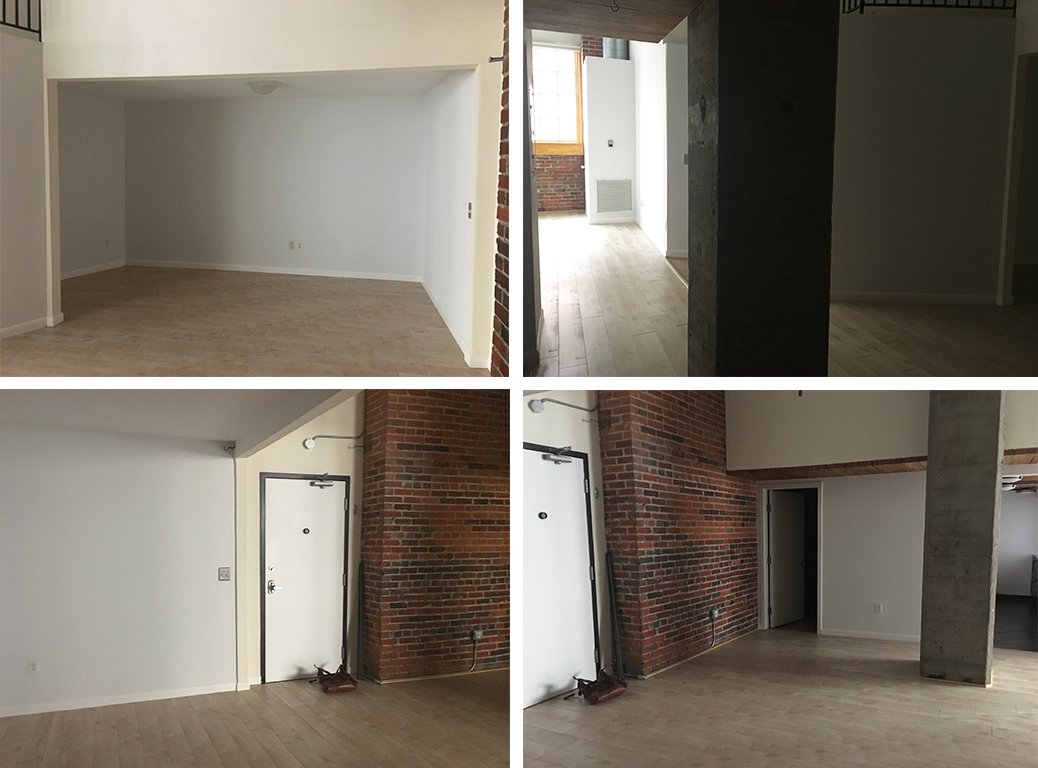 When I first saw it it was actually painted lime green (gahhh!!) but thankfully it was repainted before we staged the loft. The new color turned out very cool, almost a blue/gray, which is not something I would ever use against all that warm, red brick and creamy yellow walls. Unfortunately, we didn't quite exactly have a say, but if we had I would have recommended Benjamin Moore's Simply White which is my all-time favorite white paint. It's slightly warm but not off-white, so it would have worked perfectly here.
In the photos above you can see the front door; the top right photo is the view as you walk into the space and the top left is the room off to the right in which we created the dining room. In between the bathroom/kitchen (behind the concrete column) and the dining room is a foyer-like space that you walk through to get to the living room.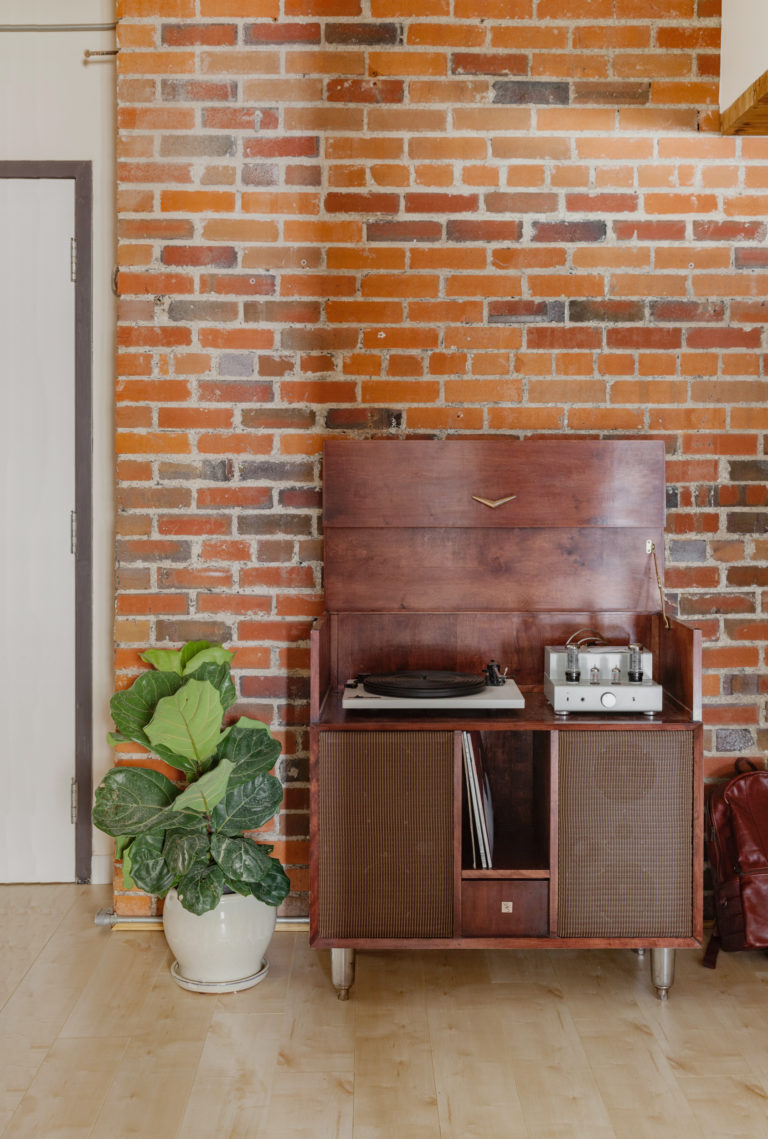 record player // backpack
There is no real entry or or entry closet, so if I was designing this to live in I would have definitely added some storage for shoes and jackets. Instead we used this funky custom record player that's by the front door, which closes to look like a mid-century credenza. I love the little metal feet on it!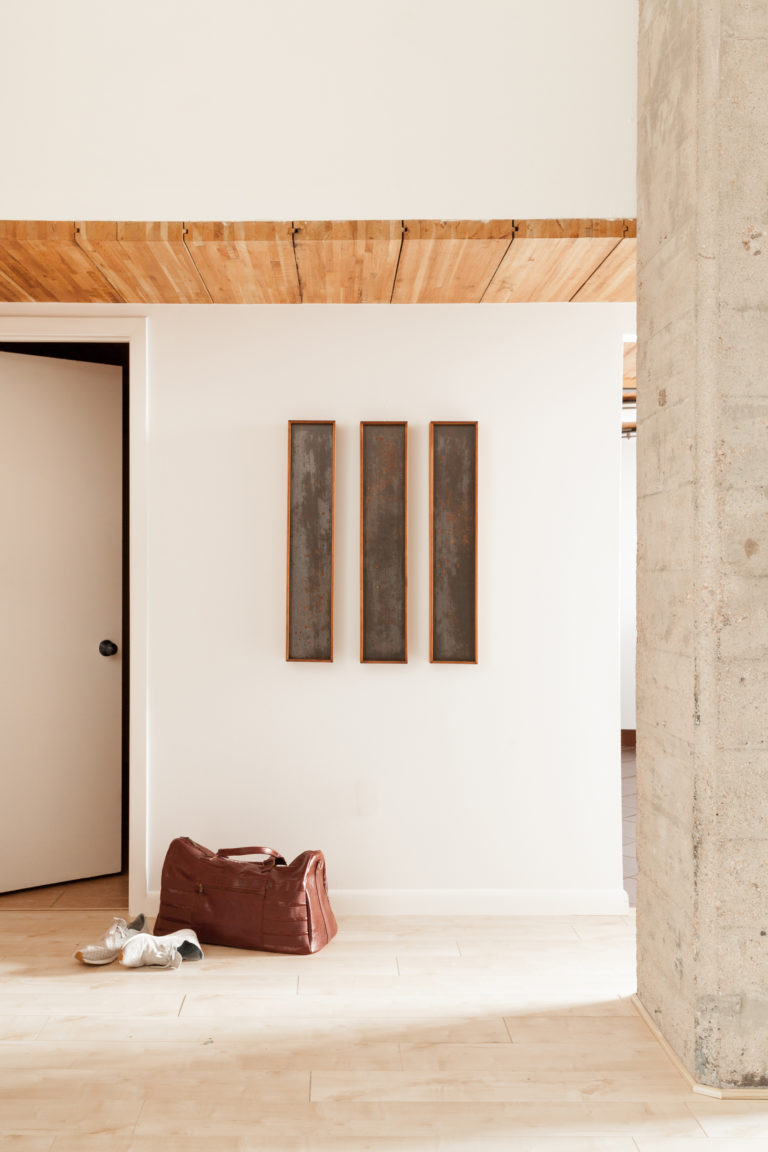 duffel // triptych
On the wall to the right we hung this amazing rusted steel triptych that fits so perfectly with the industrial vibe of the space.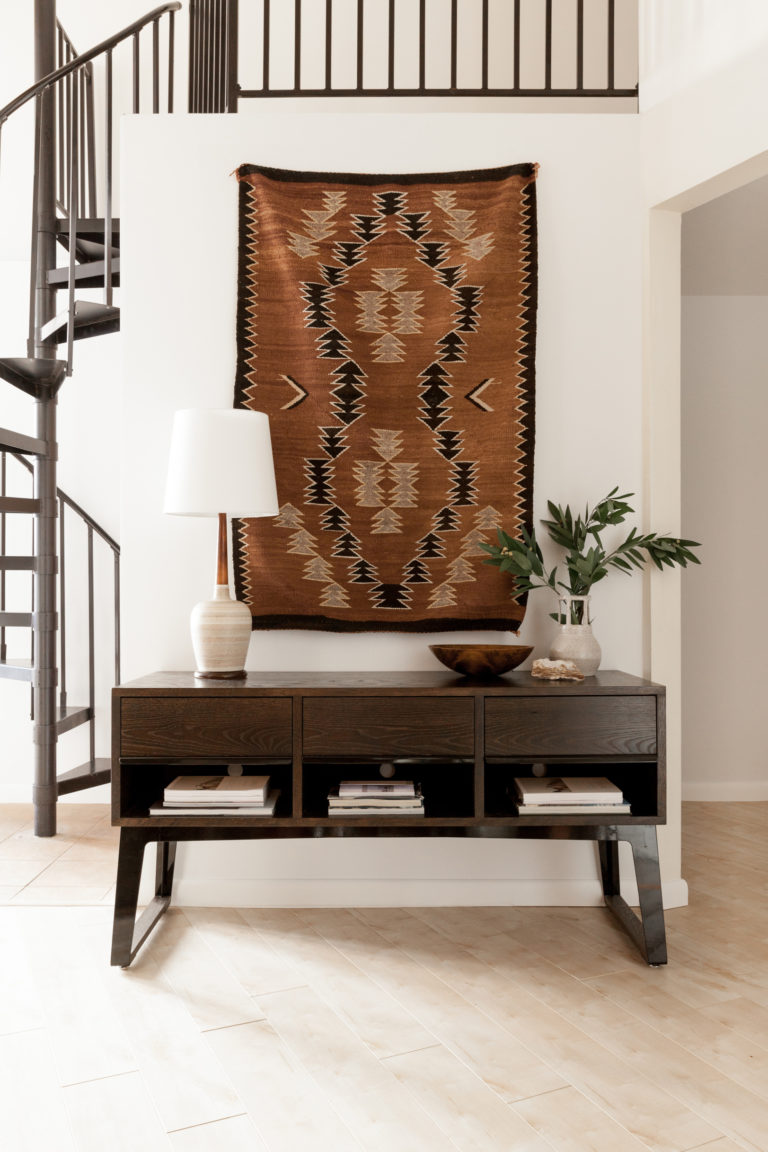 credenza // wall hanging // lamp // bowl // quartz cluster // vase
On the wall opposite the entry door we added a storage piece for keys, mail, umbrellas, etc. I am a sucker for wood and textiles in neutral colors, and I really think this might be my favorite vignette in the entire loft!
When you're pulling together a space it's important to look at the finishes that are already in it (and that aren't going away) – like that black metal staircase. In both the living room and bedroom we mixed in black accents for this reason, and that credenza is just continuing the theme. It looks even more perfect here though thanks to that vintage Navajo rug — I feel like those V shapes are really arrows, pointing and shouting LOOK AT ME, I'M GORGEOUS . Now just throw in some sculptural wood and ceramic decor, a few books, and an organic element like that quartz cluster and you've got yourself a pretty, neutral entryway!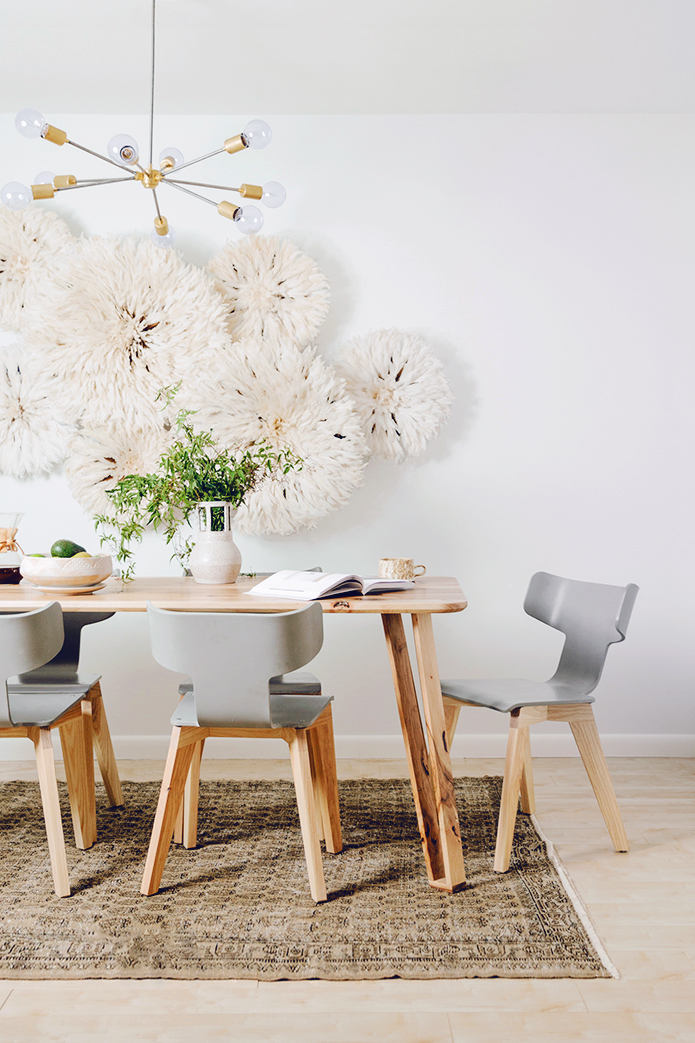 chandelier // juju hats // dining table // dining chairs // rug // planter // vase // mug
Now let me preface this by mentioning the dining room itself was a windowless black hole, with almost all natural light blocked by that behemoth of a pillar. Our photographer Brandon did an A+ job lighting and capturing this space in spite of it though. We also lightened everything up as much as possible with that hickory table, ash chairs, neutral rug, and the white jujus — but all together it was a heck of a lot of wood-on-wood so that brass sputnik chandelier was the final touch and brought in just the right amount of shimmer. (Kudos to you if you've noticed that I've used that white speckled vase in almost every room. It's just so, so good I couldn't help myself 🙂 ).
I also am dying over that juju hat wall! I tried a lot of artwork in this room but everything was detracting from that chandelier, making it almost impossible for it to be seen and I really wanted it to have its own moment. The juju hats were the perfect solution because they added the WOW factor and a lot of texture while still letting that light fixture shine…it's all about balance, folks.
Speaking of balance, that vintage rug from Old New House is doing an ace job at it. Unlike in the other two rooms, we needed a darker toned rug here because of all the light-colored wood. Plus, this one is perfect for a dining room because the busier pattern can hide stains like a magician. I've had so many people come to me terrified of using rugs under dining tables, and vintage ones at that, but they really are the best solution! Think about it – they've seen decades (sometimes a century!) of use already. They can handle what you throw at them! I've had a light, neutral vintage rug in my dining room for two years with two kids and it looks just as good as the day I bought it.
Let's talk about that beautiful table for a minute, though. It has WOOD HAIRPIN LEGS. I mean, come on. I've yet to see that done on a piece of furniture, anywhere.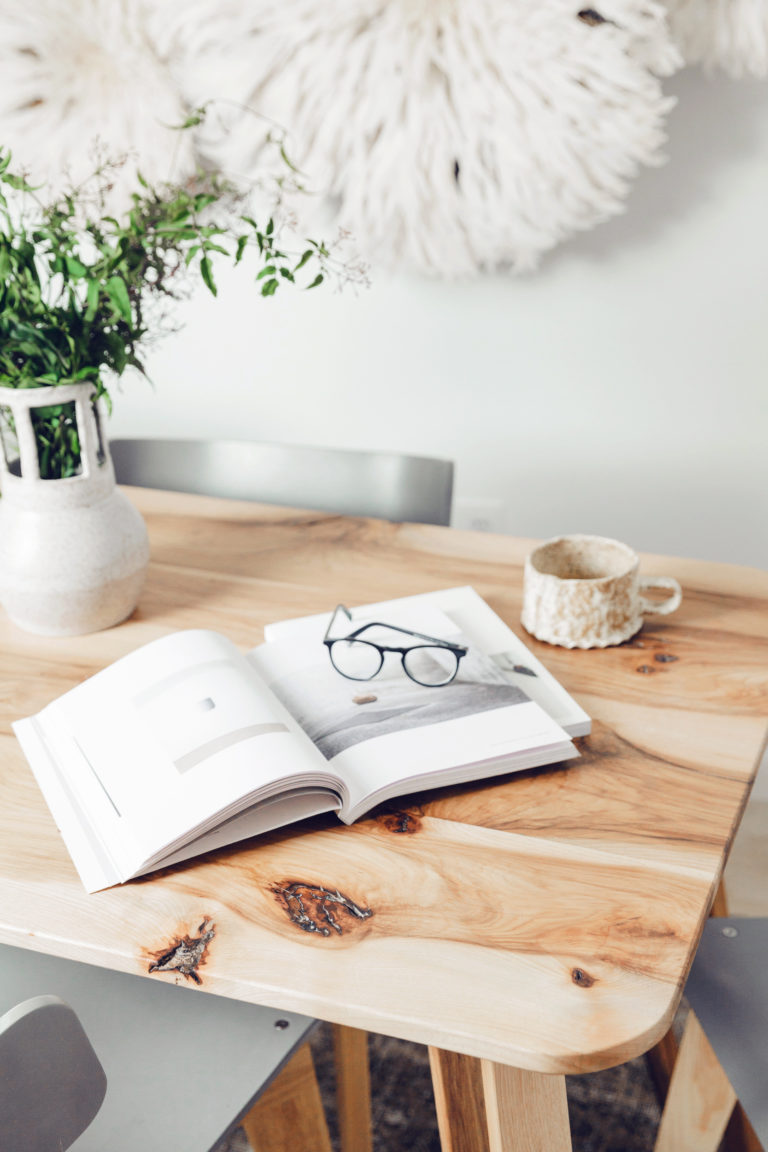 vase // dining table // mug
So many pretty things in one place!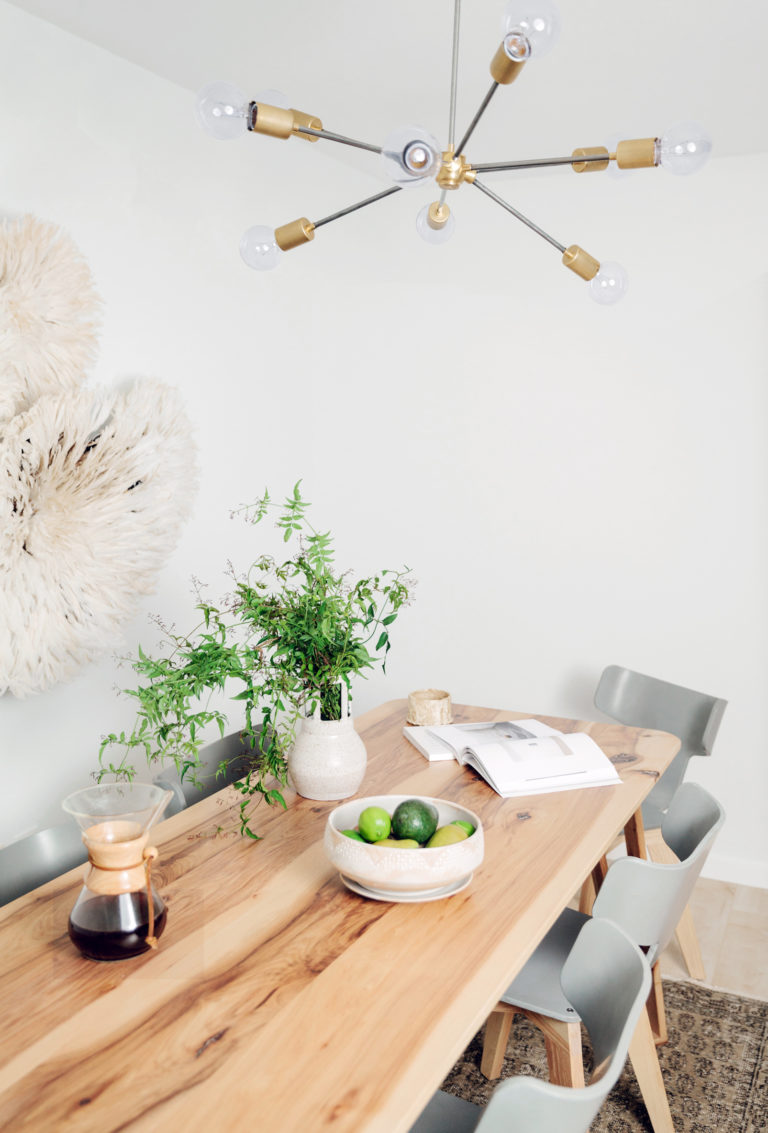 chandelier // juju hats // dining table // dining chairs // rug // planter // vase // mug
I had so much fun in this whirlwind of an adventure with Guest House and I hope you've enjoyed following along as we've revealed each space. If you missed them, be sure to check out the living room and bedroom reveals and don't forget to use code ANNABODE for 10% off your order! (Remember that every purchase you make supports a local maker, artist, or small business both in Denver and around the country.)
Also be sure to follow @annabode and @guesthouseshop for opening hours and information on how to visit each pop-up.
Until our next space!
**Photos by Brandon Lopez for Guest House