Nursery Style: Blush + Blue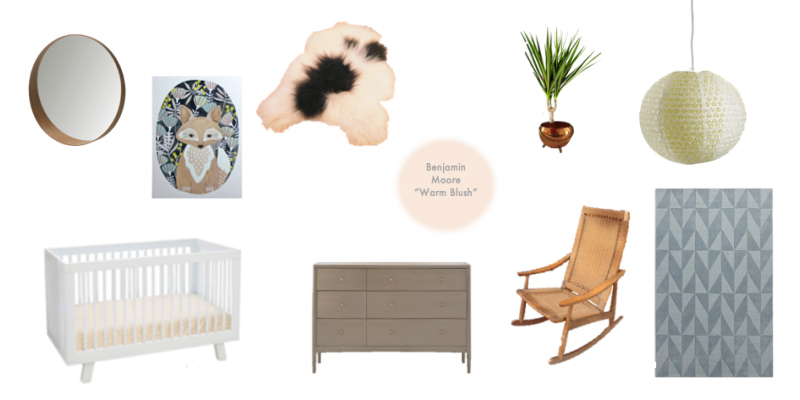 There's something about blush that is so lovely–it's warm and feminine without being too in-your-face pink.  If I ever have a daughter, it will be my first choice when it comes to paint colors.  In this design for a modern nursery, blush takes center stage.  Benjamin Moore's Warm Blush is an exceptionally good pick, as it comes in a zero-VOC option–an absolute must for any new nursery.  And what shade goes great with blush? Dusty blue of course!
Hanging original artwork in your child's room is another great idea. Marisa Redondo's fox watercolor has just the right mix of folksiness and naiveté that makes it perfect for this modern nursery.  And Babyletto's stylish mid-century-inspired Hudson crib is, in my opinion, the best affordable option on the market for modern cribs (my son has one, now converted into a toddler bed).  Add a plant to purify the air (you did just paint the walls, after all) and put it in a shiny planter.
And finally, the rocker.  In my last post I listed my tips for finding the best rocking chair for your modern nursery, and you may notice that the option I chose below is not upholstered like I recommended…
But, surprise! Layer that sheepskin rug over it, and it's super cozy AND protected.  Plus you can lay it on the floor when you're not sitting down, and your little one will love rolling around on its soft fibers.
Happy decorating!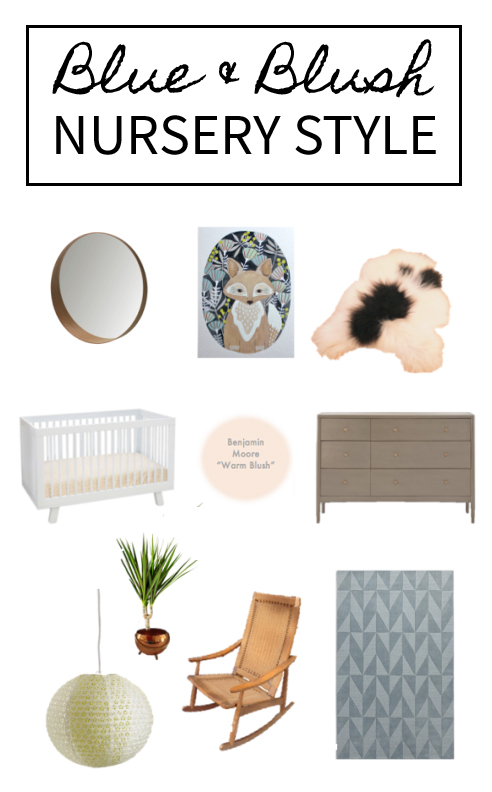 Stockholm Mirror, Ikea, $99

Fox Illustration, RiverLuna on Etsy, $20

Large Spotted Sheepskin, Black Sheep (White Light), $189

Hudson Crib in White, Babyletto, $379

Hampshire Dresser in Clay, Land of Nod, $999

Dracaena Marginata, Ikea, $1.99; Cauldron Planter, Contemporary Vintage on Etsy, $15

Apple Green Eyelet Paper Lantern, World Market, $7.99

Hans Wegner Style Chair, on Etsy, ebay, and Craigslist, $99-600

Andes Wool Rug in Dusty Blue, West Elm, $129-$699