Kitchen Style: Organic Industrial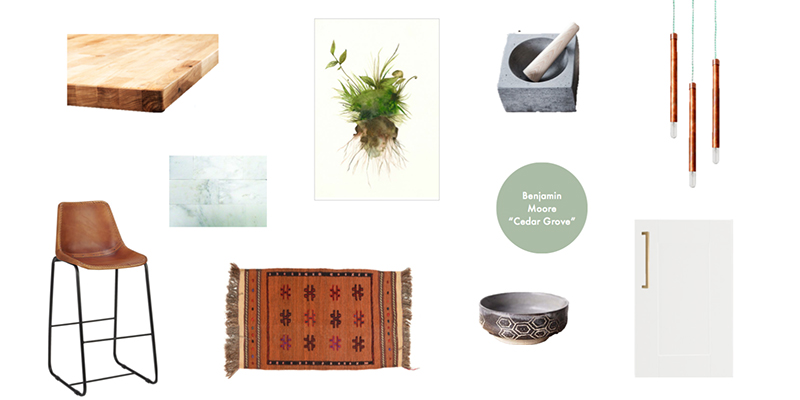 Big news all! It is about 90% likely that this time next year, my family and I will have moved to Denver, CO.  My fiancé, Austin, and I are actually heading there this week to check out the neighborhoods.  (Anyone from Denver? Got any recommendations?)  We've lived in NoVa for the past three years just outside of Washington, DC…and though it's a lovely place, we are northerners at heart and need some snow and mountains.  And a bigger house.  Which means–you guessed it–more decorating! (Happy dance).
As such I've already begun thinking about our next kitchen.  We renovated our current kitchen last December, but we had a tiny budget ($2,000) and there are things I'd like to do differently the second time around.
So I put together some stuff I'm thinking about, and realized this would be a great time to talk kitchens.  What are, in my opinion, the two most important design maxims when it comes to designing your kitchen?
1. Amplify the light!
and
2. Mix textures!
The kitchen is often the heart of the home–you spend a LOT of time it, especially if you're a parent,  so you definitely don't want it to be dark or dreary.  White cabinets or white paint on the walls can go a long way in making your kitchen brighter (#10).  I personally enjoy painting lower cabinets a color, but white will always look crisp and clean (and modern).  But, paint can't do all the work–make sure you mix in some other reflective surfaces.  A tiled backsplash makes a huge difference (#3), as do some great metallic pieces in brass, gold, or even stainless steel (#5 & #7).
BUT…
Don't go overboard with anything hard and reflective–you always want to balance it with soft and matte.  Your kitchen will look more put together if you mix different textures–warm wood with cool marble, bright copper with a woven rug, concrete with leather…etc.  The trick is to balance anything hard, cold, and industrial with things that are soft, warm, and organic.  That's why I love butcher block countertops so much!  And handmade pottery to boot.
If you want to up the wow! factor in your kitchen, start by brightening up the space and then add in some interesting textural pieces.  See below for my current recommendations for a modern, organic industrial kitchen!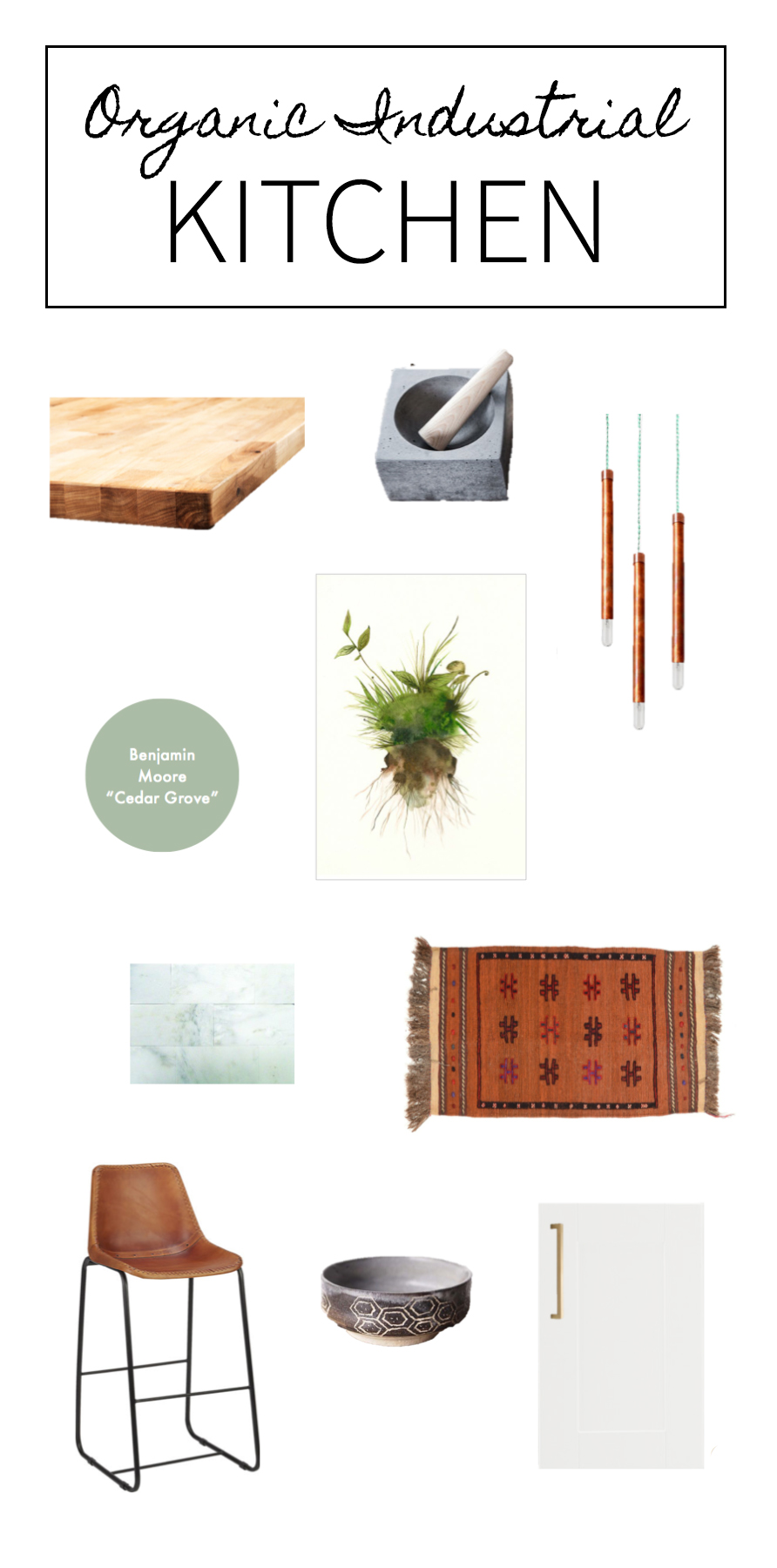 From top left:

NUMERÄR Countertop in Birch, Ikea, $129

Concrete & Wood Mortar and Pestle Set, INSEKDESIGN, $65

Hanging Swag Lamp Cluster, CRFTWRKS, $225

Large Moss Botanical Print, Amber Alexander, $35

MS International Grecian White 3 x 6 Polished Marble Tile, The Home Depot, $5.69/sq. ft.

Kilim Afghan Rug, Esalerugs.com, $160

Roadhouse Leather Bar Stool, CB2, $279

Japanese Shinto Style Bowl, Muddy Maddie Pottery, $40

Edgecliff Pull, Schoolhouse Electric, $28

AKURUM Cabinet in White, Ikea, $145

Do you have a kitchen project that you're working on? I'd love to hear about it!