Why You Should Never Put an Eames Rocker in Your Nursery
My son is now three, and has gotten to that stage where he is both too wiggly and too big to sit on our laps during story time.  We swapped our Monte rocker recently for West Elm's Everett Armchair, just to give us all some more space (the rocker is now residing happily in our living room, providing ample amusement for our puppy).
Anyone with children knows how much time you spend in a rocking chair—nursing, soothing, snuggling, reading, telling stories, calming tantrums, kissing boo boos…the list goes on.  That's why I have always been baffled by the number of nurseries I see on other design blogs that incorporate the classic Eames rocker—quite possibly the most uncomfortable rocking chair I could imagine for a nursing mother.  Beyond the simple fact that you are sitting in a hard plastic shell, there is nowhere to rest your head when you find yourself trying to calm a screaming infant at 3:00 am for the fifth night in a row.
Don't get me wrong; aesthetically I love the Eames chairs! I even have one in my living room.  But they simply are not a practical choice for your nursery.
In the hopes that first-time mothers don't make this mistake, here are my tips for finding the perfect rocking chair:
Make sure it's easy to clean!  This may be the number one priority, as there will be plenty of spit up and probably a fare share of crumbs accumulating on this chair (if you're lucky you might even get peed on!).  If it's fabric, make sure it's microsuede or another synthetic.
Pick something that is comfortable.  You are going to be spending a good deal of time in this chair (as is your baby), and unless you're going to lie on the floor, you will likely have to sleep in it once in a while.  Stay away from wooden rockers, no matter how beautiful they are.  My advice? Buy something upholstered.
Get something stylish.  Because you're going to have to live with this chair for a long time, and if you get something you love it can stay in your child's room as he or she grows.  Or it can be absorbed into another room in your house, as ours was.
Don't fall for something without arms.  Your elbows will thank me for it!
Here are my current top picks for modern rocking chairs that will work in any nursery: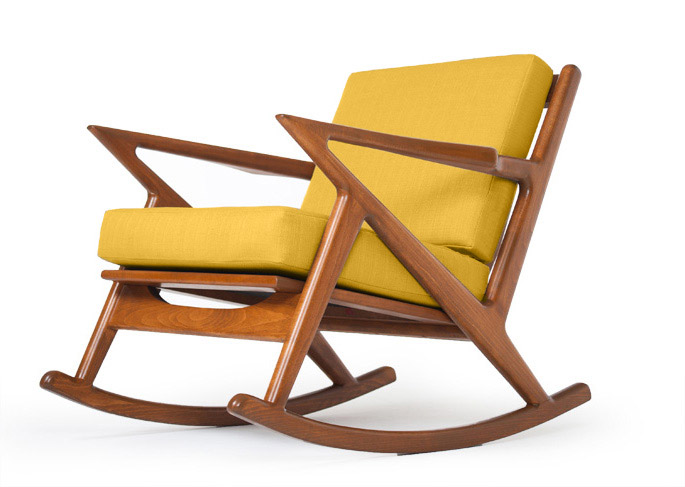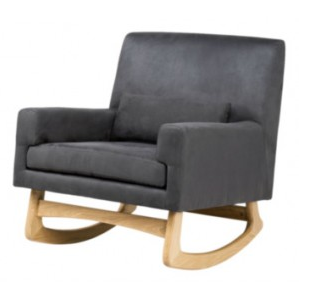 Happy rocking!