DIY Modern Christmas Gift Wrap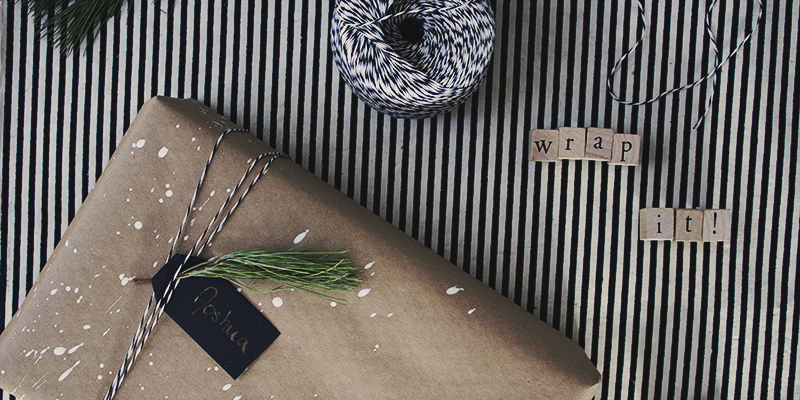 As promised, here is a little DIY gift wrap inspiration for you all.  I fell in love with this wrapping paper by Chelsea Fullerton Jones at Go Forth Creative, and knew I wanted to replicate it somehow.  Isn't it just gorgeous? She gives a super-quick tutorial on her site, so I thought I'd give more step-by-step instructions for getting the same look: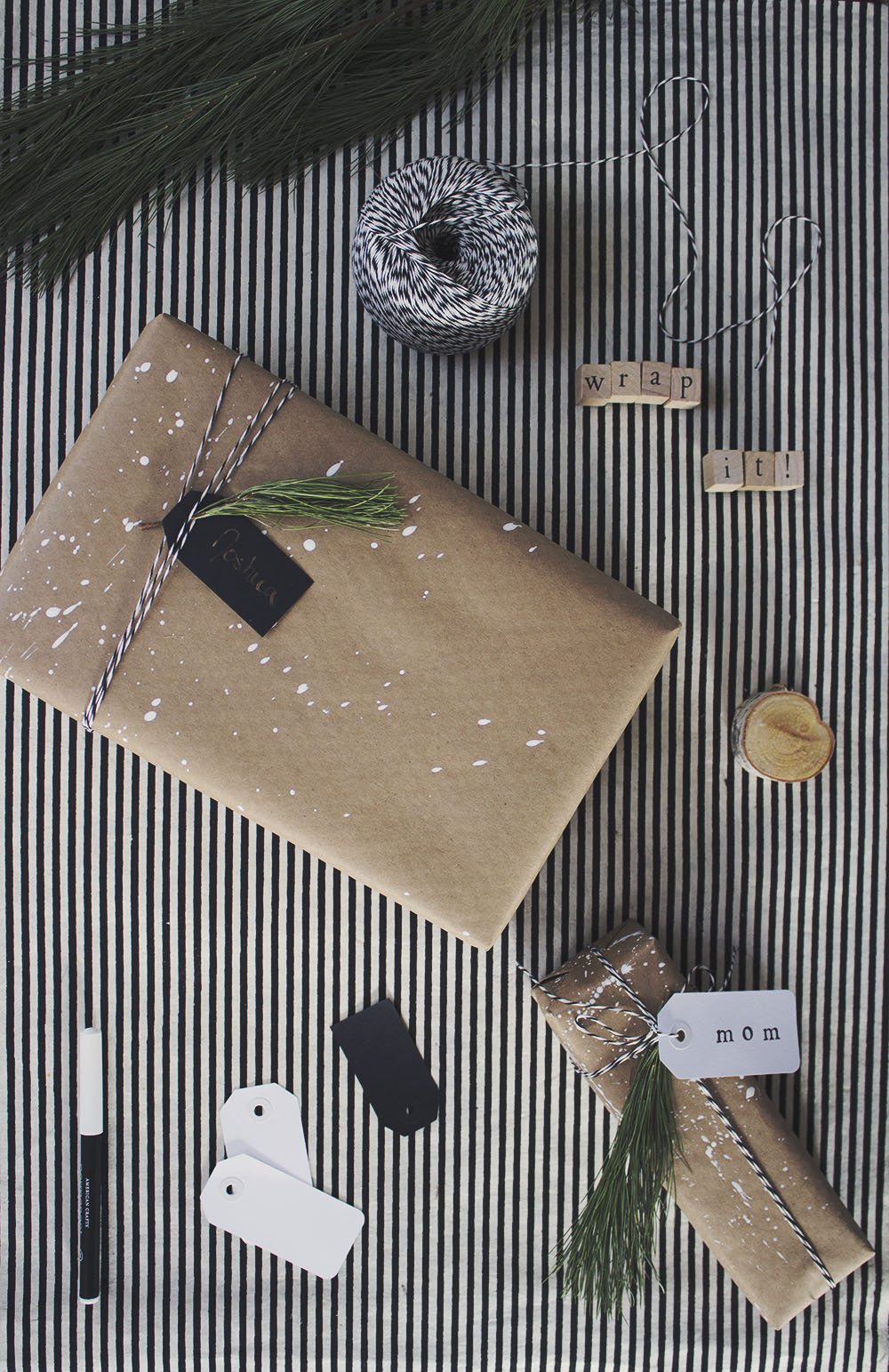 DIY MODERN CHRISTMAS GIFT WRAP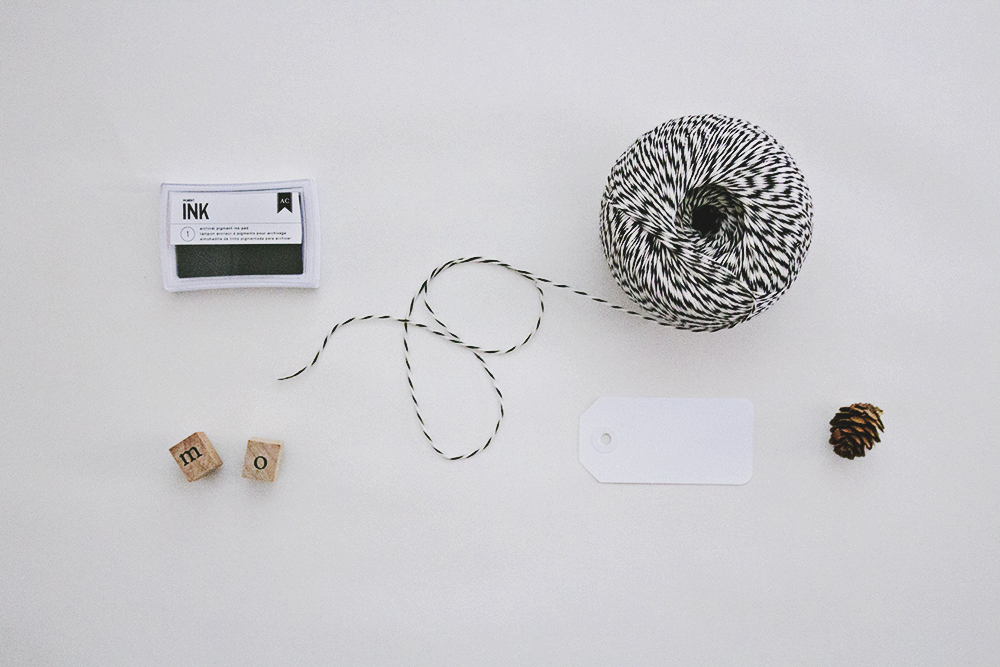 Supplies:
Kraft wrapping paper
Elmer's glue
White and black eyelet gift tags (mine are from Target)
Black and white ink*
Alphabet stamps*
Sprigs of greenery
White paint (any kind–I used leftover primer!)
Large trash bag
Equipment:
*For a slightly different look, you can also use a white chalkboard pen on black tags.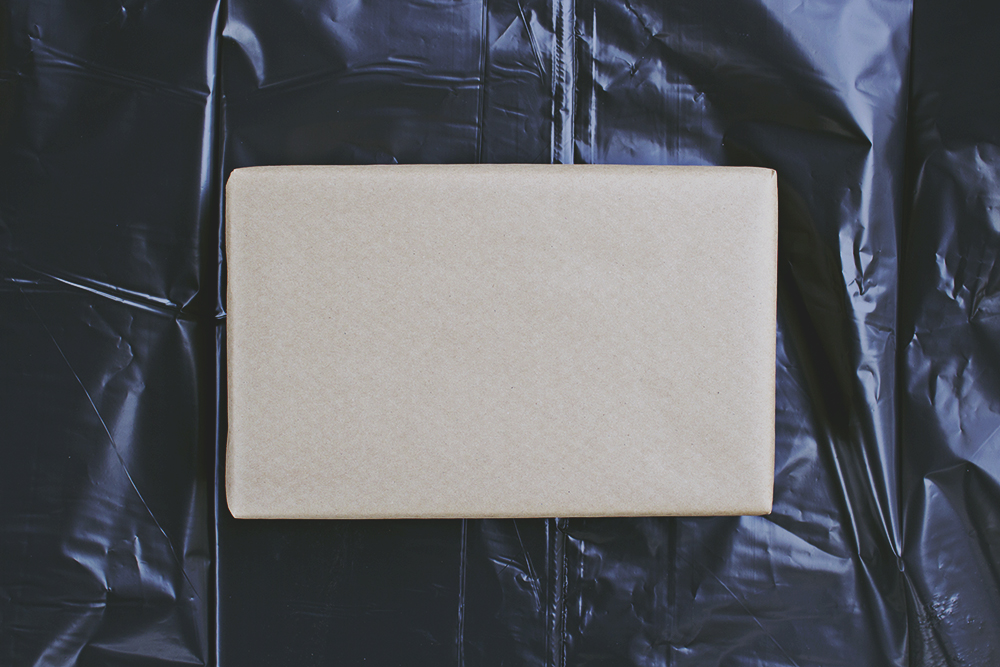 1. First, wrap your presents in the Kraft wrapping paper.  I prefer to use glue instead of tape, as it looks prettier and holds better.  Then, cut down the side and bottom of your trash bag to open it up and lay it on a flat surface outside.  Place your gift on top.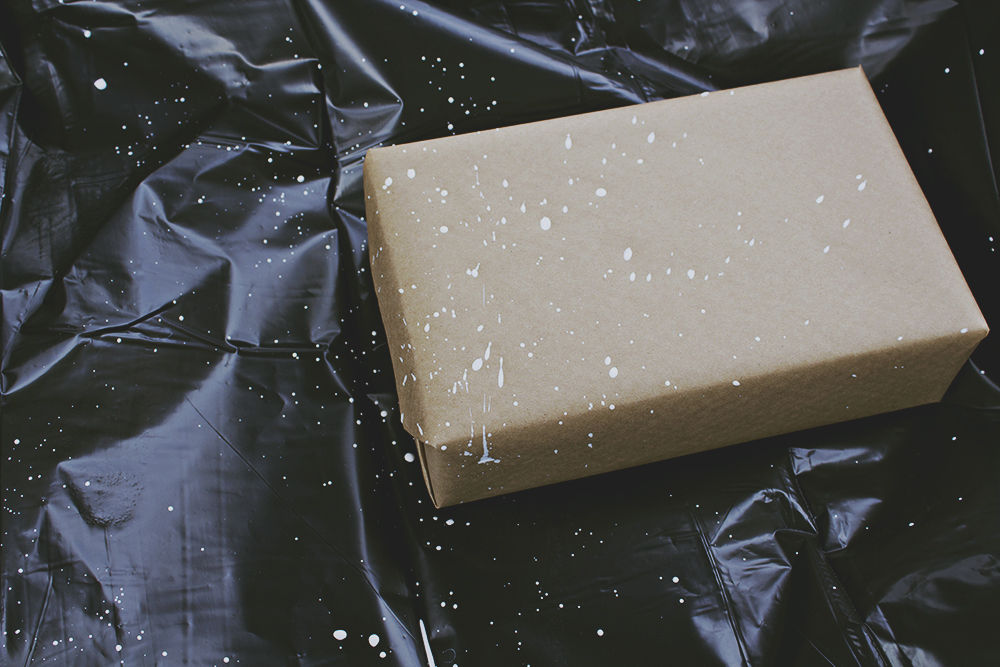 2. Pour some paint into the bowl, and add a small amount of water (it should be ever-so-slightly watery).  Then, dip your fingers in and flick them at the paper–I prefer to focus on one corner for a more asymmetrical effect.  Wash your hands, and let the paper dry.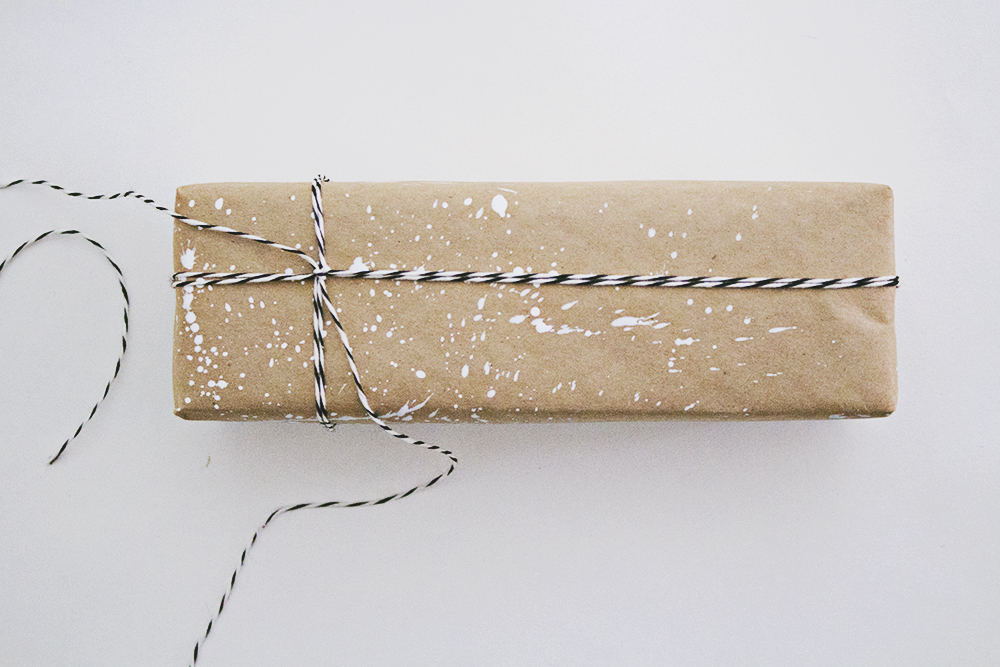 3. Now take the baker's twine and double-wrap the gift.  Again, asymmetrical looks best here!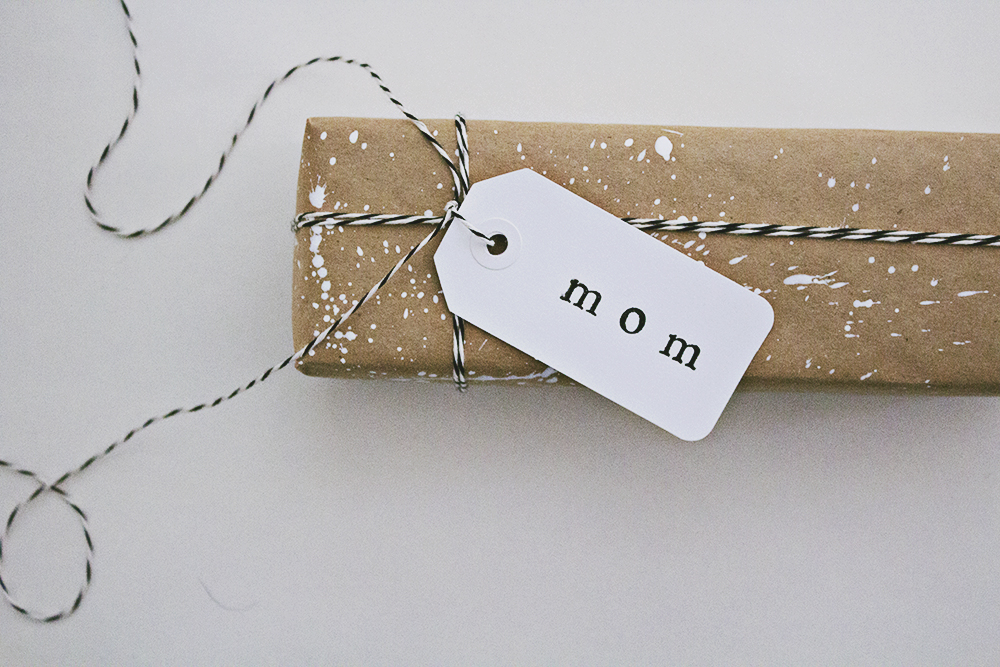 4. Stamp a gift tag with the name of the recipient in black or white ink, depending on the color of your tag.  Then, slip the tag onto one end of the twine.  Tie the end in a knot, creating a small loop for the tag to hang on.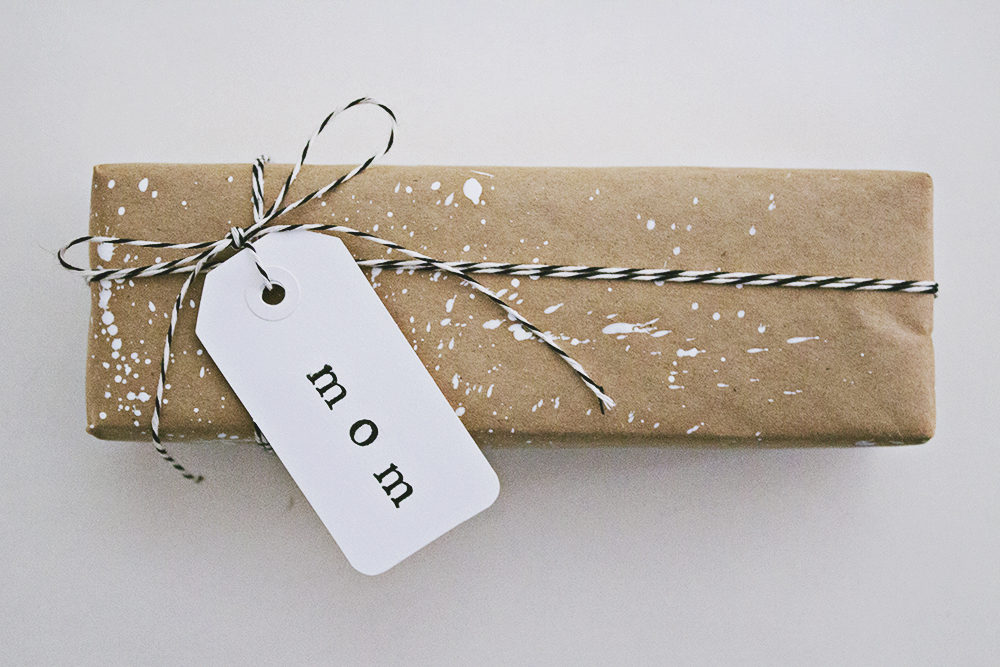 5. Finish by tying a double-knot bow and sliding a sprig of greenery beneath the knot.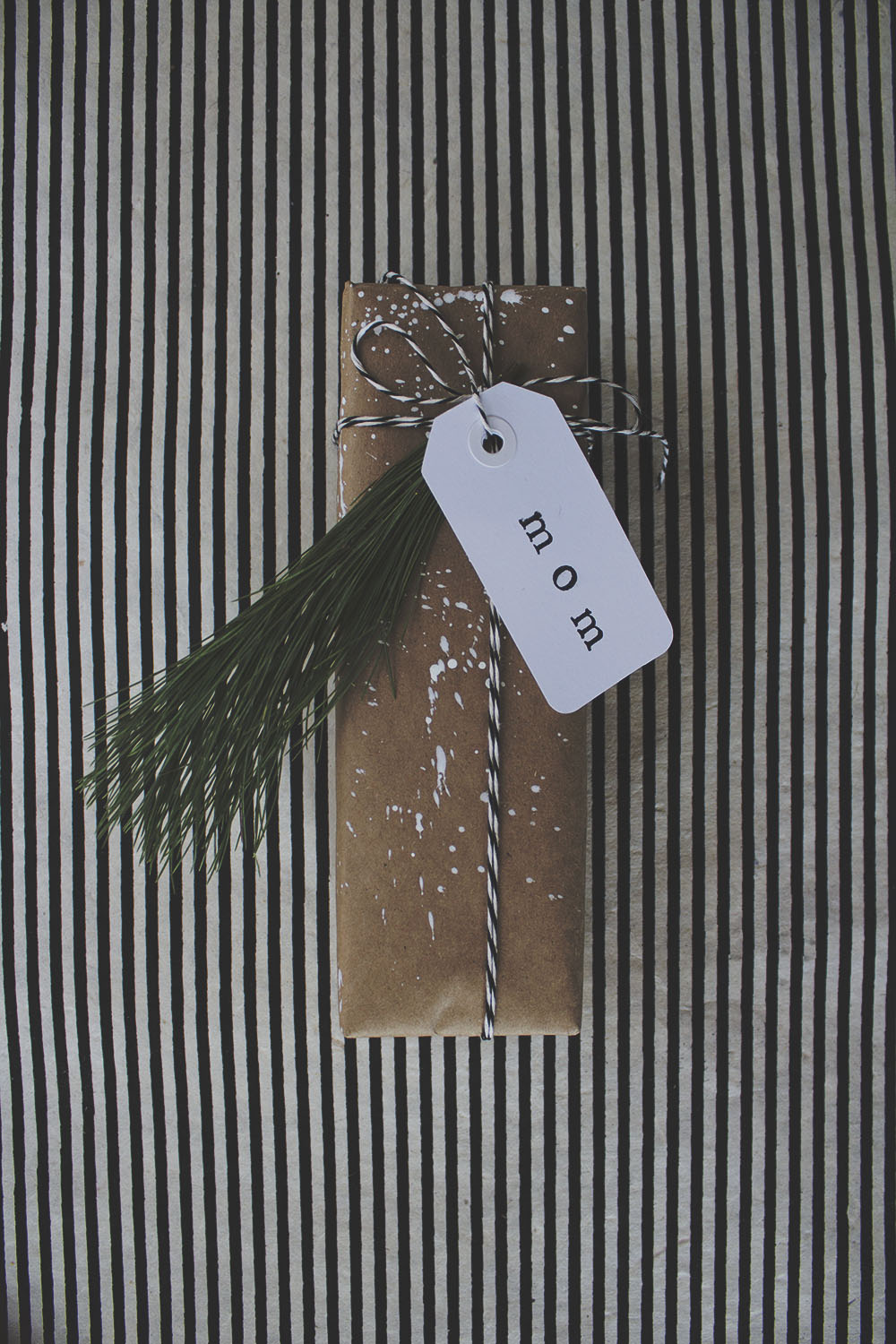 Thank you, Chelsea, for the inspiration! (Go check out her blog, it's amazing.)
How are you wrapping your gifts this year? Do you make your own gift wrap, or do you think it's too much work?