Should I Hire An Interior Designer?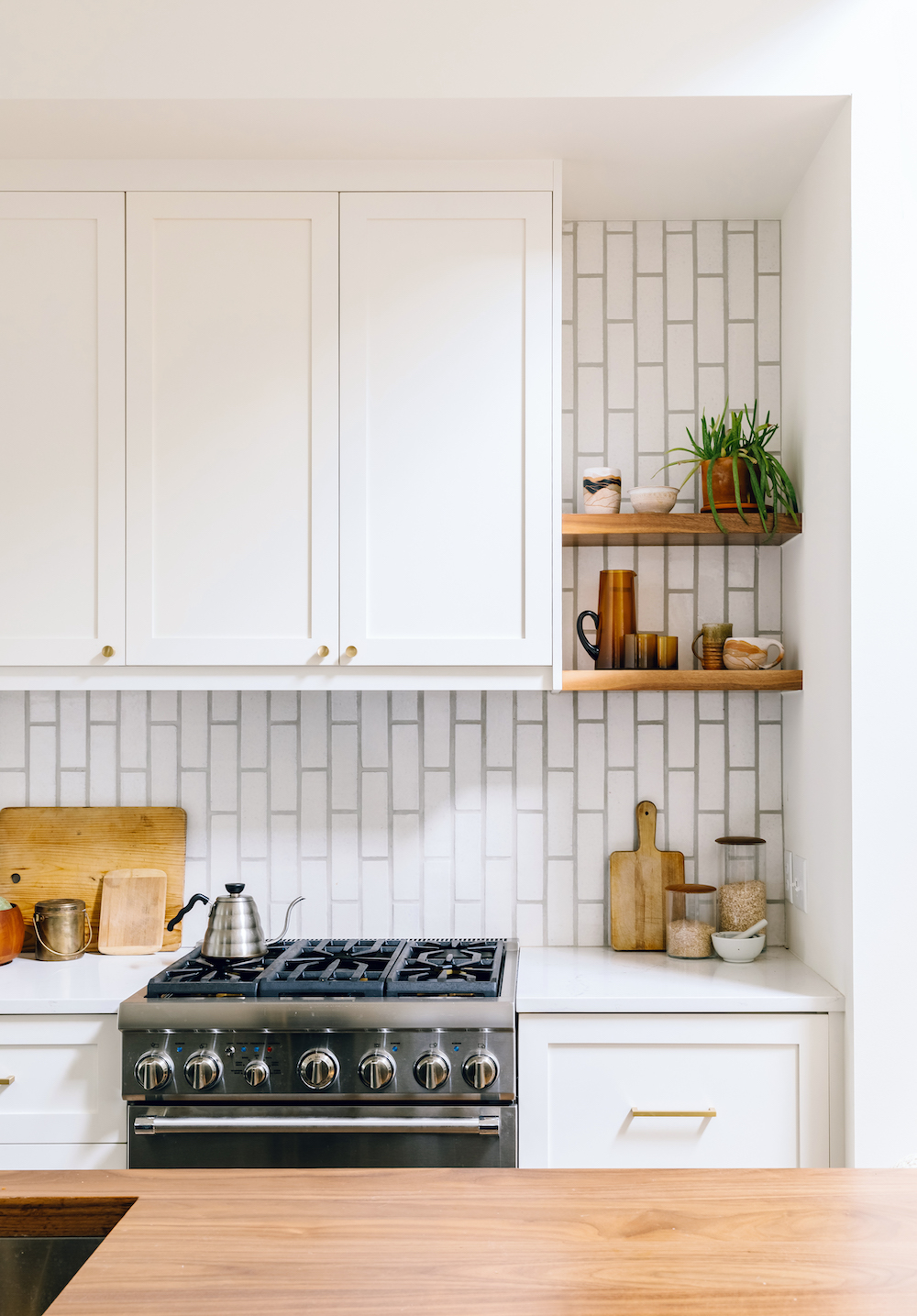 One of the most frequently asked questions we get is "Should I hire an interior designer?" People often think that interior designers only work on full home remodels or new construction. While that is certainly the case for some firms, many interior designers will take on projects from historic renovations, to single level renovations, to just furnishings & decor.
Keep reading for our comprehensive guide to everything you need to know about hiring an interior designer.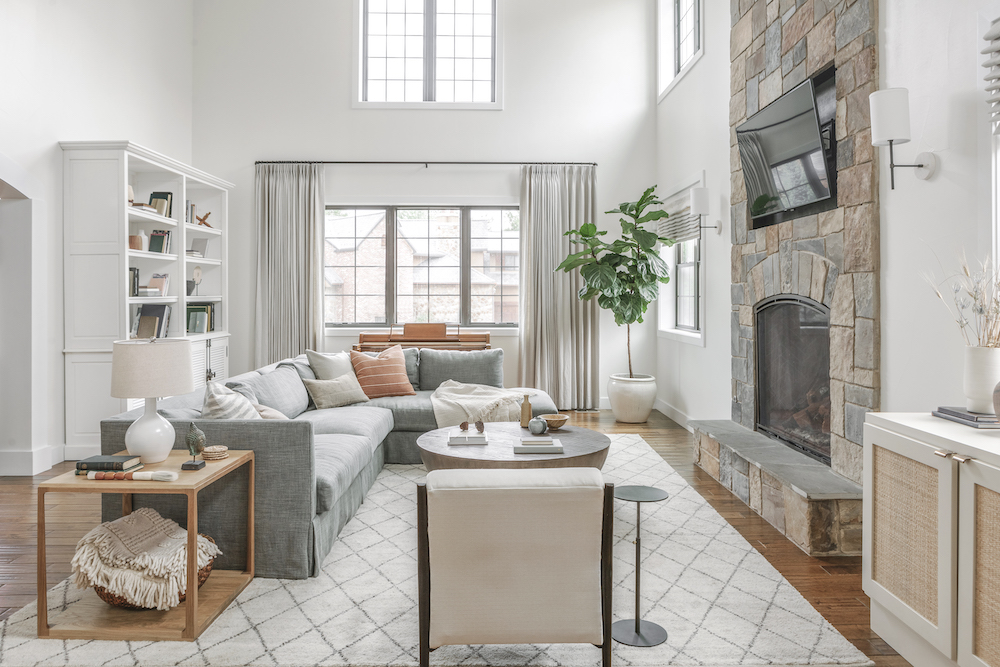 What does an interior designer do?
Interior designers are here to make your life easier. We listen to your hopes & needs, get to know you and how you want to live your life within your space, and understand the needs for things like storage, usability, as well as life with kids and pets.
We take all of that information, create a plan for achieving your goals, sprinkle in a large dose of creativity and beauty, and manage the project from start to finish so that every room in your project is thoughtful, intentional, and magazine-worthy.
The Interior Design Process
Project Kick-off
Any worth-their-salt design firm has a buttoned-up process through which all their projects flow. At Annabode, we have a 15-Step Process that takes your design wishlist and turns it into a reality.
Regardless of who you work with, the first step is always to reach out and have a conversation with someone at the company. Ask them to describe their services and ask any easy questions up front (think: Is my budget reasonable? How soon are you available? etc). Anyone interested in our firm first schedules a Discovery Call, to make sure we're the right fit for the project and to answer pressing questions (book yours here).
An in-person meeting is typically the next step. At Annabode, we meet with you on site to discuss what you're hoping to achieve in your new space. We give our professional recommendations and feedback, review design ideas, style and budget, and create a scope of work.
We can cover an entire home in just 2 hours, or focus on a single room during this Initial Consultation (you can book one here), which we use to launch your project effectively. You walk away with a cohesive idea of the work needed to be done, as well as our initial design ideas & direction for the project.
Hint: Solo or new designers sometimes offer brief meet & greets for free, but most interior design firms charge for their time and expertise to come to your home.
Next, your designer will need to conduct some fact-finding. Expect a site survey or at the very least some measurements and photographs. We always schedule a Trade Day where we meet with each trade needed onsite, inventory our clients' existing finishes and pieces that need to be incorporated into the new design, and fully document each room so that we can create accurate drawings.
The Design Phase
Then comes the Design Phase. Your designer will find the perfect furniture pieces, finishes, and fixtures to bring your space together. Everyone handles this part of the process differently. Some interior designers will present just the floor plans before moving on to sourcing. Others will present two or three directions and then ask their clients to decide which route to go down.
We've found through experience that our clients hire us because we are professionals. They want our best recommendations, and we don't want them to pay extra for time spent on less-than-the-best options.
So during the Design phase we source everything from top-to-bottom (except for decor), and also coordinate with your general contractor, architect, and our own trades to create construction documents, gather estimates, and 3D renderings so you can envision your new home. We also design custom details and pieces, so that your home is completely unique.
Finally, we present the complete design to you and help you make those final scope decisions. (We like to tell our clients the Presentation is like a menu at a restaurant – you can pick and choose what you want to move forward with and what you want to wait on, and we're here to give you our professional recommendations on how to make the most of your investment).
The Implementation Phase
Most design firms handle purchasing product on your behalf – after all, we're the ones with the vendor relationships that we have nurtured over the years. We can guarantee we'll have an easier time handling the issue with that Kohler faucet through our vendor than you will trying to get a return, expedited shipping, spare part, etc. from Build.com (no shade to build.com – just a fact).
Once we have your approvals – we enter the Implementation Phase. At this step we place all orders, schedule trades (like the electrician, painter, etc.) or coordinate with the GC, and construction begins! We communicate with trades and contractors on your behalf so details don't get lost and conduct site visits to be sure work is progressing according to your design plans.
Hint: Some designers will ask you to make all the purchases. If you have a large project, or don't have the time to devote hours each week to tracking orders and dealing with order deficiencies, make sure to hire a firm that handles purchasing & expediting in-house.
We track every order to make sure products are arriving on time, and inspect everything before it is installed to ensure it's correct and in good condition. Finally – the best part – installation is next.
Project Completion
This is the part you've been waiting for: your new home! Your designer will walk you through your new space and together you can ooh and ahh with you over all the details. No design project runs perfectly, but that's one of the many ways an interior designer can help. We always keep a punch list and work to resolve outstanding issues to the best of our ability. And finally, make sure before your project wraps that you have records of all design information. With our firm, you'll receive a complete project binder — a comprehensive guide to caring for and enjoying your new space, plus design documents, samples, and vendor information for everything purchased.
---
Do you need help with your home? We'd love to work with you.
---
Not all projects require construction
Make sure you hire the right kind of firm for your project – someone who specializes in furniture or is a solopreneur might not have the expertise to tackle a whole-home renovation.
At Annabode, we take on projects of all sizes from full gut remodels to projects that require minimal construction and focus on soft finishes. Soft finishes include things like furniture, artwork, decor, and window coverings. Often we'll also source the perfect paint or wallcovering for these kinds of projects as well.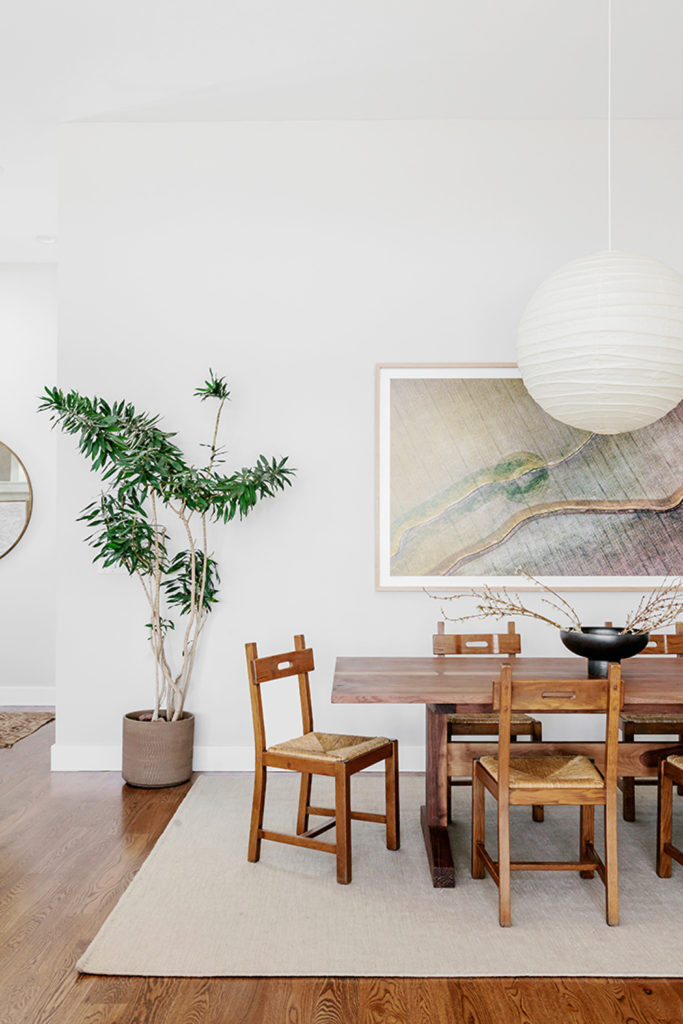 Who should hire an Interior Designer?
Do you feel overwhelmed with the thought of taking on a big project? Do you want to see the big picture and not get bogged down by the details? Does the idea of shopping for a new sofa, coffee table, end tables, chairs, lamps, light fixtures, rugs, and artwork for just one room seem like an impossible puzzle?
If so, then hiring an interior designer might be right for you. We find that our most successful projects are ones where our clients trust us to find the perfect pieces and know that when it all comes together, the alchemy between scale, texture, color, and style will be exceptional.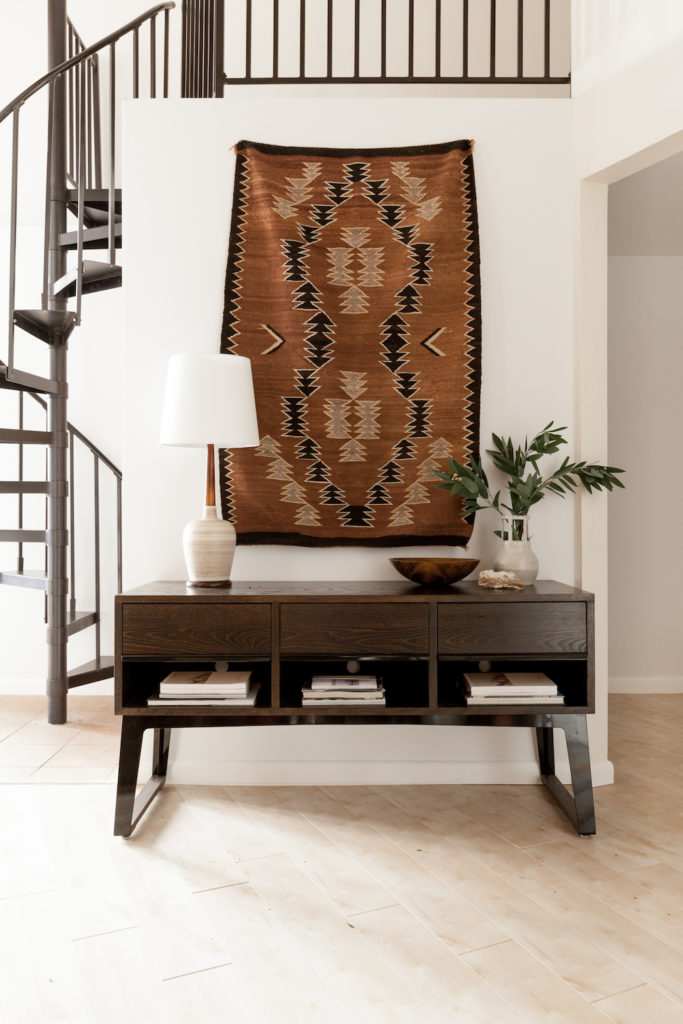 How do I find an Interior Designer?
We recommend finding your interior designer by looking at their presence on visual platforms, like Instagram and Pinterest. This will give you an idea if their style is a good fit for your project.
We also think it is important to find a designer that is local to your area. Although technology these days makes it easier for a designer to work remotely, construction projects operate more smoothly when the designer or project manager can stop by the site quickly. Use location-specific search terms like #denverinteriordesigner or #boulderinteriordesigner and browse both the top posts and the recent posts to see if anyone catches your eye.
Use search terms that align with what you're looking for in a designer. Our design philosophy centers around creating meaningful homes for modern life with a focus on sustainable and healthy design choices, and we specialize in restoring character and honoring the original architecture of historic homes. Hashtags such as #sustainableinteriordesign or #HistoricRestoration can help narrow down designers that meet your needs.
It's always important to check Google reviews of any firm you work with, and don't be afraid to ask if you can speak with a past client or two. Hiring an interior designer is a long-term relationship – even the smallest project will last months – and it's important to make sure the customer service and overall experience a firm offers will be just as outstanding as the spaces they create.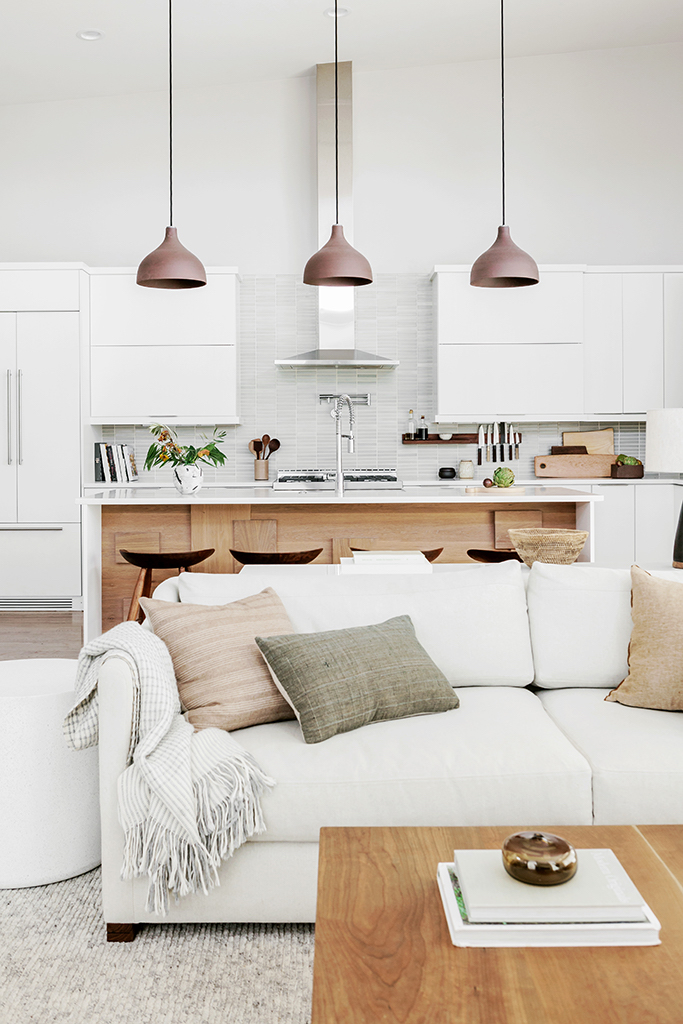 What should you look for in a designer?
Design Style and Aesthetic
First, get to know the interior design firm's aesthetic. Is it a good fit for what you're looking for? If you would pin or save the pictures in their portfolio to your inspiration board, then you're likely a good match. Many designers will post photos to their social media of other designers' work, so pay attention to the photos that come from their actual portfolio when making your decision.
Design Philosophy
Second, it's a good idea to get a sense of a firm's design philosophy. We recommend reading some of their captions on instagram, finding the "About" page on their website (some might even have a philosophy section) and see if the common themes align with what you're looking for.
For example, at Annabode, we care deeply about sustainable interior design and preserving character in historic homes. You'll notice that we often share sustainability tips or photos about our historic home remodels on our Instagram and blog.
Working Style and Personality
Third, it's important to make sure you like the designer! Talk to the team by scheduling a Discovery Call (you can book one with us here). We always begin our turn-key projects with a 2-hr Consultation so you can make sure we're a fit before you sign a contract with us.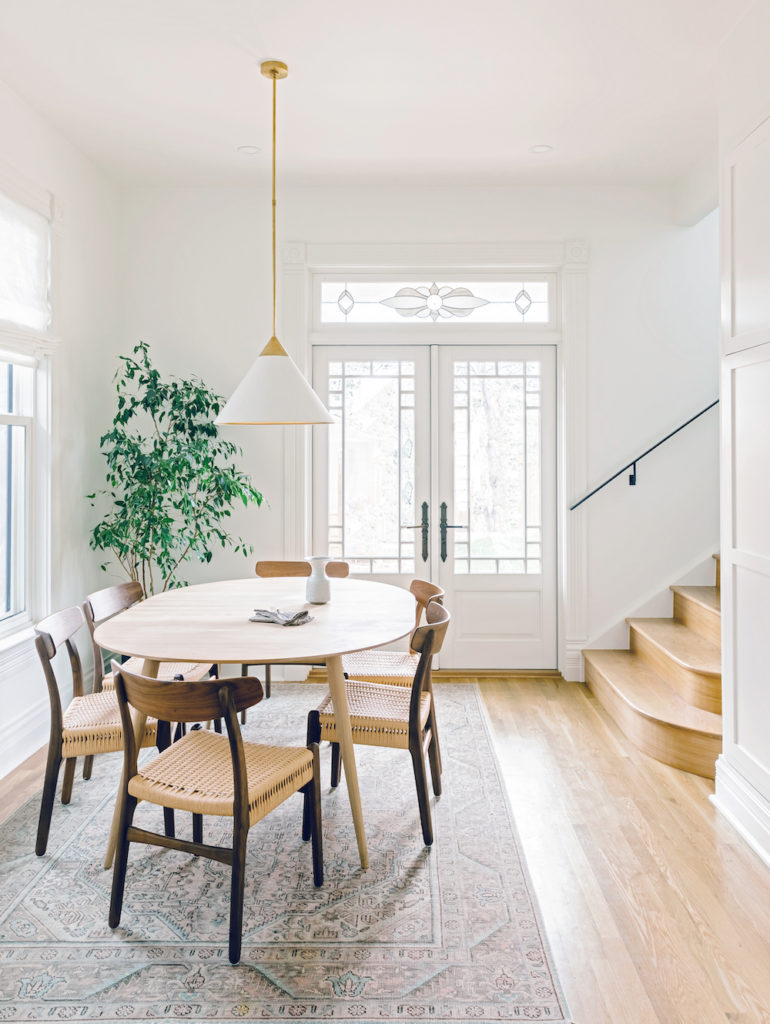 When should you contact an interior designer?
We recommend connecting with an interior designer at the very beginning of your project. We work closely with architects and general contractors to make the process as seamless as possible. It always helps to be in the conversation early on so we can make the most impact, and prevent design decisions that have a negative snowball effect down the road.
Construction projects take a long time, meaning great designers book up well in advance. If you're considering taking on home restoration or a new build project, hire your interior designer as soon as you contract with an architect or GC so that you can benefit from their guidance when decisions on floor plan layouts and architectural finishes (such as millwork, doors, or windows) need to be made.
A design firm like ours can help advise if those finishes work aesthetically with the age and construction of the home, and we can foresee furniture layout and lighting difficulties that architects don't catch.
If you have a project that requires little to no construction, contact a designer a few months before you're ready and able to start the project. Typically, all furniture and fixtures will be ordered at once so you'll need to be prepared to finance the project (and design fees) before commencing.
At Annabode, the Kickoff & Design Phases take about 3 months before anything is ordered or trades are hired. Products like tile, upholstery, plumbing, and rugs can have long lead times, so be prepared for the project to take several months after the Design Phase to complete. We always create a Project Calendar for every project, with an estimated installation date – your designer can talk you through their process and timeline at your first meeting, too.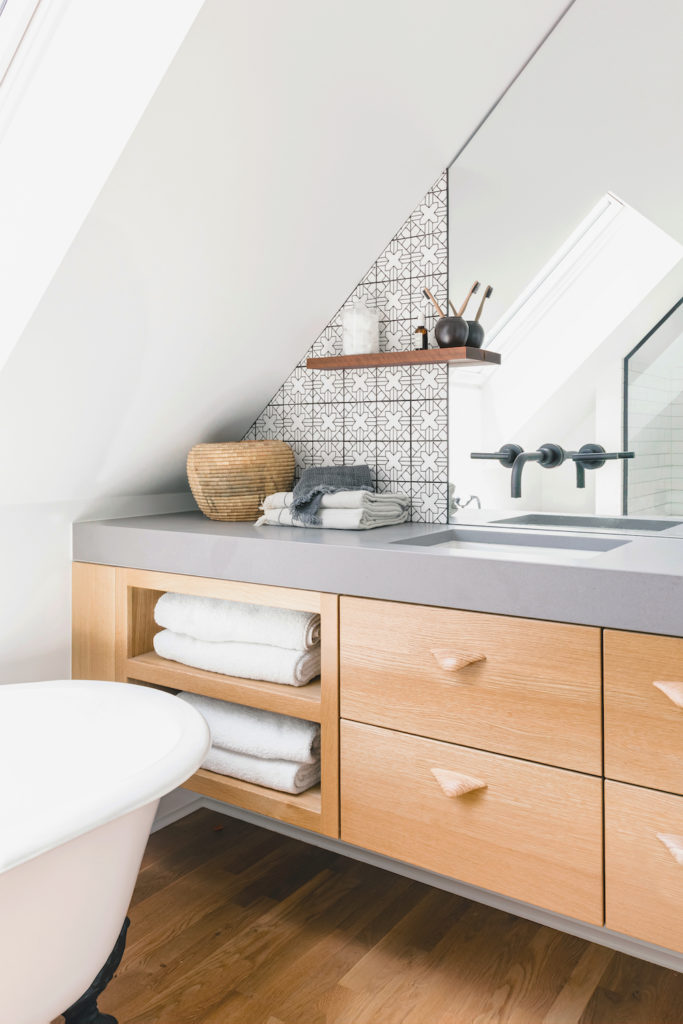 How much do interior designers cost?
Typically, interior design fees range between 10-20% of the cost of the project (read: the actual cost, which may differ from your initial budget). That's because designers do so much more than just pick the paint colors. We create technical construction plans, specify the correct finishes and materials for each application, coordinate with dozens of trades and vendors, and make a thousand decisions both big and small.
We also order, track, and resolve deficiencies with product, schedule contractors and trades, and manage the project from start to finish. This means you get to sit back and actually enjoy the process, while we handle all the "advil moments" that come with a major home project, for you.
Hiring a designer is an investment, but our clients are always glad they worked with us rather than try to tackle their project themselves. There are so many decisions to make in a remodel, but we can take that all off your plate – plus we help prevent expensive mistakes you might not even know you're making.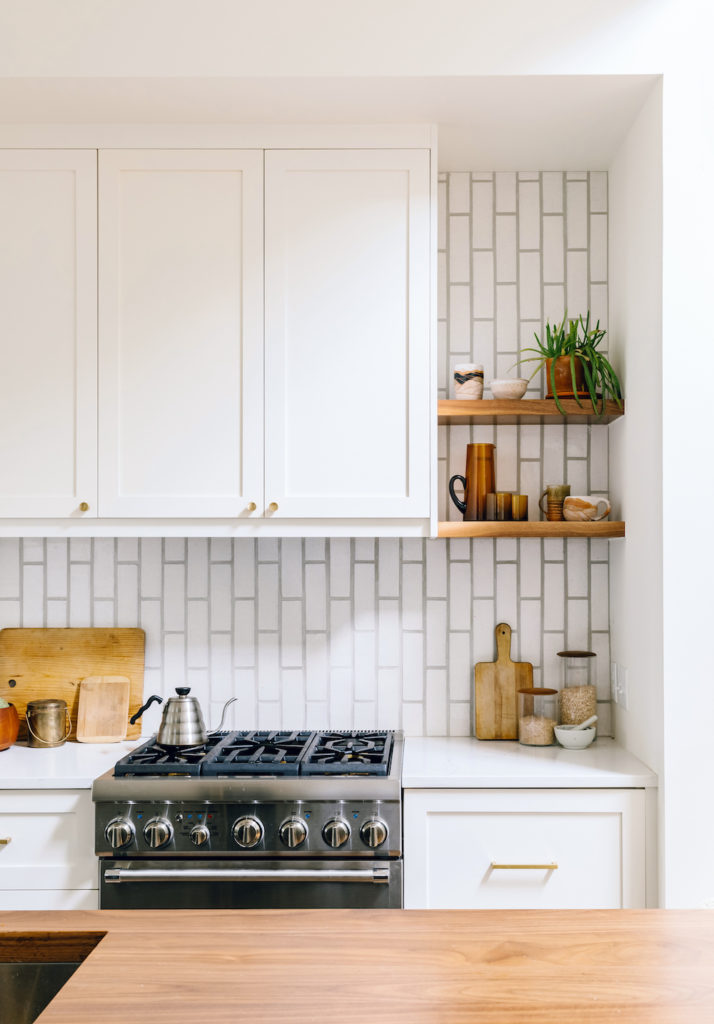 How to budget for an interior design project
Think about what you want to change about your home and the budget you can allocate towards it. We like to refer our clients to the Cost vs. Value Guide for the Denver area. Not local to Denver? The website has data on national and regional averages as well. These are average renovation costs and the return most people see with these investments. (Helpful hint: "Mid-range" is builder-grade, if you're working with a design firm – look to the "Upscale" category).
In addition to the construction costs, create a budget for furnishings and other soft goods as well.
Create a furnishings budget on the fly: choose a high-end retail website, add all the pieces you need to your cart (disregard style, but pay attention to size), then add 10-15% for shipping, sales tax, and other fees.
Add everything you can think of, including artwork and decor, for the most realistic starting budget – and add a buffer for framing artwork and window treatments, both of which are large investments.
If you don't have the budget for hiring an interior designer or for turn-key, full-service interior design, many design firms (including ours) offer a-la-carte Consultations.
We can meet with you on the key design points and help you make final finish selections or give guidance on room layouts and furniture placement. You can book a two hour consultation with us here.
---
Are you ready to hire a designer?
If you are in the Denver area, we would love to work with you! Take a look at our portfolio and schedule a Discovery Call to get started.