Design, Decoded: Harry Bertoia and His Side Chair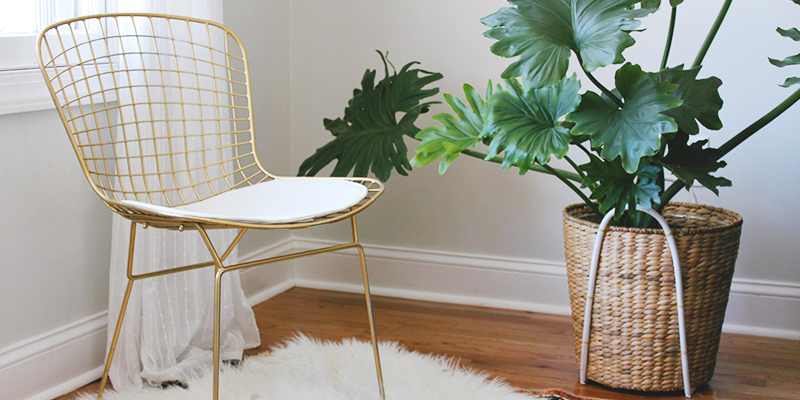 Exciting news you guys! Some of you may not know I have a background in history, specifically in the decorative arts. I've written a few posts on design history already, but I've decided to make a new series of history quickies to help peel back the veil between high design and the rest of us lowly earthlings. I like to think of it as design, decoded.
Every Tuesday you can expect a brief little ditty about an object from design history that has recently resurfaced and which you most certainly will recognize. Don't expect a full-on snore-fest of names and dates, but hopefully a brief look at the mind & times behind the design. (Yes. I can rhyme).
Everything old is new again, right? 🙂
I'll also show you where you can find affordable, modern pieces inspired by the originals, because…that designer sh** is expensive.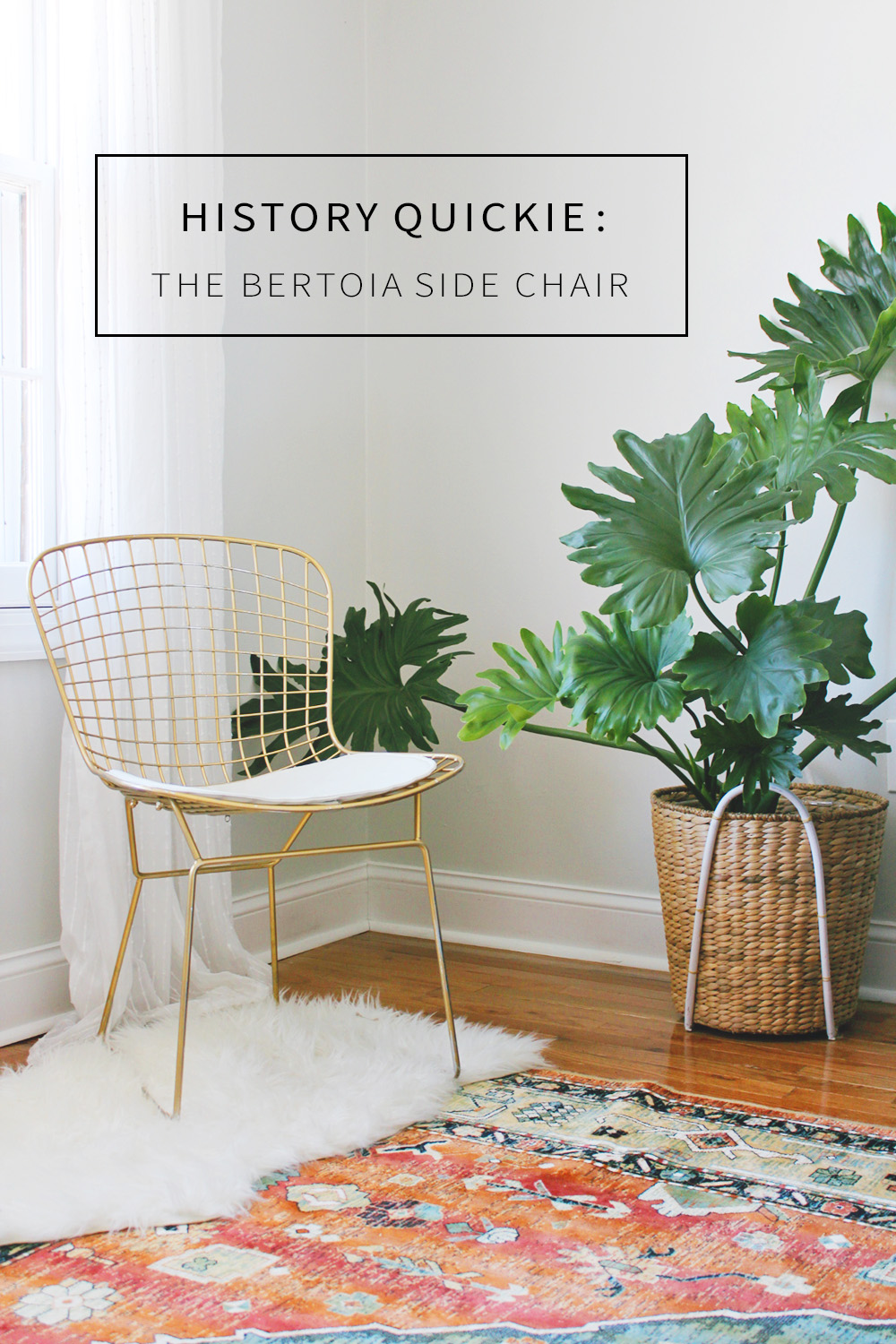 Do you have a Bertoia or Bertoia-inspired chair? If you're on Instagram, post a pic and use the hashtag #designdecoded! I'll feature the best shots on my feed @annabode. So get snappin'!
This week we're taking a look at Harry Bertoia and his gorgeous wire chairs. Bertoia was born in Italy in 1915, moved to America as a teenager, and eventually attended Cranbrook Academy where he rubbed elbows with other soon-to-be design big-wigs such as Charles Eames (fiberglass chairs!) and Eero Saarinen (tulip tables!). Cranbrook was kind of a big deal at the time—you can read more about it here.
After finishing his studies he was asked to stay and spearhead the metal workshop, where he made mostly jewelry (metal was scarce during the War). Then he skedaddled over to California with Eames to develop an inexpensive method for molding all those plywood chairs Eames was so crazy about. Unfortunately, Eames pulled a fast one on him when the chairs were finally produced and gave Bertoia zero credit. What!
Miffed, Bertoia exchanged the West coast for the East and settled in at Knoll (another important name, in furniture production). The Knolls knew Bertoia was brilliant, and basically told him he could come design whatever he wanted—it didn't even have to be furniture! They just wanted to see what he could come up with.
This was it.  (So was this).
Bertoia's line of wire chairs was launched in 1952, and has been in continuous production ever since. Seriously. People haven't stopped buying these chairs once in the past 60 years! Can you imagine if your sofa was so popular, people were still buying it in 2078?
That, my friends, is what they call timeless.
Okay, okay. What's the big deal about these chairs? Well for starters, the materials were pretty groundbreaking. Wire mesh chairs don't seem crazy to us because they've been around for half a century, but in Bertoia's time most chairs were still made of—you guessed it—wood. Yawn. Also, Bertoia's chairs are sculptural works of art (And guess what? He was a sculptor. Surprise, surprise). He took industrial materials and made them both elegant and beautiful, which is certainly a feat worthy of admiration.
Bertoia chairs can still be purchased through Knoll, but run about $630-$730 a pop. Ouch! Why not order a less expensive, non-designer version like I did? You can find these in so many stores, but I found mine on Amazon for $82.83 (glammed up with some gold spray paint.) Booyah!
Sources: HarryBertoia.org, Knoll Designer Bios, Four Centuries of American Furniture by Oscar Fitzgerald, The Penguin Dictionary of Design and Designers by Simon Jervis, The Penguin Dictionary of Decorative Arts by John Fleming and Hugh Honour.
If you have Bertoia or Bertoia-esque chairs in your home, don't forget to tag your Instagram pics with #designdecoded to be featured!