How to Choose Window Treatments Correctly—Every Time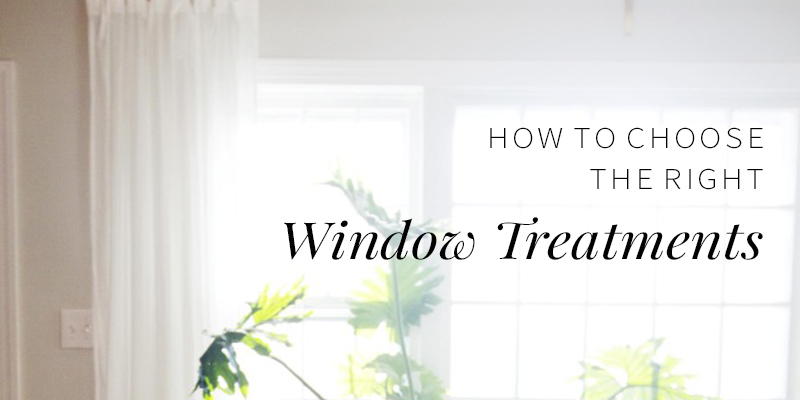 Last week I asked the question: do you dare to go naked? Or are you afraid of letting it all hang out? (We also discovered how many innuendos I can make when it comes to window treatments. Answer: more than you'd think).
When we bought our first house, I was only 24 and had never given any thought to my windows. So when it came time to decorate, I somehow believed that I needed both shades and curtains on each one. Seriously, what was I thinking?!
I shudder to think of the time and money I wasted on that endeavor, only to come to my senses less than a year later. Thankfully I did, or we would still be living in a dungeon of gloom—straining our eyes to see our breakfast cereal, and tripping over the puppy. I like to think I made some Craigslist hunters very happy—they got a great deal on brand new curtains. Whelp…you live, you learn.
And since that time, I've learned a lot. And because I don't want anyone to make my (expensive) mistakes, I thought I'd share with you some tips on how to choose window treatments correctly—the first time around.*
Along with my tips, I've included examples of window treatments done right by some of my favorite bloggers.  Be sure to click through and check out these fabulous ladies and the rest of their homes! (And don't forget to pin from the original source).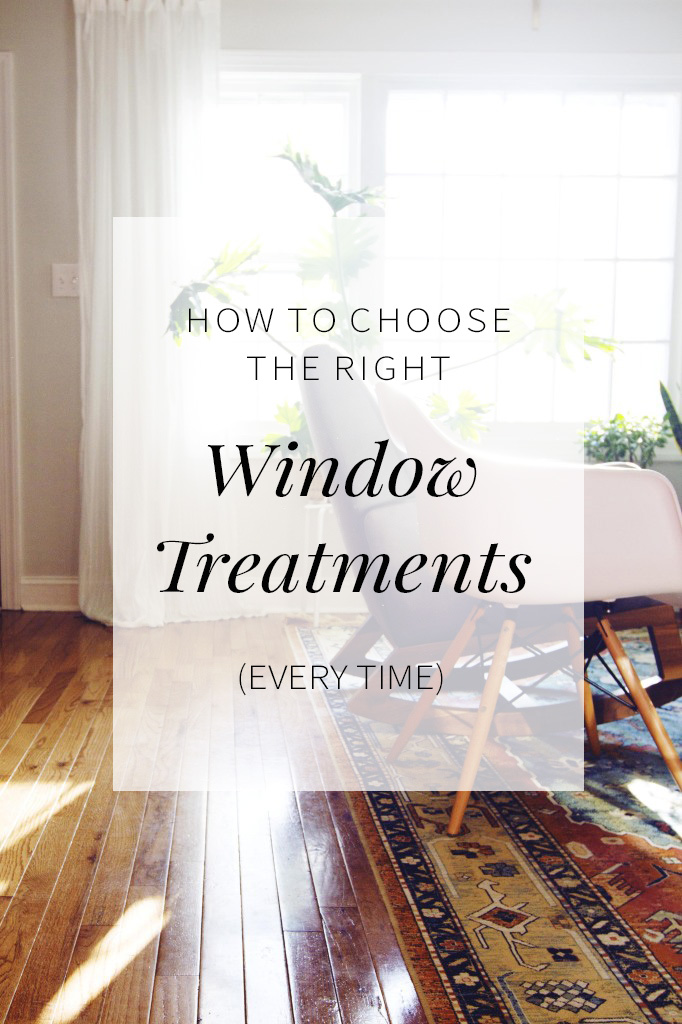 First decide on how you want the room to feel.  In general, curtains are more formal, shades are more casual, and bare windows are more modern.
In rooms used for entertaining (living room, dining room), sheer curtains add a touch of sophistication while keeping the room bright.
If the treatment is expensive, opt for a neutral–it will give you greater freedom if you redecorate later on.
Hang the curtains or shade a few inches from the ceiling to elongate the window and make the room seem taller.  If you are hanging grommet curtains, make sure you allow for the extra fabric above when installing the rod!
Choose a curtain length that will just brush the floor, and hem if necessary. For standard 8′ ceilings, go for 96″ curtains. Please, please, please….don't have your curtains swingin' in the breeze with 8" of space between them and the floor. BIG mistake.
Hang your curtains and hardware as close to the ceiling as possible, but with at least 2" of space between them and the ceiling.
Heavy fabrics or dark colors look best in large rooms with tall ceilings.  So unless you live in a McMansion, light fabrics and colors are your best bet. If you do go for a dark color, try a lighter fabric.
In bedrooms, Roman shades elongate windows and are easy to open & close frequently.  Any kind of simple shade will give you a more modern look as well.
Shades can be hung either inside the window frame or mounted over it. If you're ordering shades yourself, measure, measure, measure!  Then measure again. Then have someone else measure it, just to be sure. And if the shades are going inside the frame, be sure to leave ½" of room on either side.
In bathrooms, privacy film is often the best answer.
In casual rooms, hallways, or offices, bare windows can still be beautiful! Painting the window frame in a contrasting color, such as black, can be just as lovely as a window treatment.
Don't pay tons of money for expensive curtain rods. Ikea rods do the trick, and you can spray-paint them gold, silver, copper…anything you want.
Please, no tie-backs. Just…no.
*I'm a firm believer that there are no hard-and-fast rules when it comes to decorating, so take my tips with a grain of salt.  In the end, choose what you love and what you can afford!
Do you have any tips on dressing windows? Any rules that you swear by?  I'd love to hear them!