How to Decorate When Money is Tight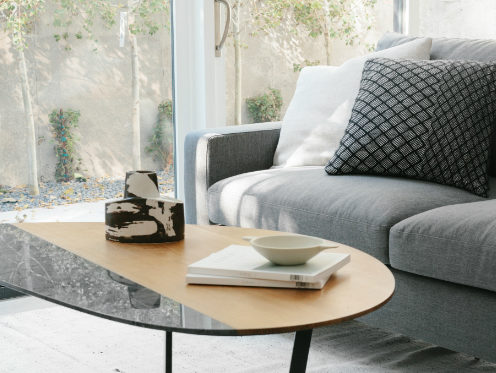 Yes, it is possible to redecorate your space without spending a dime!  Often people have great pieces in their home already, but they are not used to their best advantage.  Maybe the furniture placement is off, or a mirror is on the wrong wall.  Here are my tips for redecorating for those times when you have no money to spend: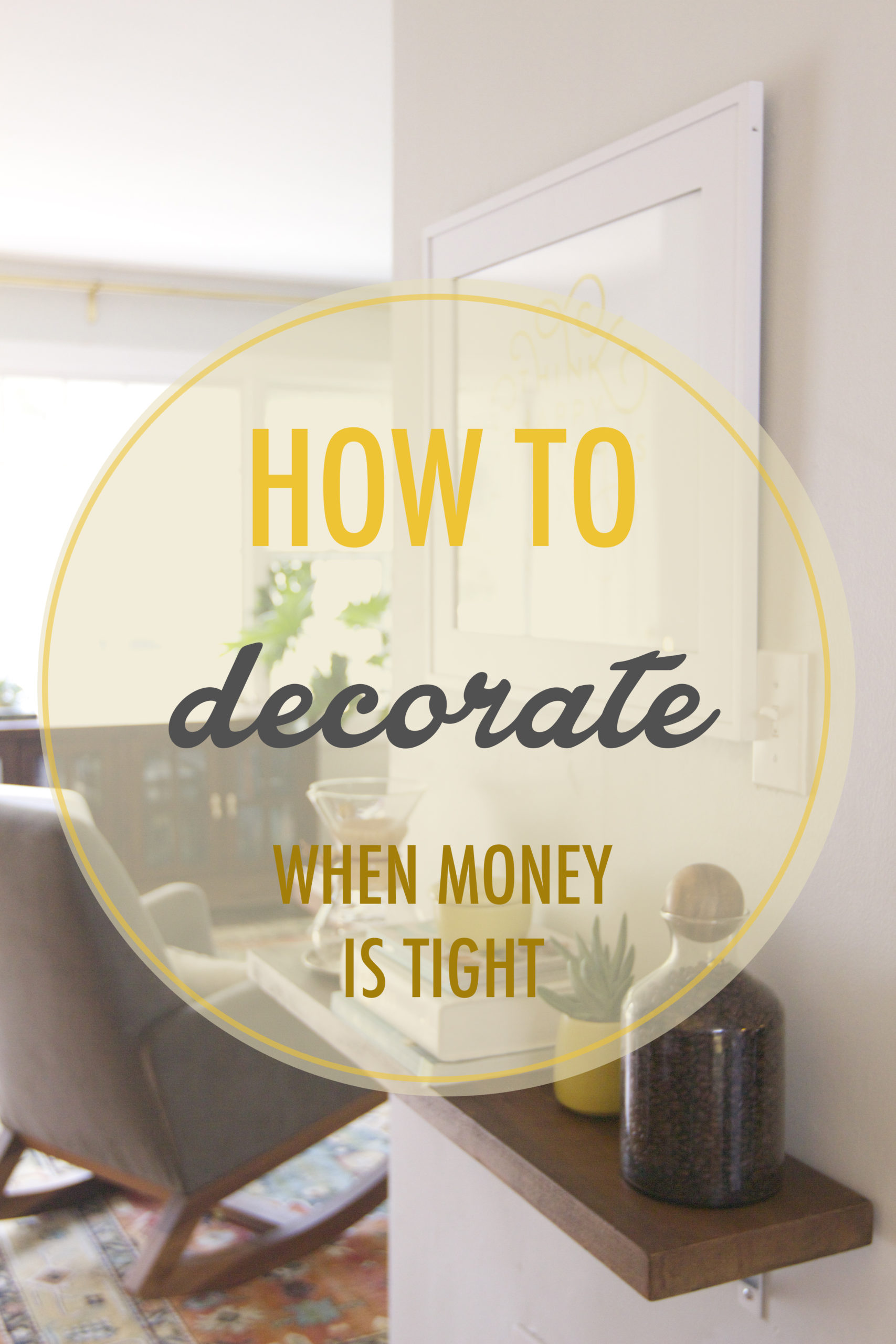 1. One of my favorite ways of rethinking a space is to start by moving the furniture–it gets your brain moving and opens your eyes to new possibilities.  Is your living room arrangement conducive to guests and conversation? Are there places to put food and drink? Are mirrors placed opposite windows, to let in the most light?  If anything feels off, just move it. You can always change it back!
2. What's even more fun is to pull pieces from your other rooms to create something fresh.  I like switching around my pillows and artwork every few months–sometimes great combinations can be made that you've never even thought of.
3. Sell what you don't like, and use that money to buy something you do.  Craigslist and eBay are great for this.
4. Tackle a DIY project!  You can make so many beautiful things using only the stuff you have lying around your house.
5. Take some books off the bookshelf.  Using books to decorate, whether it be on a coffee table, side table, or in a bedroom, is an easy & free way to add color to any room.
And now for an example of how I reworked our coffee station for free! Here's what it looked like before: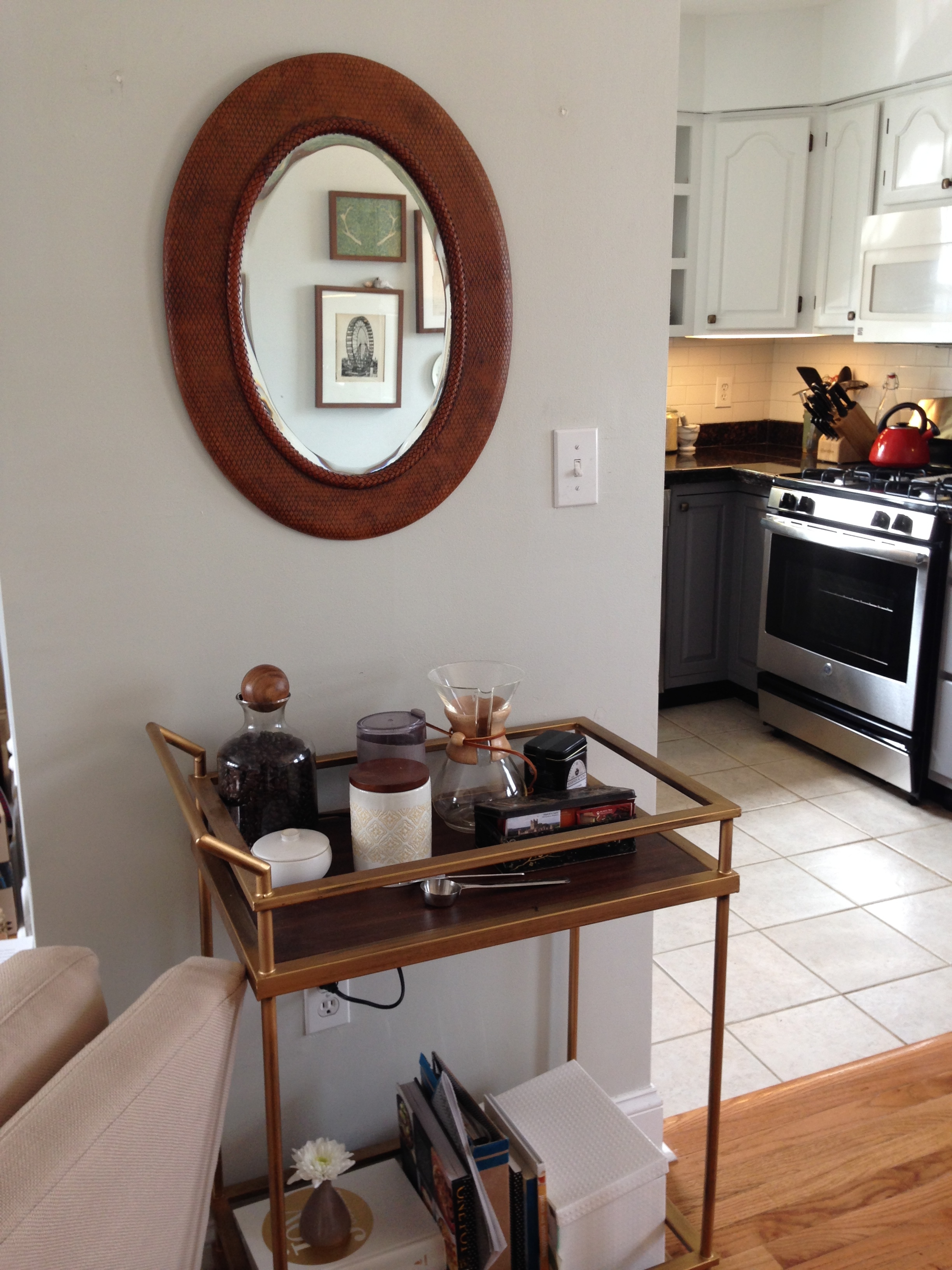 Not horrible, but not great either.  The bar cart was from Target and I loved it, but my dining room chairs are gold as well and it was too matchy-matchy.  The brown mirror, brown wood of the cart, and brown details in the objects (plus the wooden floor) was just too much.
So, I sold the cart on Craigslist and put the mirror in another room.  Here's what I ended up with: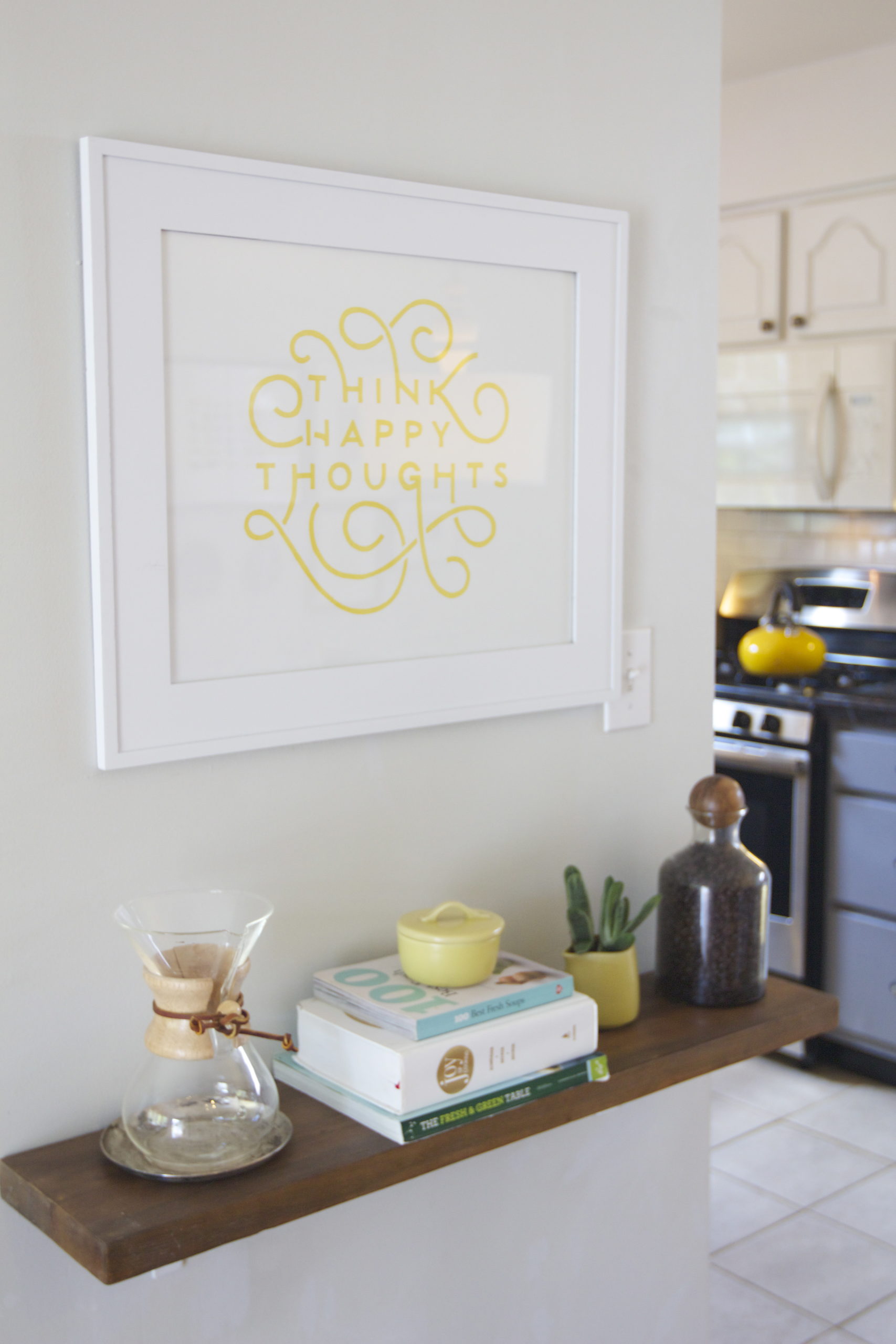 The shelf came from Clinton's room–I had listed it on Craigslist after I began redecorating the nursery, but then I realized I could use it here.  The artwork is from my living room, and I replanted one of my succulents into the cream pitcher (because heaven knows I'm not throwing a tea party anytime soon).
I edited the number of objects I needed for this space to be functional, and I think the new look is bright, colorful, and uncluttered.  Plus it was free!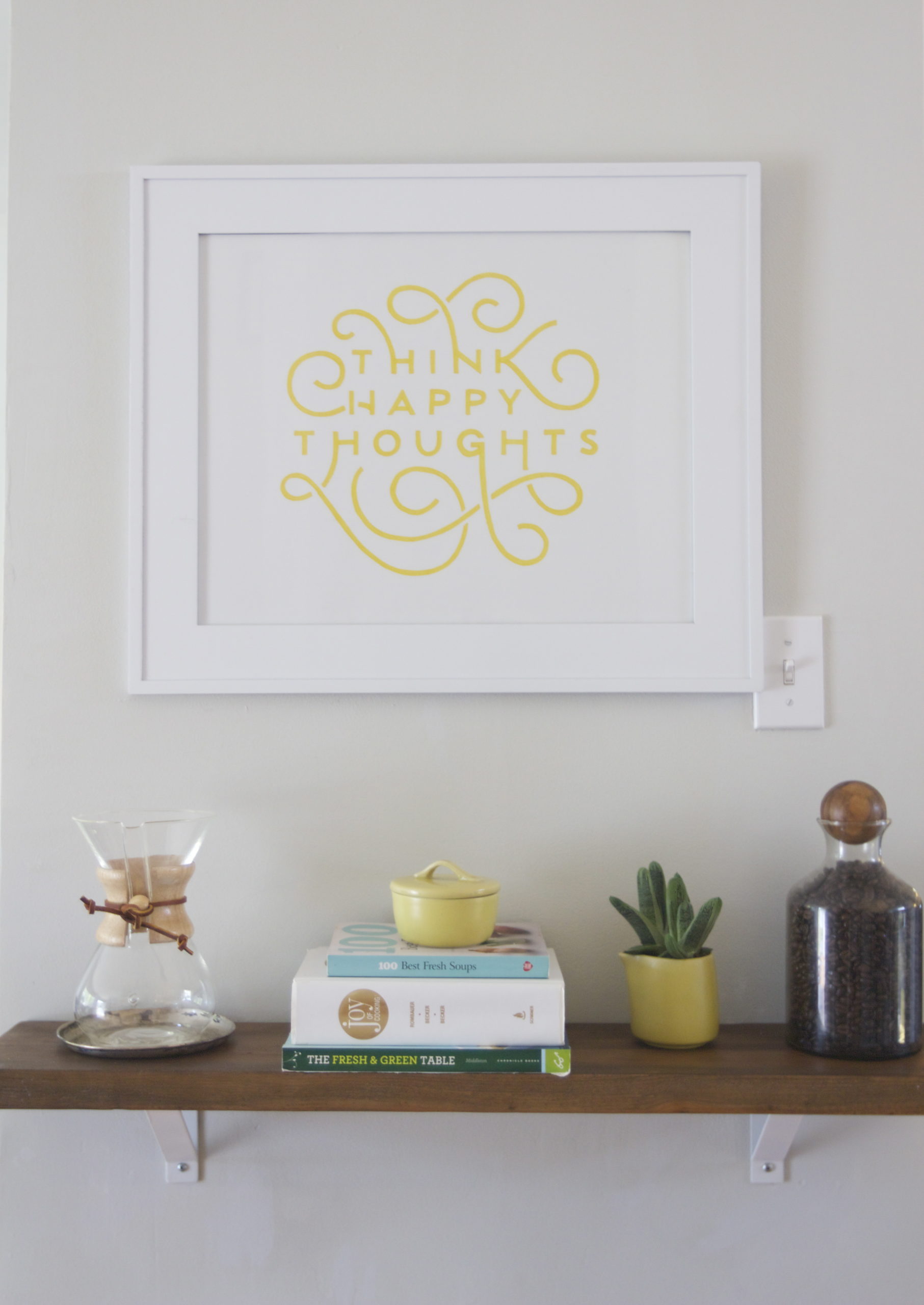 The other great thing about this transformation is that eliminating the bar cart made our dining room seem so much bigger.  (I call it a dining room, but it's more like a small open space between the kitchen and living room that we've squeezed a table into.)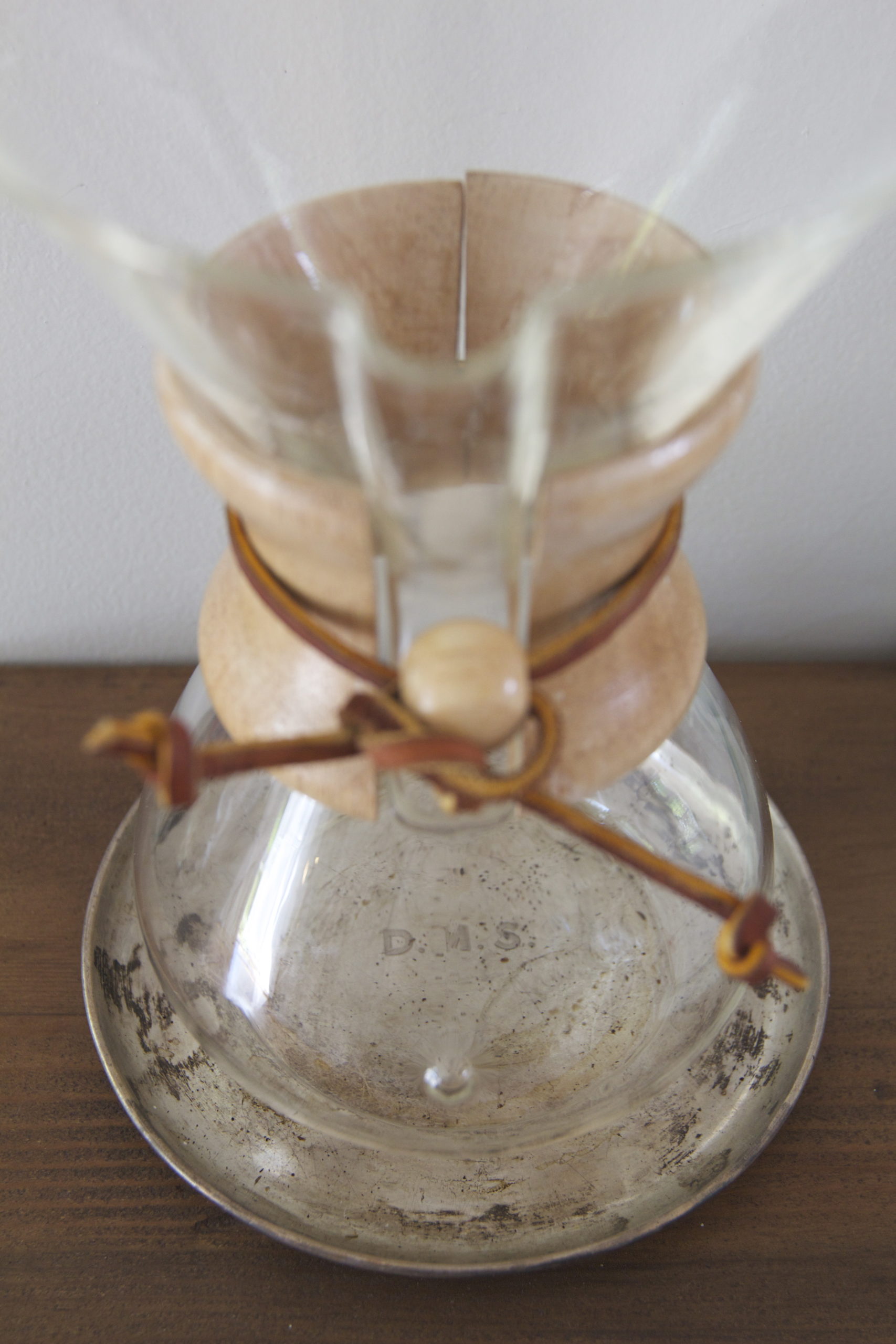 To catch any coffee drips from our Chemex, I put this charming little silver dish under it.  It's actually from my dad's baby set from 1948, and I love how the slightly tarnished silver contrasts with the glass and wood.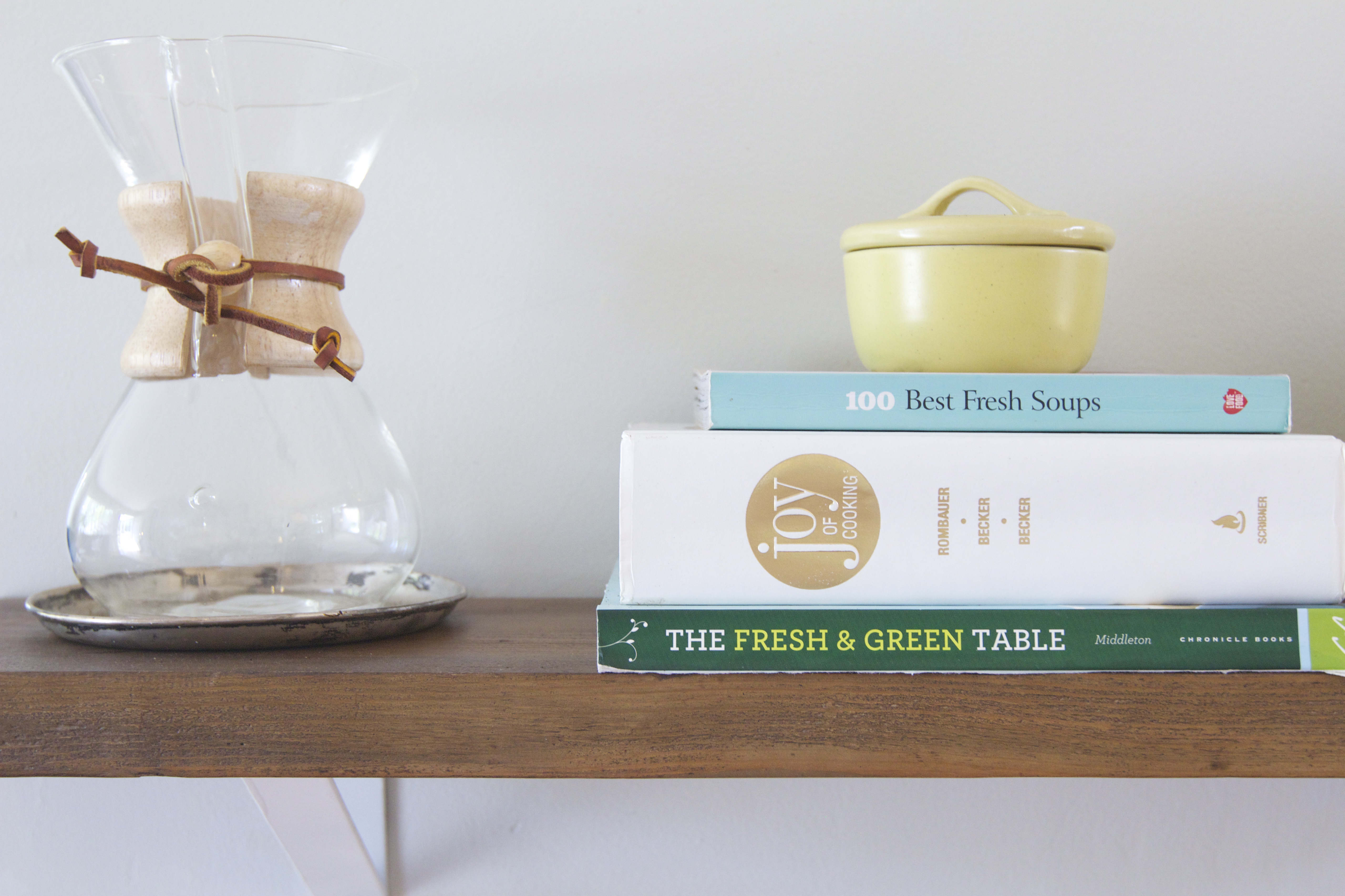 I kept the three cookbooks that I use the most out on the shelf where they are in easy reach, but the rest I decided to put in my kitchen.  You can't tell from the photo, but our puppy actually had a ball the other day chewing on my Joy of Cooking.  (Sigh).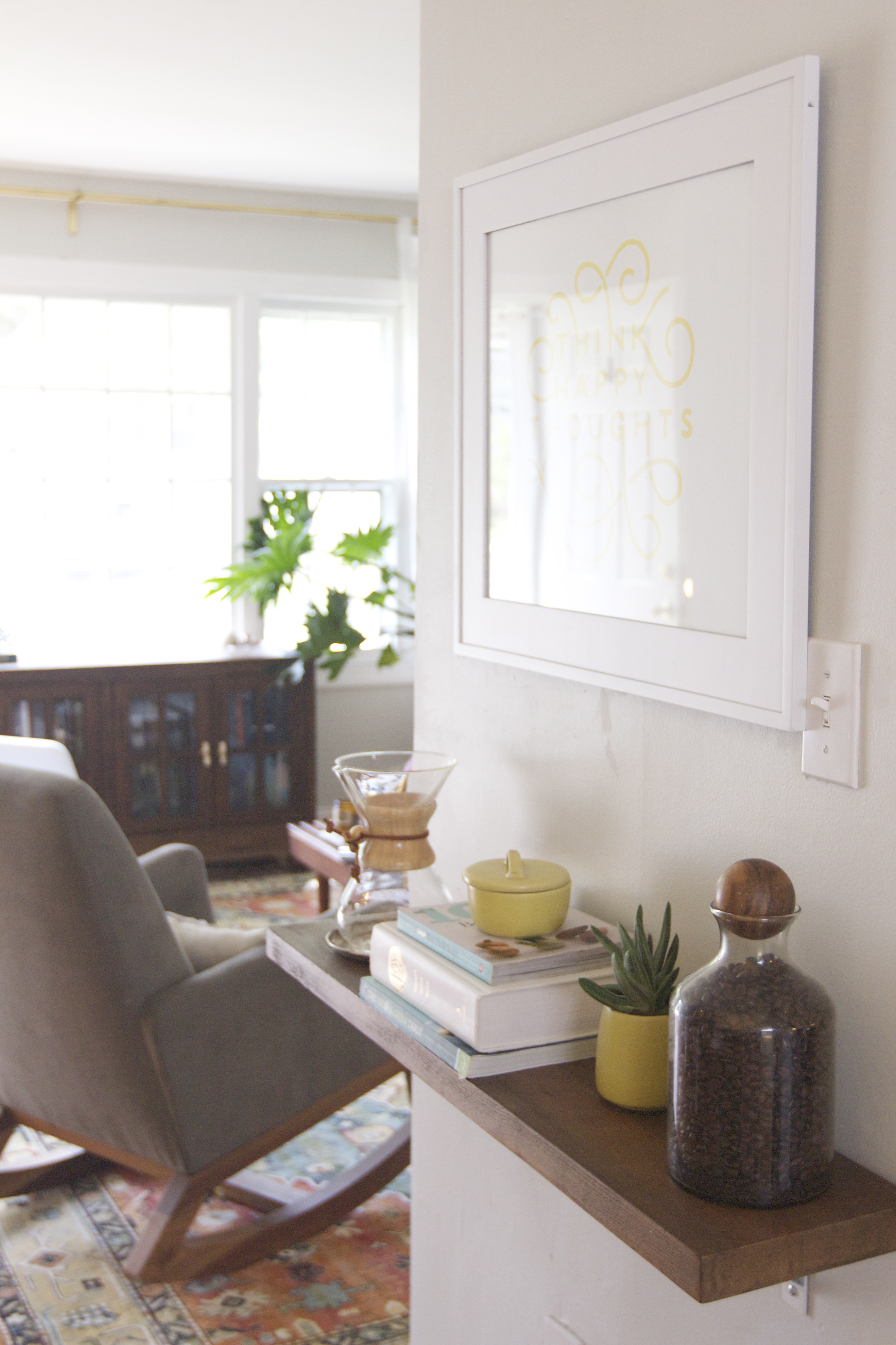 How do you decorate when money is tight? I'd love to hear it! Leave a comment by clicking the link at the top of the article or in the comment box below.
Product Guide: Six Cup Coffee Maker, Chemex // Cozy Sugar and Creamer, Crate & Barrel // Reclaimed Wood Shelf, West Elm // Whiskey Bottle, West Elm //