Kid's Room Conundrums
For some reason I have always struggled when it comes to decorating my son's room, which is currently on its third interpretation.  First it was bold and modern, but too dark.  Then it was light and airy, but too monochromatic and boring.  I really want to create a bright, colorful and happy space for Clinton–one that reflects his silly, adventurous personality!
However, every time I try to re-imagine his room, I get stuck.  Perhaps I second-guess myself too much, but mixing bright colors and patterns is just not what I'm used to.  When I tried doing this in his room the first time, it felt like the room stood out too much from the rest of my house and didn't fit into our overall style.
Another problem is his room is a horrible beige-y yellow color, and I don't want to re-paint it right now.  We will probably be moving in a year, plus I don't want to create unneccessary off-gassing if I can avoid it.  Here is a photo of the color (though in reality, it's a little darker):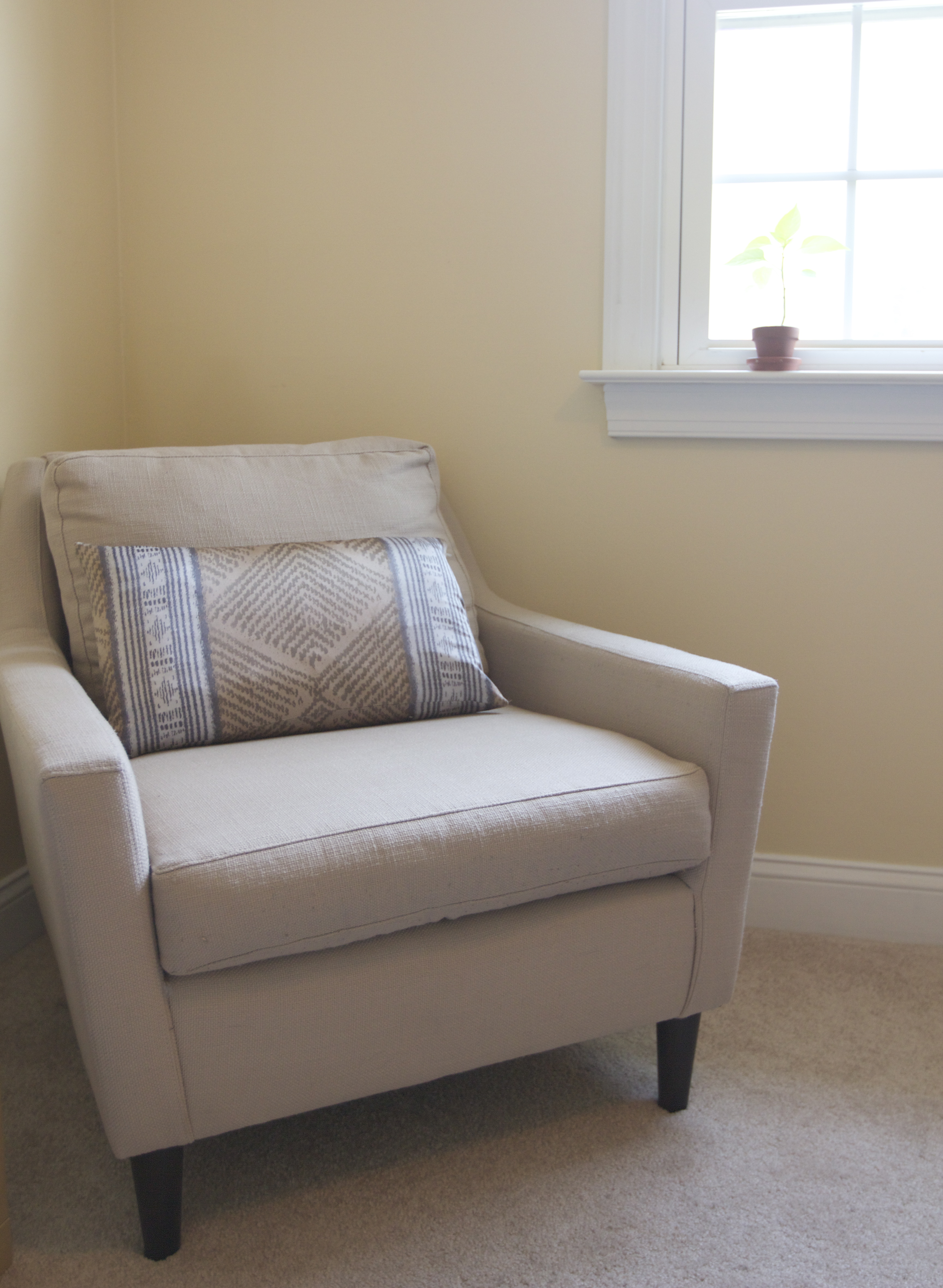 As you can see, beige walls + beige carpet + beige chair = beige despair.
The other problem I am facing with his room is it's size–man is it tiny!  When we first moved in we couldn't even fit his furniture, so we took off his closet doors and made a kind of niche for his dresser.  But even after that modification, it still looks so small and crowded.  Here it is from a while ago (when he was still in diapers!):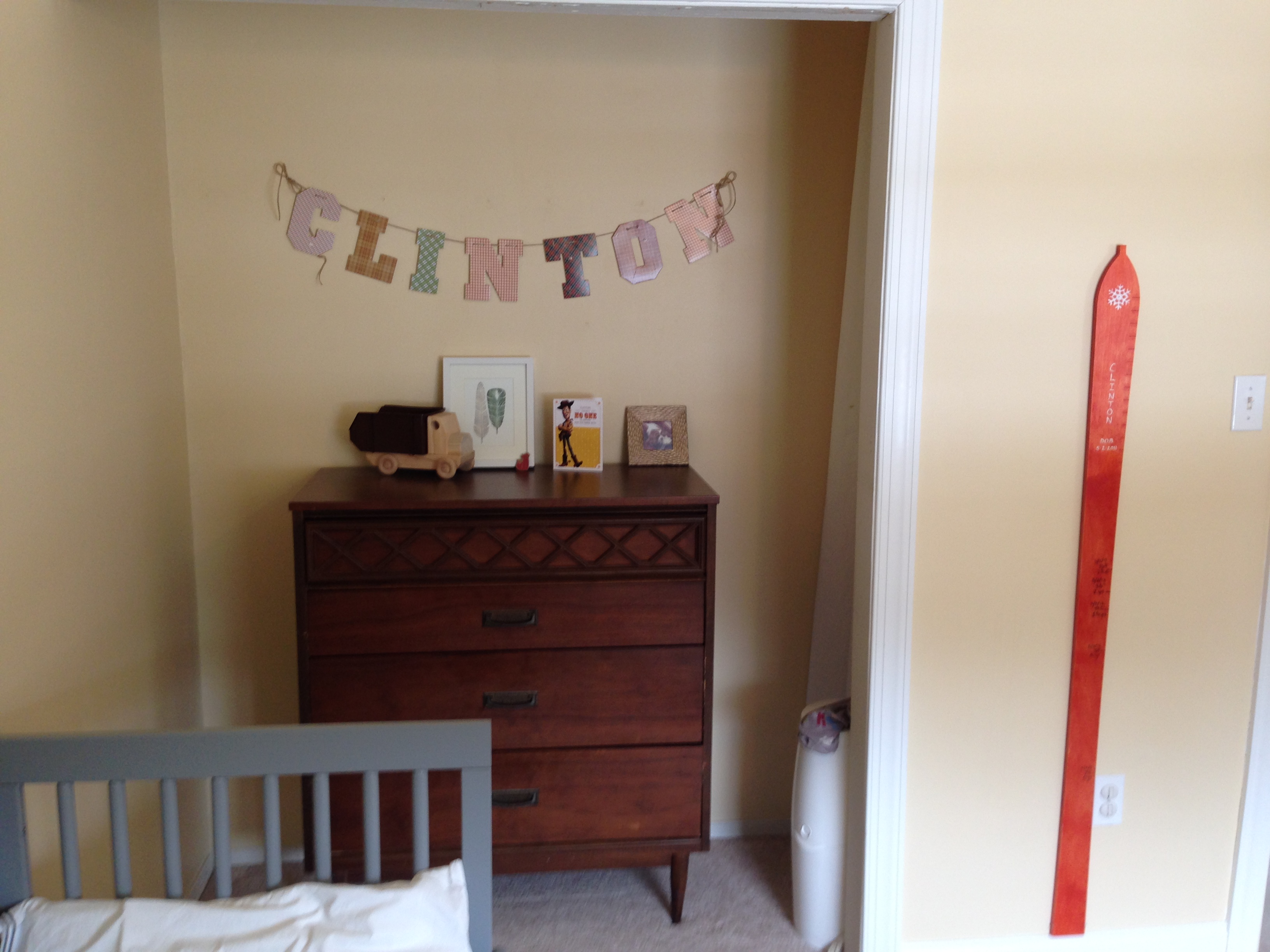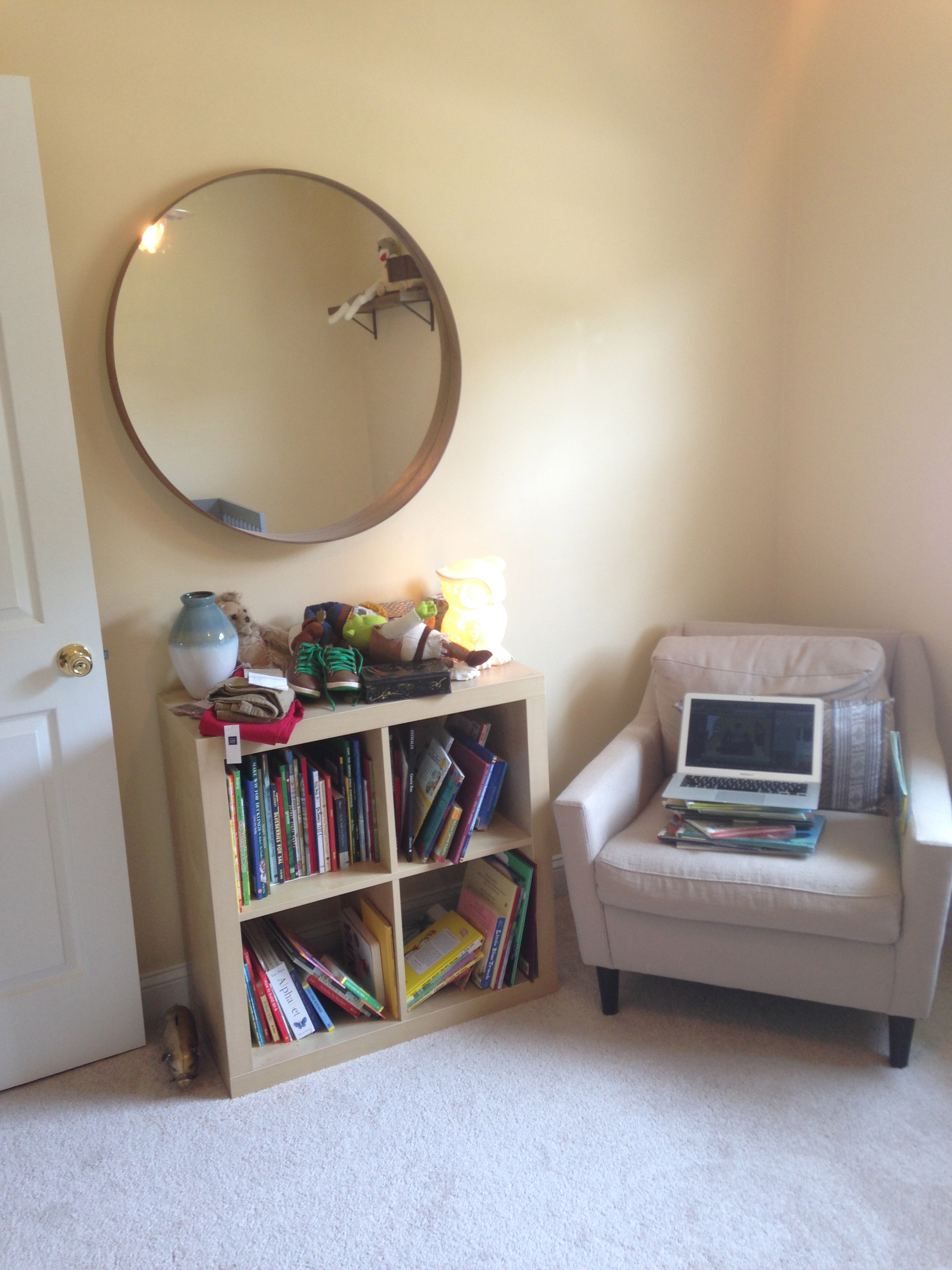 A couple of days ago I felt the decorating itch and decided to tackle his room once again, with the goal of making it colorful, happy, fun, suited to Clinton's little-boy silliness, and to make it at least appear larger.  Here are some rooms I felt inspired by:
Of course, these all have white walls.  Le sigh.
First, I decided that the Ikea bookshelf (which actually had replaced a larger one) had to go to open up the space.  Instead, I opted for book ledges like in the two photos above.
I shopped around and was considering Ikea's RIBBA picture ledges for a while, but at $15 a pop I was looking at spending $60 for four shelves–no thank you!  Since I had sold Clinton's (used) bookshelf on Craigslist for $20, I didn't want to spend more than that on whatever was going to replace it.  I found a great DIY book ledge tutorial on The Harpster Home, and bought everything I needed at Home Depot for just $15. Then I got to work!
They were super easy to build, the longest part by far was sanding them. I still need to throw some polycrylic on them, but I think for $15 they're looking pretty good: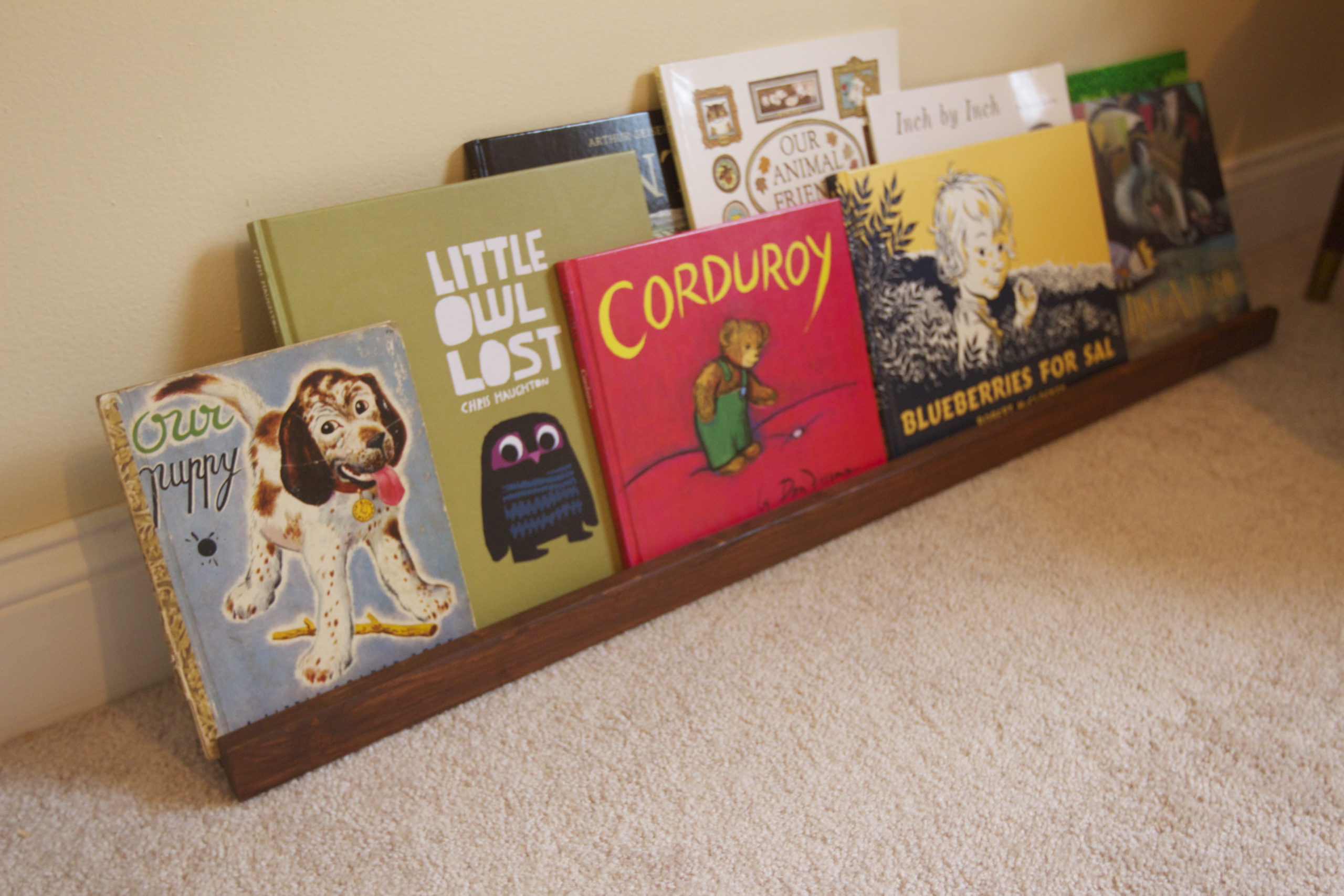 I also wanted a chair with a smaller footprint, and I found this fabulous one on Craigslist from Off Main Mod.  They have some gorgeous pieces, and the chair was a great deal.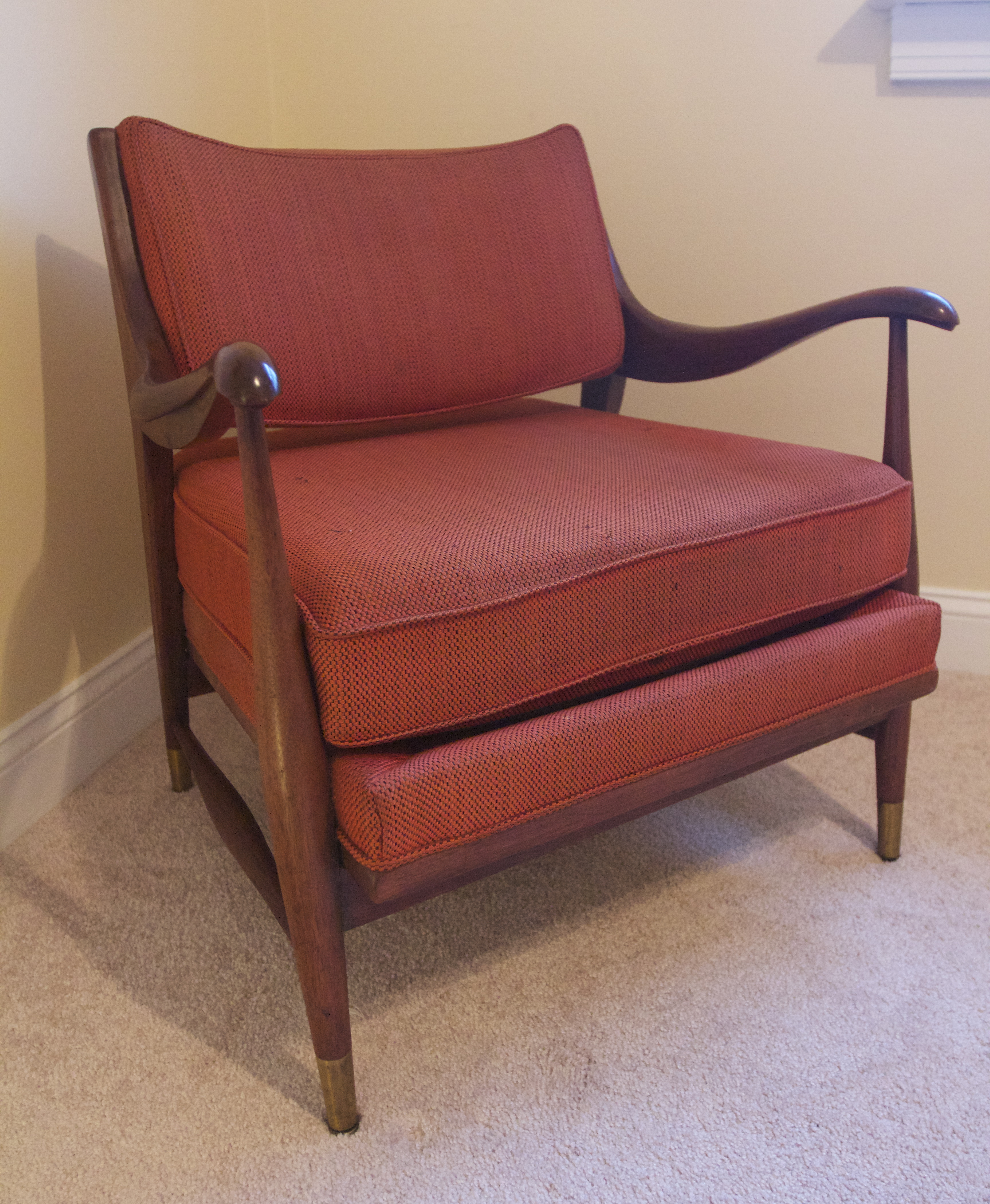 I found some amazing fabric at Joann's, and I'm going to try and reupholster it myself this week.  I plan on using Jenny Komenda's tutorial on Little Green Notebook, which seems to be the most in-depth for newbies like me.  Here's what it looks like: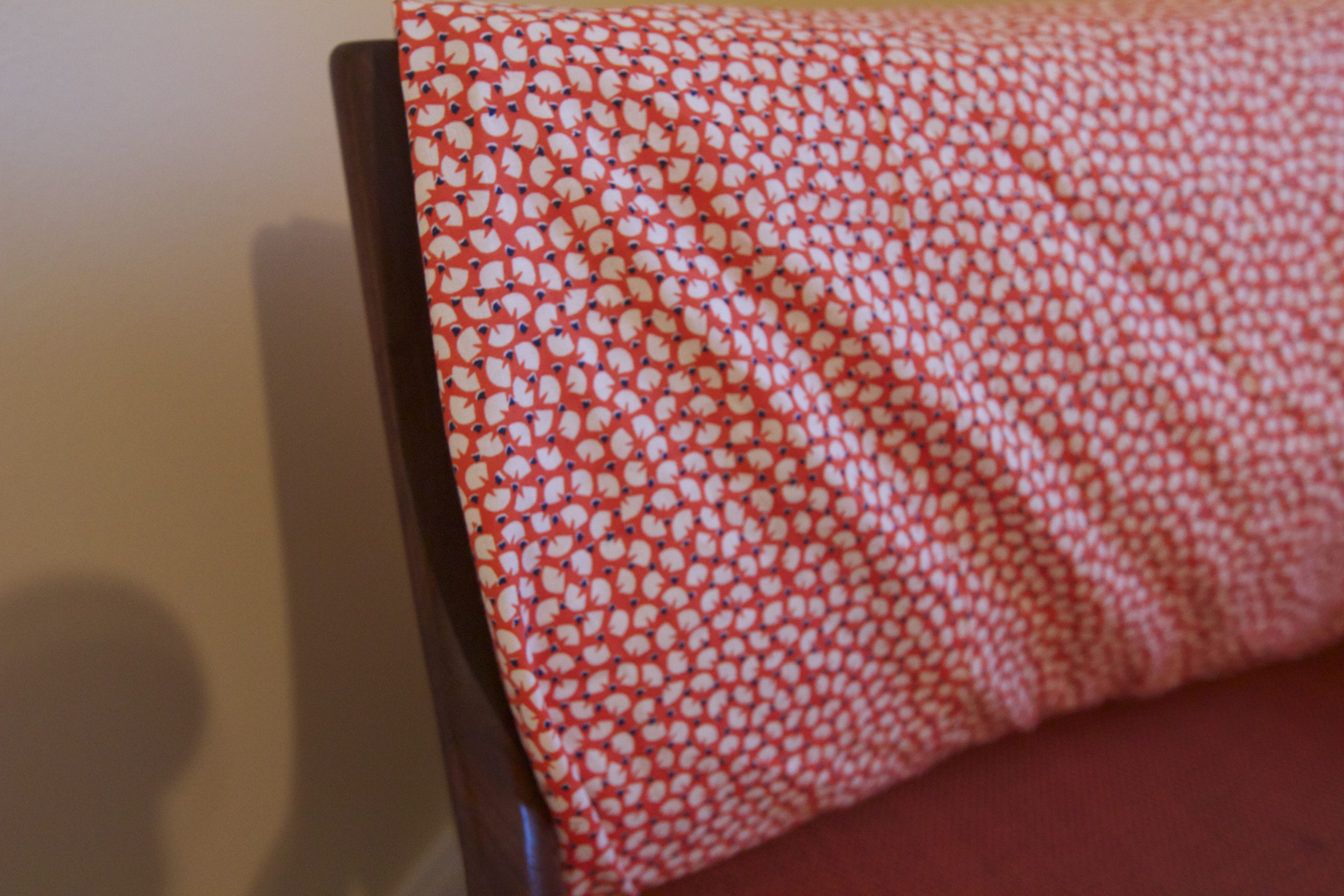 Now comes the really hard part for me, and where I need your help!
I have two ideas, and would love to know which one you prefer (or if you think both are total crap, ha!).
On the wall behind his crib I'd like to create some mountains, with just a teensy bit of paint and some washi tape, to look like this: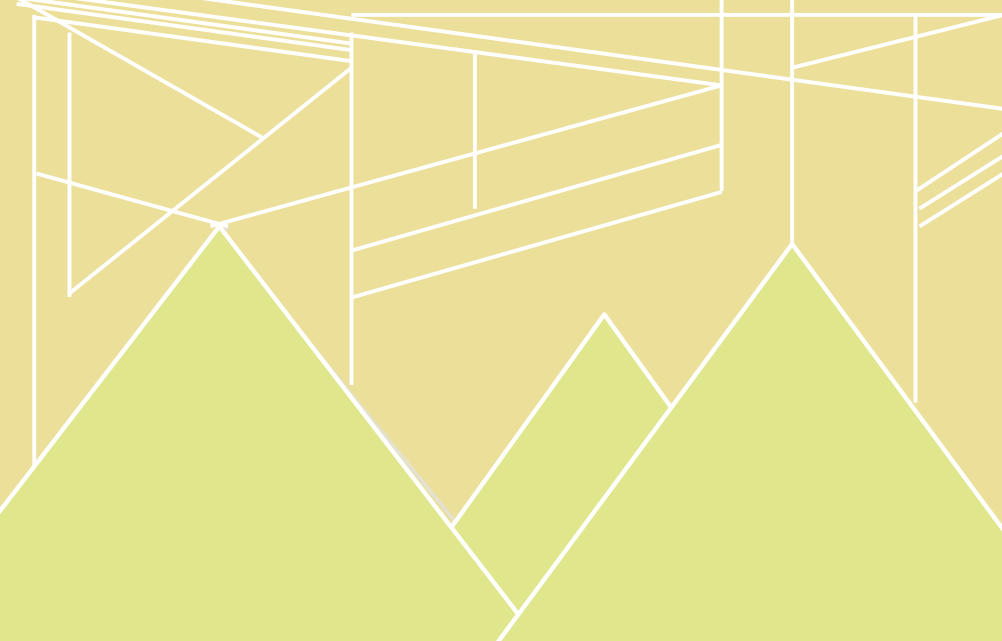 And then I'm trying to decide between two color palettes.  The first is: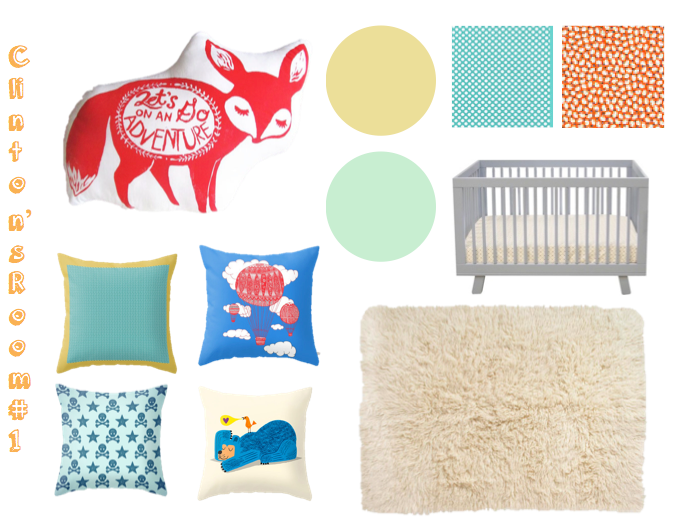 [Fox pillow: Laura Frisk, Blue/yellow pillow: Menina Lisboa,  Hot air balloon pillow: Lush Tart Project, Pirate pillow: Becky McCreary, Bear pillow: Iota Illustration, Fabric: Joann, Crib: Babyletto, Rug: World Market,]
And the second, slightly less colorful one is:
[Crib: Babyletto, Fabric: Joann, Cloud pillow: Normadot, Bear pillow: Lush Tart Project, Swiss Cross pillow: The Bird and Elephant, Rug: World Market,]
What do you think? Is one better than the other? Do you have any suggestions? I'd love to hear it all!