A Modern Little Boy's Room – The Big Reveal!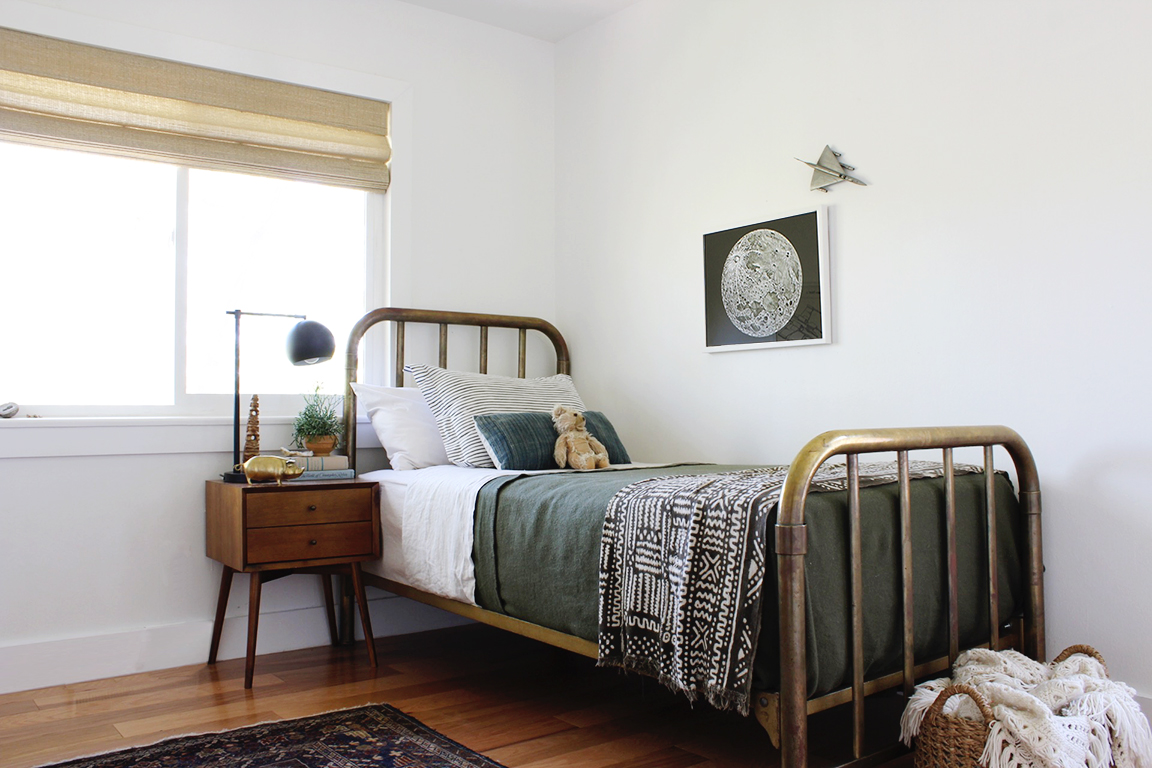 Finally – it's week six of the One Room Challenge and time for the big reveal of my kiddo's room!
If you remember from Week 1, we started with this: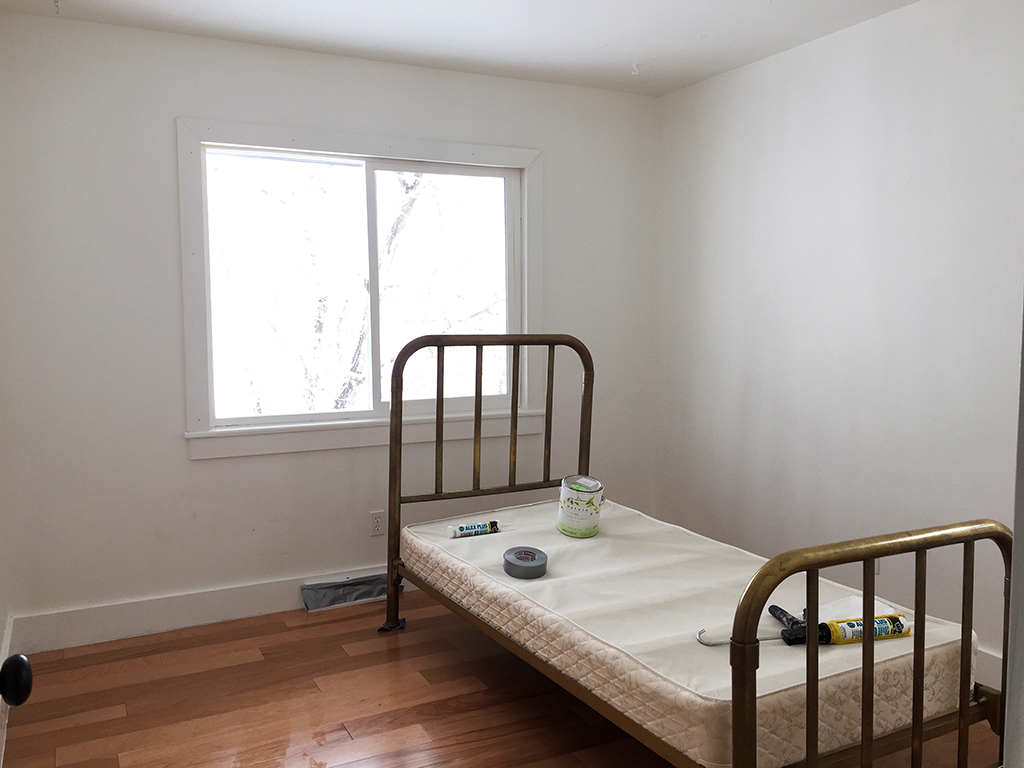 Here's what it looks like today: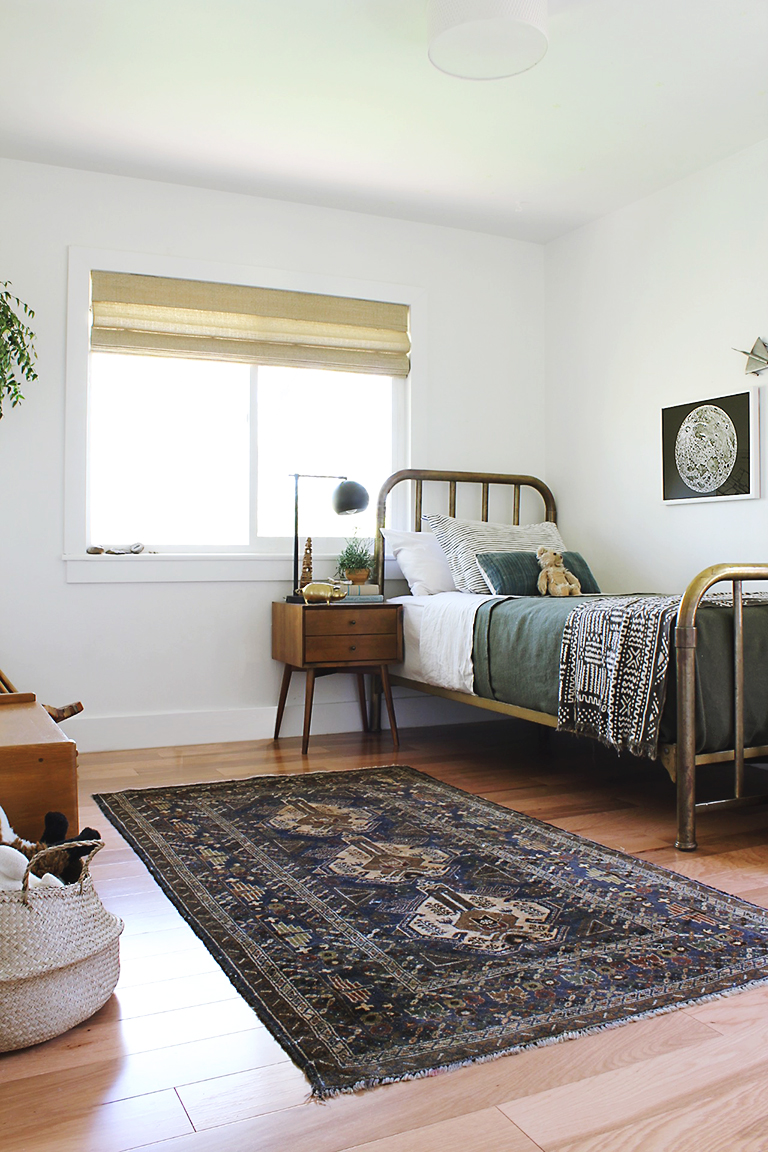 Austin literally put up those shades this morning as I jumped for joy – having bare windows has been no picnic, especially because Clinton wakes up with the sun! I'm crossing my fingers this will actually make a difference and he'll sleep in a little later now. But hey, who am I kidding? Isn't that just what five-year-olds do?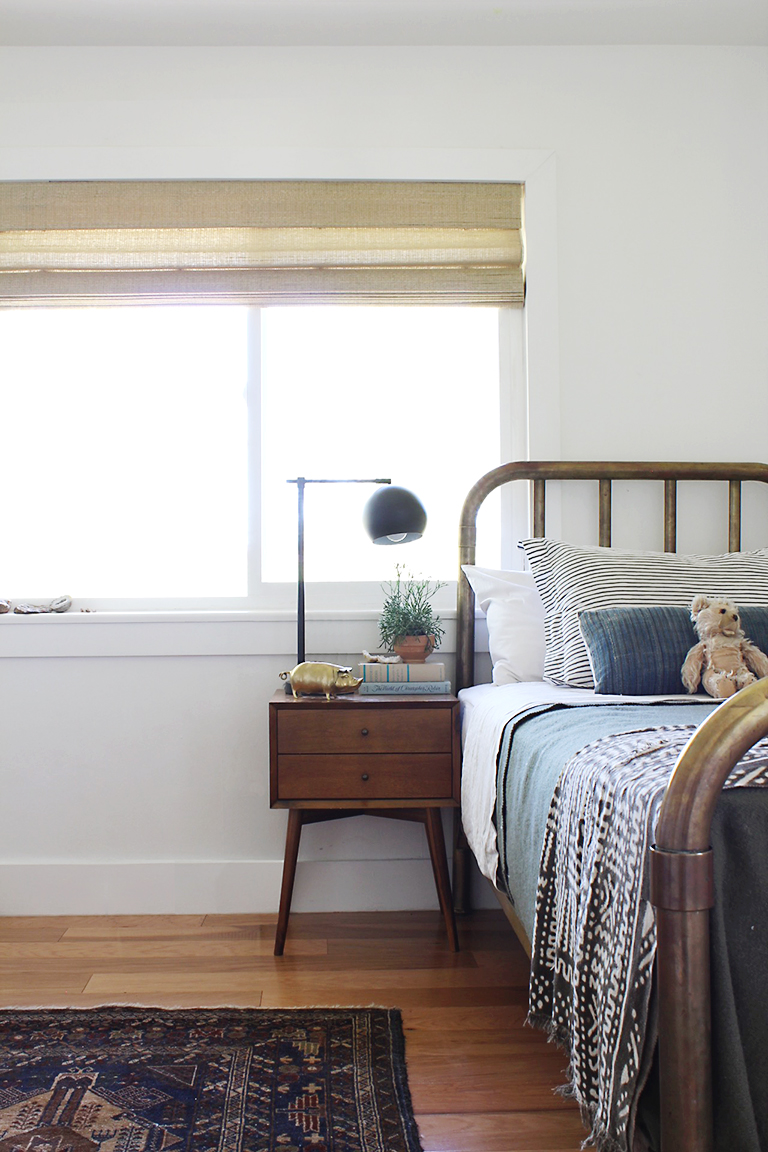 Overall I'm very happy with the shades, which are from Smith & Noble. I love the waterfall profile and slim headrail which allowed us to do an inside mount on our very shallow windows. The material is called "Belize Sand" and adds just enough texture while still being light enough to take a backseat in the room. The one thing I'm not loving is the cords – the design consultant I spoke with said cordless wasn't possible due to the window size, but man cords are just not attractive!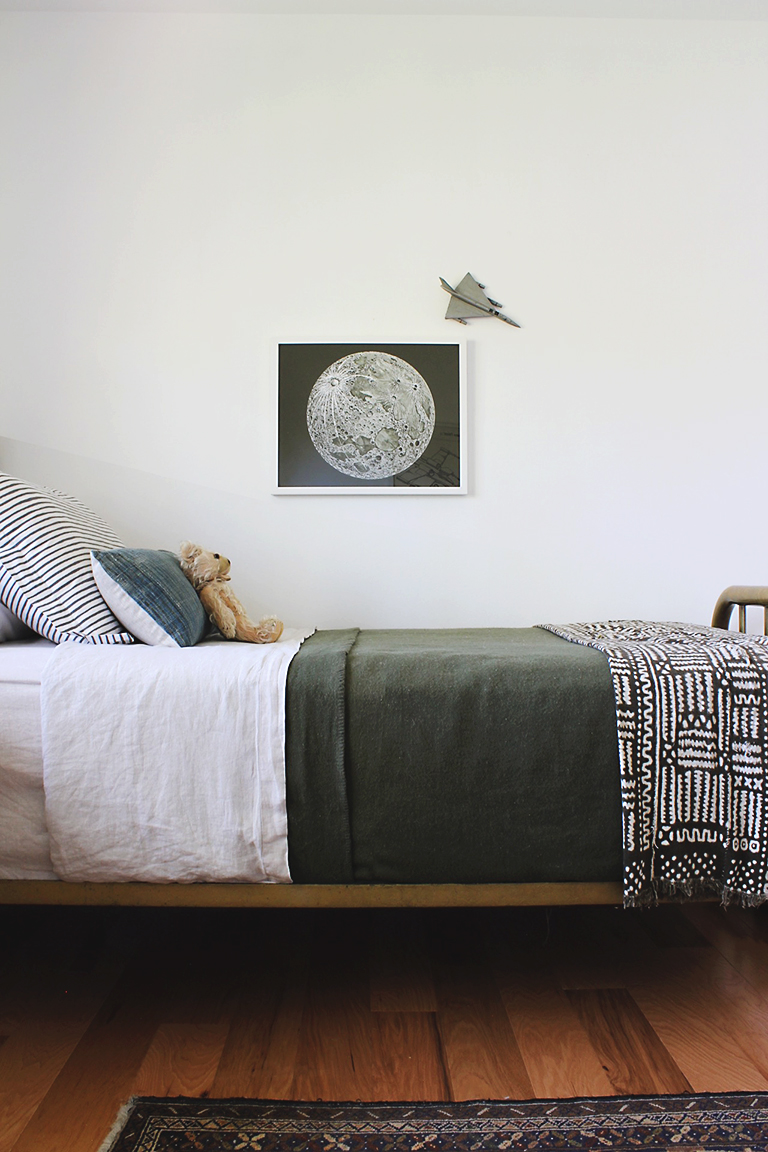 That cute little moon print arrived last week from Framebridge, and it's still looking adorable over the bed. Aaaand the X-Wing Fighter poster came this week and is all kinds of Star Wars-awesomeness: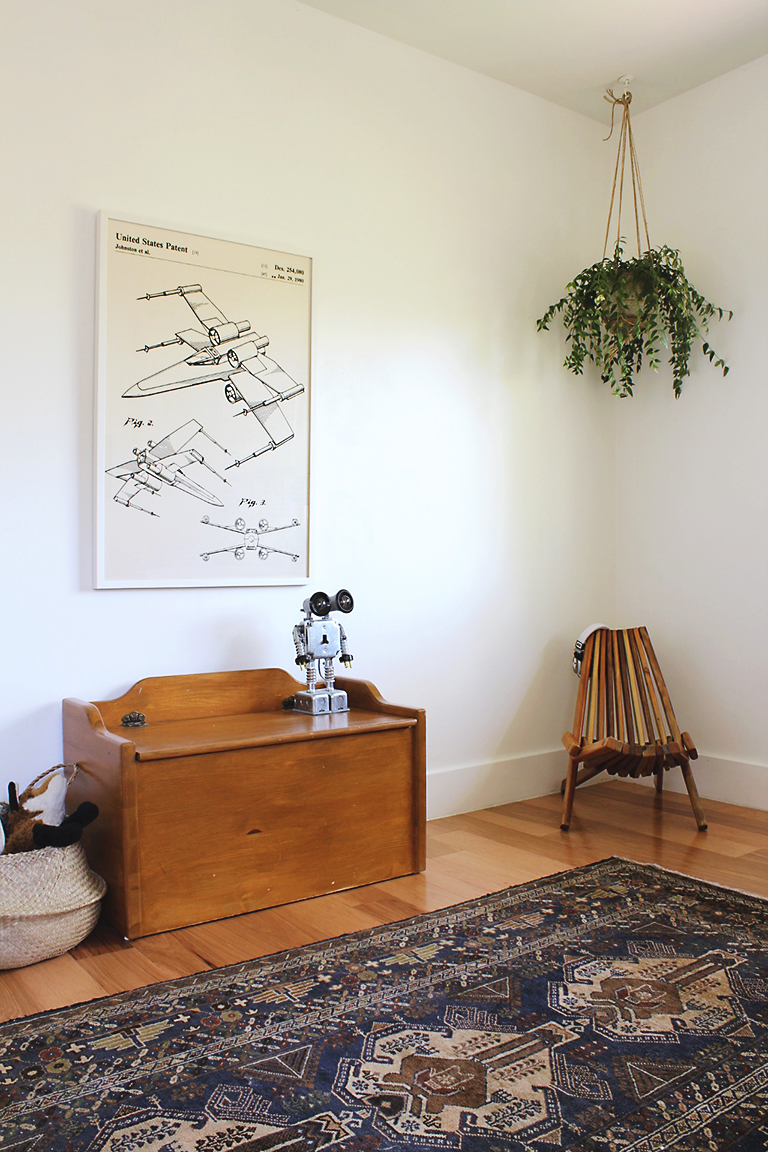 Michael's Etsy shop is full of patent prints that I think are a genius way to add some modern, minimal artwork to a nursery or kid's room. There are a bunch of Star Wars prints to choose from but Clinton picked the X-Wing — he also spent this morning "decorating" with his legos so I'm hoping there's a budding designer in there somewhere!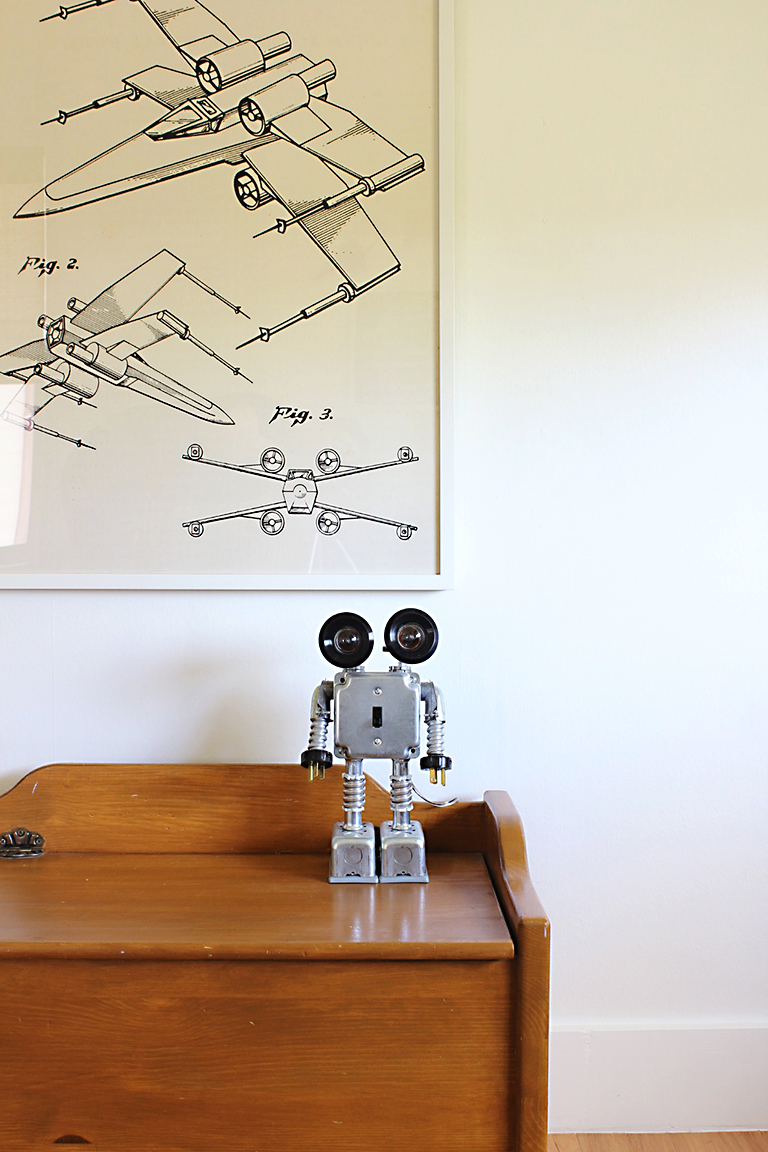 Framebridge was so easy to work with and crazy affordable — I've pretty much decided I'm never having something custom framed at a store again. And if you're like me and have a dozen unframed or outdated pieces stashed in your basement, now you can use code ANNABODE15 for 15% off your first purchase!
P.S. My mother-in-law gave Clinton this robot night light for Christmas, and his big Wall-E eyes make me melt…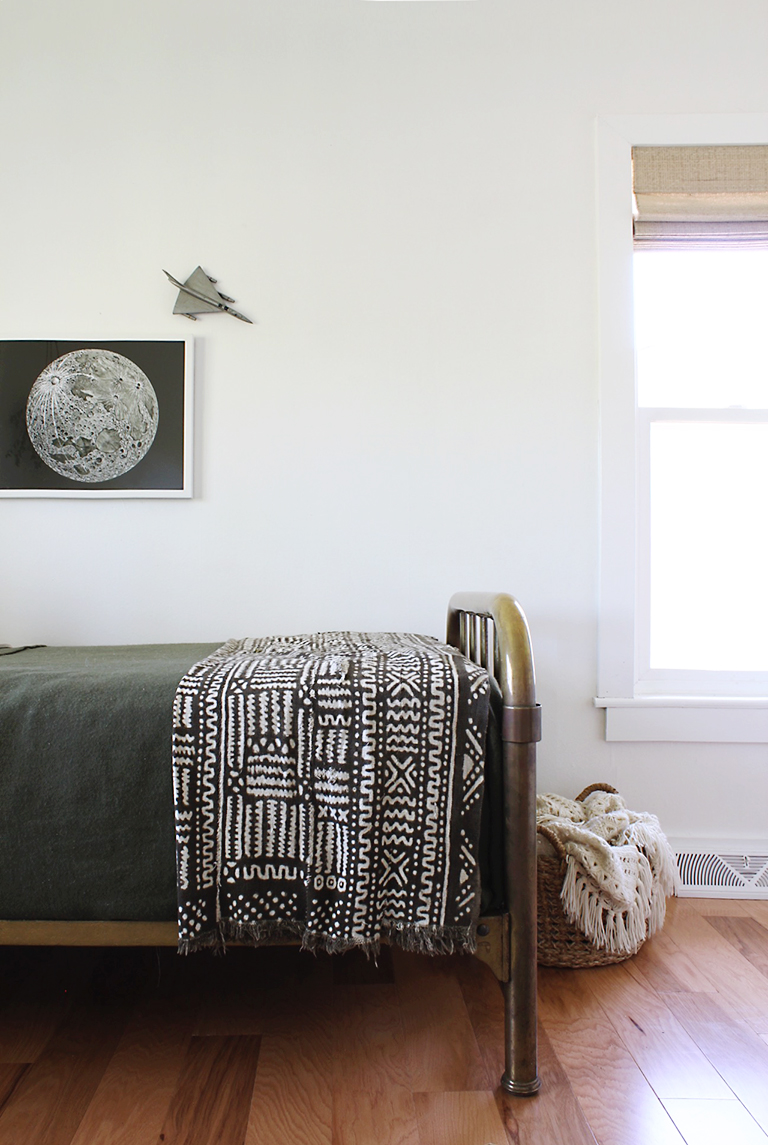 Confession time: I did not finish the closet. Thank you all so much for the helpful suggestions in the comments! I especially loved the ones about hanging his model airplanes or displaying a vintage flag — I've had my eye on Wild Standard for a while and am just dying for them to make a Denver flag (hint, hint you guys!).
Now prepare for an onslaught of photos. I tried my hand at using my camera on Manual for the first time and got a little giddy:
I added that folding chair at the last second to create a little spot for him to listen to his music (Star Wars, of course). My uncle brought it back for him from Belize when he was a baby, and it's been floating around our house ever since. Clinton's growing rock collection has found a home on the windowsill, while legos and blocks are in the toy chest and stuffed animals in the basket.
Clinton and I are both so happy with this new space! He finally has a comfortable space to play in and designated spots for all of his toys. I'm planning on finishing the closet in the next few weeks, so I'll post an update when it's finished. But for now, my work is done!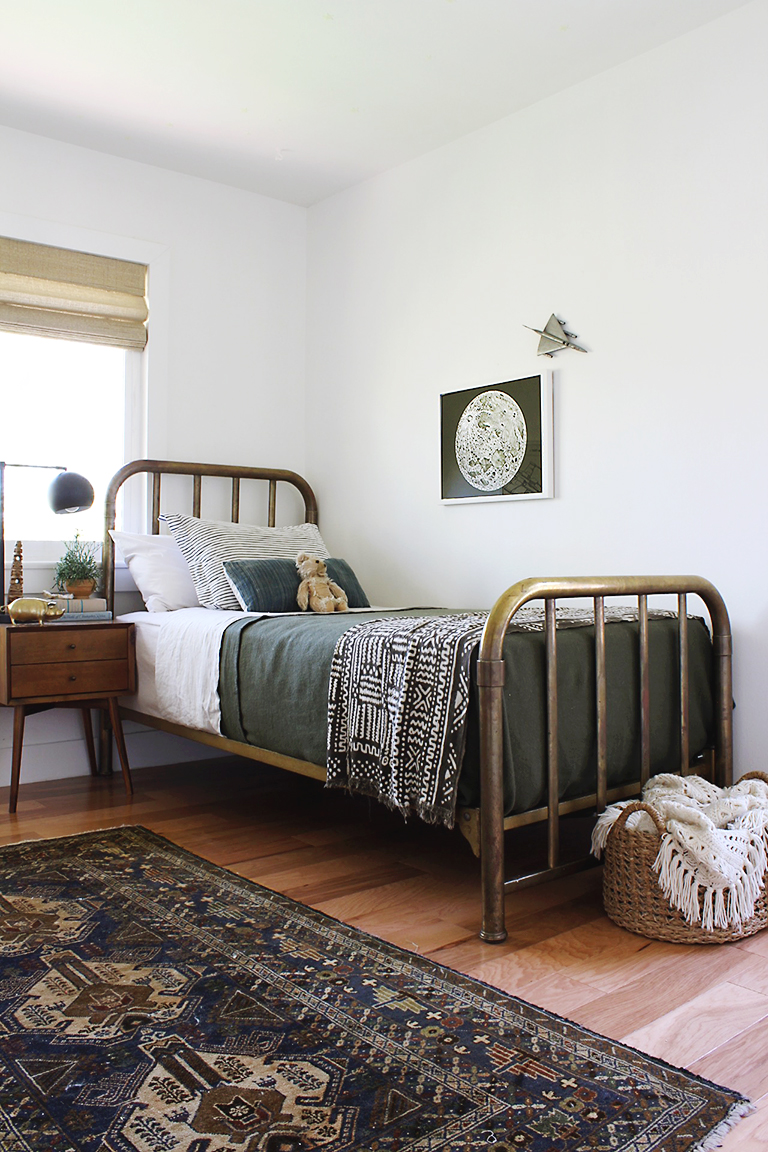 Here's how you can get the look:

SOURCES: Lamp, Target* // pillow sham, Schoolhouse Electric // throw pillow, Boho Pillow // basket, Tala Home Design // mud cloth, OBJEKTUM // Star Wars print, Michael Ellis Studios // blanket, Schoolhouse Electric // rug, Ecarpet Gallery // nightstand, West Elm // moon poster, ILKA Design // stick chair, Glo Dea
*Denotes an affiliate link. Thank you for supporting the brands that support Annabode + Co. and allow us to bring you new content and inspiration!
Now go and see all the other amazing room transformations over at Calling it Home – click the image below!