The One Room Challenge, Week 6: Modern Playroom REVEAL!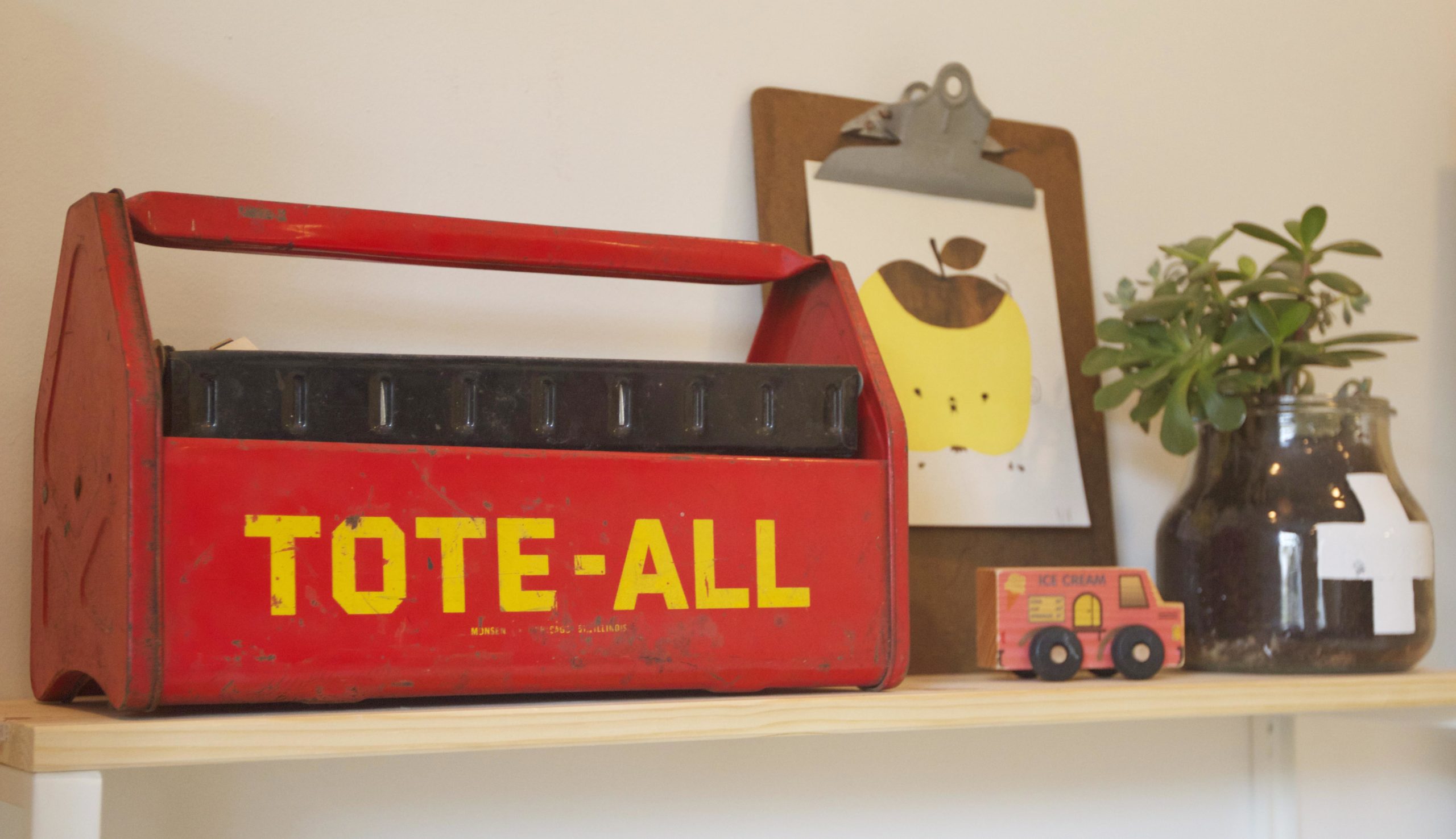 Dun dun-dun duuuuun! It's HERE.  The big, epic, room reveal!  After lots of running around yesterday and some rather frantic sewing, I can finally say this playroom is FINISHED.  Sound the hallelujahs!
I now understand why Linda named it the One Room Challenge.  Creating an entirely new room in six weeks is a tall order!  I actually joined the link-up a week late, so yesterday morning I was really feeling the pressure.  I loved seeing all the photos from my fellow ORCers on instagram, and the encouragement I received there really kept me going! (You can see the shots with the hashtag #oneroomchallenge–and don't forget to follow me while you're there.)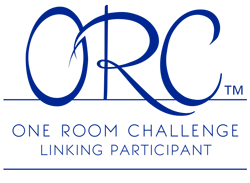 See the project from the beginning:
So–if we hark back to six five weeks ago–here is what the room looked like before: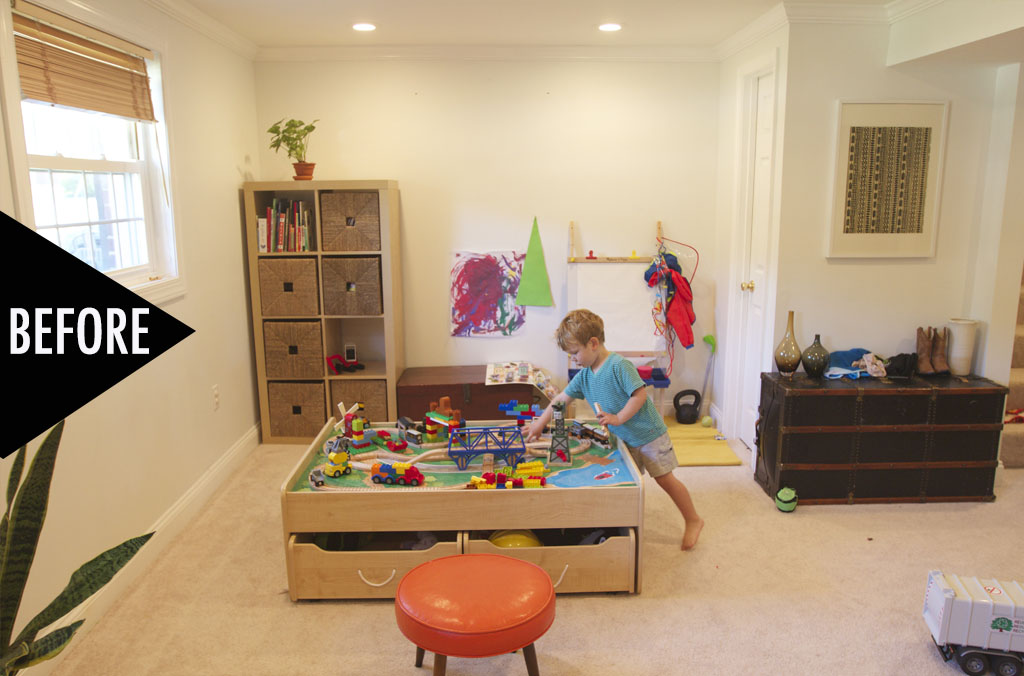 And here is what it looks like today!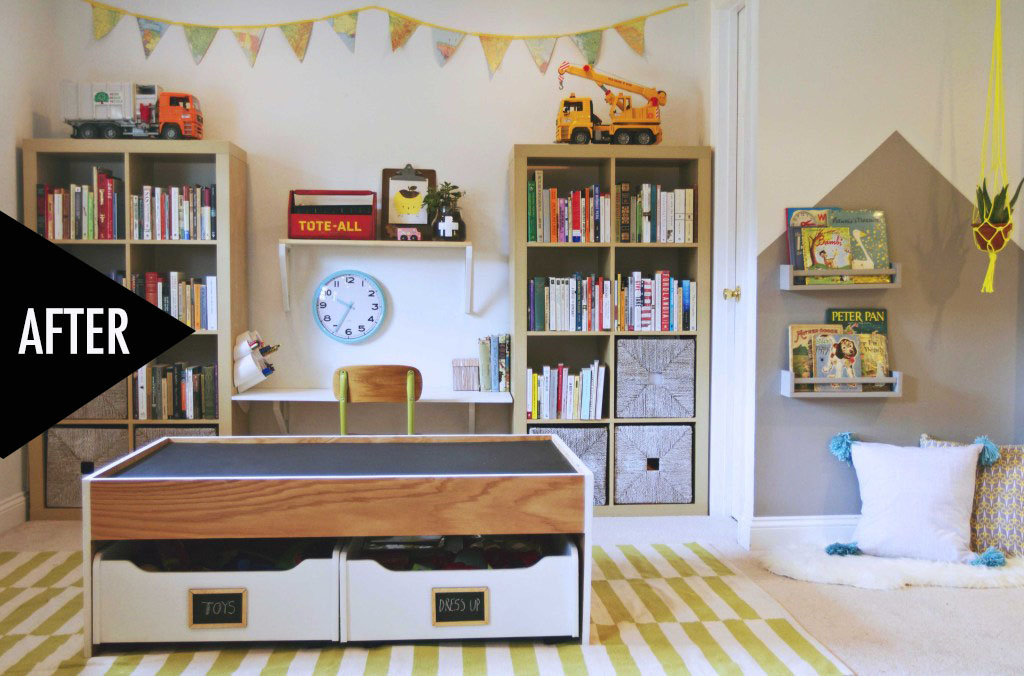 Big difference! I tried to keep it modern, maximize storage space, and throw in a vintage schoolhouse vibe.  My absolute favorite part of this room is the little reading nook in the far corner…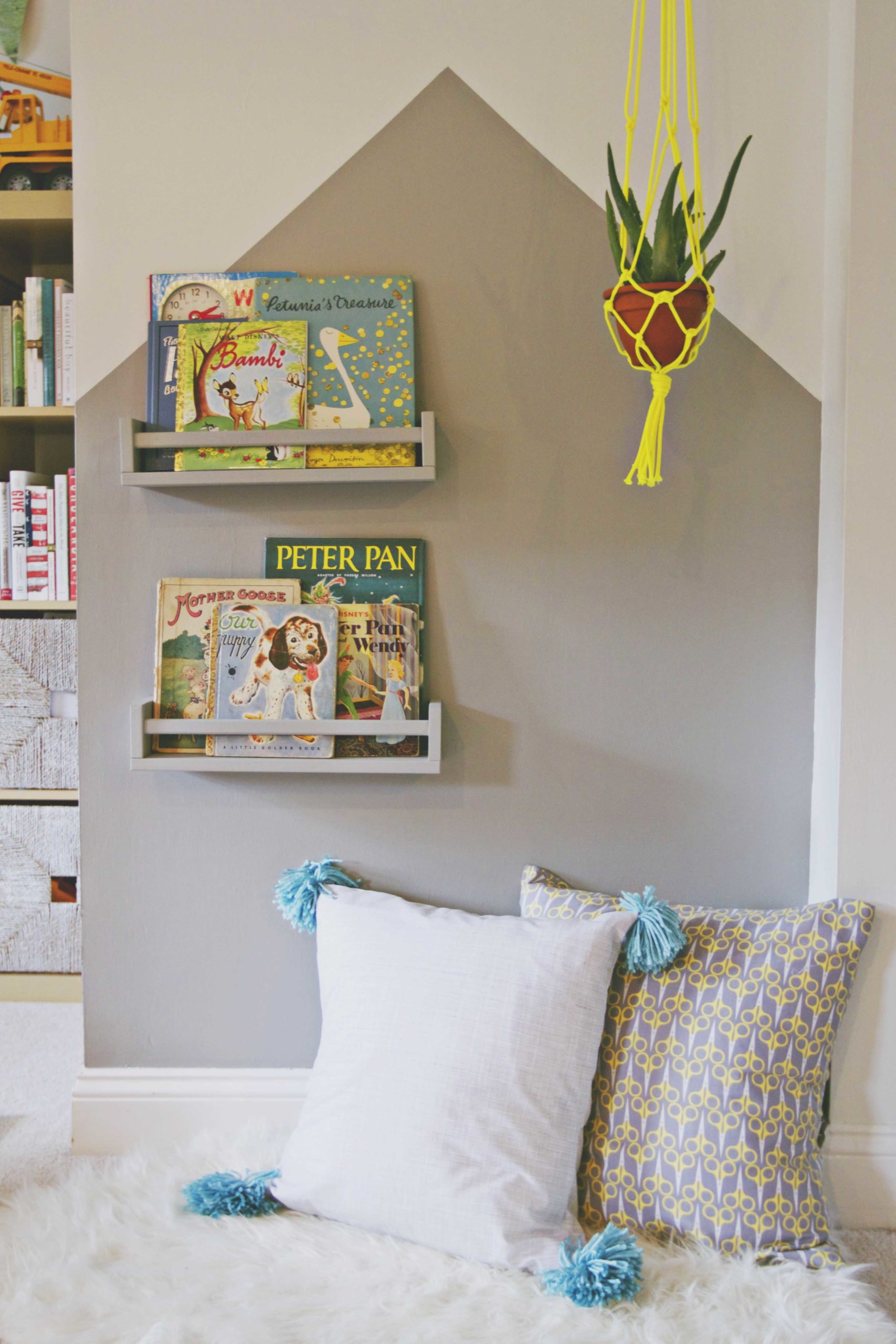 All it took to create this was a sample of gray paint, two Ikea spice racks ($4 each!), some nylon cord, and a little fabric from Joann.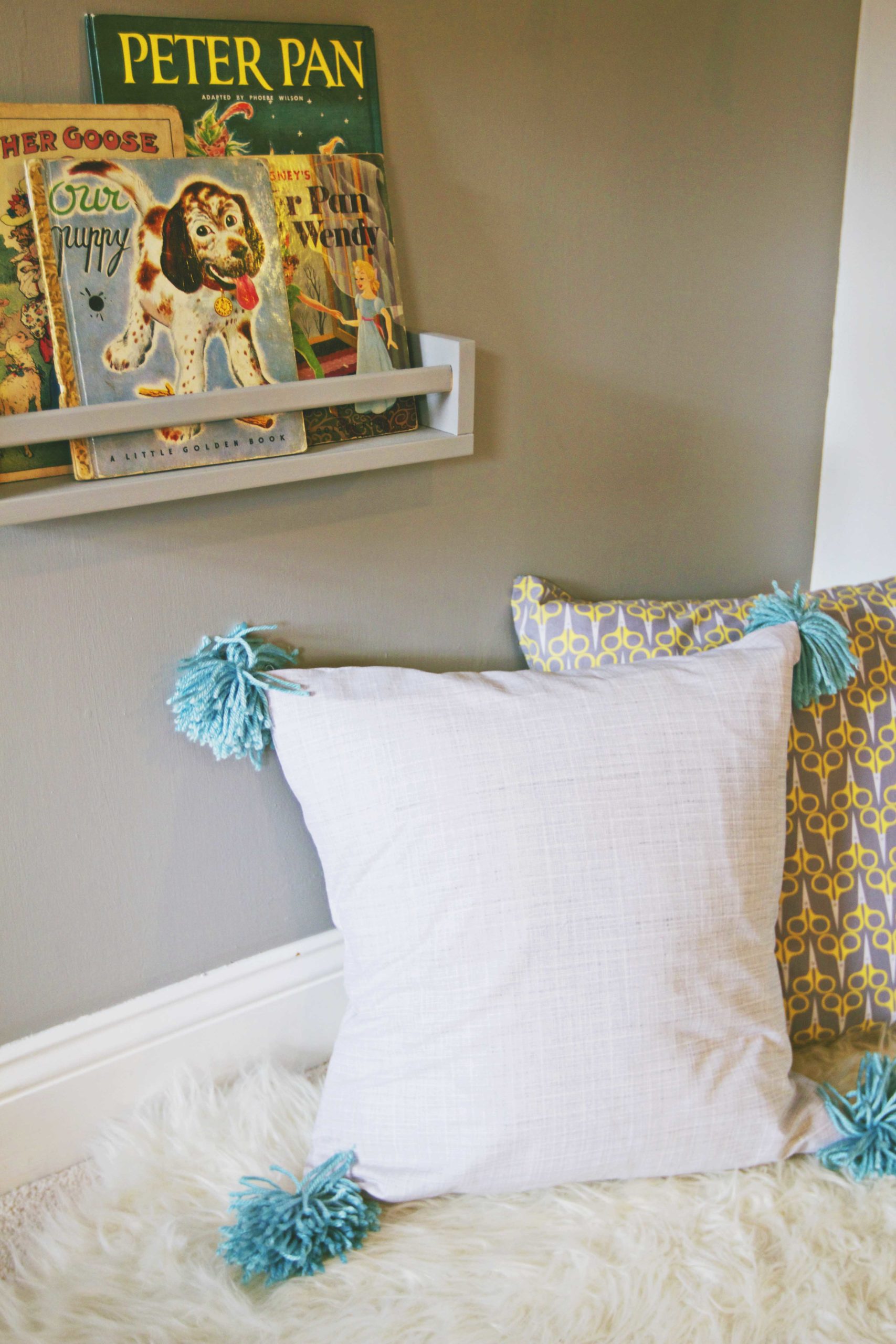 The pom-poms and pillows were a DIY that I will have up on the blog later this month.  They were so much fun to make… nothing like a good pom-pom to brighten your day!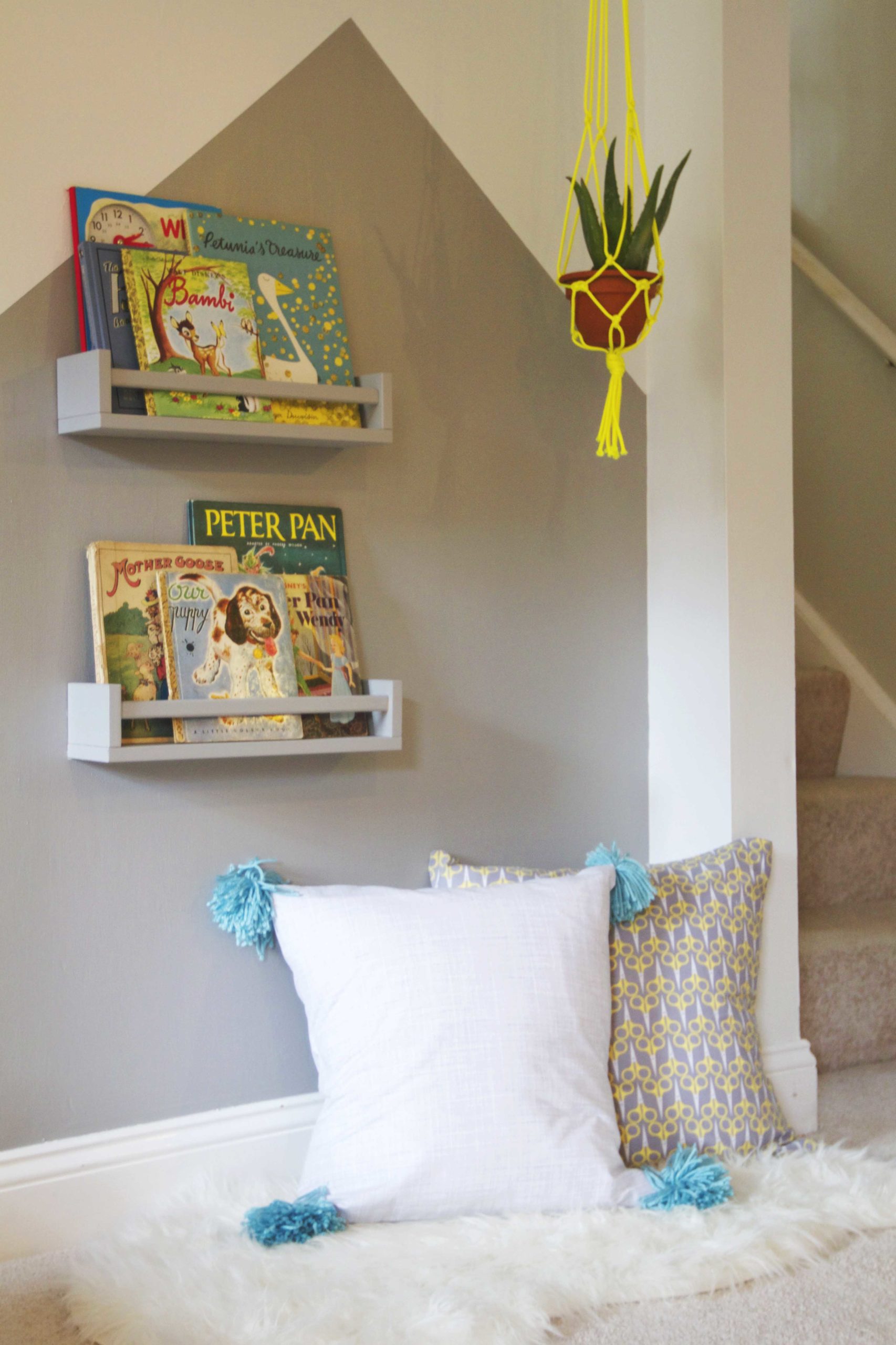 The vintage books are straight off of my parents' bookshelves, and the macramé plant hanger was another DIY.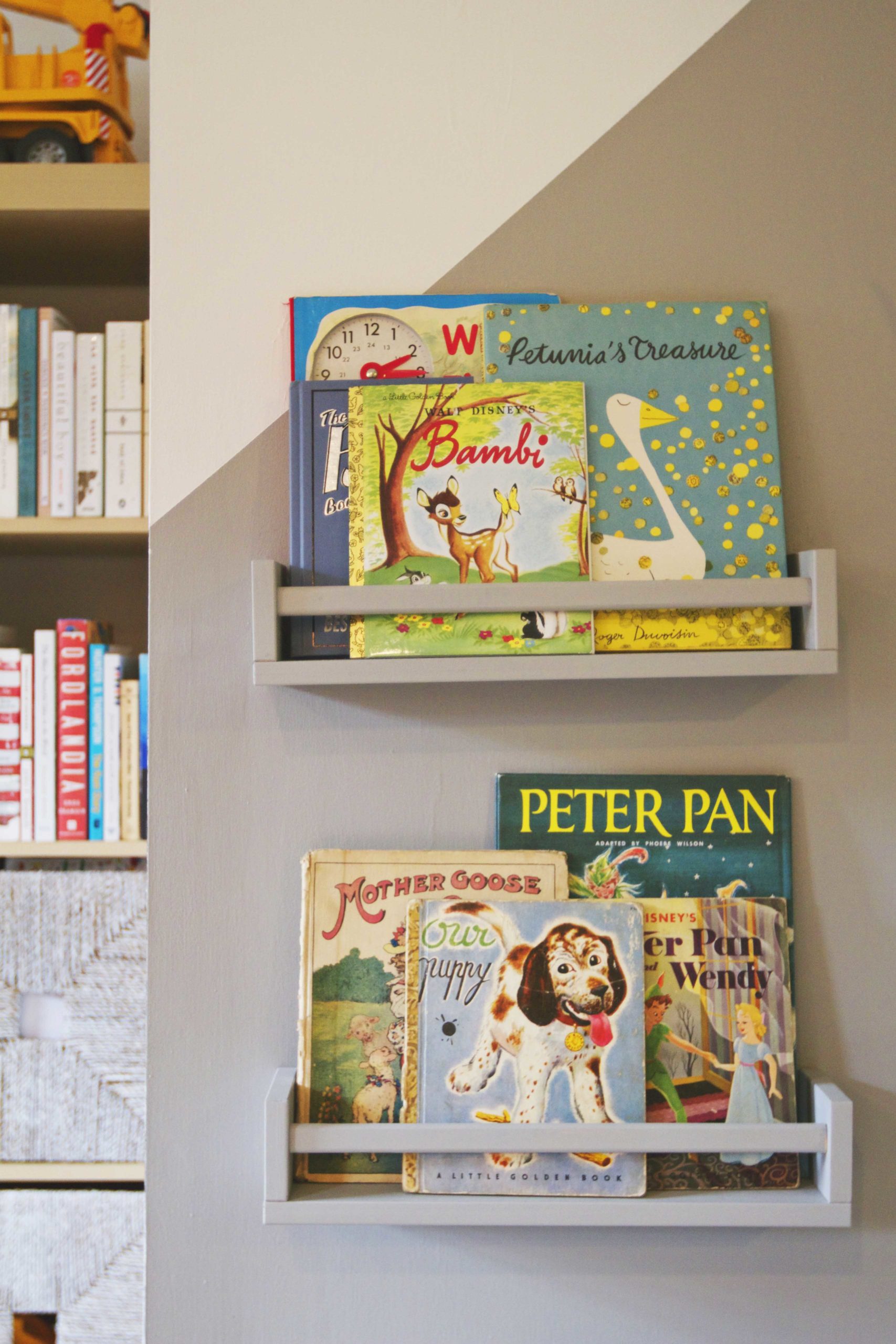 Recognize that plant?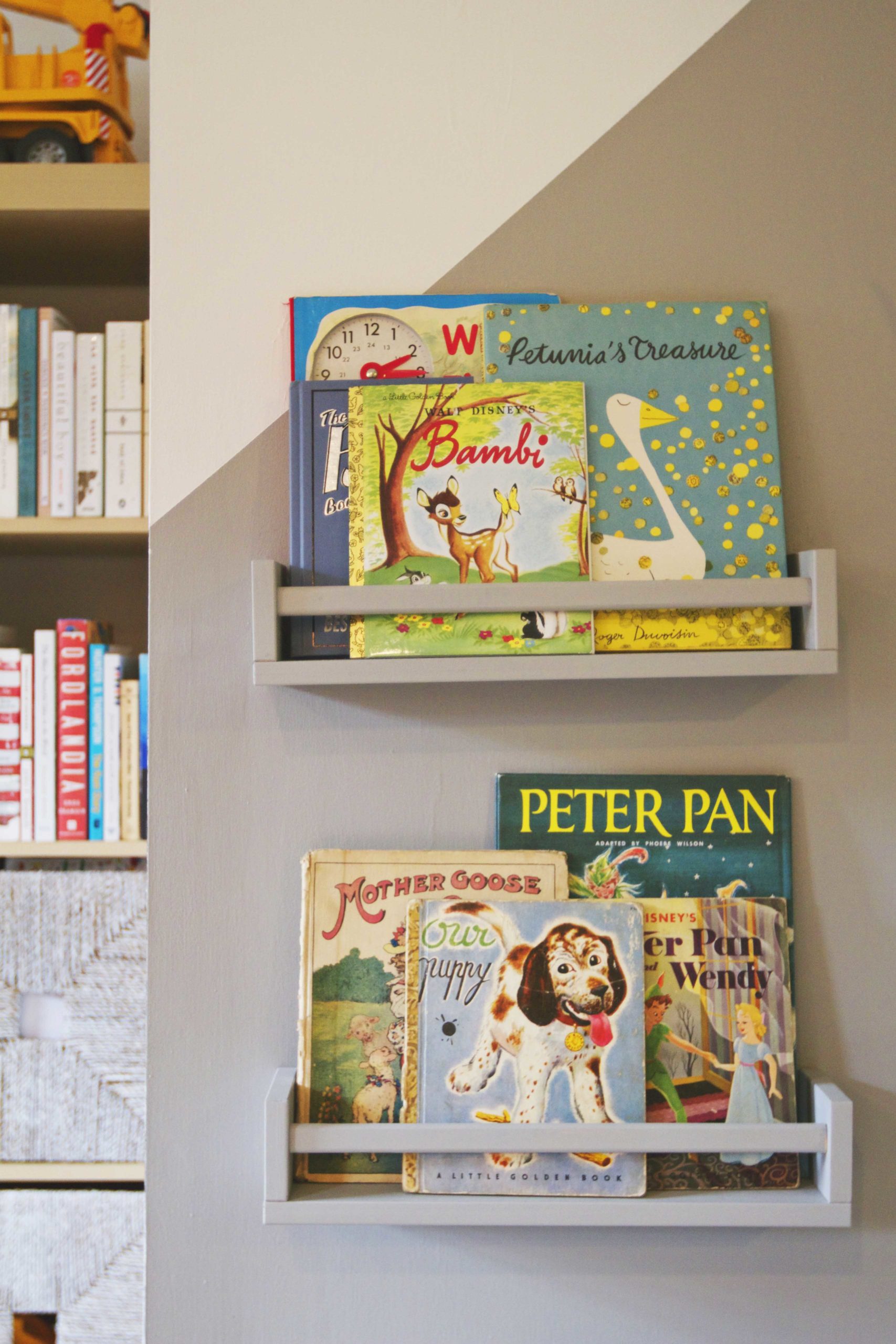 This is quickly becoming the most-used spot in the room.  Not only is it a great place for us to have some quiet time and read, but I like to plop down on the pillows while C is at his train table.  Plus our puppy, Ruby, loooooves that sheepskin!
And now for the rest: here's an end shot of the train/activity table that I built last week.  The wood grain is really beautiful, even though it's actually made of plywood.  That DIY will be up on the blog this month as well, so stay tuned.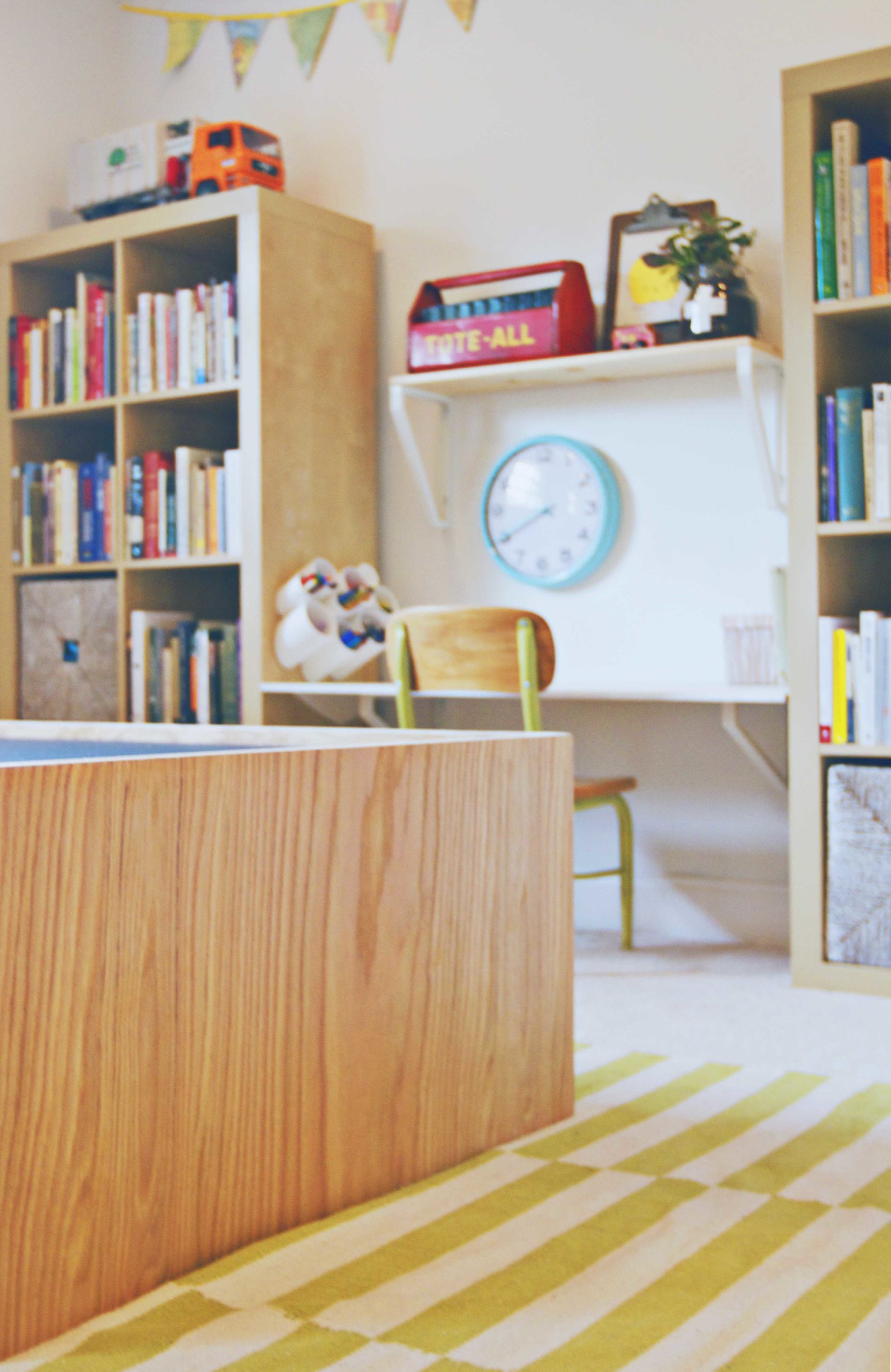 I built C's desk with some leftover plywood from my laundry room project.  I also found this cute vintage chair at Sweet Clover Barn, as well as the fabulous red Tote-All which now houses C's stamps and ink.  The chair had been painted with white chalk paint, so I sanded, stained, and spray-painted it green to bring back some of its original style.  Quite a lot of work went into this little space!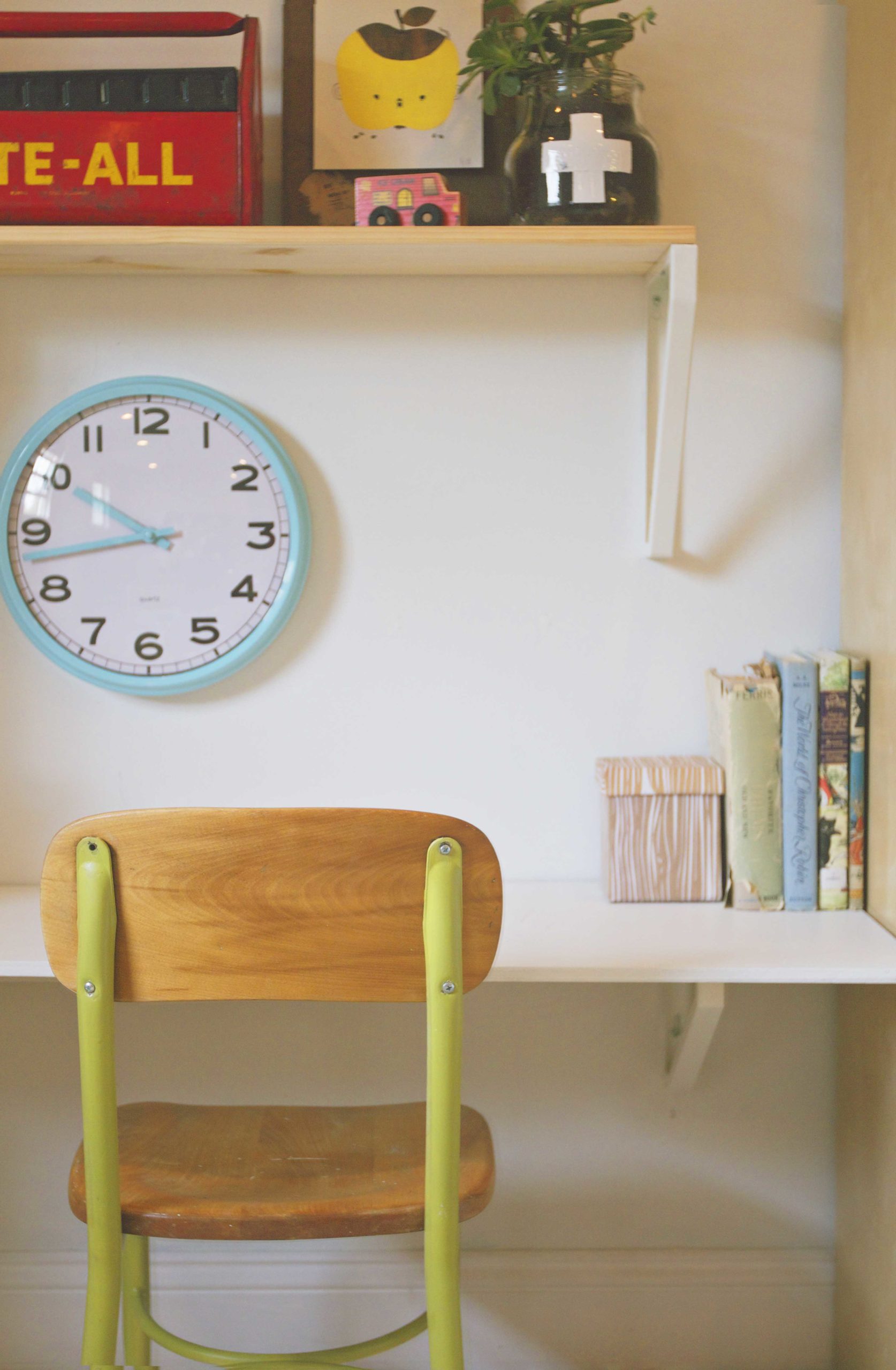 Speaking of spray paint, I also attacked this Ikea clock and added a Swiss cross to the planter.  I thought about spraying the cubby holes black….but ran out of time.  Perhaps that will come later.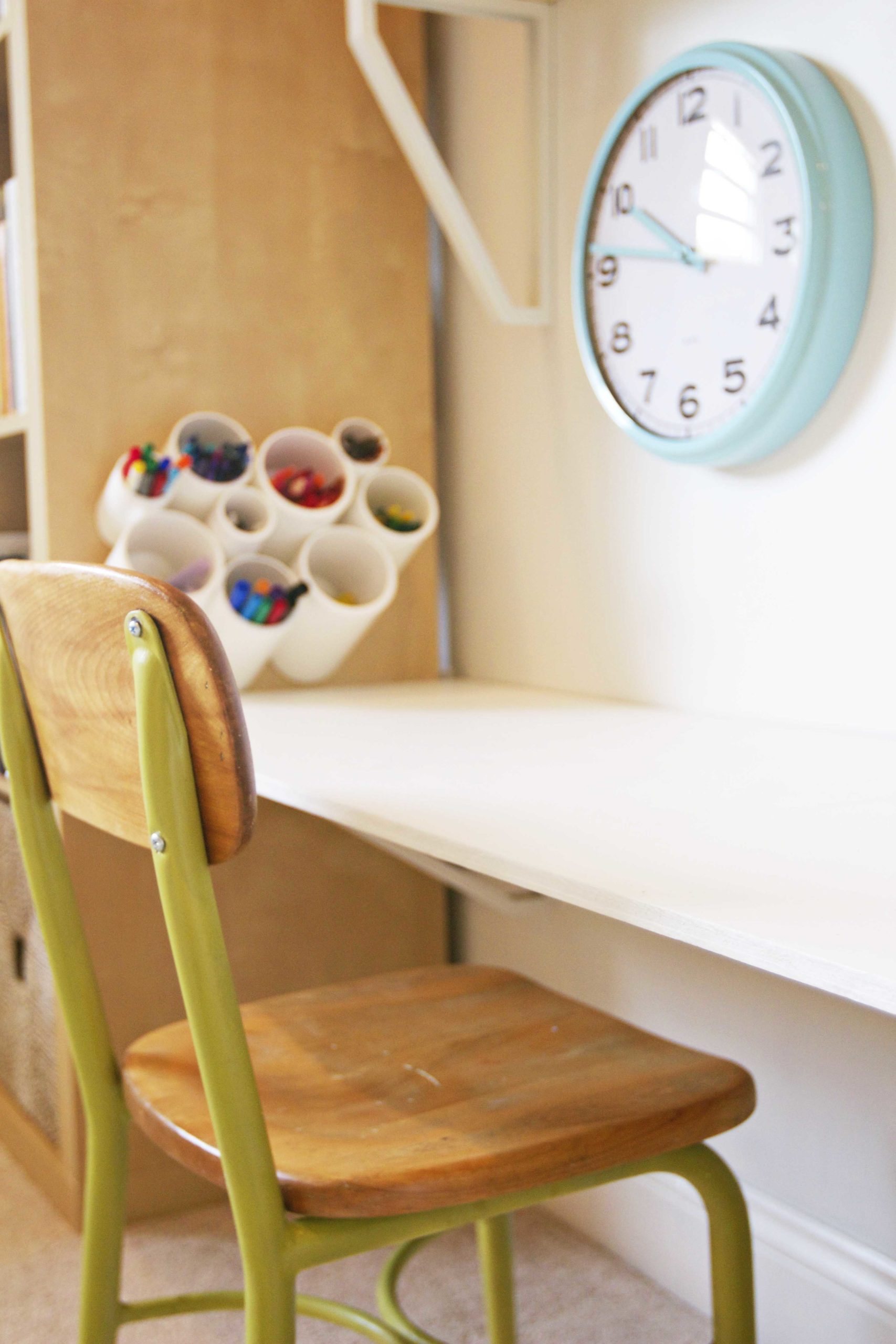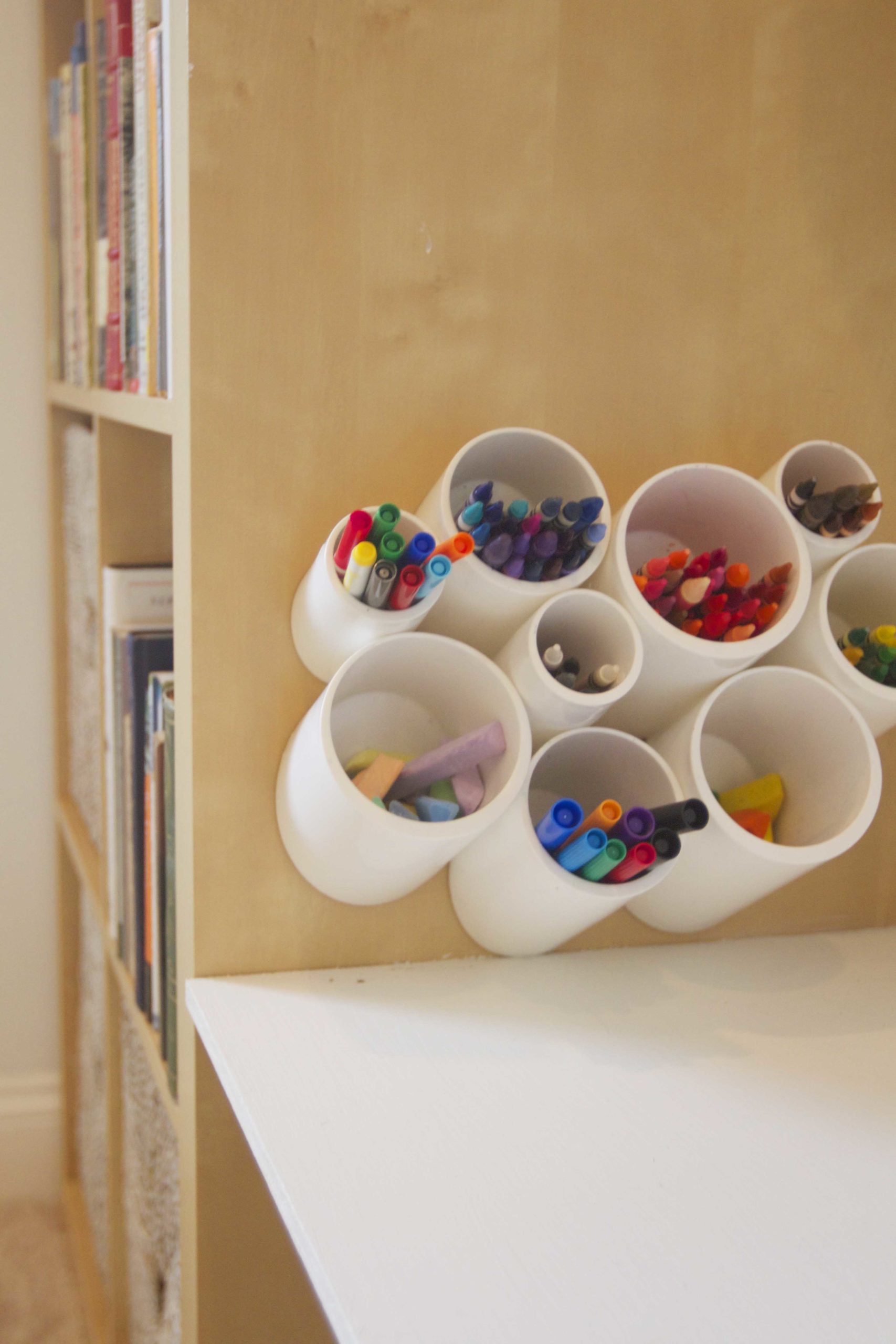 And now I'll shut up so you can enjoy the photos!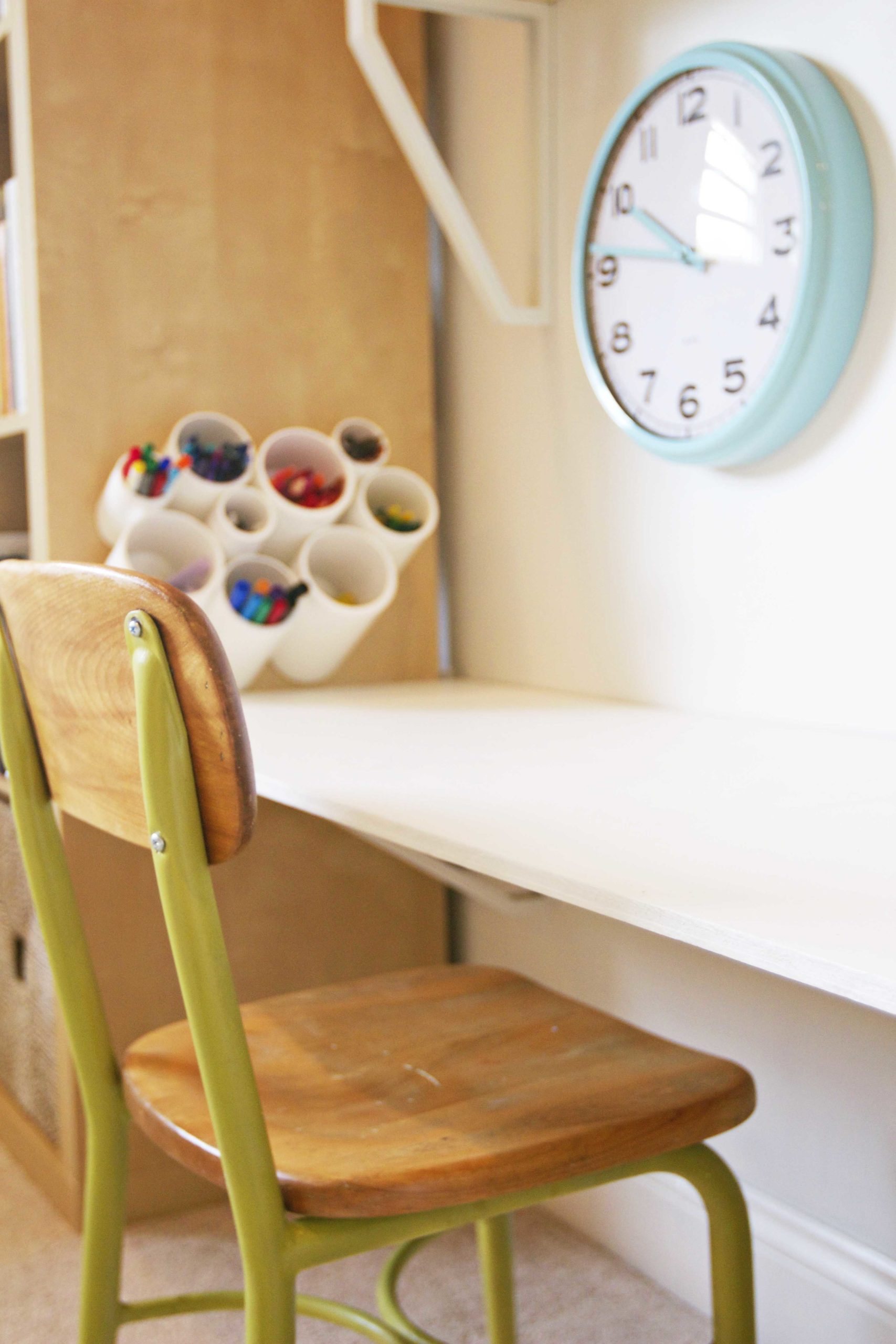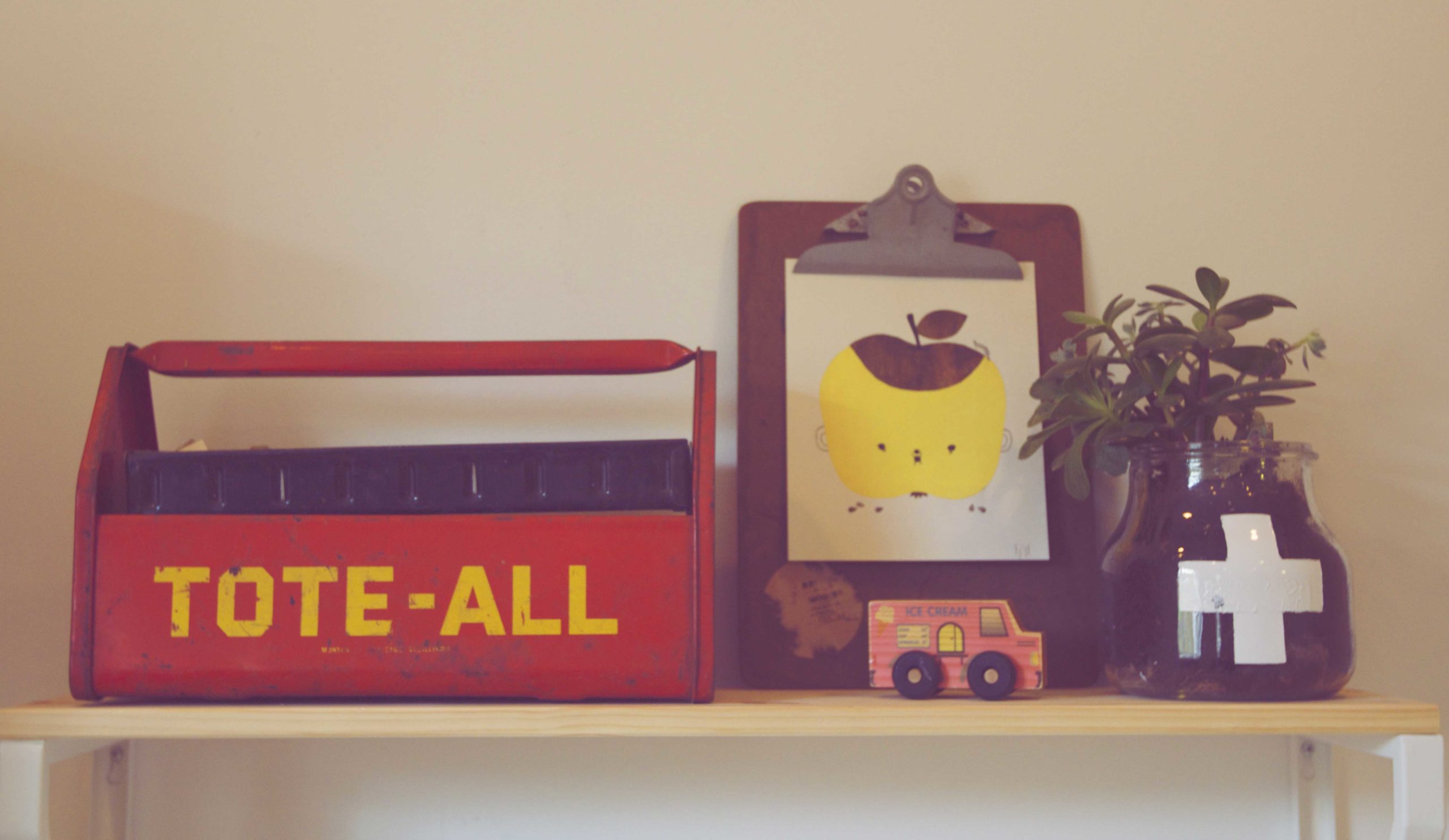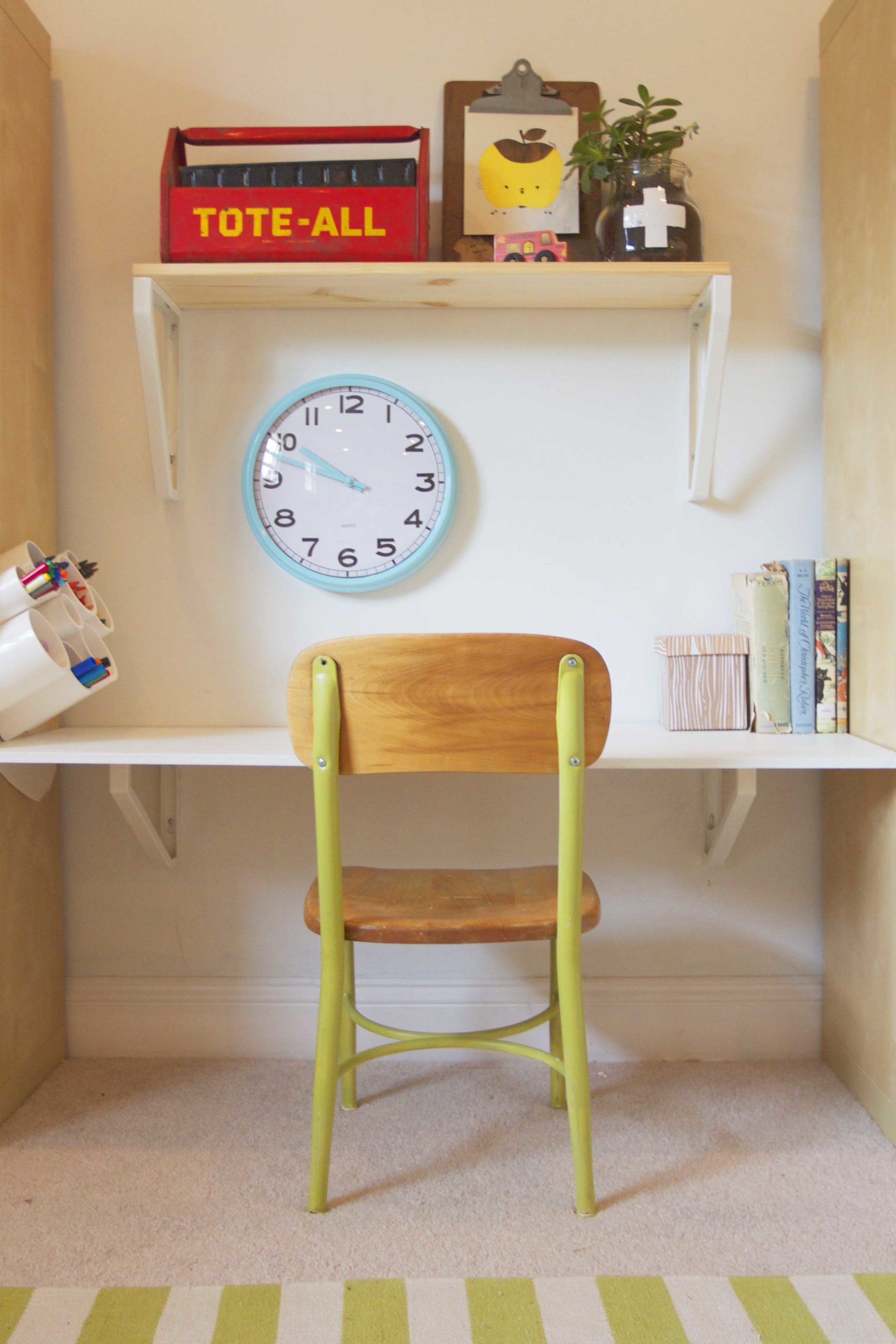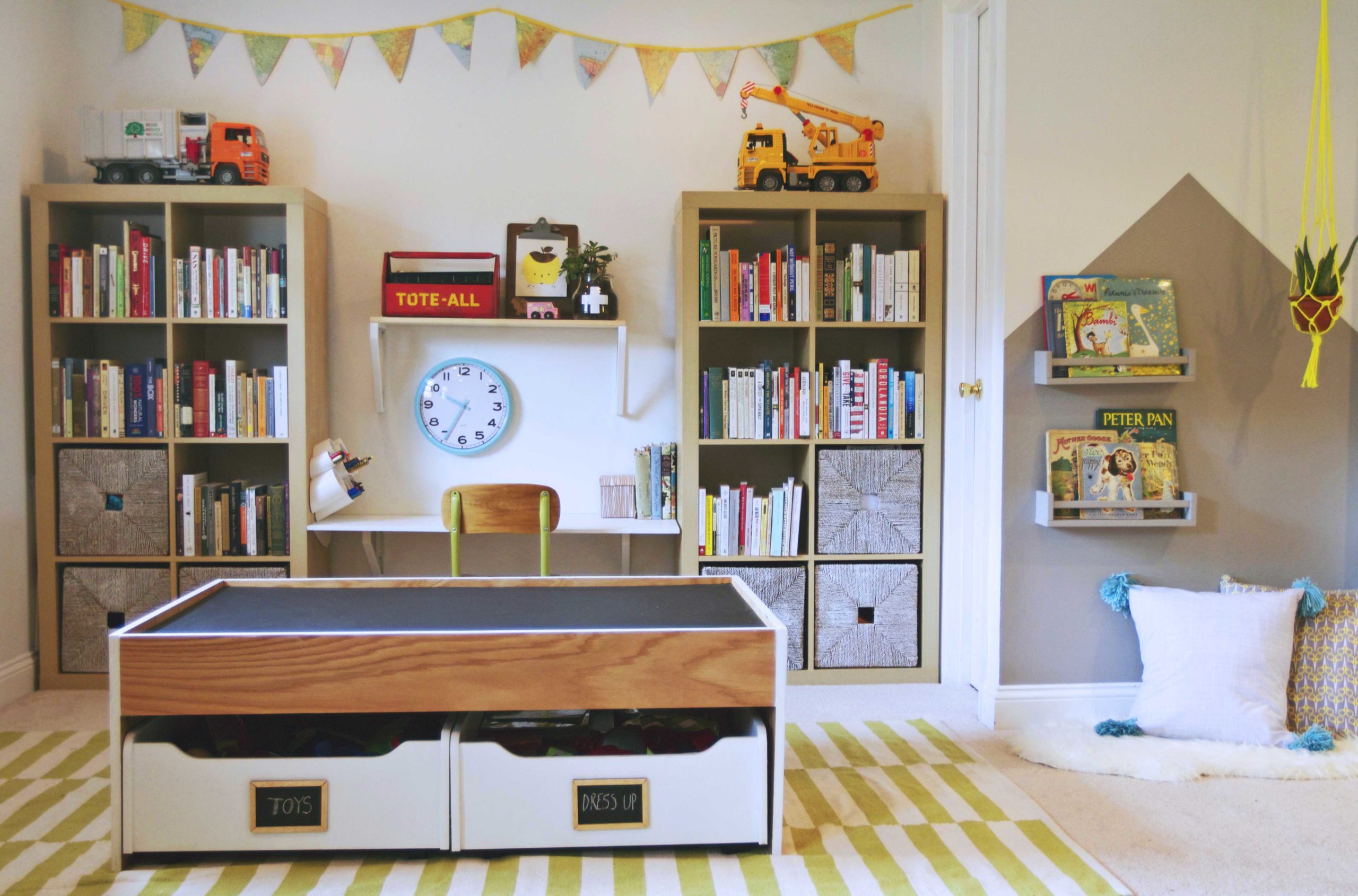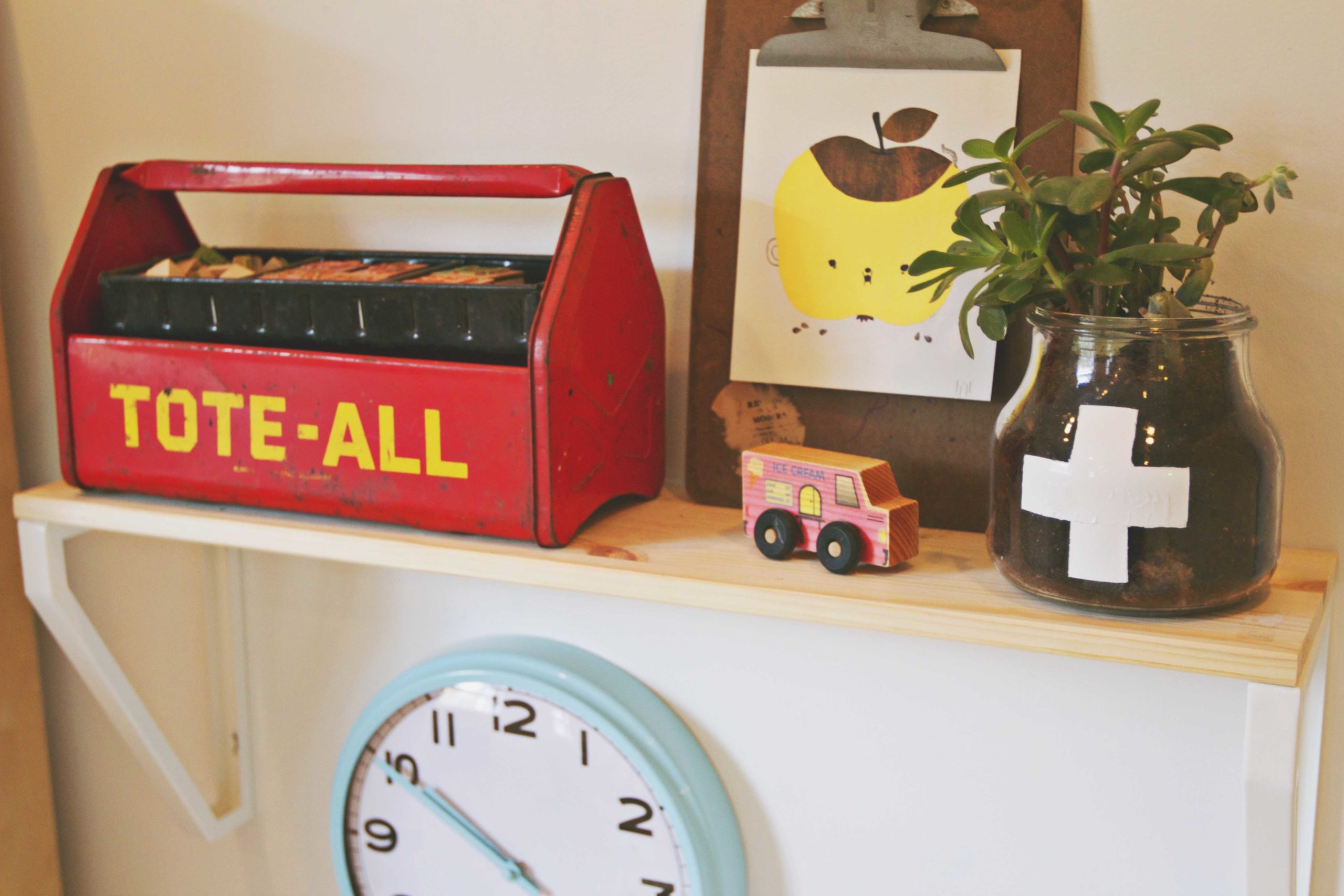 In my original plan, I wanted to make a magnet board for the far left wall.  Unfortunately I ran out of time, but hopefully that will become another project to complete this winter!
I'd love to hear your thoughts and opinions on this space.  What works? What doesn't? Leave a comment in the box below or by clicking the link at the top of the post.  And as always, DON'T forget to check out all the other incredible rooms (90+) over at Calling it Home and share your favorites!
Product Guide: BEKVÄM Spice Racks, Ikea, $3.99 each // TEJN Faux Sheepskin, Ikea, $9.99 // Fabric from Joann // Striped Dhurrie Rug, World Market, $129.99 (I snagged this on sale for $109.99) // EKBY LERBERG Brackets, Ikea, $2.00 each // Vintage School Chair, Tote-All, and Clipboard, Sweet Clover Barn // PUGG Wall Clock, Ikea, $10.99 // ENSIDIG Vase, Ikea, $3.99 // KALLAX Shelving Unit, Ikea, $64.99 (I purchased mine on Craigslist) // KNIPSA Baskets, Ikea, $14.99 // Cubby Cups, Land of Nod, $24.95 // Faux-Bois Gift Box, Paper Source, $6.95 //