This "Star Wars" Thing is Going to Happen: ORC Week 5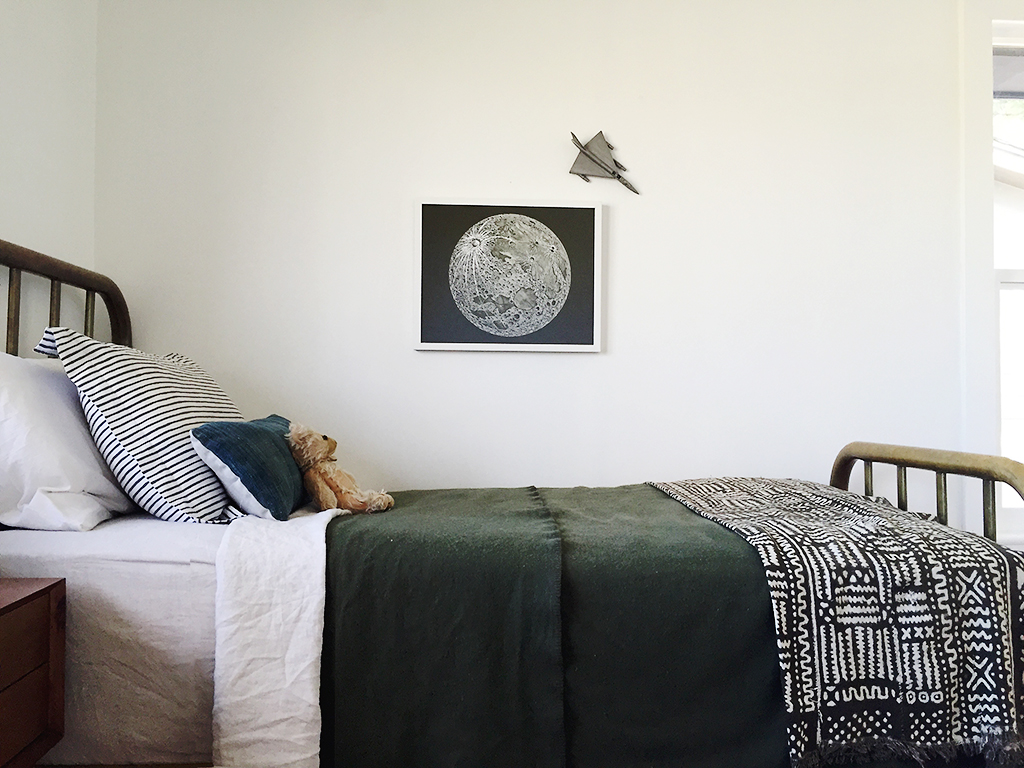 It's week 5 of the One Room Challenge and my son's room is nearly there! I totally missed posting last week but hey, life got in the way (and to be honest I didn't have much to show for myself). The room is 99% finished now but that closet is giving me hell…more on that later. Let's dive in!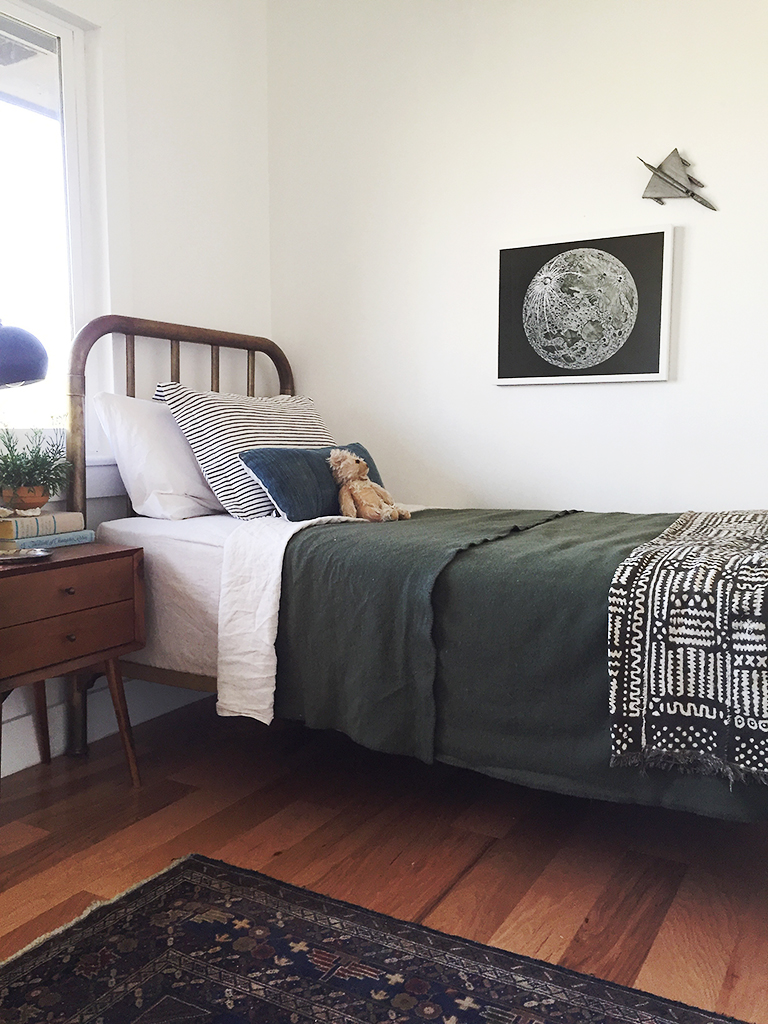 This post was sponsored by Framebridge but all opinions are my own. Thank you for supporting the brands that support Annabode + Co. and allow us to bring you new content and inspiration!
As you know, Clinton requested his room be Star Wars-themed and I was determined to work it in in a way that felt authentic and natural to our home. In general I'm not a fan of "themed" nurseries or kids' rooms so I needed it to be subtle while still making my five-year-old a happy camper. I ordered this X-wing Fighter patent print from Michael Ellis Studios as well as this Full Moon poster from ILKA Design, and since I'd heard so much about Framebridge I thought this would be the perfect time to give it a try!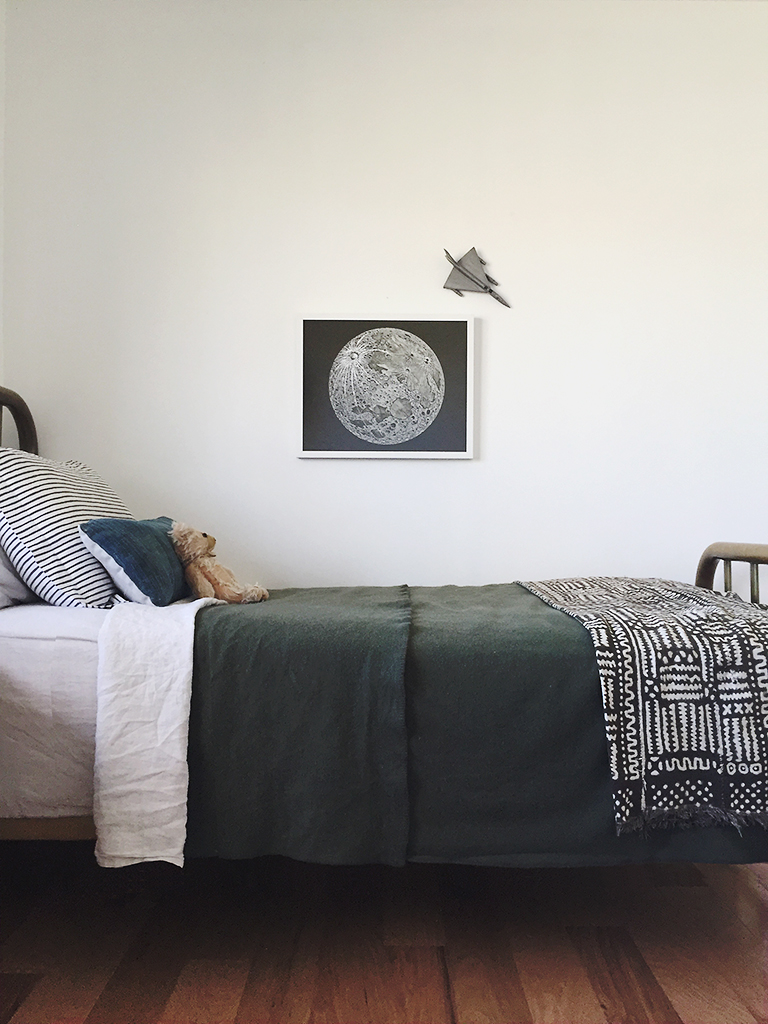 The ordering process was really simple – I uploaded the artwork onto their site and picked the frame that looked best (I chose white Irvine slim with no mat for a clean, modern look). Since the moon print was a download they were actually able to print and frame it on site, which was awesome!
The X-wing Fighter was professionally printed elsewhere, but Framebridge gave me a printable shipping label so all I had to do once it arrived was slap it on and send it back out again. That one has yet to arrive, but the moon print is here and it is just adorable: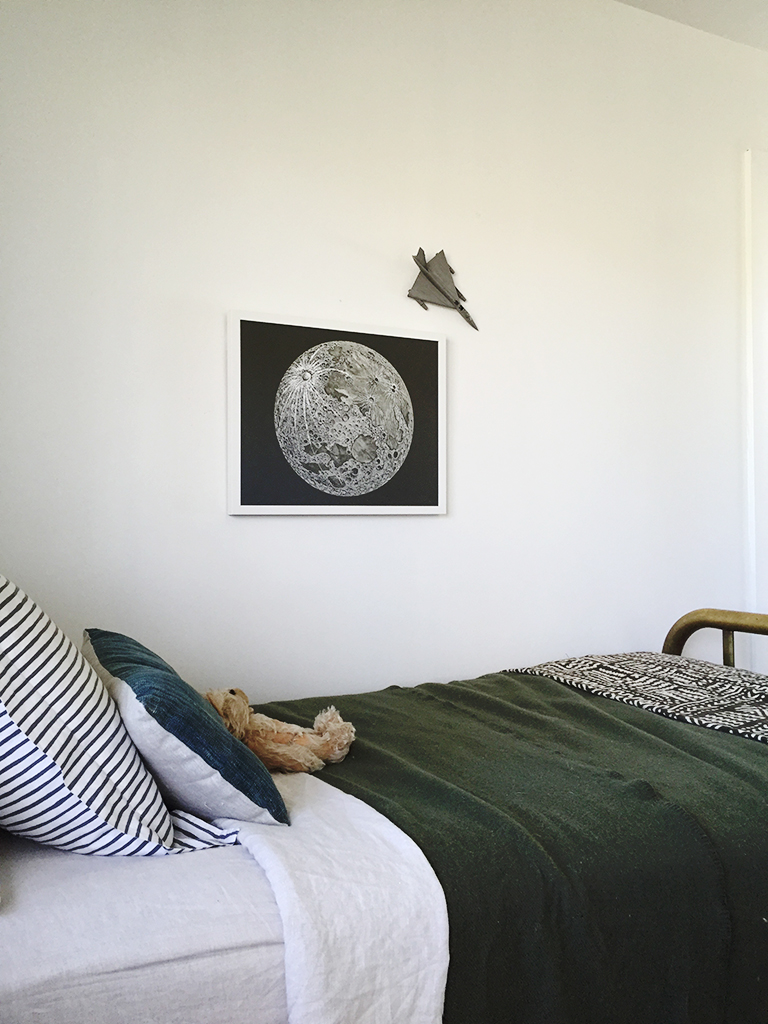 Truth time: I originally intended this print to go in the closet with another larger one, so it's actually on the smaller side. But the wall by his bed was looking a little empty so on a whim I tried it there and loved it. I had several old model planes floating around his room too, so I stuck one up to give it a little more weight and now I kind of love how it "orbits" the print. The room was feeling a little too grown-up anyways, so that little bit of whimsy was just what it needed.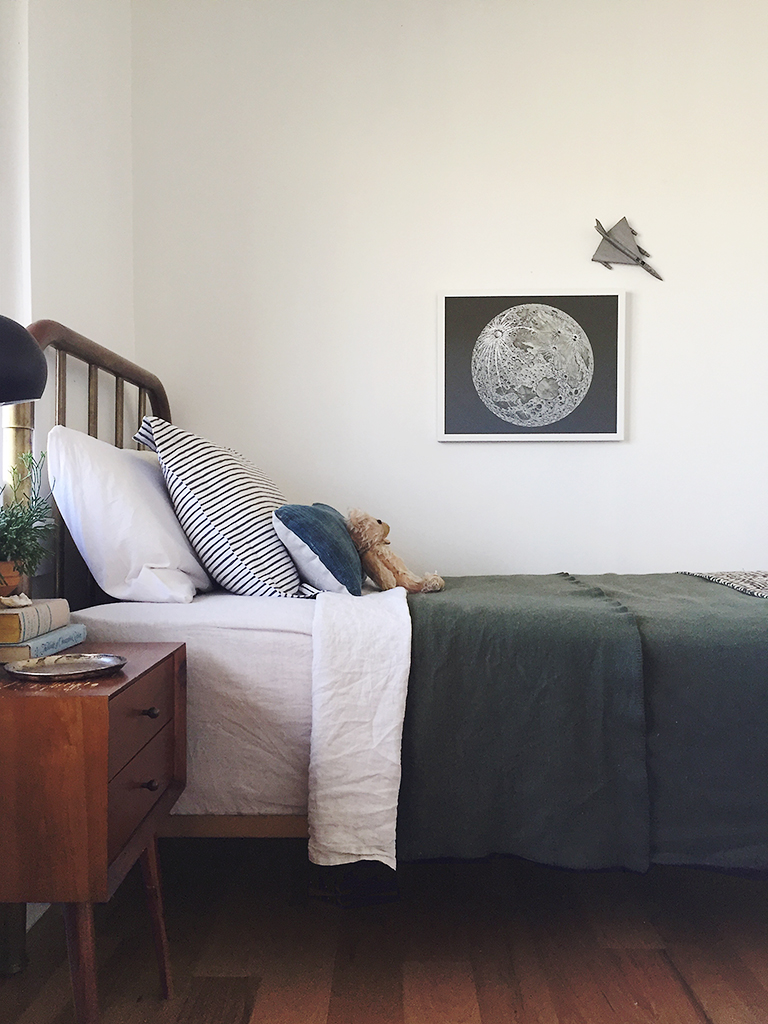 Framebridge was really just lovely to use, and as I mentioned on Instagram their customer service was fantastic. I was so worried the prints wouldn't get here before the big reveal so I'm afraid I sent a lot of frantic emails to the customer service team and definitely changed shipping speeds a few times. Everyone I talked to was super polite and all my inquiries were responded to in under 24 hours. The frame seems like it's very good quality too; my only complaint is that the acrylic is super reflective which certainly made it tricky snapping these photos…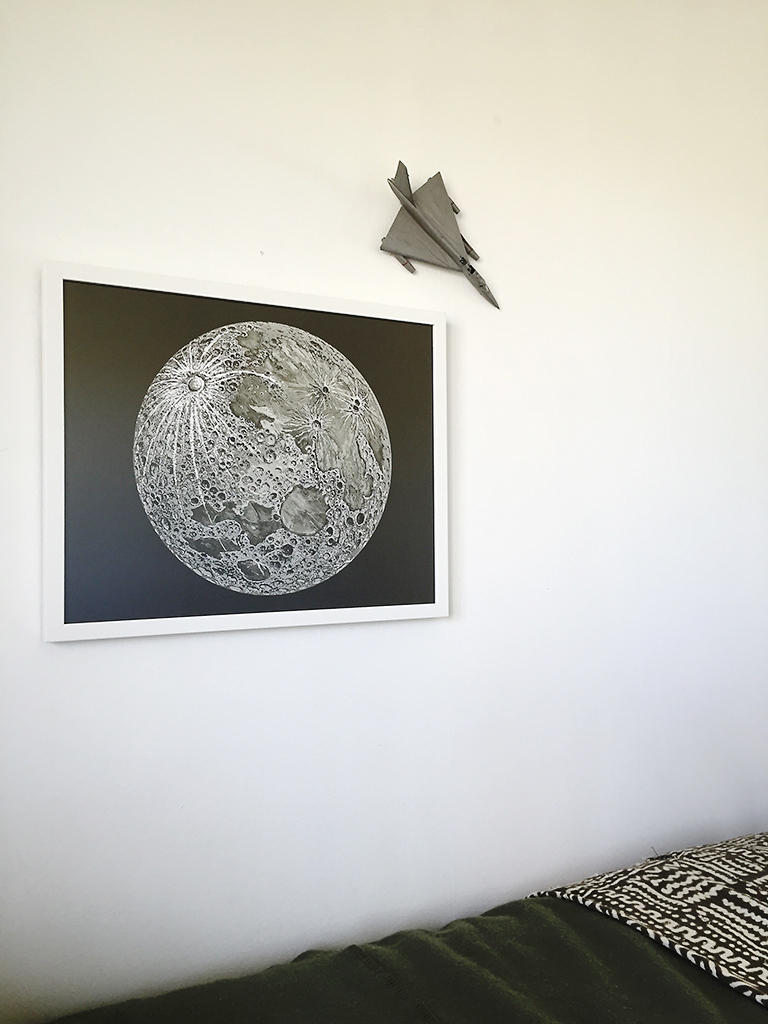 In the past I've spent way more on framing than what I was actually putting in the frame, which I always thought was ridiculous. All-in-all, Framebridge was such an awesome affordable choice and I'm definitely going to be using them from now on! What's more, because I love you guys (and because they love you too), you can now use code ANNABODE15 to receive 15% off your first order!
Now on to this stupid closet. It really is driving me crazy.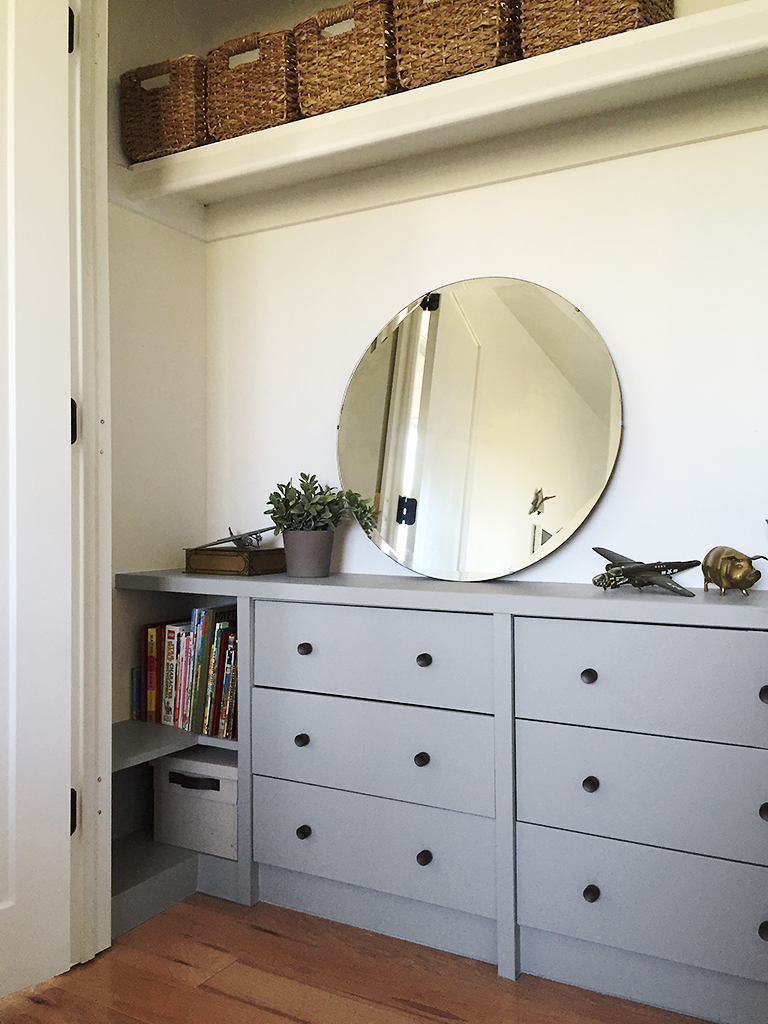 If you remember from two weeks ago, I had finished turning our two IKEA dressers into built-ins – that part was fine and dandy. Then I had a mini meltdown over paint colors and at the last second decided on Sea Haze by Benjamin Moore. That's what's on there now, and I hate it. Mostly because 50% of the time it looks very much BLUE and not the soft muted gray I was hoping for. Mistake number one!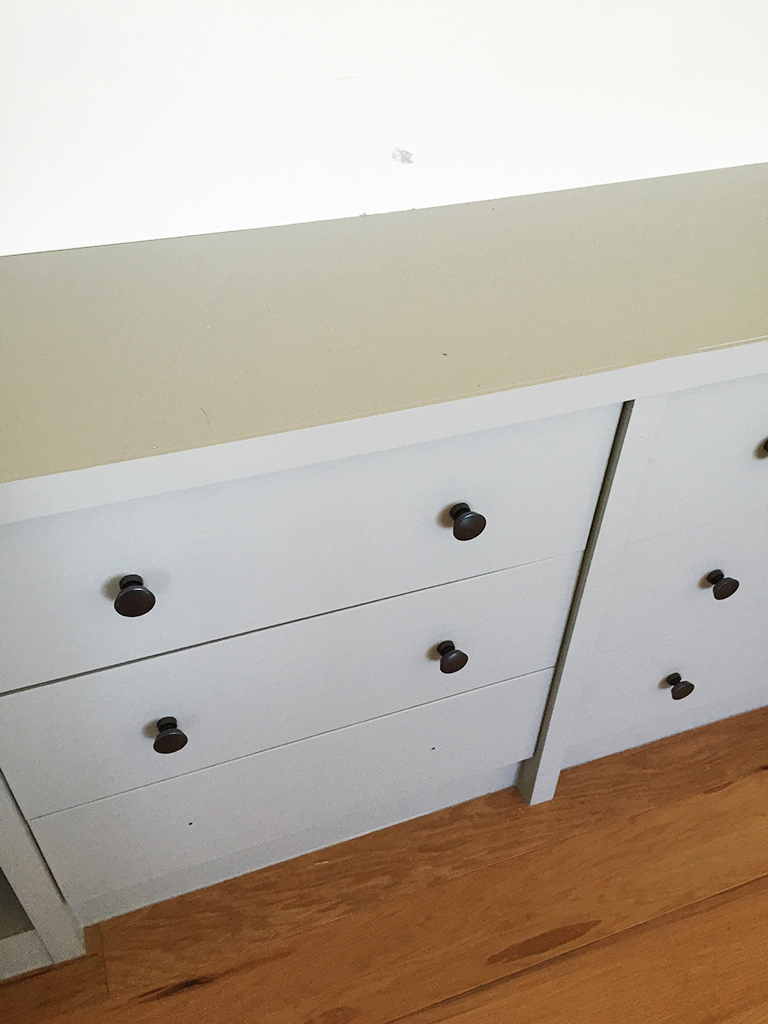 Mistake number two was made when I chose these Target knobs. I wanted to pull in the dark contrast from his lamp/nightstand combo and these seemed like the perfect fit.
Unfortunately they were just too big, too traditional, and to be honest looked really cheap. Although they were almost black they were super shiny so they didn't quite have the effect I was gong for. I love you Target, but it just wasn't working.
So I bit my lip and ordered these knobs from Schoolhouse Electric, knowing that they'd be beautiful and perfectly sized and of better quality. (We used Schoolhouse in our kitchen, and they've been a long-time fave with my clients.) You can see the two knobs side-by-side here: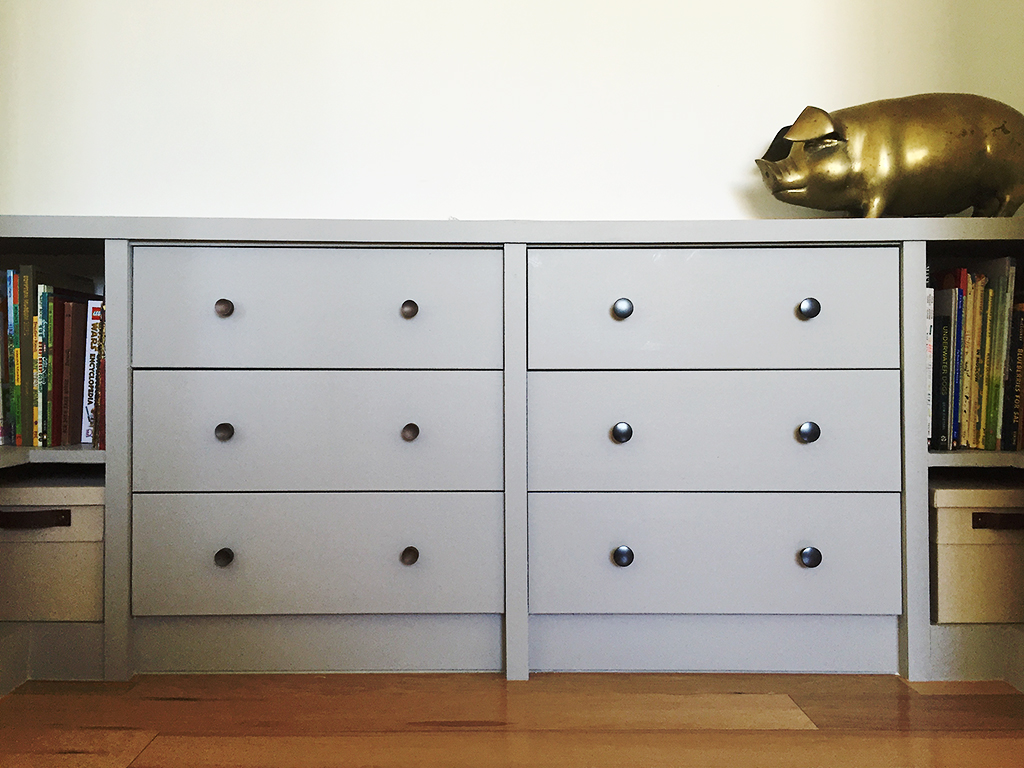 I love the shape and the finish of the new ones (on the left), but that's about the only thing I love about this closet right now. I found the mirror at Meek Vintage last weekend and it's intended for our new bathroom, but I like the idea of a mirror in this space. The real problem is that Clinton has no hanging clothes and won't for years to come, so I have this big open empty space and I can't for the life of me figure out what to do with it!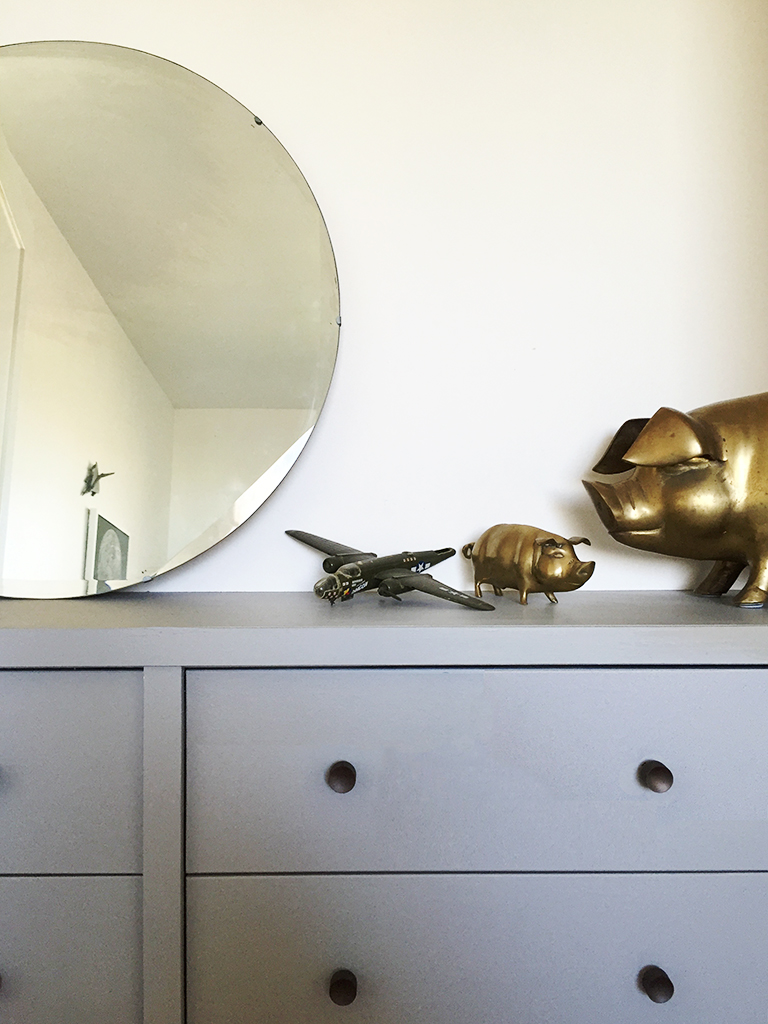 And that's where I am today! Our shades finally arrived so I'll be putting those up this week as well as the X-wing print and then maybe a stroke of creative lightning will hit me and I'll be able to pull off something amazing in the closet. Maybe.
But the end is near!
Thanks for tuning in and don't forget to check out all the other fabulous designers and DIYers participating this year! Click the image below: