A Very Scandinavian Christmas: Holiday Home Tour!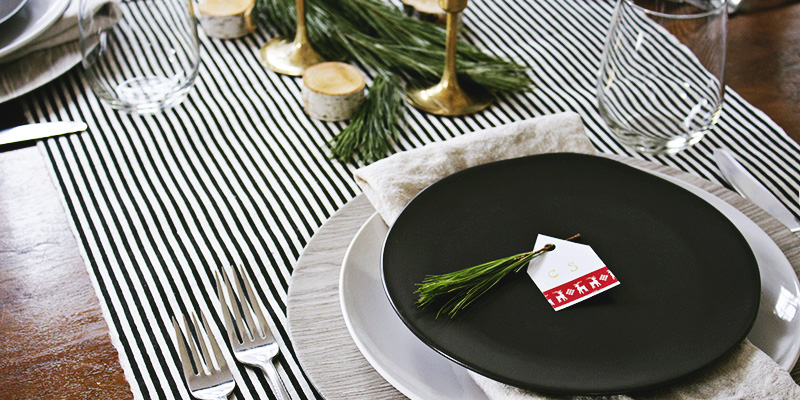 I am so excited to present my first-ever, Christmas home tour!
In my last post, I mentioned how we really started from scratch this year in terms of decorations.  We've only owned our home for two years, and though I have some sentimental decorations from my childhood there's not much else.  No ornaments, no stockings…and no fireplace to hang them on.  We even bought our first Christmas lights last year!
I think having such a blank slate turned out to be a blessing, because I could really craft how I wanted our home to look and feel for the holidays.  I chose a color palette of greens, wood tones, white, and gold in the hopes that it would blend seamlessly with the rest of the house, and I opted for simplicity whenever I could.
And okay, technically this is not a very Scandinavian Christmas…more like an ever-so-slightly Scandinavian-esque one.  But I tried getting back to my roots here, and I'm hoping I pulled at least some of it off.
Holidays are, as you know, quite stressful–and in order to keep my sanity (or what's left of it), I limited decorations to our main level.  So though what follows may not be as elaborate as other blog home tours out there, I hope it brings you just as much inspiration!
Let's start with the living room: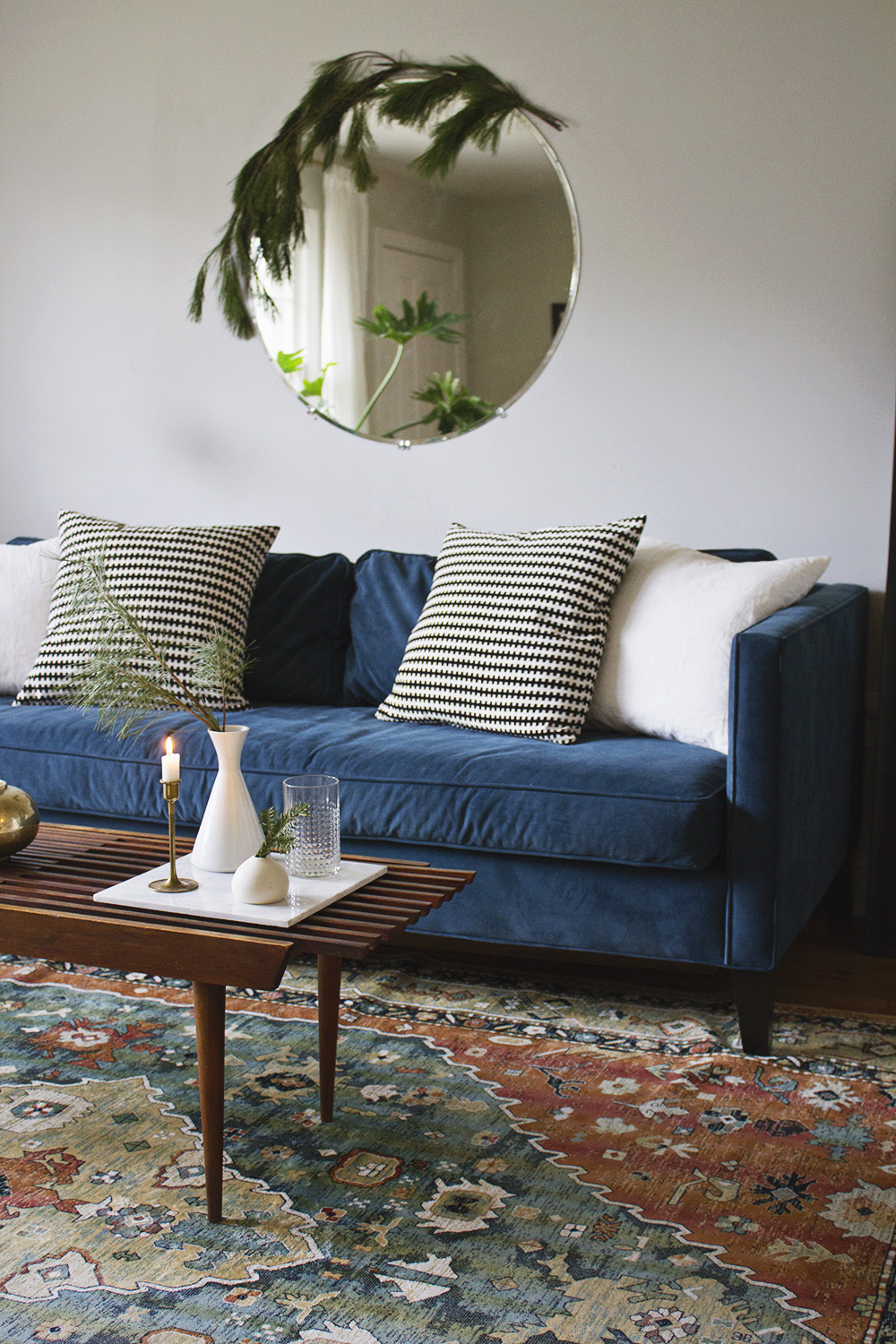 Here, I used white pine garland (from Whole Foods) and tacked it asymmetrically over our round antique vanity mirror.  Then I added some spare greenery to the vessels on the coffee table.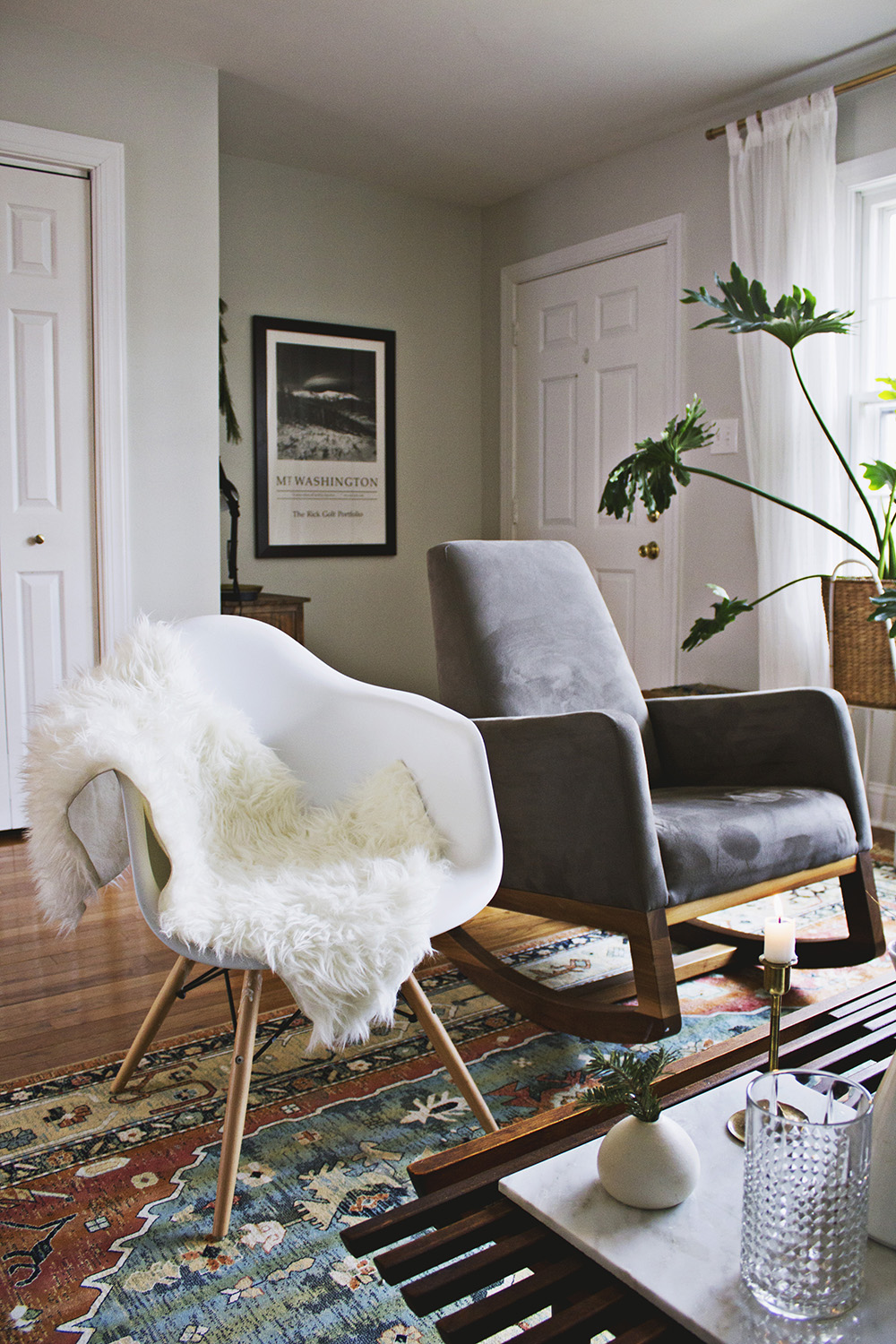 A sheepskin rug (from Ikea) thrown over the Eames chair cozies everything up nicely!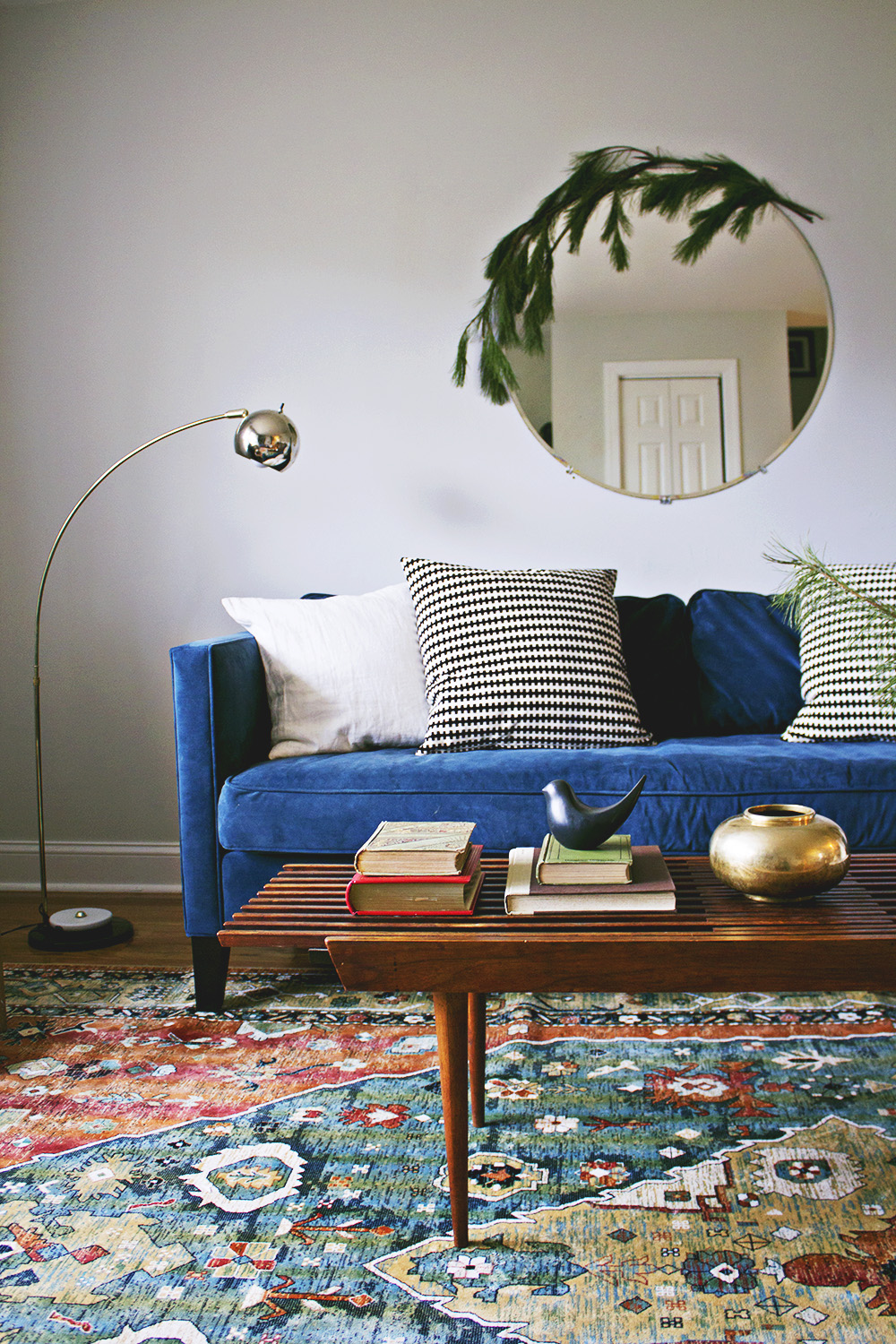 Some of our antique books got a new home as well.  Here's my little nod to red and green!  And I'm just going to pretend that's a partridge for now.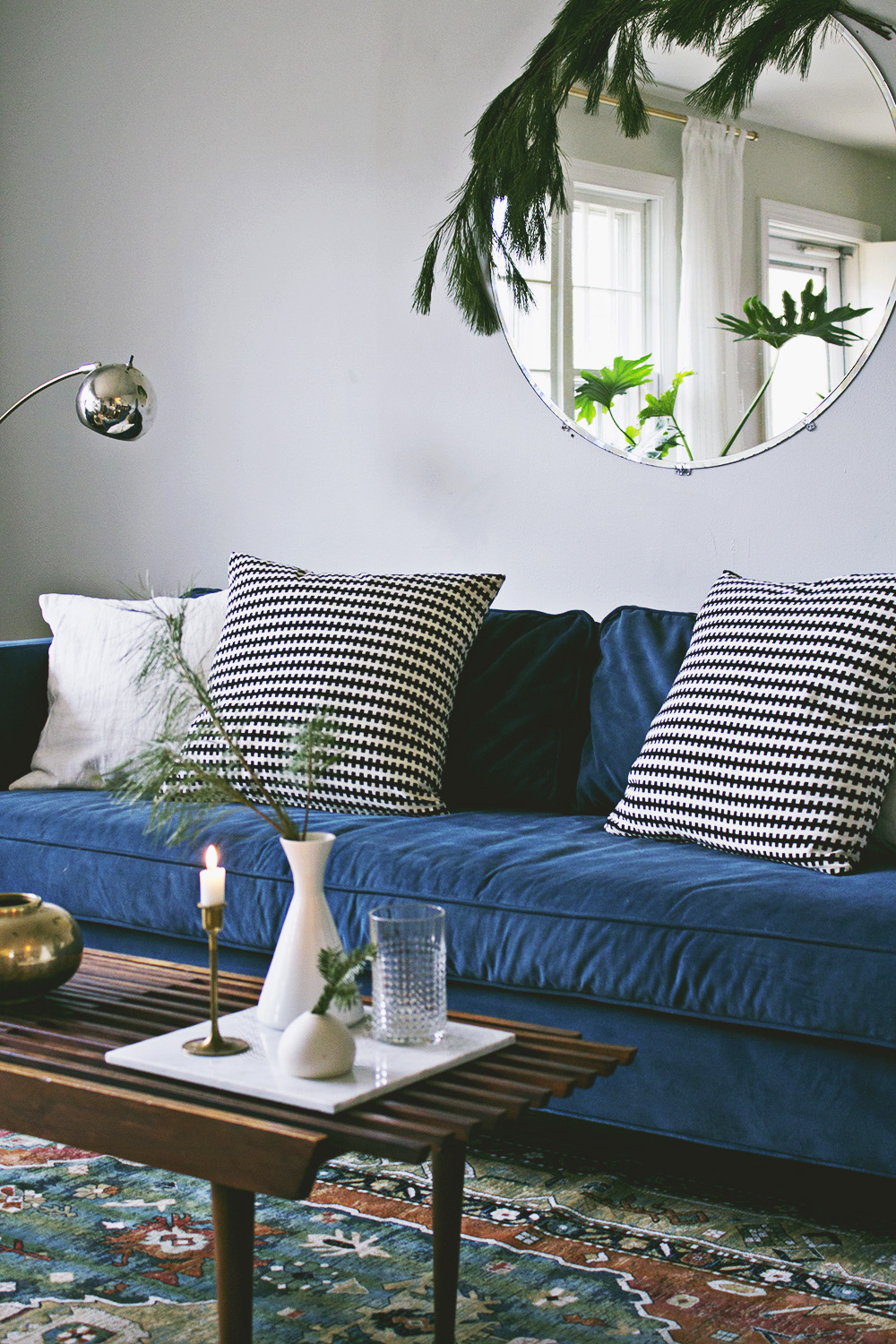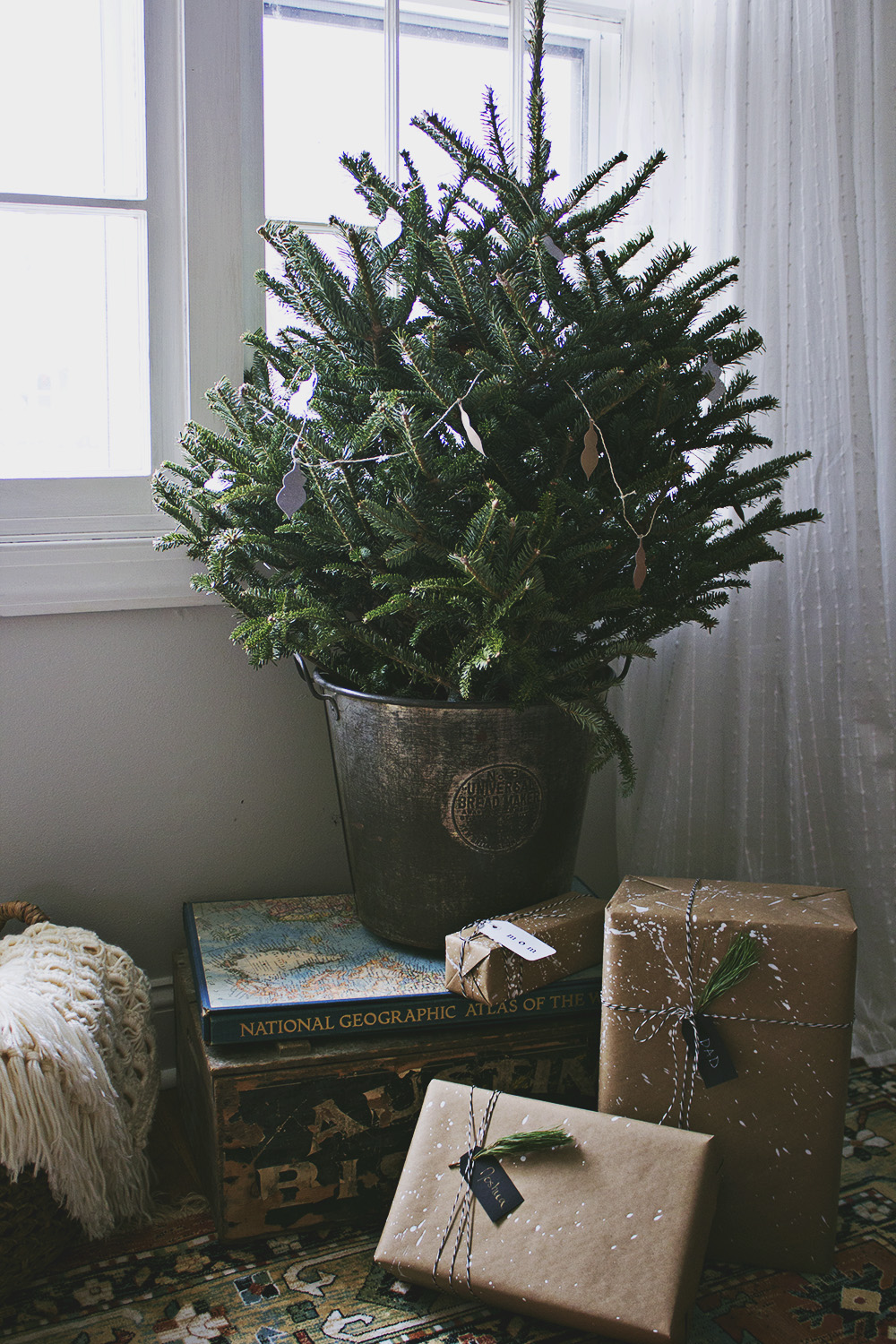 Since we spend the holidays in our hometown with family, a tree has never seemed practical–but we bent the rules this year, and have been enjoying our mini Christmas tree.
I love the look of potted Christmas trees but couldn't find any in our area, so I just stuck a cut tree in my mother's antique bread maker instead!  The tree is currently sitting on top of Austin's grandfather's atlas and a vintage biscuit box.  I threw some cozy knitted blankets in a basket, which have been a godsend because this room is the coldest one in the house.  The blanket pictured was made by my 90-something grandmother, can you believe that?
Oh, and like those presents? Stay tuned for a DIY!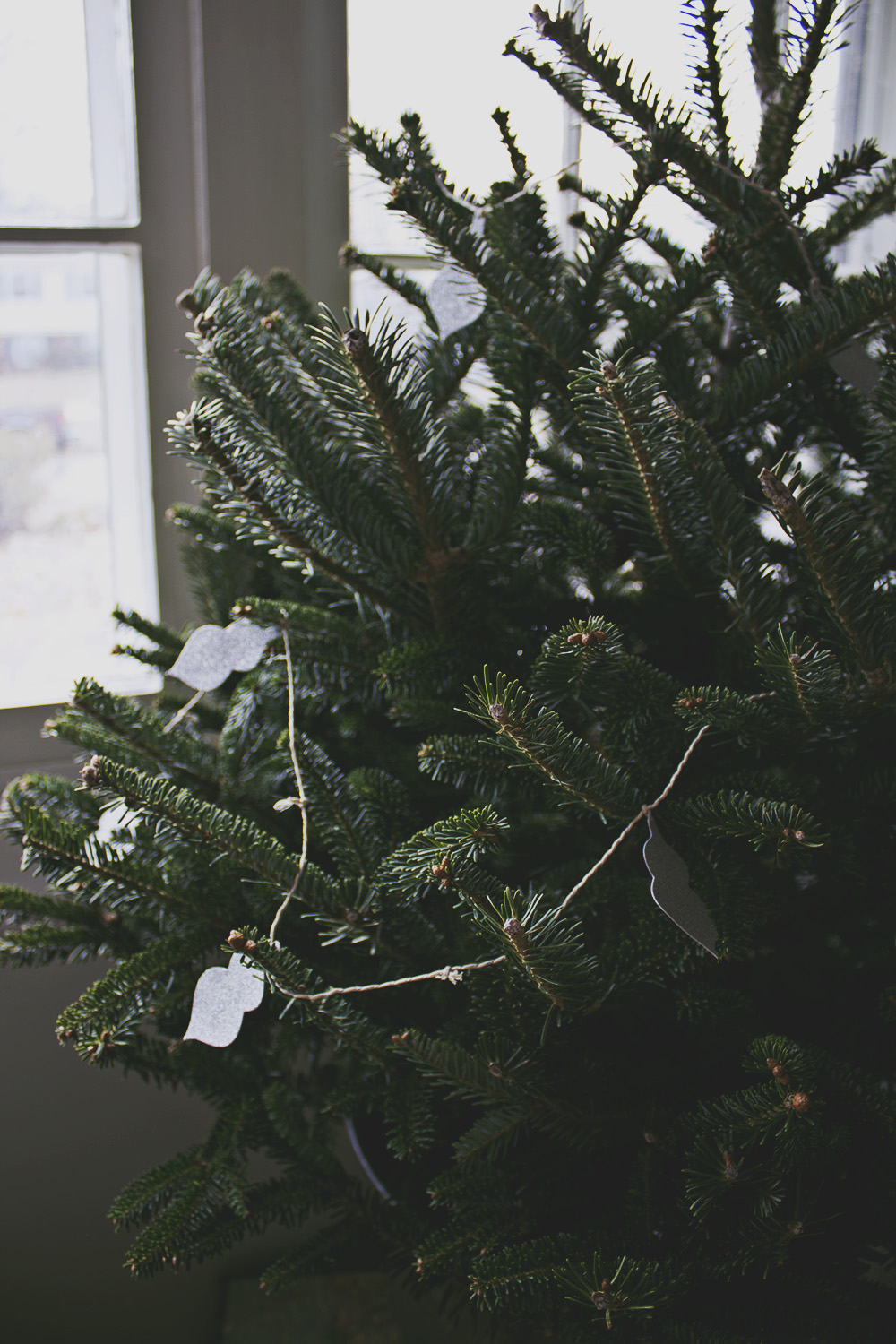 I actually wasn't going to decorate this tree at all, but I was rooting around in my car the other day and found some gift tags from World Market–from last year! (Don't judge–my car is a disaster).  So I strung them up and made this cute little garland of Christmas "lights".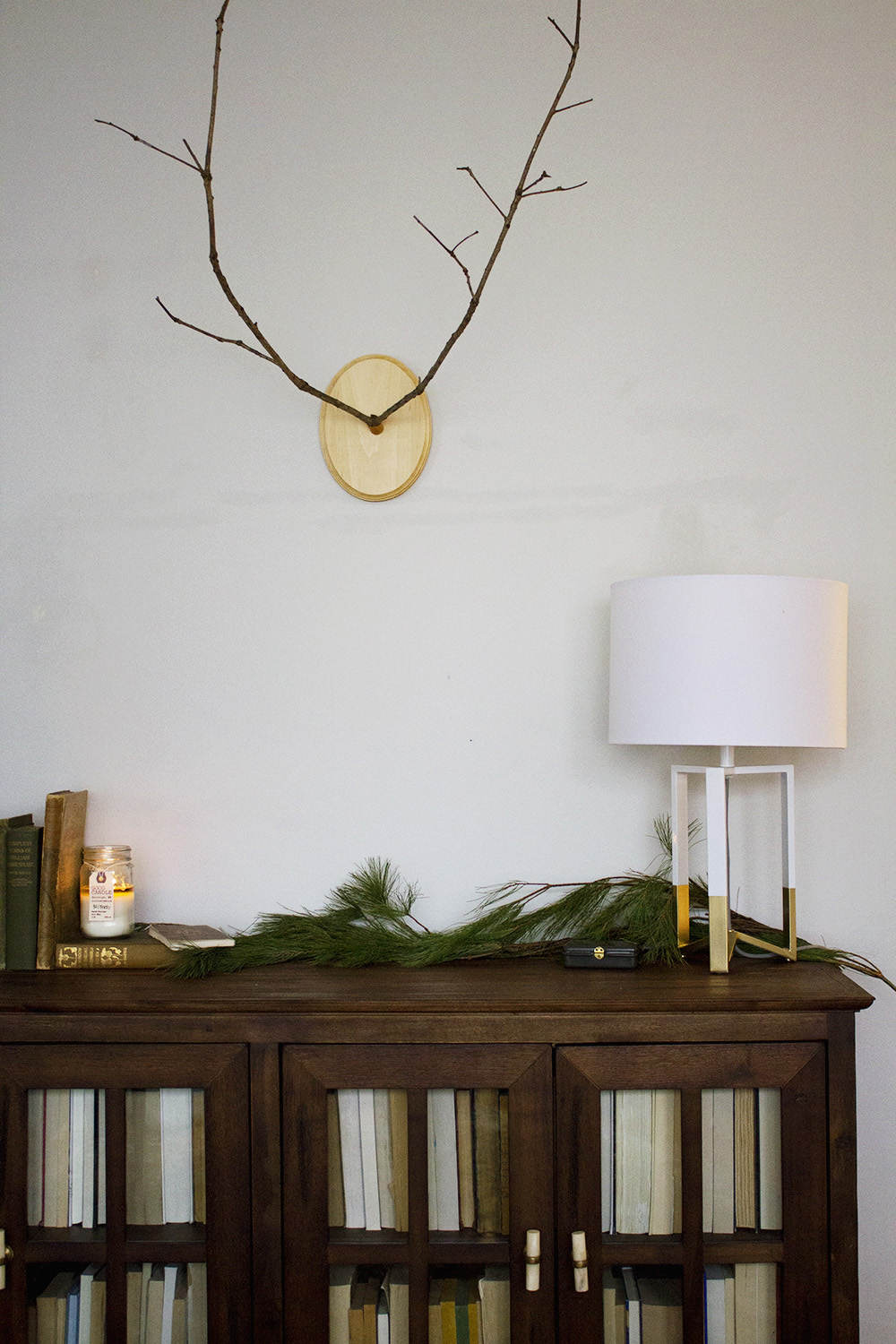 On the opposite wall I hung these DIY branch antlers and decorated with more white pine garland, antique books, and candles.  I also color-blocked this lamp with some spray paint I had kicking' around–it was blue before.  And no, our books are not normally turned backwards…but doesn't it look so much better this way? (I say to Austin while batting my eyelashes).
For our coffee station, I made this DIY Scandinavian wall sign, which says "Merry Christmas" in Danish. Am I Danish? Nope.  Do I care? Nope.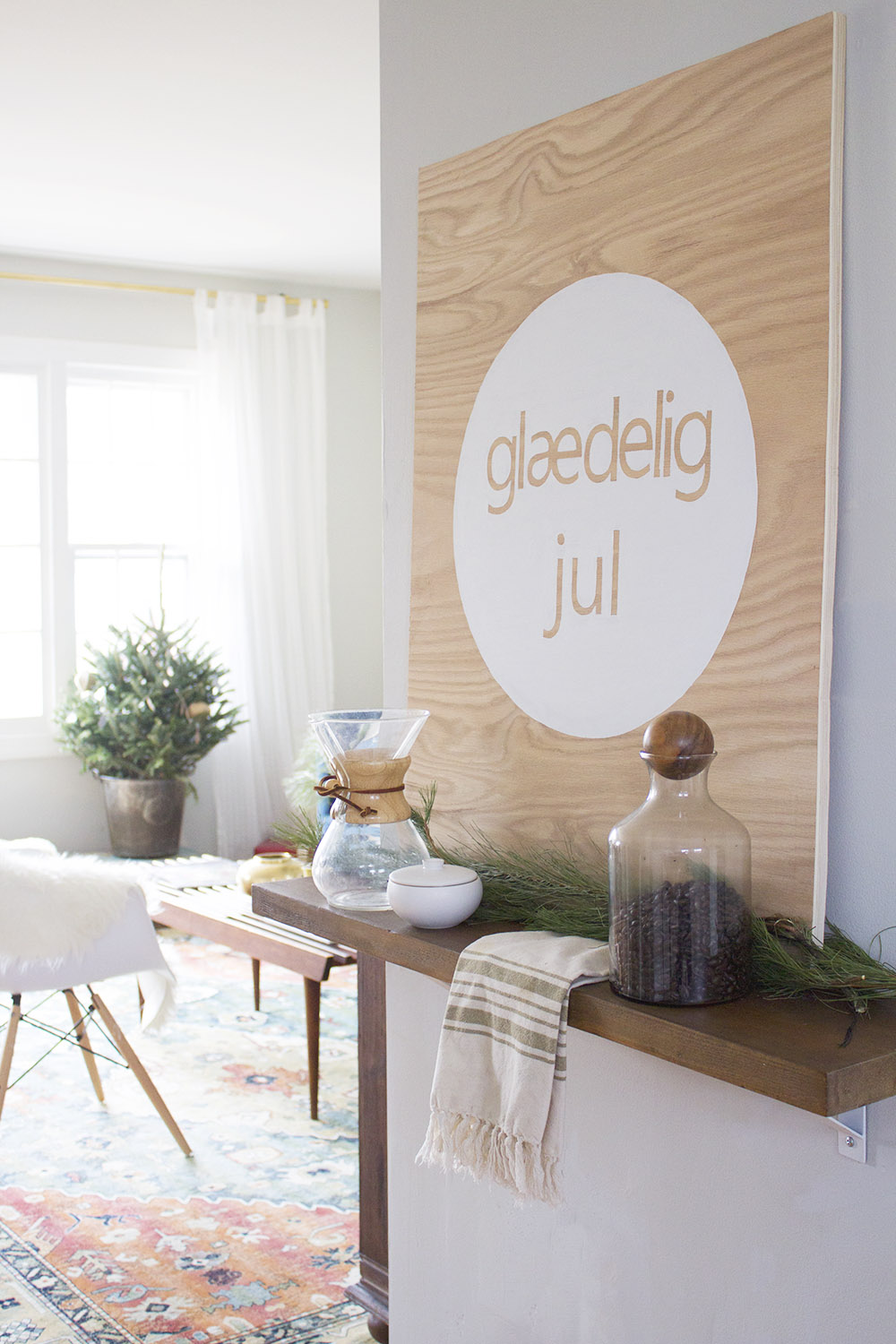 I can't decide which of these DIY projects I like more!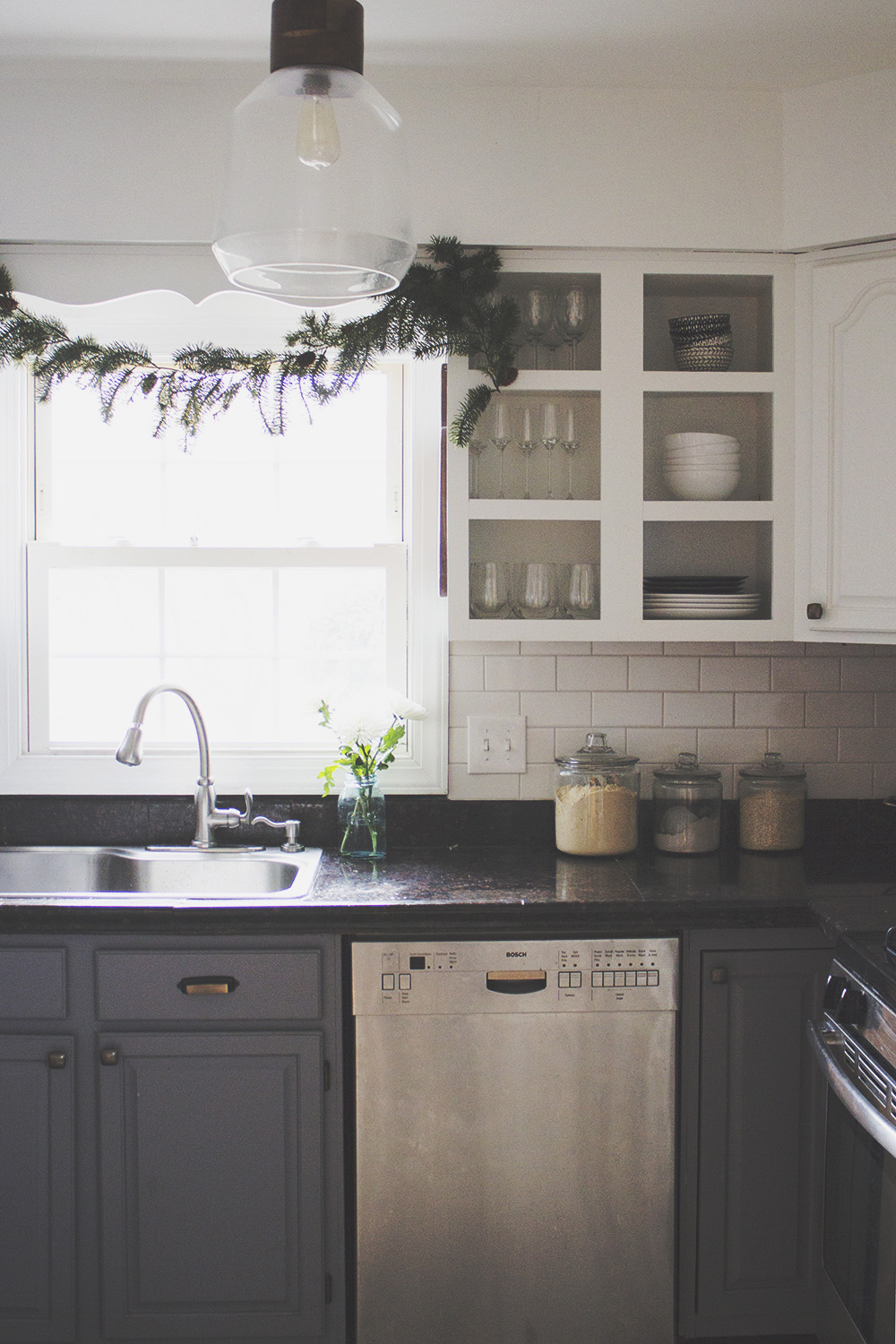 In our kitchen, all I did was hang some faux garland from Michael's over the sink.  They were having a 50% off all Christmas greenery a few weeks back, and this baby was so realistic I couldn't refuse!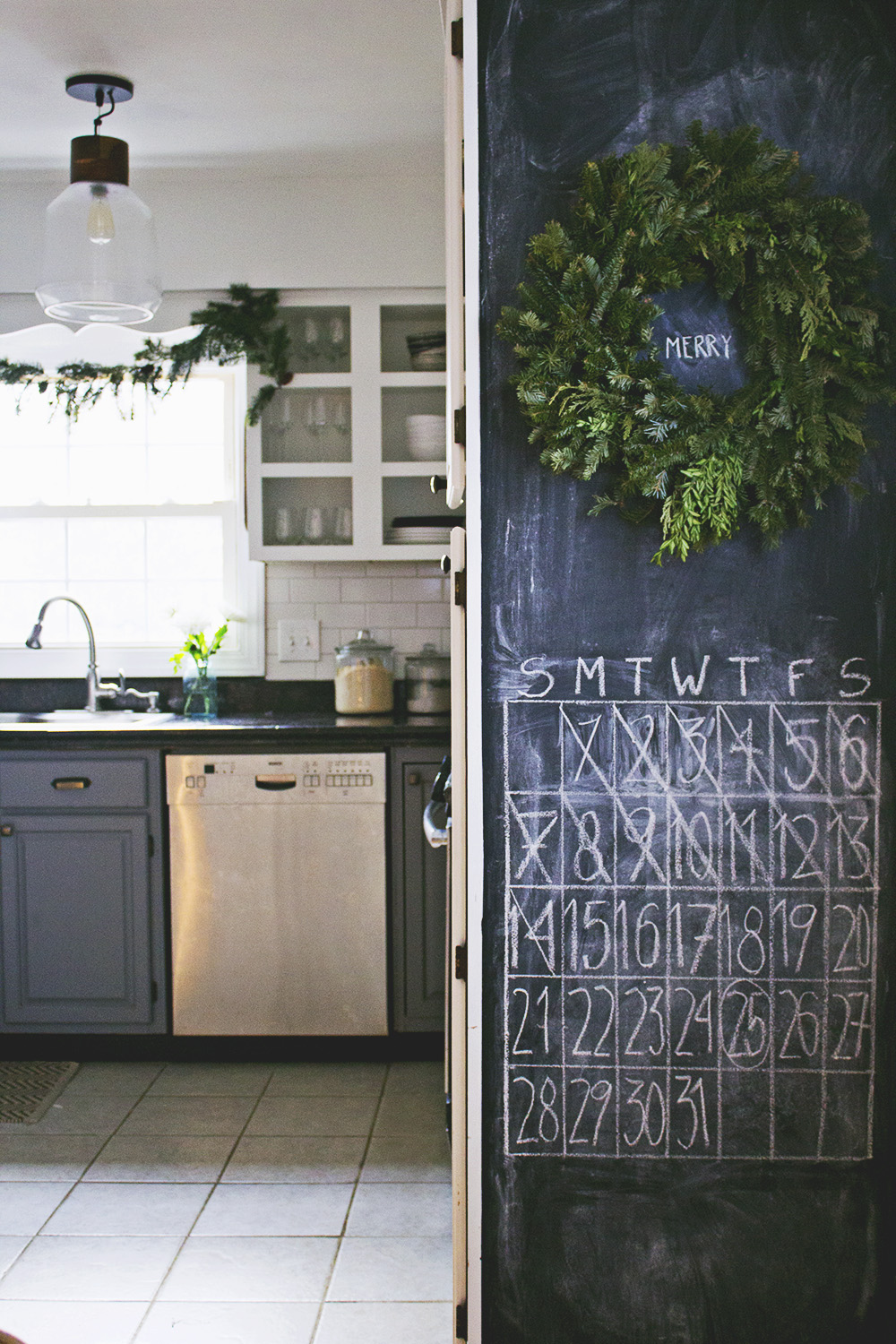 I thought about getting all fancy-shmancy on our chalkboard wall…and then I remembered my holiday to-do list.  So a wreath and a simple calendar is what it got.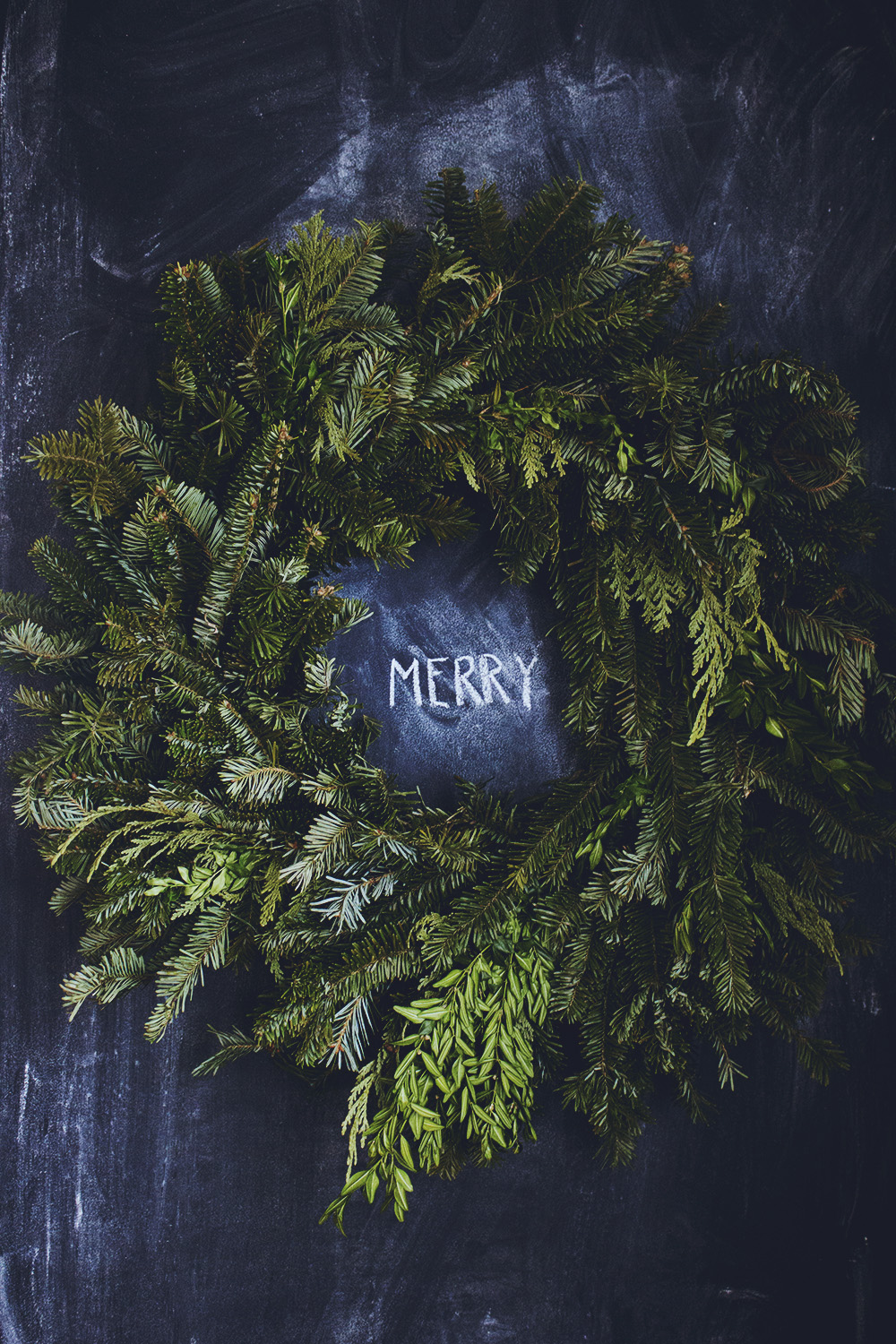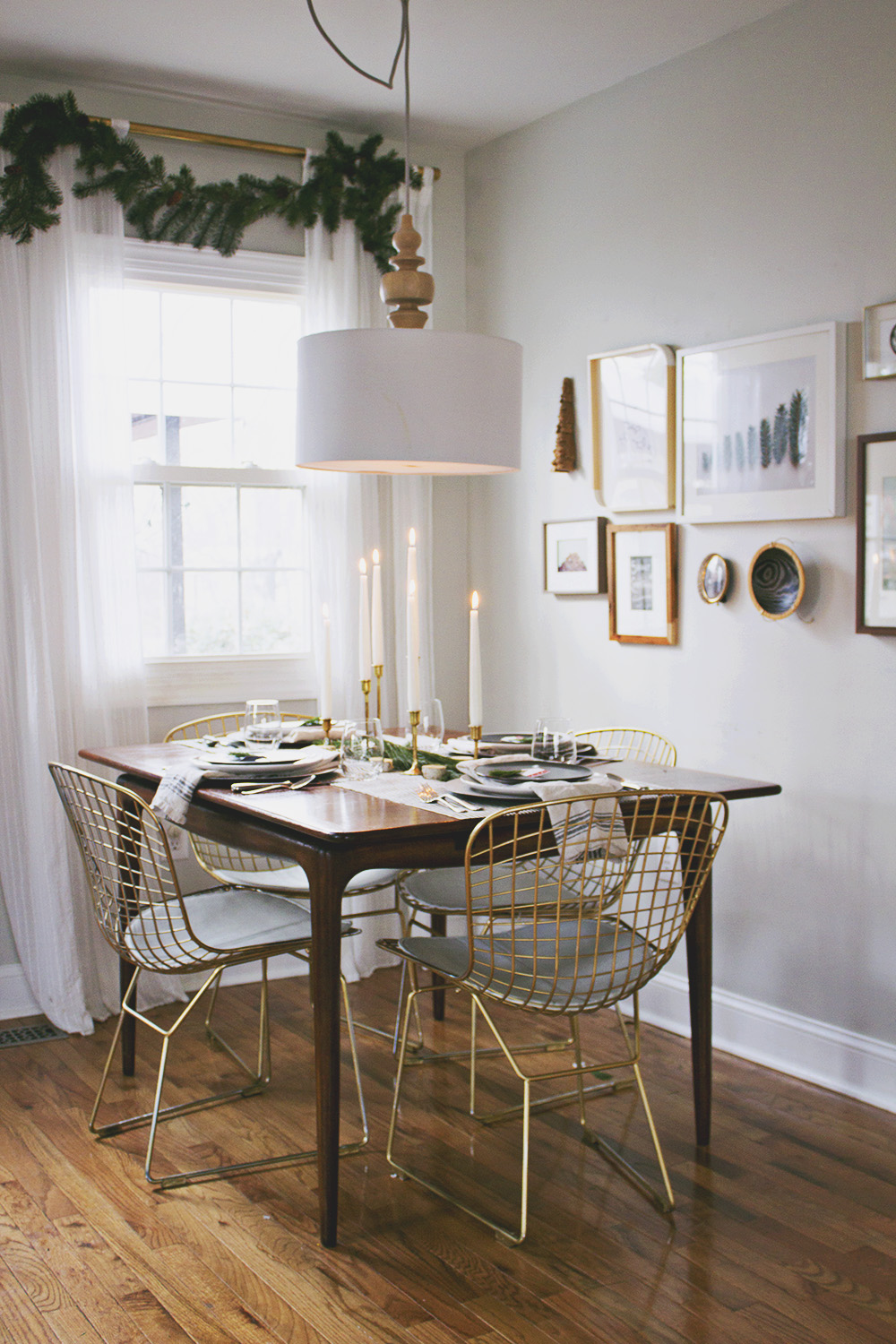 And since this holiday home tour is really just one rather large room…I made a little Christmas table setting to spice things up a bit.  But first, let me apologize for the lack of rug here! Our puppy destroyed our last one and I haven't gotten around to replacing it yet.
You might notice some Christmas decor on our gallery wall over there–again, stay tuned for a post! But here's a sneak peek: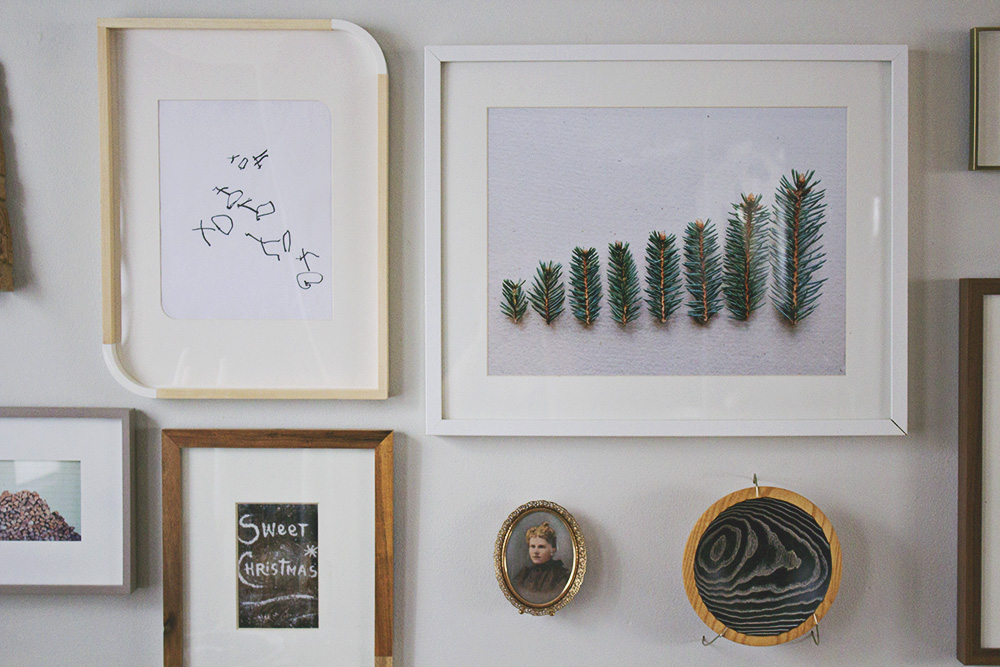 And now, back to the table…
I made the runner out of wrapping paper, à la my DIY Shibori table runner that I shared a few weeks back.  Check back next week for another post on how to make those place cards!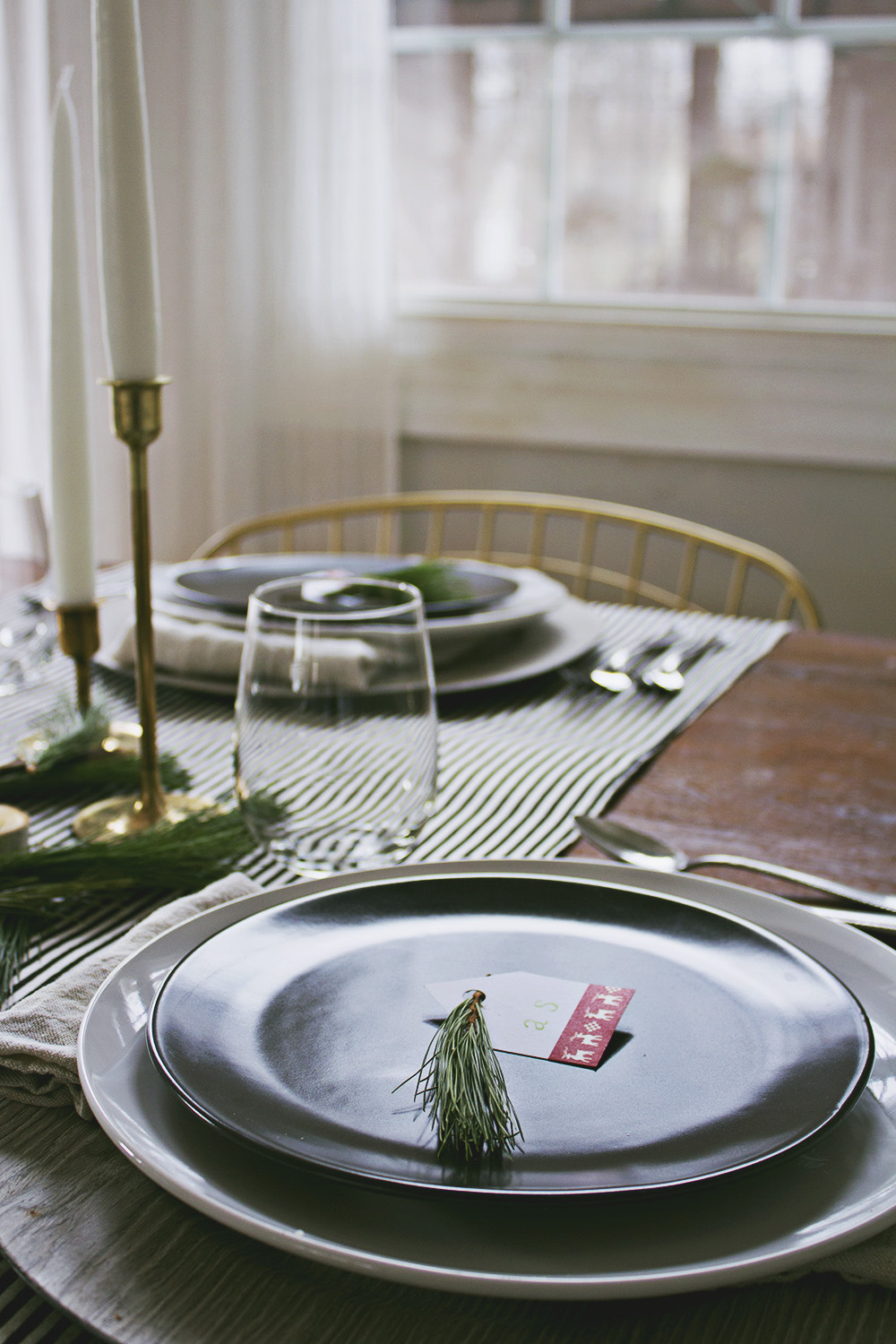 Vintage, mid-century brass candlesticks, more white pine garland, and some birch branch rounds completed the centerpiece.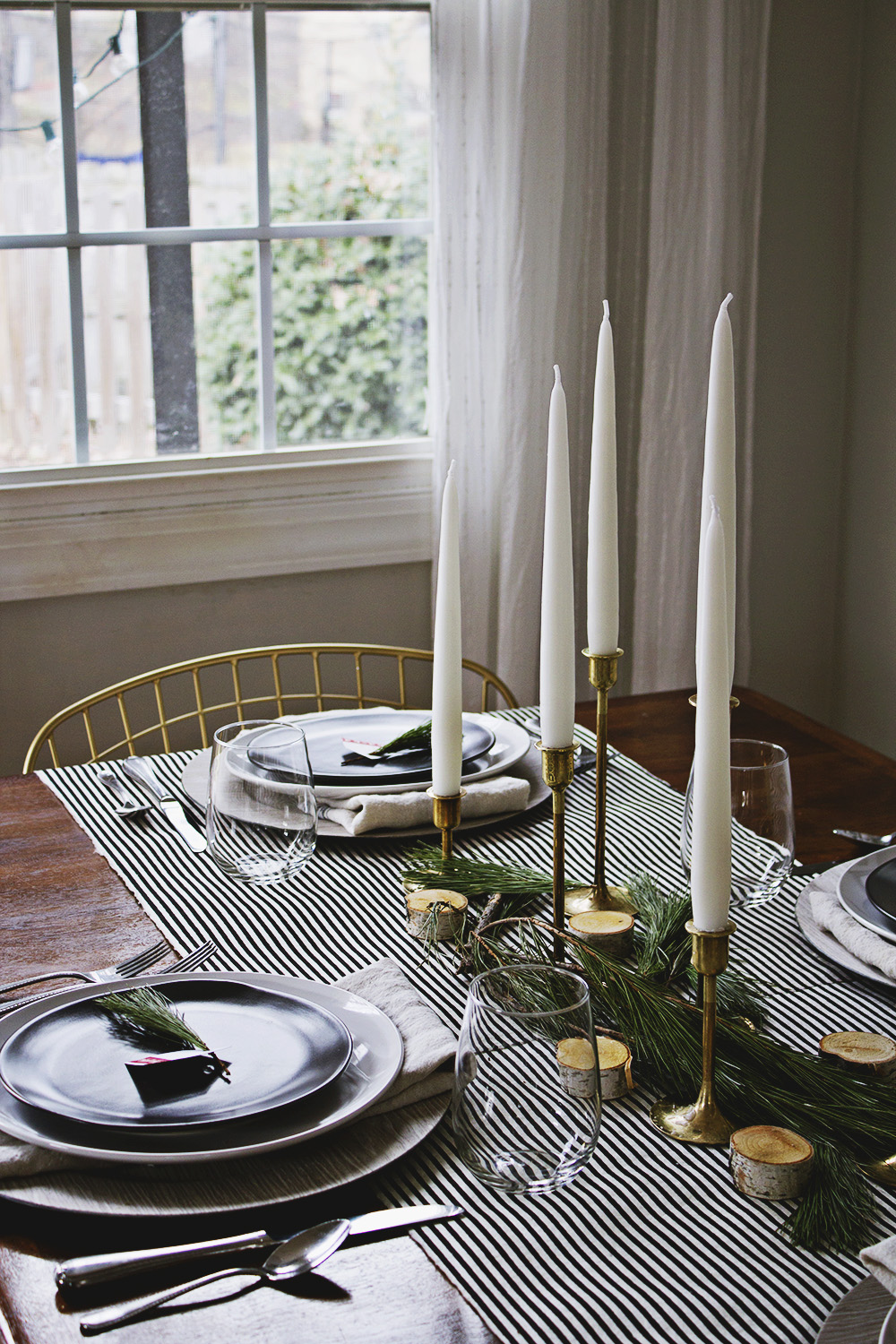 Which part is your favorite? I think mine is the Danish wall sign…but my mind changes every day.
Now to tackle that to-do list!